Wearing tiny harnesses, the rats scurry along with their noses to the earth, their whiskers whipping furiously as they try to sniff out explosives buried beneath the ground.
Every so often, a rat stops and scratches the ground, signalling they've found an explosive. Their handler rewards them with a piece of fruit, often a banana, and they happily munch away before continuing their mission.
The rats, affectionately nicknamed 'HeroRats', are in training to detect landmines and unexploded ordnance (UXO), the deadly remnants of war.
But they're no ordinary rats - they're African giant pouched rats (also known as Gambian pouched rats). They can grow up to one metre long and although they have terrible vision, their sense of smell is incredible.
They can detect the presence of TNT in amounts as little as 29 grams, and they leave metal detectors in the dust - the rats can search an area the size of a tennis court in less than 30 minutes, but it could take a human with a metal detector up to four days.
Margarida, a de-miner in Mozambique, says the rats are smart enough to hone in solely on TNT. "The rats detect only explosive but I investigate every alarm my detector makes... it could be an old coin, or piece of scrap metal, or it could be a landmine," she says.
How do you train a rat to detect landmines?
The rats learn through reward and repetition - they find the TNT, they get a banana. The handlers also use decoys in their training, so the rats learn that they'll only get a treat if they find TNT.
They're highly intelligent and can be trained within nine months, and they're even better at the job than mine detection dogs.
Their small size means they won't set off the mines, and although rats are sociable animals, they don't have any bonding issues. While dogs can only work with one handler, the rats will work with everyone.
The credentials keep on rolling - the rats are cheaper to train than dogs, with each rat costing around 6,000 euros to train, and the Giant rat species has a wide availability and are native to sub-Saharan Africa, meaning they're resistant to most tropical diseases.
Often seen as dirty pests, rats have long had a bad rap with humans, but that's all changing thanks to the Giant rats.
It's hard to not be charmed by these cute creatures, and it's even harder not to be impressed by the fact that they've save countless lives over the last two decades.
The rats were brought into the spotlight through APOPO, a global non-profit organisation that has developed the ingenious method of using Giant rats to detect landmines, tuberculosis and recently, smuggled goods such as the endangered pangolin.
APOPO is on a mission to relieve human suffering and promote development and social change through their innovative scent detection technology, and their HeroRats are at the heart of it all.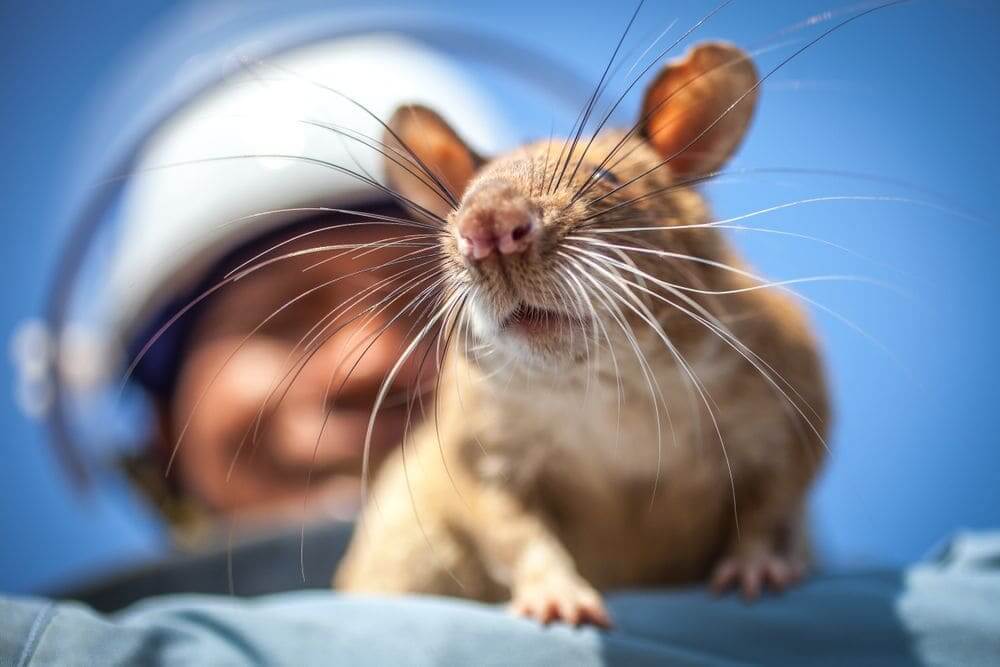 The story of APOPO
The organisation can be traced back to 1995, when Bart Weetjens was searching for a solution to the global landmine problem. After caring for rats as pets and researching their extraordinary scent detection abilities, Bart believed the rats held the answer.
In 1997, Bart and his former schoolmate Christophe Cox launched the APOPO project, after securing a grant from the Belgian government to develop the idea.
By 2000, APOPO (an acronym that translates to 'Anti-Personnel Landmines Removal Product Development' in English), had developed training methods that saw the rats successfully detecting buried explosives and they set up a large training minefield in Tanzania.
Two years later, the team realised the rat's sense of smell could have broader humanitarian implications, and began to test their ability to detect tuberculosis (TB), the world's most deadly infectious disease.
Although the disease is treatable, slow and inaccurate detection methods cause millions of people to die unnecessarily. Of the 10 million new people who contract TB annually, 3 million go undiagnosed, and 1.8 million people die.
The rats proved their capability once more. The TB detection rats can screen 100 samples in 20 minutes, which would take a lab technician up to four days.
Over the last two decades, they have detected TB in over 12,200 patients who were missed by their local clinics and sent home.
Without treatment, a TB-positive patient can infect up to 15 people within a year, and with public clinics in sub-Saharan African sending home around 50% of all TB-positive patients without the correct diagnosis, APOPO has potentially prevented a further 150,000 infections.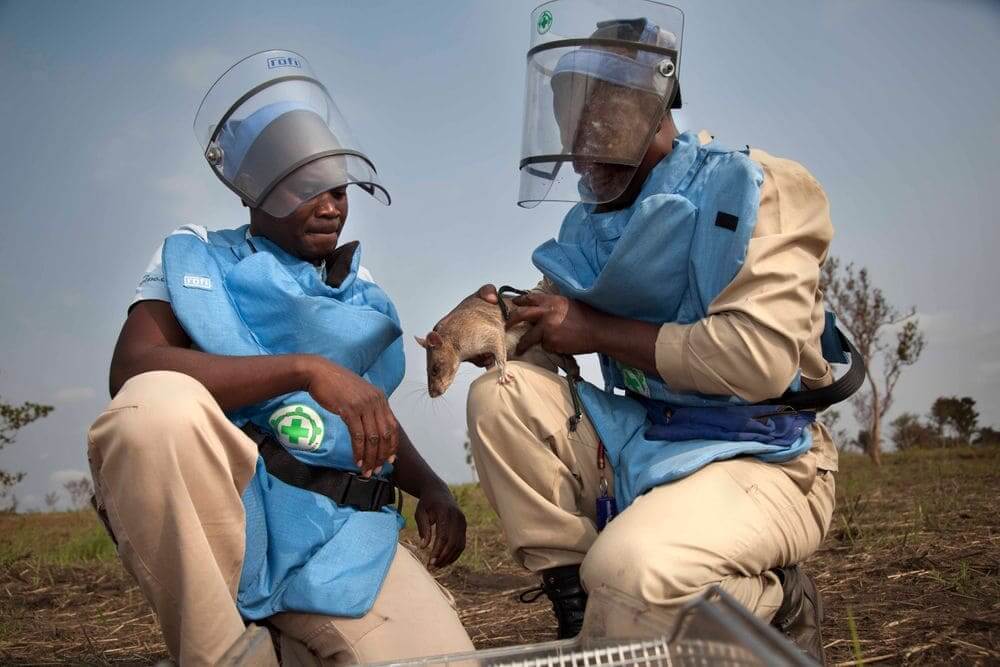 The problem with landmines
After the guns are silenced and the treaties are signed, it appears that the war is over. But for many communities around the world, the damage lives on for decades, lurking just beneath the surface.
As of November 2018, there are 60 countries contaminated with hidden landmines and explosive remnants of war (ERW), and in 2017 there were 7,239 casualties of ERW, with 2,793 people killed, according to the 2018 Landmine Monitor report.
The mines kill and maim, prevent communities from developing their fertile lands and accessing travel routes and water sources, and cause generations of families to live in constant fear.
Gloria Tikki, a grandmother in Mozambique, depends on her family's crops to survive. After the war, their fields were contaminated with landmines, and became too dangerous to enter. "Sometimes we had to go there to work. We were desperate." says Gloria.
Through APOPO and the HeroRats, Gloria's lands were cleared of mines and her family were able to return to their crops and watch their children grow and play safely.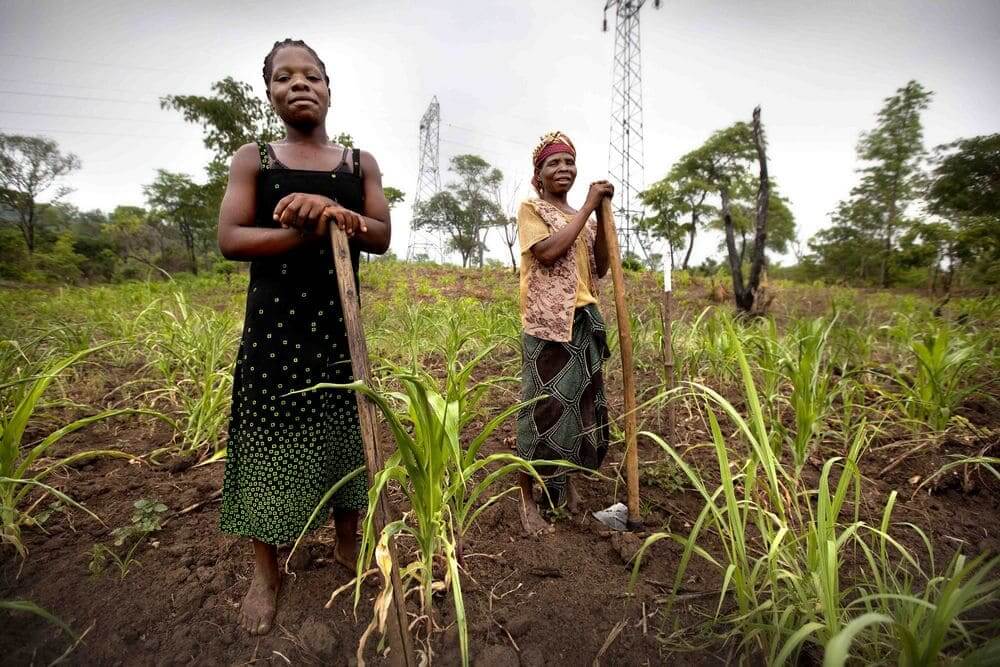 Over the last two decades, APOPO and the HeroRats have destroyed over 107,000 landmines and UXO, have made over 59 million square kilometres of land safe for development, and have helped over 950,000 people get back to their fertile lands.
APOPO's mine detection training and research centre is based in Tanzania, however their work has spread across the globe to Angola, Zimbabwe, Mozambique, Ethiopia, Colombia, Thailand, Cambodia, Vietnam and Laos.
Cambodia's remnants of war
In 2015, after the success of the mine clearance projects in Angola and Mozambique, APOPO sent their mine detection rats to Cambodia, their first venture outside the African continent.
They partnered with the Cambodian Mine Action Centre (CMAC) in Siem Reap, to begin a mine clearance project across the northern Siem Reap and Preah Vihear provinces, targeting the worst affected villages.
There's plenty of work for the HeroRats here. An estimated 4 to 6 million landmines and UXO, including shells, bombs and grenades were dropped across Cambodia, a legacy of decades of conflict ending with the overthrow of the Khmer Rouge in 1979.
Forty years later and the Cambodian Mine Action and Victim Assistance Authority (CMAA) estimates around 50 percent of Cambodia's minefields are yet to be cleared, and have reported a total of 64,534 mine and ERW casualties from 1979 to June 2015.
Cambodia has the world's highest ratio of mine amputees per capita with 64,000 reported casualties since 1979, while neighbouring Laos and Vietnam also suffer heavily from explosive remnants from the Vietnam War.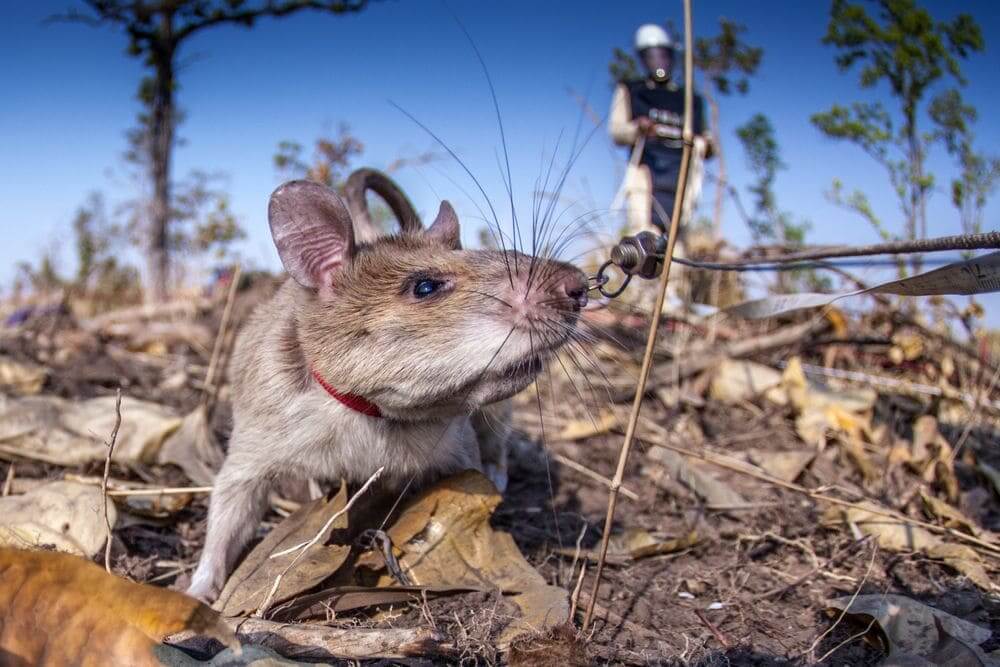 Joining the rat race
The damage is horrifying and it's internationally recognised. In 1997, the United Nations established the Anti-Personnel Mine Ban Convention, with 156 countries now ratified or acceded to the convention.
Since 2005, the UN has declared 4 April of each year as International Mine Awareness Day, highlighting the issue of mine-action, and the work of states, organisations and the United Nations Mine Action Service (UNMAS) to reduce the threat of ERWs around the world.
There is progress. CMAA reported that in the first six months of 2017, there were 37% less landmine casualties in Cambodia than in 2016, while March of 2017 was the first month with no casualties since 1979.
APOCO and CMAC have been integral to this progress. Since 2015, they have cleared over 45,000 landmines and UXO and have released over 15 million square metres of safe land back to the local communities.
Newly trained rats will arrive from Tanzania in the first half of 2019, and APOPO aims to have 40 landmine detection rats operating in Cambodia by the end of 2019, with plans to expand their operations further.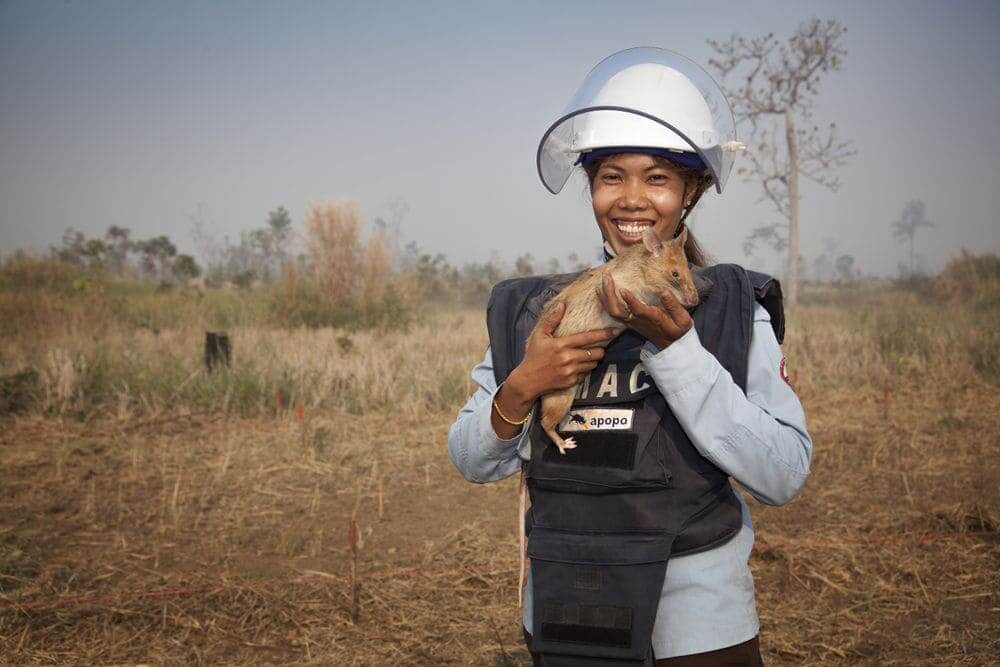 They've also opened the APOPO Visitor Centre in Siem Reap, where you can meet the HeroRats and seem them in action through special demonstrations.
You can also explore the exhibition and take a guided tour with a mine action professional to learn about Cambodia's history and the impact of landmines on local communities.
Thousands of travellers have already visited the APOPO Visitor Centre, but this is small fry compared to more than one million tourists who visit Angkor Wat each year, the ancient temple complex of Siem Reap, located just up the road from APOPO's centre.
Stop by the Visitor Centre on your way to Angkor Wat, and see how APOPO and the HeroRats are working to bring peace and security to the innocent people who remain shackled by the devastating scraps of war.
If you'd like to visit the APOPO Visitor Centre in Siem Reap, contact our friendly Luxury Travel Specialists or fill out our enquiry form with details of your dream Cambodia holiday.