8 Best Beaches in Zanzibar (Including Hotels)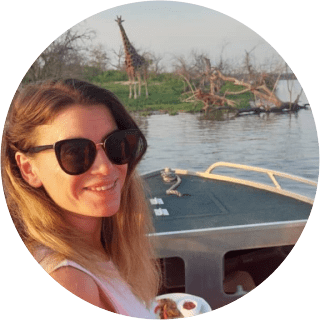 By Aggie Verdin
April, 14, 2023

4 Min read
Discover Zanzibar's best beaches with its spectacular sunsets, palm-fringed beaches, turquoise waters & colourful coral reefs
Whether you're taking a trip from Tanzania to Zanzibar for some post-safari relaxation, a chilled beach holiday or a romantic East Africa honeymoon, the main draw of this African island paradise is the beaches.
But with so many stretches of white sand to choose from, how do you choose the best beach for the type of Zanzibar holiday you want?
Here is our comprehensive guide and map of the best beaches in Zanzibar – for swimming, snorkelling, sunbathing and staying at a beautiful beach resort.
Looking for travel inspiration? Wayfairer trip ideas that will take you to Zanzibar:
(hover and click to see the full itinerary)
1. Bwejuu Beach, Relaxation & Reef Safari
Bwejuu is one of the top beaches in Zanzibar.
This white sandy beach on the island's southeast coast is lined with palm trees and is only an hour and a half away from Stone Town.
It's one of the quietest parts of Zanzibar and a popular choice for those seeking total relaxation, peace and privacy.
There are plenty of activities and excursions to do around the area, including a mangrove forest and dhow boat trip, a visit to the local village of Bwejuu, a reef safari, snorkelling and diving, a visit to Stone Town, or a day trip to the Jozani Forest, which is home to the Red Colobus Monkey.
The Best Beach Resorts Around Bwejuu Beach
Baraza Resort and Spa is a family-run resort with spectacular views of the Indian Ocean.
Breezes Beach Club and dive centre is a tranquil, relaxed resort that caters mostly to families and couples.
The Palms is one of the island's most exclusive private resorts and is perfect for Zanzibar honeymooners or couples looking for privacy.
Each villa has a private plunge pool and a terrace with magnificent views of the Indian Ocean. It was voted one of the World's Most Romantic All-Inclusive Resorts by Travel + Leisure.
All three of the above beach resorts make up 'The Zanzibar Collection,' a portfolio of privately owned luxury hotels and resorts inspired by the magic of this exotic beach destination.
2. Michamvi Beach, a Remote Coral Lagoon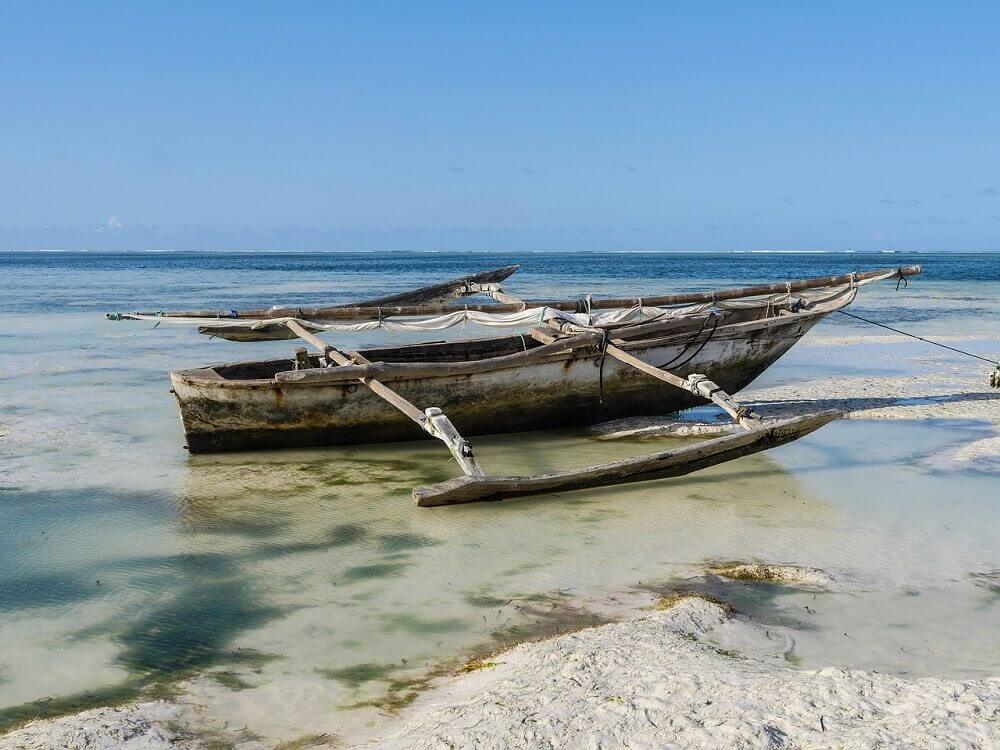 Michamvi is a peninsula on the central east coast of the island.
Although there are two large beach resorts in the area, Michamvi feels remote and has long stretches of empty beaches to explore. The peninsula consists of two parts, Michamvi-Pingwe and Michamvi-Kae.
On the eastern side is Michamvi-Pingwe, with a vibrant coral lagoon and beautiful palm-fringed beaches set in a string of scenic coves between high coral-rag cliffs. On the western side is Michamvi-Kae, which faces west towards Chwaka Bay.
Where to Stay Around Michamvi Beach
Kichanga Lodge is a private resort nestled into hillside tropical gardens. The resort has a swimming pool that overlooks the beach and on the beach itself there's a traditional weathered dhow boat, which serves as the bar.

Konokono Beach Resort

is a quiet paradise offering privacy and romance in the heart of nature. It's a favourite for couples and those on a Zanzibar honeymoon.
Z Hotel is a chic boutique hotel that exudes elegance. The beachfront resort is also known for its food and drink, including Asian-fusion tapas, sharing platters and a creative cocktail menu.


3. Nungwi Beach, a Lively Beach for Night Owls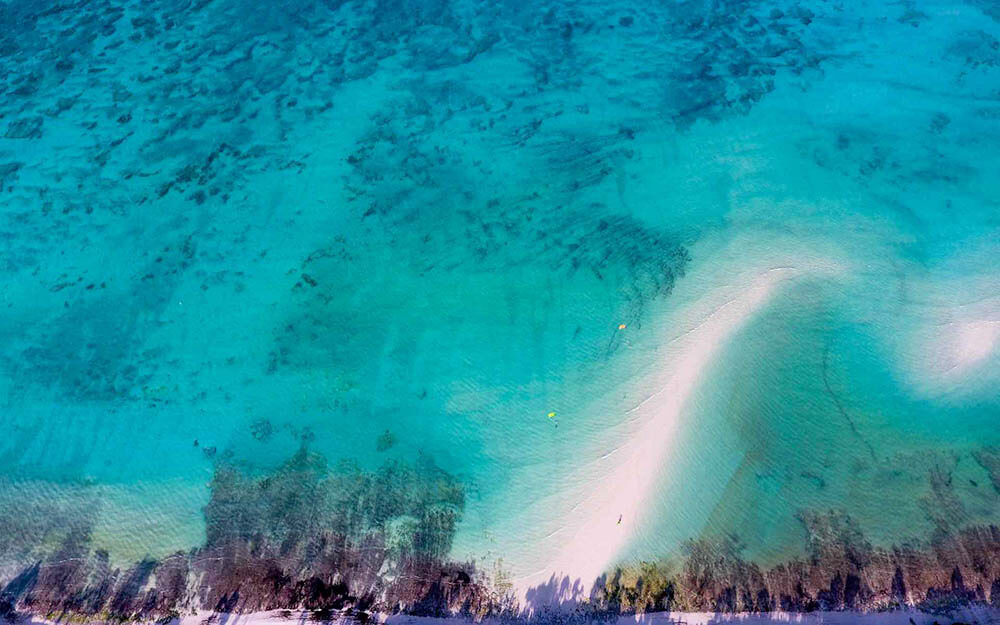 Nungwi Beach on the northwest coast is one of the most beautiful and popular beaches in Zanzibar and recently made the list of Top 25 Beaches in the World in TripAdvisor's Traveller's Choice Awards 2018.
Nungwi is definitely one of the liveliest areas on the island and the numerous beach resorts, hotels, restaurants and bars offer a variety of night-time entertainment.
However, this beach isn't just for party-goers. The Nungwi coast has fantastic coral reefs which are ideal for diving and snorkelling - you may even be lucky enough to see dolphins, green turtles and, at certain times of the year, whale sharks.
Facing west, Nungwi Beach also has some of the best sunsets in Zanzibar and a sunset cruise on a traditional dhow sailing boat is a must.
Where to Stay Around Nungwi Beach
Hotel RIU Palace Zanzibar is a sophisticated, beachside spa resort around three kilometres from Nungwi Beach, offering a peaceful and private atmosphere away from the lively beachfront. All rooms and suites have private terraces and stunning views over the lush gardens and Indian Ocean.



4. Kendwa Beach, Sunsets & Swimming
Sometimes referred to as the "little sister" of Nungwi Beach, Kendwa Beach is much quieter than its sibling in the north.
This is one of the few beaches on Zanzibar where the tide doesn't really change, which means the clear waters are perfect for swimming, snorkelling and diving.
Colourful starfish also call this beach home and can be found just offshore (but be sure not to pick up these creatures or disturb them in their natural habitat).
The sunsets at Kendwa beach are legendary, so pick your spot on the beach when the sun starts to lower. Once it dips below the horizon, the beach comes alive in new way with nightlife and relaxed beach parties.
5. Kizimkazi Beach, Authenticity & Dolphin Safaris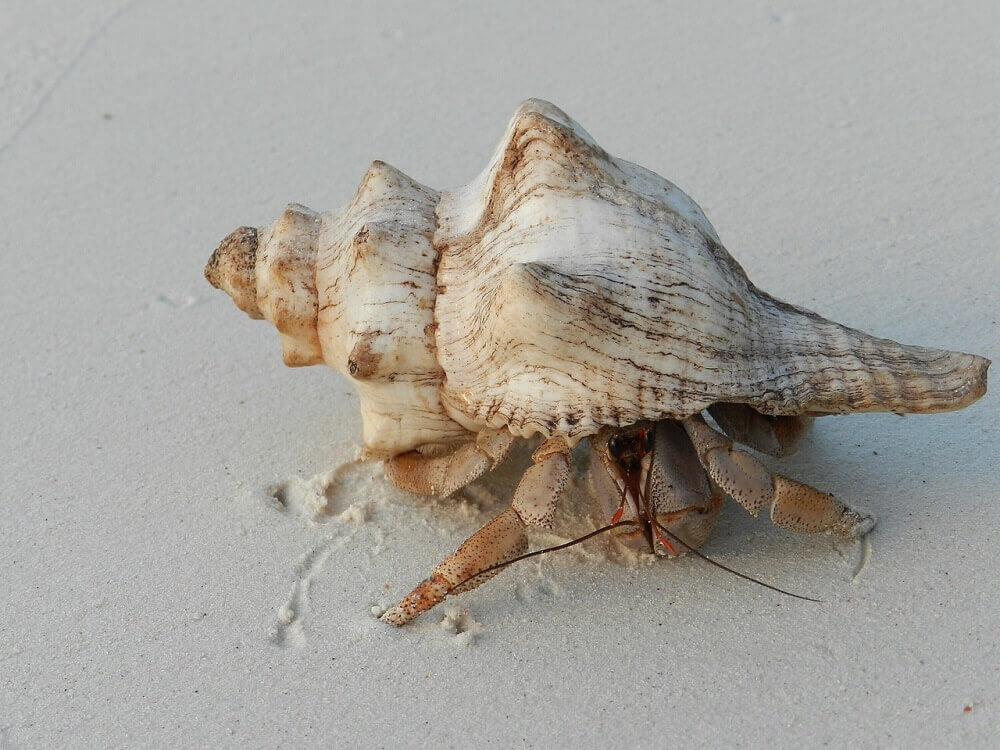 This small fishing village on the south coast of Zanzibar consists of two adjoining settlements: Kizimkazi Dimbani to the north and Kizimkazi Mkunguni to the south. The coastline here is very different from the classic palm-backed lagoon of the east coast.
Here, a coral rag cliff elevates the waterfront above the ocean and the beaches take the form of small coves rather than broad expanses of sand. For this reason, there are fewer accommodation options and the area has a distinct and authentic atmosphere.
The village of Kizimkazi is famous for its dolphin safaris. However, if you're visiting Kizimkazi please be mindful about joining boat trips which offer the opportunity to swim with dolphins.
There are no regulations regarding dolphin tourism in Zanzibar and most tours are run by boat drivers with no experience or interest in animal behaviour. Often boats crowd around the dolphins and chase them, and tourists jump into the water to swim, with no monitoring of the dolphin's behaviour.
Instead, contact us to ask about how to swim with dolphins responsibly in Zanzibar during your holidays, if this is something you are keen to do.
Where to stay around Kizimkazi Beach
The Residence Zanzibar is a luxurious and family-friendly hotel on the southwest coast of Zanzibar, 20 minutes' drive from Kizimkazi, surrounded by 32 hectares of tropical gardens and fringed by a pristine mile-long beach.
Unguja Lodge is a small beach lodge on the southern tip of Zanzibar, near Kizimkazi Mkunguni. This is a very quiet part of the island with small beaches and lush green surroundings. The lodge has an excellent relationship with the local people who live in Kizimkazi Mkunguni and most of the staff are from the village.



6. Matemwe Beach, Local Culture & Scuba Diving
Matemwe is a section of coastline on the northeast of Zanzibar.
The long, idyllic beach at Matemwe (the longest beach in Zanzibar) has some of the finest sand on the island and amongst the palm trees at the back of the beach you'll find traditional fishing villages, which offer a fascinating insight into the local culture. Around two kilometres offshore, just beyond the main reef, is the world-famous island of Mnemba Atoll; a popular scuba diving spot surrounded by pristine and very accessible coral reefs.
The area around Matemwe Beach has the best diving and snorkelling on the island, plus some excellent kitesurfing and sailing.
Where to Stay Around Matemwe Beach
Matemwe Lodge is perched on an outcrop overlooking a shallow, coral-fringed lagoon on the quiet northeast coast of Zanzibar Island. The easy access to Mnemba makes this resort a great option for those who want to dive into the Atoll.
Mnemba Island Lodge is an upscale all-inclusive resort situated on a private island just 4.5 kilometres off the northeast coast of Zanzibar, surrounded by coral reefs bursting with life. Famous guests at Mnemba Island Lodge include Tom Cruise, Naomi Campbell and Bill Gates.


7. Pongwe Beach, Tropical Paradise & Calm Waters for Swimming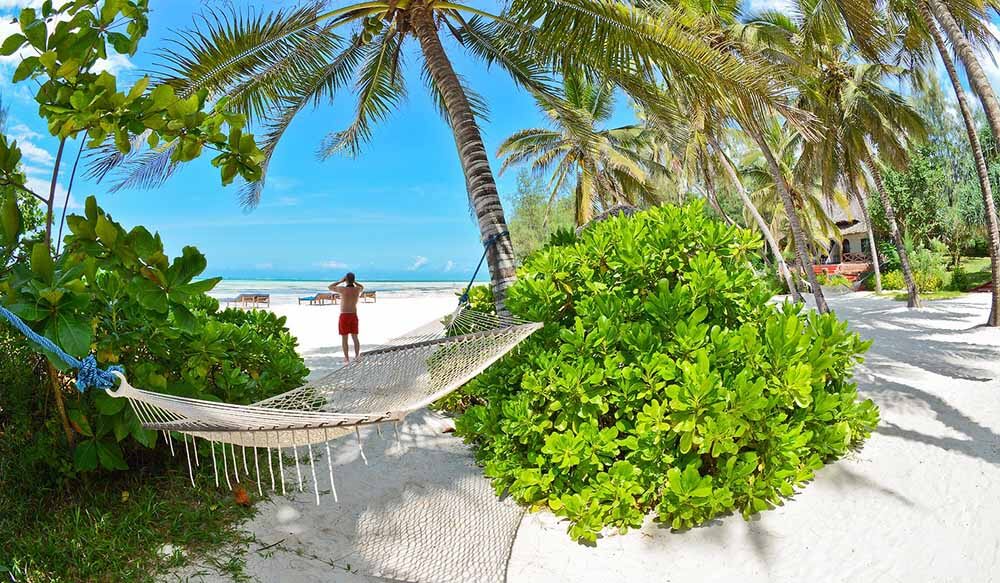 Pongwe beach is arguably the best swimming beach in Zanzibar.
Pongwe's quiet arc of beach is dotted with palm trees and backed by dense vegetation; this is about as close to a quintessential tropical paradise as you can get.
Pongwe Beach is lucky in the fact that the whole beach is protected by an offshore reef, which keeps the inner waters calm and safe for all to swim in. Snorkelling and boat trips can also be arranged to the reef.
Where to stay near Pongwe
Pongwe Beach Hotel is a small and intimate resort located on one of the most beautiful beaches on Zanzibar. The rooms have been built in a traditional Zanzibari style with coconut palm thatched roofs, lime wash walls and hand-crafted wooden doors. There is also a beautiful infinity pool for you to enjoy when the tide is out.
8. Paje Beach, Kitesurfing & Diving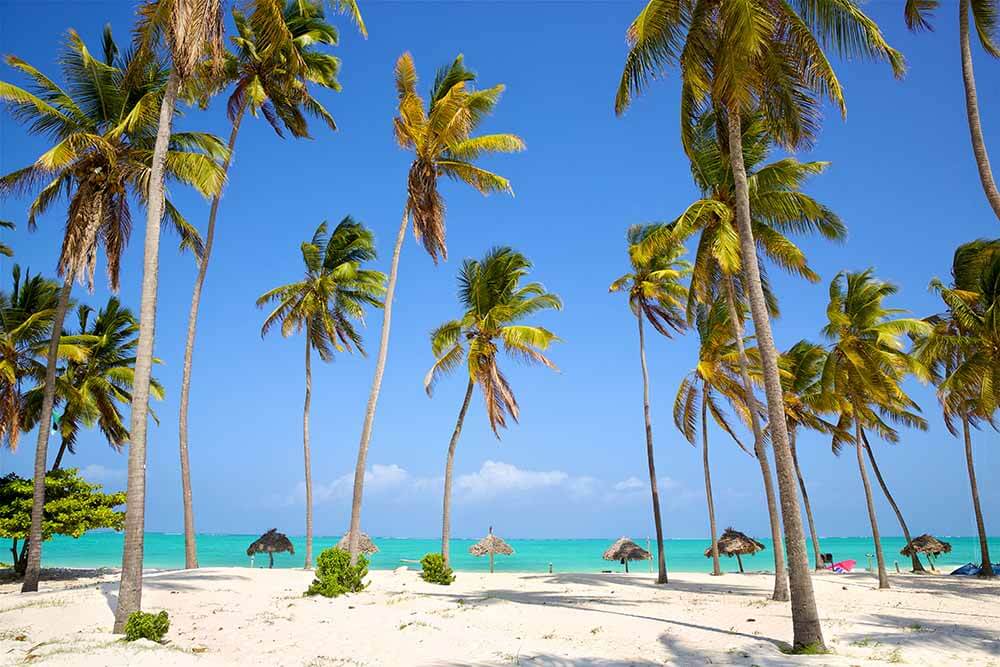 Located on the southeast coast, Paje beach has all the makings of a perfect beach: long stretches of white sand, palm trees swaying in the breeze, turquoise waters and exquisite sunsets. Bordered by a small village on one side, Paje is peaceful and quiet, making this beach a great alternative to the busier, more developed beaches in the north of Zanzibar.
Paje beach is known for its water sports and the excellent kitesurfing conditions draw amateur and professional kitesurfers from all over the world to this specific area of the island. In addition to this, the clear, warm waters are great for scuba diving, as the reefs offshore are home to turtles, starfish, trumpet fish, moray eels and other colourful marine creatures.
You might also see locals collecting seaweed at low tide at Paje beach, which is used to make soap via a women's cooperative. The products come wrapped in banana leaves and can be purchased at local shops; buying a bar or two is a great way to sustainably support the community, plus the soap's natural ingredients are incredibly good for your skin.
You can find out more about Zanzibar's seaweed soap initiative in this recent article by the BBC.
After sunset, the beach turns into a lively party spot, though the atmosphere is relaxed and international.
The Best Beaches in Zanzibar for the Holiday You Want
Whether you're looking to explore the island's colourful coral reefs on a scuba diving trip, or simply recline on the powder sands with a cocktail in hand, we hope this map and guide to the best beaches in Zanzibar has helped you decide which beach is best for the type of holiday you want.
We understand that booking trips, especially adventurous and alternative ones such as this can be intimidating, so get in touch; we can take the stress out of your holiday planning and organise a trip you won't forget!
Get in touch
Sign up to our newsletter
For more travel inspiration delivered straight to your inbox just fill in your details here
More Zanzibar travel inspiration from Wayfairer customers and travel specialist
Sign up to our newsletter
For more travel inspiration delivered straight to your inbox just fill in your details here