The Best Places to Visit in Hanoi, Vietnam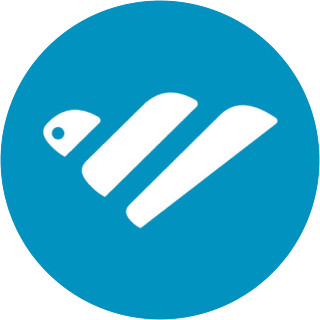 By Wayfairer Team
April, 14, 2023

4 Min read
The best places to visit in Hanoi for a cultural sightseeing tour of Vietnam's vibrant capital city
With its Chinese, French and Vietnamese architecture, ancient Buddhist temples and pagodas, fascinating cultural museums and war memorials, plus charming Old Quarter, there are plenty of places to visit in Hanoi for all interests and tastes.
Discover Vietnam's rich history, colourful culture and fragrant dishes through a tour of the country's capital. Slurp steaming pho served up fresh by a street food vendor, watch a performance of traditional water puppetry, haggle at local markets, but whatever you do - watch your step in Hanoi's bustling traffic!
Here are just a few of our favourite and most recommended places to visit in Hanoi to include on your Hanoi sightseeing tour, offering the perfect introduction to Vietnam, plus the best hotels in Hanoi to choose as a base for your exploration: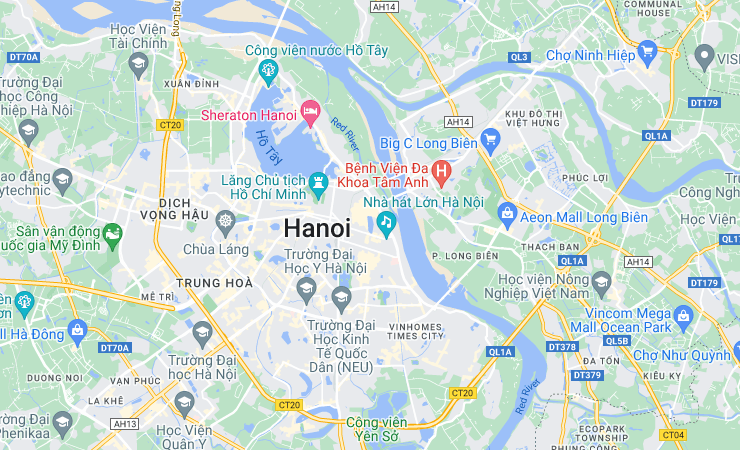 1. Hanoi's Old Quarter (Hoan Kiem District)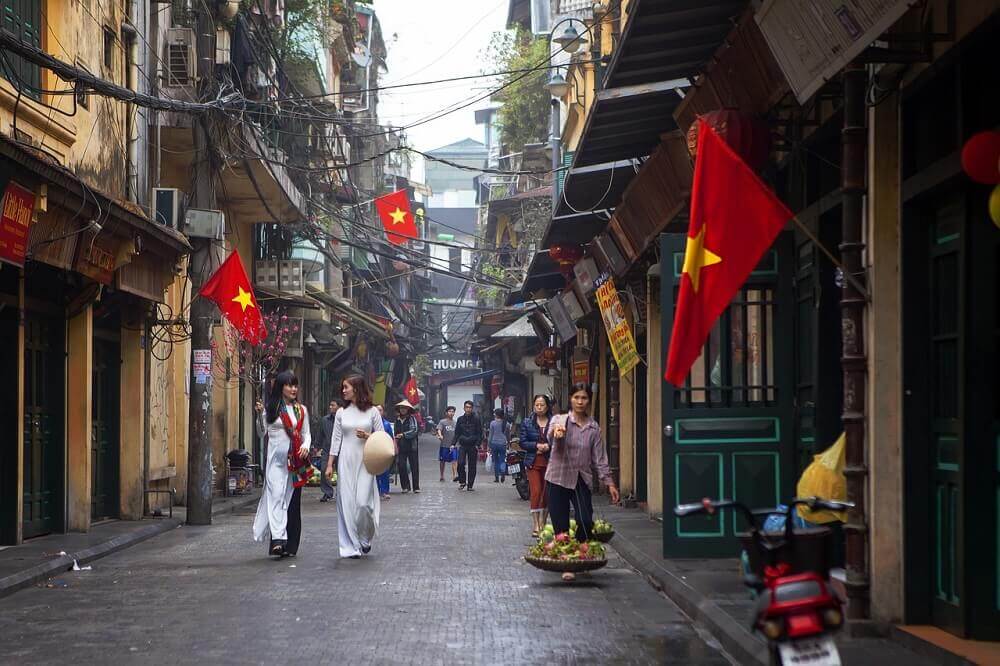 Hanoi's historic Old Quarter is the heart of Hanoi and the focal point is Hoan Kiem Lake.
Hoan Kiem Lake surrounds Ngoc Son Temple (Temple of the Jade Mountain), which is built on a small island and connected to land by the Huc Bridge. The beautiful gardens along the banks of the lake are popular with locals and tourists alike and here you'll see people relaxing and chatting with friends, jogging or walking around the lake, playing badminton, and practising tai chi.
Wayfairer Top Tip

Hoan Kiem Lake has a romantic atmosphere at night when Ngoc Son Temple and Huc Bridge are illuminated and couples walk around the lake holding hands. We recommend visiting in the evening, and make sure you stop for a coffee (sweetened with condensed milk) at one of the lakeside kiosks. A cyclo (three-wheeled bicycle) tour through the streets of Hanoi's Old Quarter is the ideal introduction to the sights, sounds and smells of this fascinating city.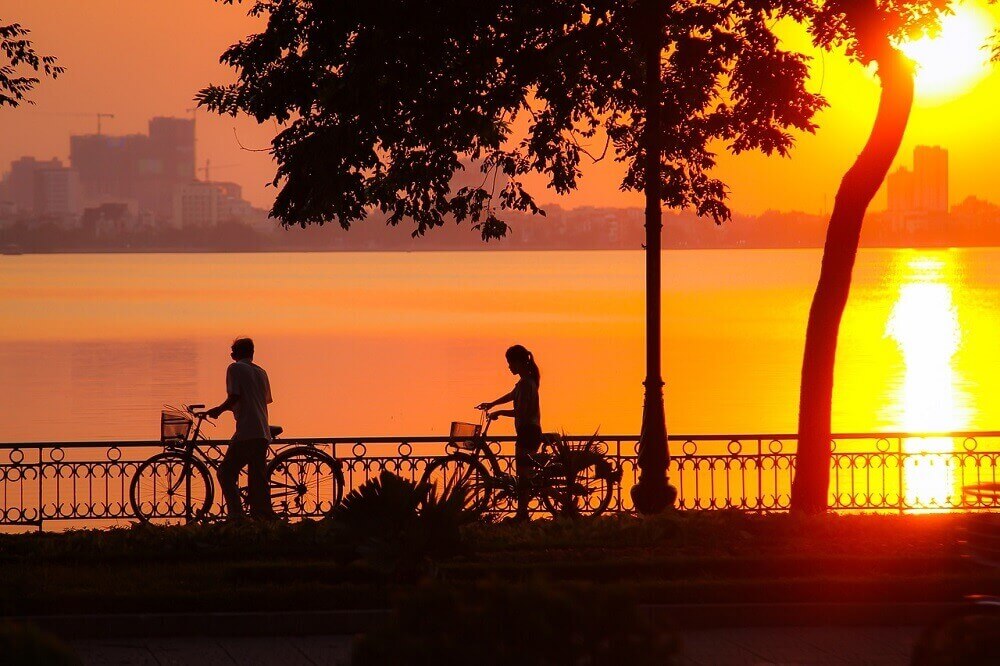 Hoan Kiem Lake
The serenity of Hoan Kiem Lake is a stark contrast to the hustle and bustle of Hanoi's Old Quarter, which is a maze of narrow lanes crammed with boutiques, art spaces, little cafes and restaurants, as well as Hanoi's signature street stalls.
Be warned, the traffic is crazy here - expect to see thousands of motorbikes, scooters and cyclos weaving their way through the ancient streets of the Old Quarter.
During your stay in Hanoi it's definitely worth waking up early one morning to explore the Old Quarter and Hoan Kiem Lake. You'll see vendors setting up their market stalls and local people in the parks and gardens around Hoan Kiem Lake practising tai chi or participating in exercise classes.
2. Hanoi's French Quarter (Ba Dinh District)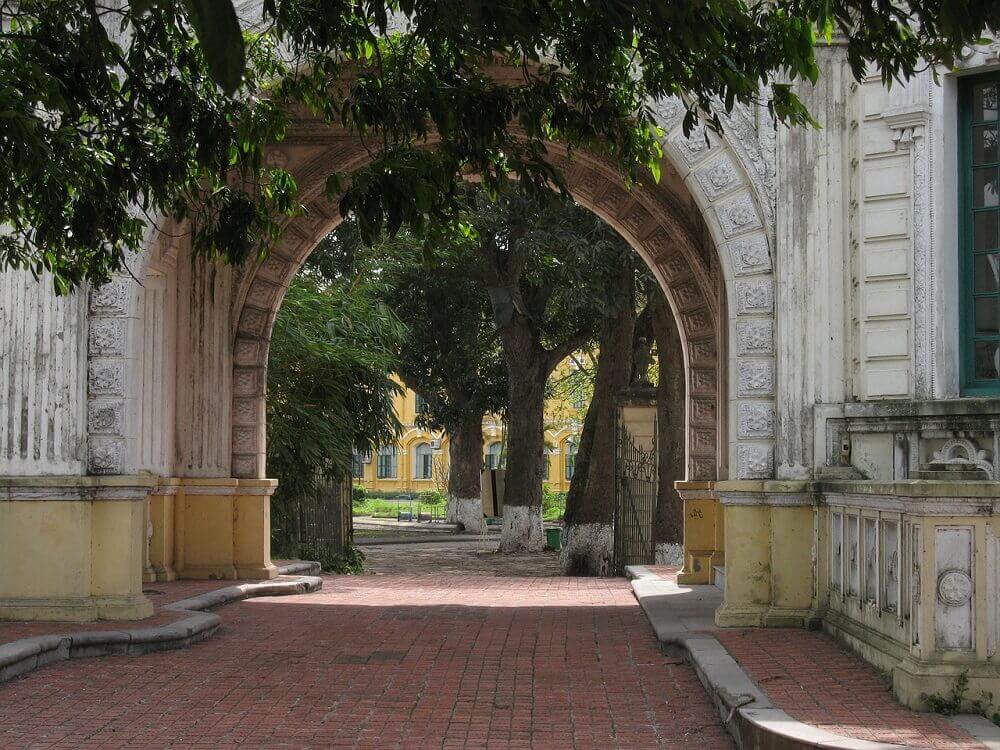 The old French Quarter of Hanoi is located immediately to the west of the Old Quarter. The wide boulevards of the French Quarter are lined with French-styled villas and mansions, sidewalk cafes, fine-dining restaurants and luxurious hotels.
This area is where the Ly kings established their Imperial City in the 11th century and it is here where you'll find the city's most important cultural and historical monuments, including the venerable Temple of Literature and the One Pillar Pagoda, both dating from the time of the Ly kings and well worth a visit for those interested in the earlier history of the region.
The rest of the 11th-century architecture was cleared by the French colonial government to build their own administrative buildings. The most impressive of these is the Presidential Palace, the former residence of the Governor-General of Indochina. The nearby Botanical Gardens have been preserved and provide a haven from the hustle and bustle of the city.
Temple of Literature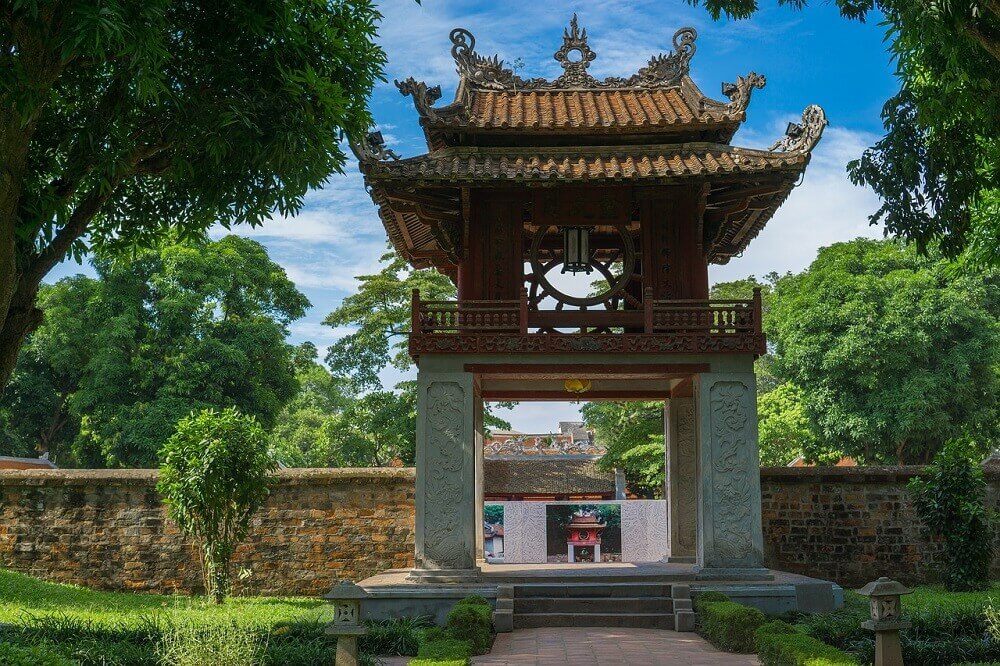 Built in 1070, the Temple of Literature is a Temple of Confucius, which also houses the Imperial Academy - Vietnam's first university. You might recognise the building, as it's featured on the 100,000 Vietnamese đong banknote.
Around Tet (Vietnamese New Year) the temple's calligraphists assemble outside the temple and write wishes in Han characters. These artworks of calligraphy are given away as gifts and used to decorate homes.
One Pillar Pagoda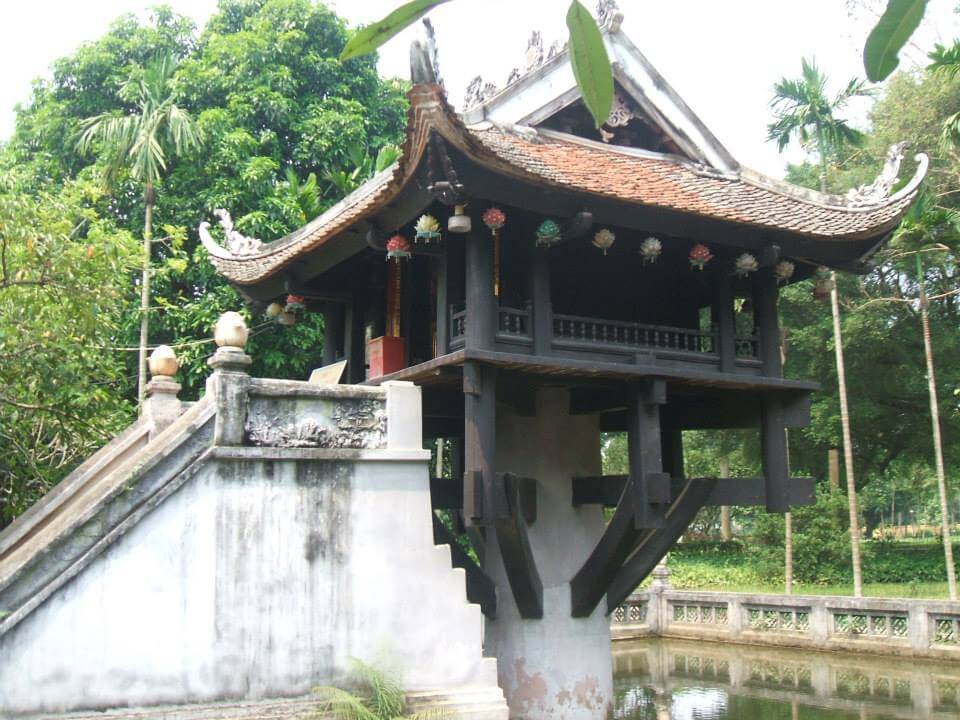 Hanoi's One Pillar Pagoda is a historic Buddhist temple, constructed in 1094 by an emperor in celebration of the birth of his son.
Legend has it that the emperor was childless until he had a dream of a bodhisattva who handed him a baby son while seated on a lotus flower. This is why the temple has a beautiful pond with a pillar erected in the centre.
Presidential Palace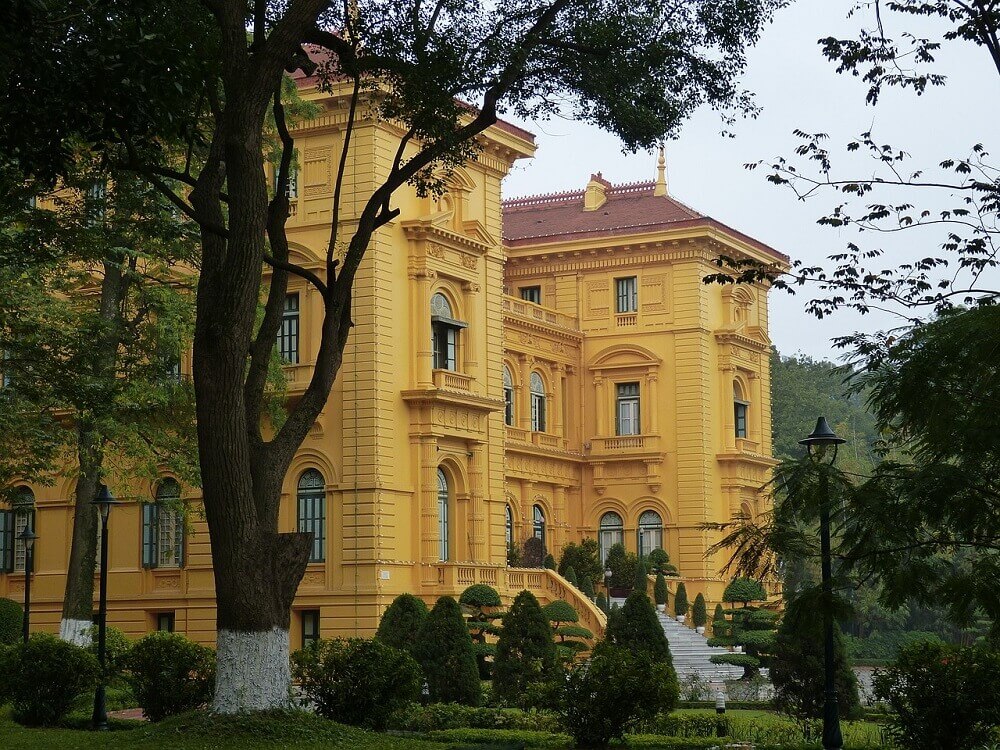 Hanoi's Presidential Palace was built by the French between 1900 and 1906 to house the French Governor-General of Indochina. The yellow building is typical of the European colonial style, with Italian influences.
After Vietnam gained independence in 1954, Ho Chi Minh refused to live in the symbolic colonial palace, instead building a traditional Vietnamese stilt house and carp pond in the grounds. Today, visitors can't enter the building, but can explore the surrounding gardens.
Botanical Gardens
Located behind the Ho Chi Minh Mausoleum, Hanoi Botanical Garden or Bach Thao Park (which translates as "hundreds of plants") is Hanoi's little green lung.
Created by the French in 1890, the lush gardens once covered 33 hectares and were surrounded by French villas. Now, Bach Thao Park covers around 11 hectares, but is still home to tropical rainforest plants and other exotic flora, making for a peaceful trip into nature in the city.
3. Ho Chi Minh Mausoleum and Museum
The mausoleum of the Vietnamese Communist revolutionary leader and national hero, Ho Chi Minh, is located in the old French Quarter and is a must-visit for anyone interested in understanding the country's complex political history and the mindset of modern-day Vietnam.
The mausoleum is based on Lenin's mausoleum in Moscow and these architectural similarities echo the political and idealistic influence that the former Soviet Union had on the Vietnamese communist party.
The embalmed body of the former leader is on display in the central hall, protected at all times by a military honour guard. Visiting foreign dignitaries are often invited to pay their respects to Uncle Ho, who still plays an immensely important role in modern Vietnam's ideology.
A visit to the mausoleum and accompanying museum is extremely interesting both from a historical point of view, and to observe the reverence and respect with which the Vietnamese treat Ho Chi Minh.
Wayfairer Top Tip

Rules regarding dress and behaviour are strictly enforced by staff and guards. Legs must be covered (no shorts or miniskirts), hands must not be in pockets, silence must be observed at all times, and all forms of photography and food/ drink consumption are strictly prohibited.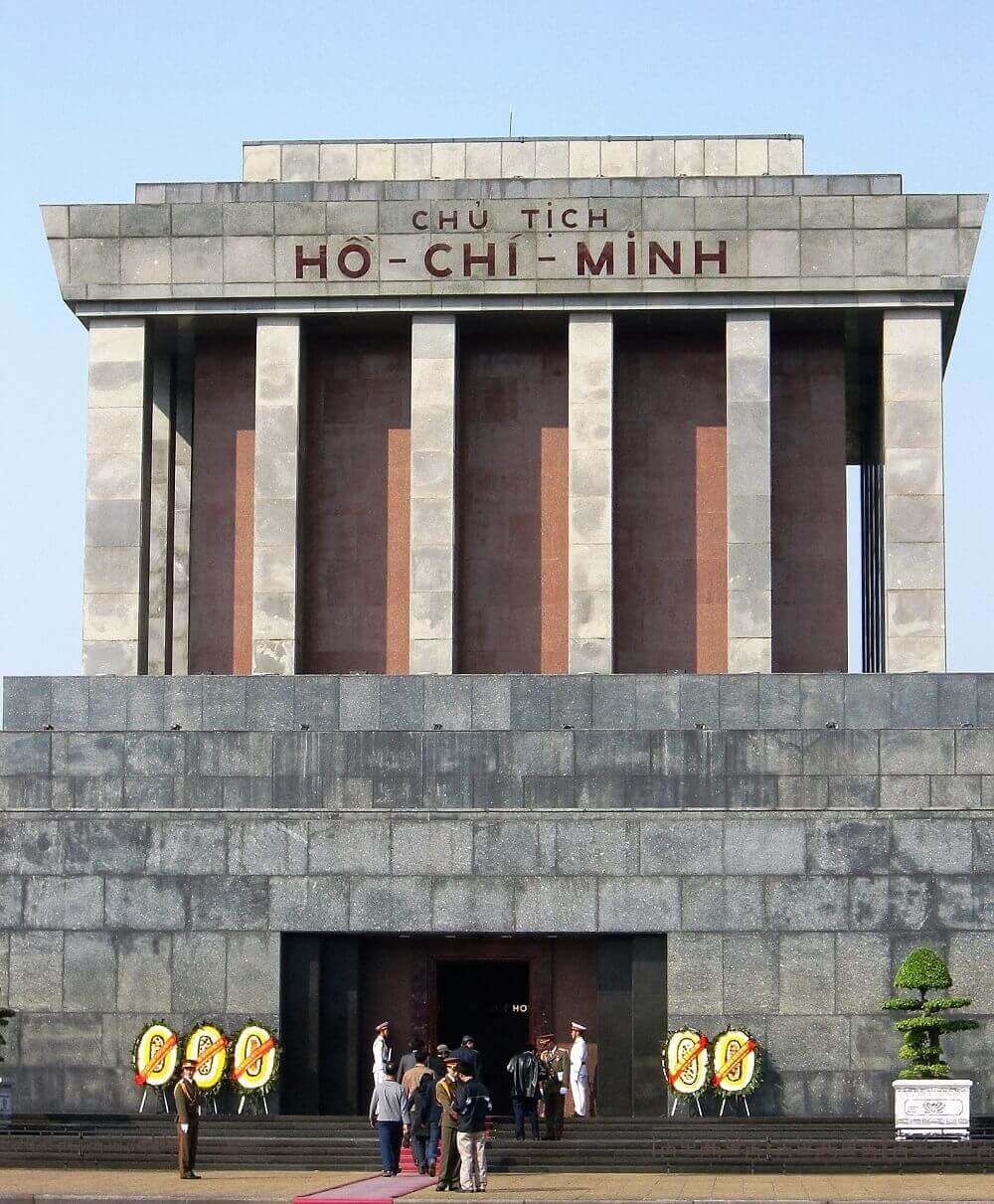 4. Hanoi Opera House (Nha Hat Lon)
For those planning an extended stay in Hanoi, a visit to the Opera House to view a performance is a unique experience that will take you back in time.
Fully restored in 1997, the Opera House is one of the best examples of French architecture in the city and modelled on the older of Paris' two opera houses, the Palais Garnier.
The Opera House stages Vietnamese and Western opera, ballet and musical productions by both domestic and visiting companies. A local musical or theatrical performance is a fascinating cultural experience.
5. Overnight cruise around Ha Long Bay
Escape the hustle and bustle of Hanoi and enjoy the relaxing atmosphere of the UNESCO World Heritage Site of Ha Long Bay, famous for its spectacular limestone karsts jutting out of the serene turquoise waters.
Wayfairer Top Tip

Ha Long Bay is easily reachable from the capital, and the best option is a two or three-day cruise. Leave your suitcase at your hotel and pack a light bag, ideal for your cabin or an overnight island stay. Although Ha Long Bay is popular, seeing the sun set behind limestone karsts and seeing the sunrise over the calm turquoise oasis are unforgettable, transcendent travel experiences.
6. Where to stay in Hanoi
Hanoi offers gorgeous luxury accommodation in the heart of the city, with many beautifully designed properties just a few minutes walk from the capital's main attractions. Here are just a few of the best hotels in Hanoi, which we partner with on our tailor made Vietnam tours:
Essence Hanoi Hotel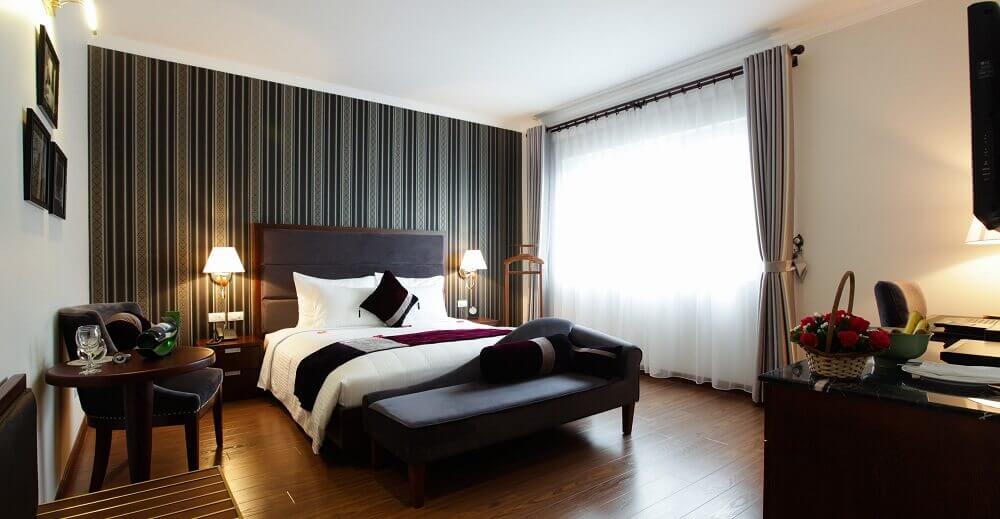 Located in Hanoi's Old Quarter, Essence Hanoi Hotel & Spa is award-winning boutique hotel known for its elegance and hospitality.
The property's charming sky-blue exterior houses a range of rooms and suites, as well as the Essence fine dining restaurant (ideal for sampling elevated Vietnamese cuisine).
Choose from rooms or suites, king beds or twin singles, with each room decorated with striking contemporary lines, soft artisan lighting, chic wooden flooring and regal green accents. Yet, modern amenities provide convenience, such as a complimentary laptop and HDTV in every room.
Unwind at the hotel's luxury spa, which offers signature pampering, local spa rituals with indigenous ingredients and ancient healing treatments, such as Himalayan Salt Stone Treatment and Ancient Fire Acupuncture Therapy.
La Siesta Hotel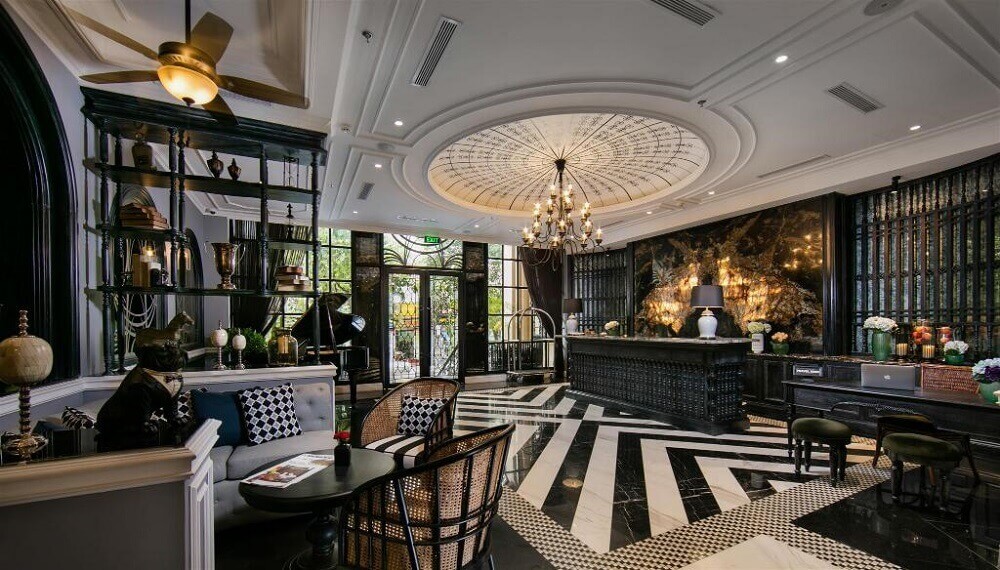 Tucked away on Ma May Street in Hanoi's Old Quarter, La Siesta Hotel Hanoi belongs to one of Vietnam's leading boutique hotel groups, and therefore standards are high.
Classic meets contemporary at this luxury property, from charming bellboy service to family-friendly features such as a cinema room, where over 300 HD movies are regularly screened. There's also a luxurious spa, fitness centre and the Red Bean Restaurant, which serves both Vietnamese and Western dishes, and includes a bar.
La Siesta is comprised of 50 rooms and suites spread across six floors, including interconnecting rooms ideal for families or groups travelling together - all decorated in a contemporary Asian style.
Hotel de l'Opera Hanoi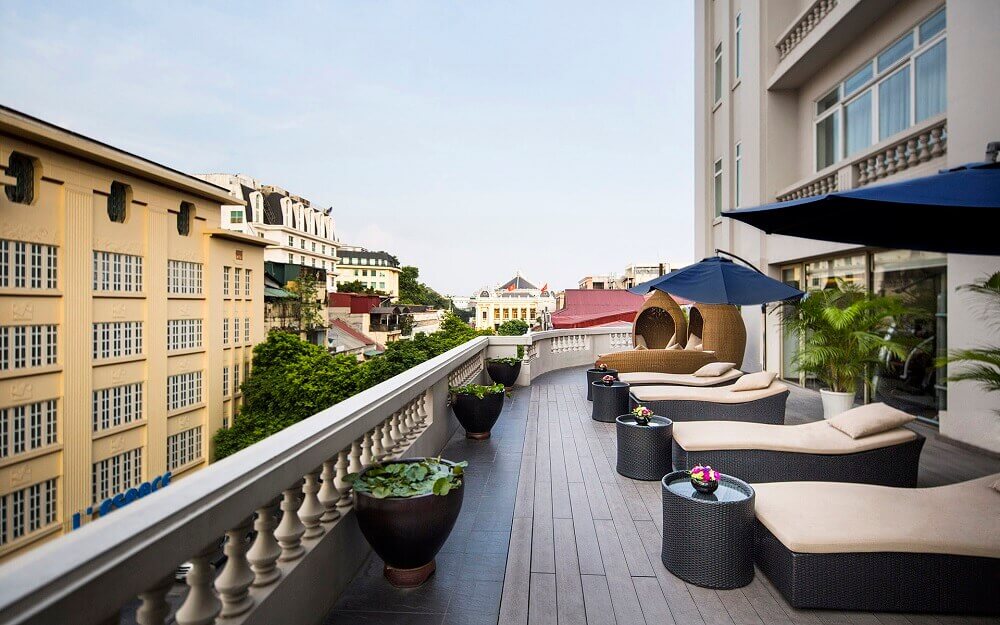 Housed in an exquisite French colonial building, the 5-star Hotel de l'Opera Hanoi is opulence and vintage incarnate. Join the hotel's daily tours, rent a bike to explore Hanoi on two wheels, then return for a treatment at the Sante spa or a dip in the heated semi-outdoor swimming pool.
Each of the property's 107 rooms feature European-style designer furnishings, spacious bathrooms with rain showers and views of either the Hanoi skyline or the iconic opera house building. Upgrade to the hotel's L'Opera Grand Suite for separate living and bedroom areas, and the utmost in luxury facilities.
Enjoy à la carte and buffet-style dining in the brasserie-style Café Lautrec, but for dinner choose elegant Satine's authentic Vietnamese cuisine. Then, wash your meal down with a nightcap at La Fee Verte (The Green Fairy), which will transport you to lavish 20th century Paris.
If you'd like to plan a holiday to Vietnam, call our Luxury Travel Specialists for a chat about your dream trip or fill out our no-obligation enquiry form.
We understand that booking trips, especially adventurous and alternative ones such as this can be intimidating, so get in touch; we can take the stress out of your holiday planning and organise a trip you won't forget!
Get in touch
Sign up to our newsletter
For more travel inspiration delivered straight to your inbox just fill in your details here
More inspiration from Wayfairer customers and travel specialist
Sign up to our newsletter
For more travel inspiration delivered straight to your inbox just fill in your details here