This trip was a trip of a lifetime for us. As an amateur photographer I had often dreamed about going to Africa and photographing the wildlife. So, as a retirement gift to myself, my wife and I made the trip to Tanzania a reality. The Wayfairer Team made it a wonderful experience. All accommodations, meals, transportation and other details they set up for us were fantastic. Each lodge and tent camp had its own unique charm and the itinerary was perfect.
There were many highlights from this trip to choose from. The people were so friendly, our guide was amazing, and viewing the wildlife up close was incredible. Probably the biggest highlight of the trip was to witness the great migration by watching thousands of wildebeest and zebra cross the Mara River at three different locations in the northern Serengeti.
Our expectations for this trip were exceeded by far.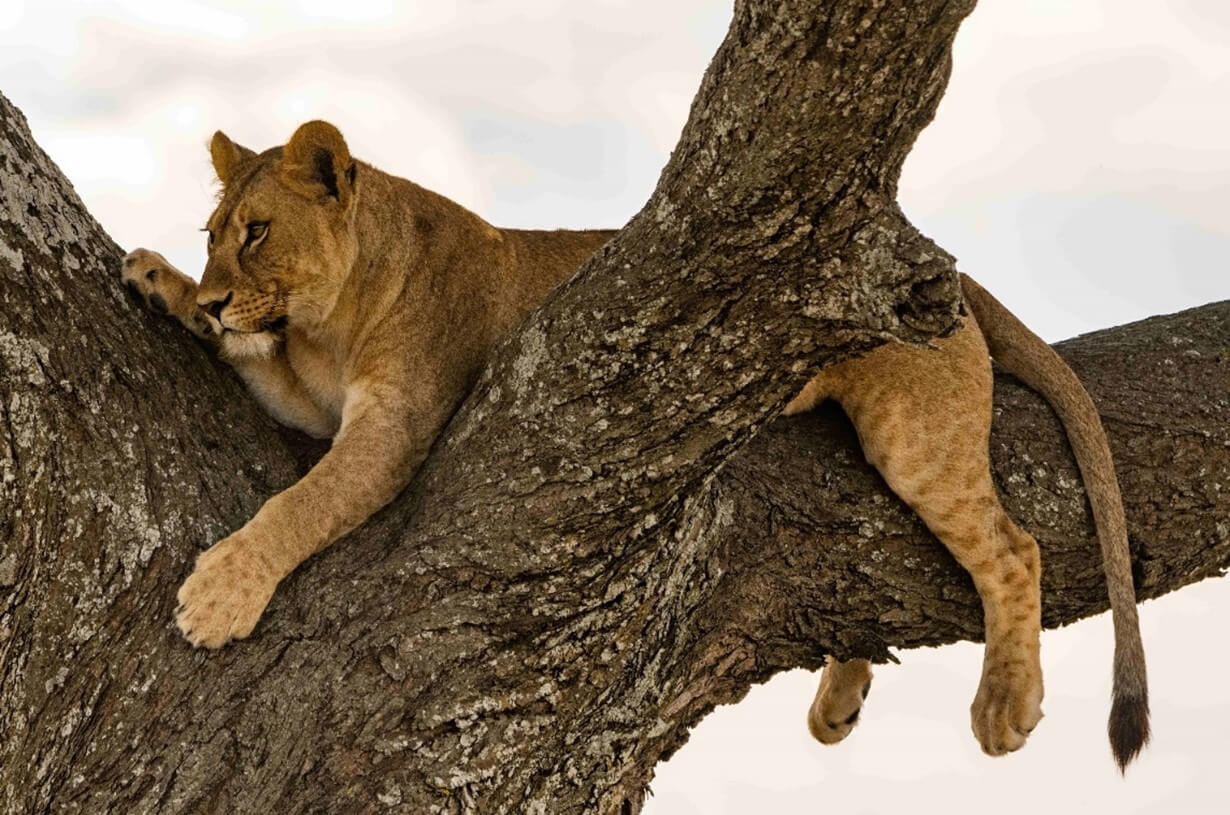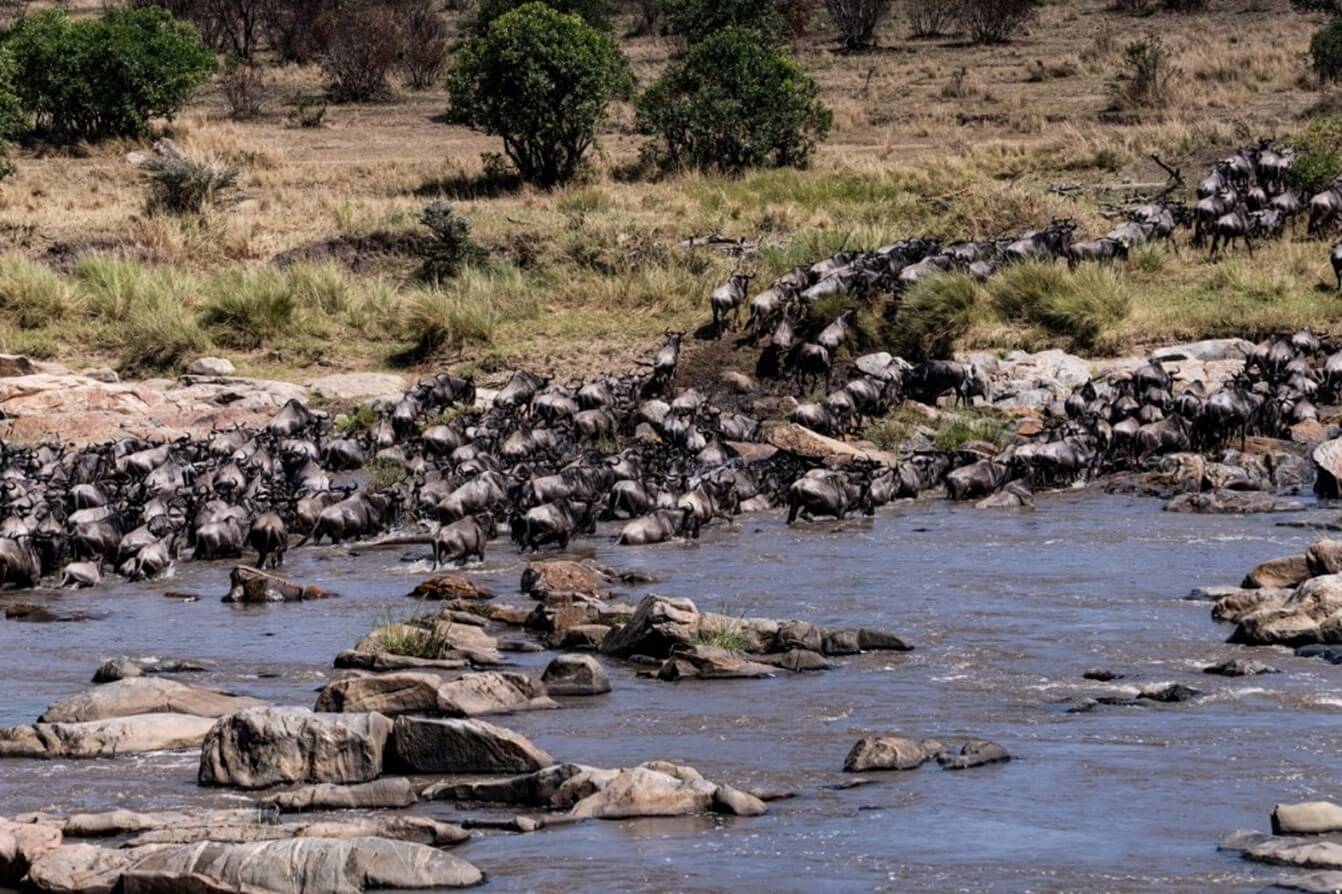 A good friend had used Wayfairer Travel before and recommended them to us. We were extremely happy we chose them as our travel agent. They were very friendly, helpful, and put an amazing travel package together for us.
Our plan was to retire in April of 2020 and travel to Africa shortly after that. Hearing we should book the trip early we started to plan the trip in November of 2018. We contacted Wayfairer and they put a customized package together for us that included some options. After a couple of phone calls and a few emails with Leonie Taylor we finalized the package in December of 2018. The trip included an eight-day safari in northern Tanzania and four days on the island of Zanzibar. We were scheduled to begin our trip in July of 2020.
Unfortunately, in the spring of 2020 COVID -19 was spreading throughout the world and our trip had to be canceled. In April the Wayfairer team contacted us to notify us of the trip cancellation. However, they also informed us that they would give us full credit to use on any other trip we might want to take in the future. Since it was my dream to travel to Africa we chose to simply postpone the trip and reschedule it for 2021. When we informed the Wayfairer team of our decision they immediately rebooked all details of the trip we had originally planned.
As we got closer to our travel dates, we had many questions. Our Travel Concierge Carmen Castrovillari was extremely helpful in providing answers to all of our questions. She quickly and thoroughly answered all the questions we had.
July of 2021 finally arrived and my wife and I began our adventure.
Below is a day-by-day account of our amazing journey.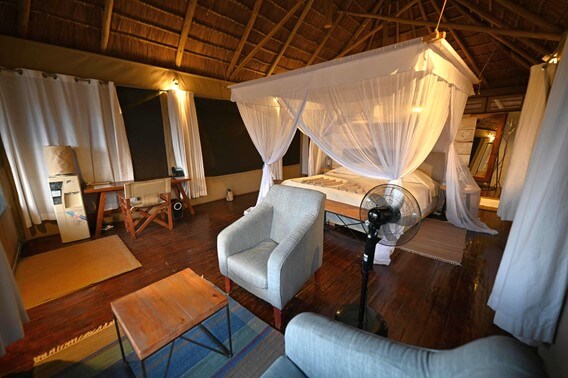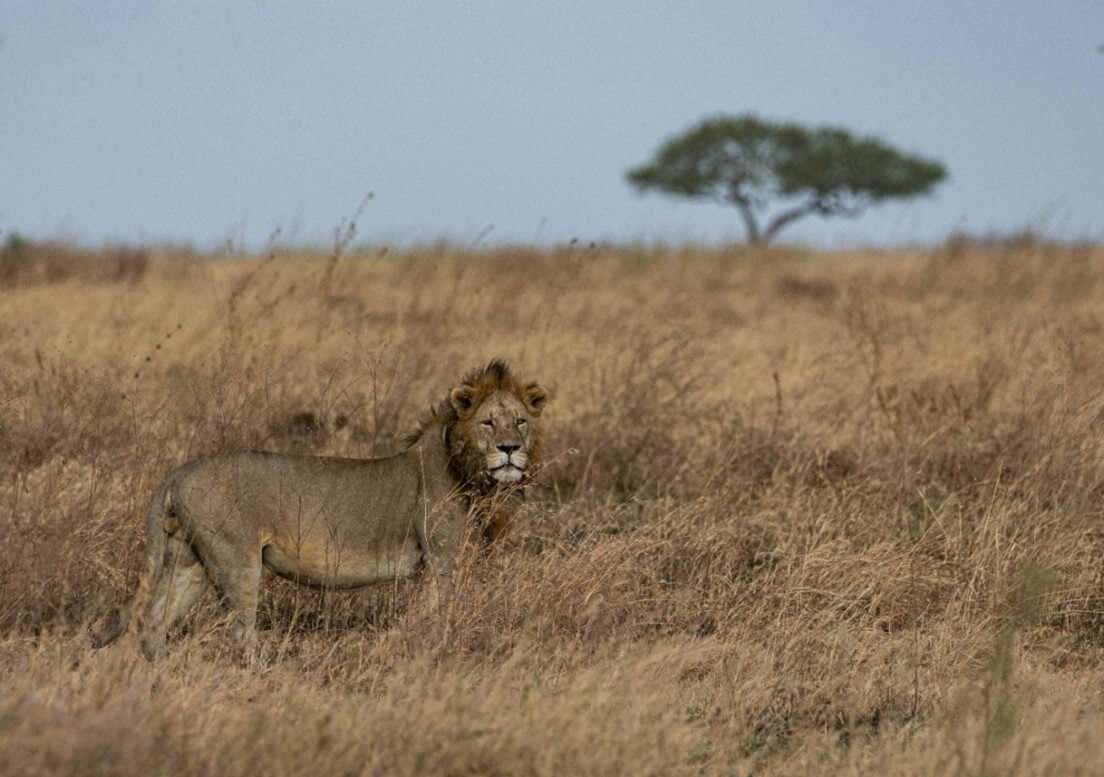 Day 1 - After a 14 hour flight from Seattle to Doha, a 6 hour layover, and a 6 hour flight from Doha, we arrived in Tanzania. We arrived at Rivertrees Country Inn in Arusha at around 10:00am. After a brief rest Patrick (the manager at Rivertrees) accompanied us into the city of Arusha where we visited the Natural History Museum, a market, and a cultural heritage center.
Day 2 - We met our guide Faso (he was fantastic) who would be our driver and guide for the next eight days and headed to Lake Manyara National Park. On the drive we saw lots of monkeys, baboons, birds, and a couple of giraffes. After a nice picnic lunch in the park we went on a treetop walk (a series of nine rope suspension bridges). After the treetop walk we ended the day by checking into the Rhotia Valley Tent Lodge and having a wonderful dinner at the lodge.
Day 3 - A couple from The Netherlands owns Rhotia Valley Tented Lodge, and they established an orphanage and a farm on the property. They use the profit from the lodge to fund the orphanage. Much of the food served at the lodge is grown at the farm. During the tour we got to see the garden, their cows and pastures, the pig pen, their bakery, and housing for the children and their caretakers.
We left the lodge about 10:00am and started the 2 hour leisurely drive to our next stop at the rim of the Ngorongoro Crater. On the drive we saw a lot more animals including zebra, wildebeest, warthogs, buffalo, and several kinds of birds. We arrived at the Ngorongoro Serena Safari Lodge about 4:00pm and went on a short ranger guided nature hike on the crater rim.
Day 4 - After a beautiful sunrise and a quick breakfast we headed down into the Ngorongoro Crater at about 6:30am for a day of animal viewing. We saw a lot of elephants (many young ones), zebra, wildebeest, hippos, and several species of birds. They were all content foraging in the lush landscape.
Day 5 - We left the Ngorongoro Crater area at 7:00am and headed north into the southern part of the Serengeti Plain. On the way we visited Oldupai Gorge. The gorge is considered to be one of the most important paleo-anthropological sites in the world. It is a World Heritage Site and is famous for discoveries of some of the earliest signs of human development.
After viewing the museum we headed into Serengeti National Park. After we entered the park we saw 15 big cats. A group of nine lions was resting on a kopje (a large rock in a flat area), a leopard in a tree, a lioness in a tree, and her cubs in the brush. We also witnessed two lionesses try to chase down and kill a wildebeest and her calf, but both wildebeest survived the chase.
We arrived at the Kubu Kubu Tented Camp and checked into our "tent" about 6:00pm. Our tent had an amazing view of the Serengeti Plain, there were zebra near the pool, and we could hear hyenas at night. At night and early morning we had to have people armed with machetes escort us from our tent to the breakfast/dinner tent to protect us from any animals that might appear.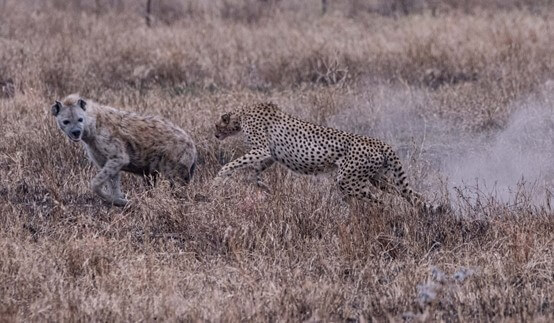 Day 6 - We left camp around 7:00am in search of wildlife. The morning was fairly quiet in terms of seeing animals. We then headed back out at 4:00pm to see what we could find. And, what we found was amazing. We got to witness animal survival play out right in front of us.
After driving only about 15 minutes from our camp our driver noticed a kettle of vultures circling overhead. He drove to the area and we found a female cheetah that had just killed a gazelle and was feasting on it with her two cubs nearby. The mother was eating as fast as she could while the cubs were watching and romping around. Our guide told us that the mother had to eat as much and as fast as possible because scavengers would soon show up and challenge her for the food. He said vultures would start circling the area and landing, and then hyenas would see the vultures and move in.
Sure enough that is exactly what happened. After a few minutes the vultures started landing near the cheetah and chased the two cubs away so the mother had to leave the kill to regather the cubs. As the mother was trying to retrieve her cubs a hyena arrived and started to move in towards the cubs. So, the mother cheetah started to chase the hyena to protect them. After the mother cheetah chased the hyena off she gathered her two cubs and left the area. The hyena then moved in to chase the vultures away from the gazelle and started eating. It was incredible to witness all that took place.
Our guide said that he had never seen a cheetah chase off a hyena before (and he has been a guide for 15 years). He said normally hyenas travel in groups and they would have normally attacked and killed the cheetah. What we saw was amazing and we were very lucky to see it.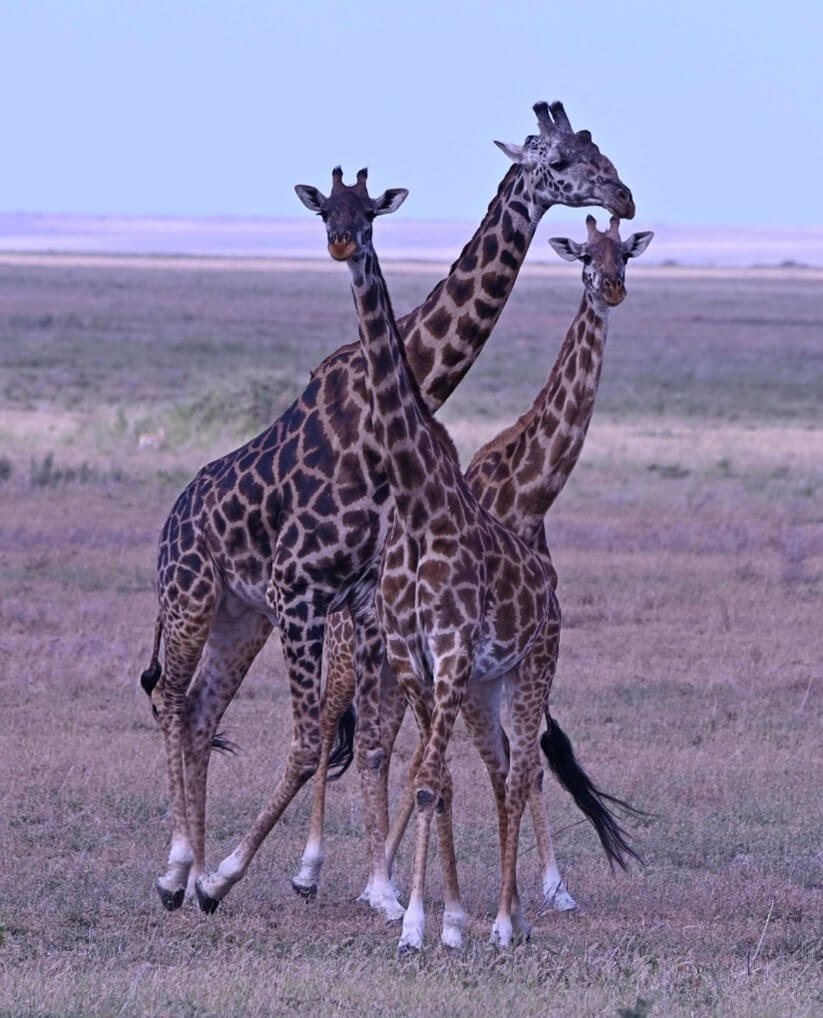 Day 7 - Was rather uneventful compared to Days 5 and 6, but still very fun. We left Kubu Kubu Tented Camp at 7:30am and headed north to the northern part of Serengeti National Park. On this leg of the trek we started seeing much larger groups of zebra and wildebeests as we were getting closer to the "great migration".
We arrived at our camp (Ang'ata Migration Bologonja Camp) at about 5:00pm and the hosts were very happy to see us. They made a campfire for us as the sun set and we watched part of the migration from the camp.
Day 8 - Another incredible day. We left our camp about 6:30am and headed towards the Mara River hoping to see parts of the migration cross the river. And, we were not disappointed. On the way we saw several lions eating their "breakfast" and scavengers waiting their turn. When we got to the Mara River our guide told us that sometimes people wait 4 to 5 hours for a crossing and don't get to see one. But, we were VERY lucky and got to see herds of wildebeest and zebra cross the river at three different locations within about a 90-minute span. On the way back to camp we found a very majestic male lion resting under a tree. My goal of getting a photograph of a majestic male lion was met.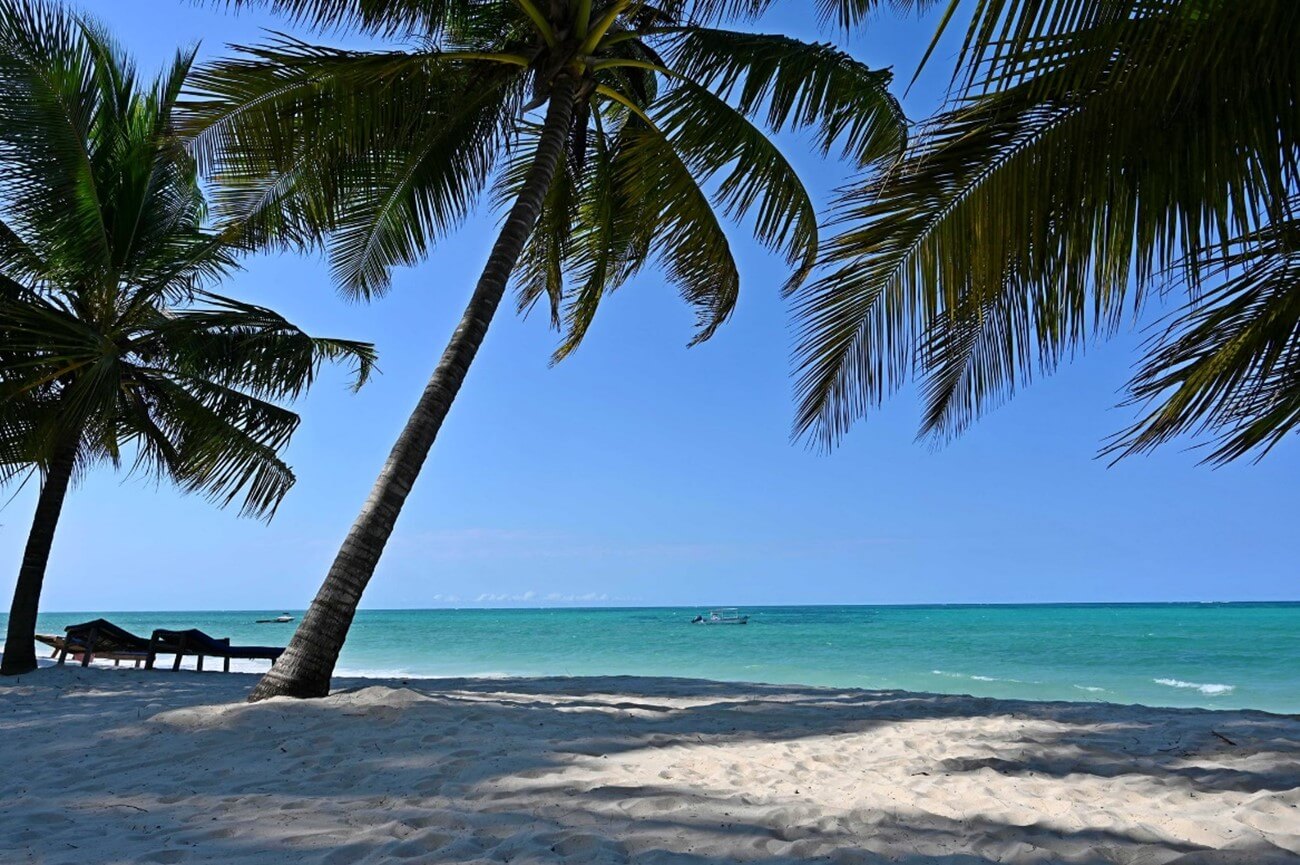 Day 9 - Last day of the safari. We left our camp at 6:30am to catch our 9:30am flight to Zanzibar. Along the way we found a group of giraffe, wildebeest, and zebra beautifully illuminated by the early morning light. We arrived at Lobo Airstrip at 9:00am and departed mainland Tanzania for the island of Zanzibar, where we would spend the last four days of our trip.
We landed at the airport on the west coast of the island where we were met and driven about an hour to the Pongwe Beach Hotel on the east coast of the island. We would spend the next two days at the Pongwe Beach Hotel.
Day 10 - To get to know the layout of the island we hired a guide to show us around the island. We started at 4:30am and he took us to a fantastic beach at Matemwe to get some nice sunrise photos. We spent the rest of the day driving around the island visiting many beaches and markets, and experiencing several street scenes. We got back to the hotel around 5:00pm.
Day 11 - Dedicated to relaxing on the beach.
Day 12 - We headed to the west coast to spend the next two days in Zanzibar City. We checked into our hotel (The Jafferji House) in Stone Town (the historic part of the city and a World Heritage Site) then walked around the town a bit. We found a VERY lively fish market and walked the narrow streets. After a quick dinner we spent the evening at the waterfront. The waterfront was very lively with a lot of food vendors and people enjoying the sunset. We also got to watch several young men showing off their jumping skills off a pier and into the Indian Ocean.
Day 13 - We started out the day by being picked up by a driver and driven to a COVID-19 test center. After we completed the quick test we were driven back to the Jafferji House and then walked around exploring the shops and stalls in Stone Town Market.
For dinner we decided to celebrate our last day and have dinner at a very interesting restaurant back on the east coast. So, we set up transportation and drove an hour to The Rock Restaurant near Paje. After dinner we drove back to the hotel to pick up our luggage then to the airport for our 11:00pm flight home.
Blaine and Kristen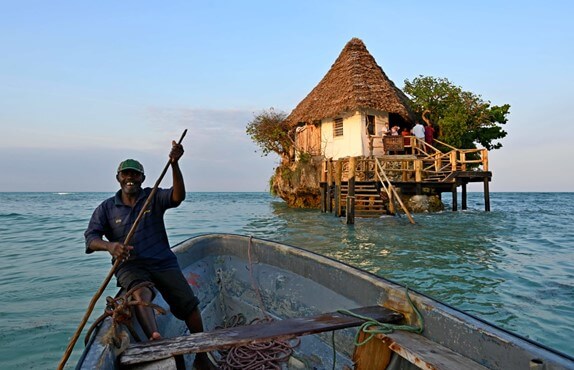 If you feel inspired by Blaine & Kristen's travels, please do get in touch today to plan a trip of your own to these destinations, even if not for a few years to celebrate your own life achievements.