8 Epic Activity Holidays for Adventurous Travellers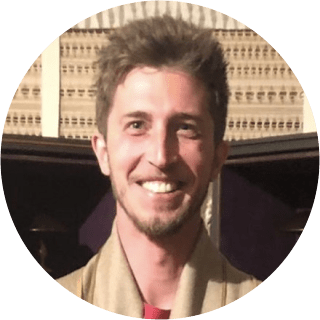 By Tom Blakey
April, 14, 2023

4 Min read
Exciting & adventurous travel experiences to inspire intrepid explorers
The word "holiday" conjures up images of pristine beaches, poolside cocktails and some much needed relaxation away from daily life. However, the ever-growing trend of adventure travel reveals that today's travellers aren't satisfied with sitting still for too long, but rather looking for life-affirming activity holidays packed with jaw-dropping wildlife encounters, epic adrenaline or endurance challenges, remote and unspoiled destinations, all topped off with breathtaking natural beauty.
Explorer and adventurer Sir Ranulph Fiennes (the first person to climb Mount Everest and cross both polar ice-caps) says it best: "Escaping the office to lie by a pool surrounded by other Brits has never appealed to me. I can understand why young holidaymakers want to party or relax by a pool, but it is no surprise to me that – these days – my generation want more adventure from their holiday."
So, whether you're looking to reach the summit of Africa's highest peak, bamboo raft down the rushing rivers of Southeast Asia, or follow in the footsteps of historic Antarctic explorers - we have you covered with a range of unique and inspiring activity holidays guaranteed to take you on a adventurous journey of discovery.
Here are just eight of our favourite activity holidays, filled with epic adventure travel experiences, to give you some ideas:
1. Hike the Tonkinese Alps in Northwestern Vietnam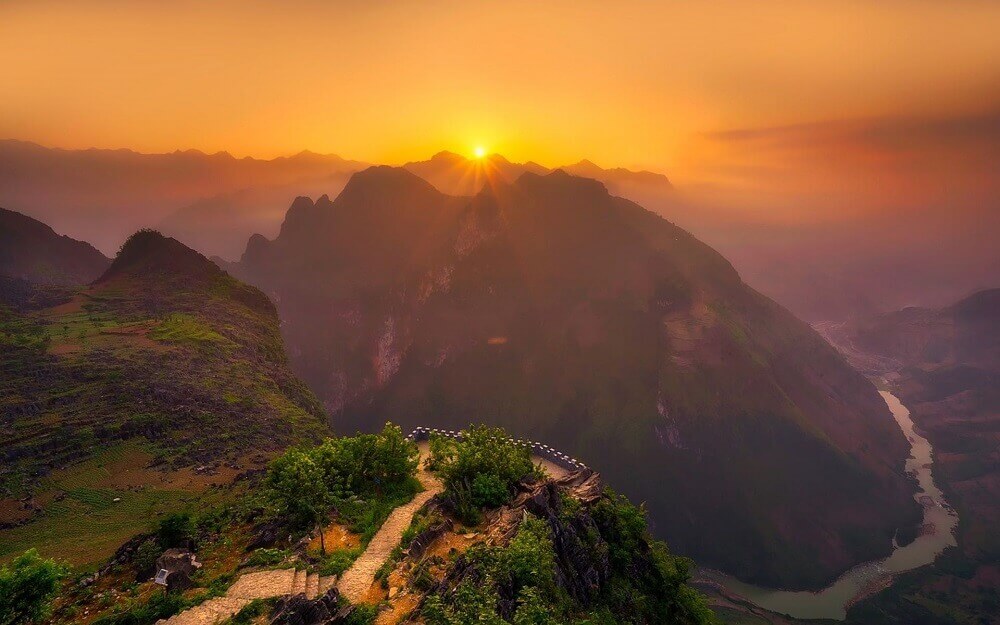 Northwest Vietnam offers some of the most spectacular landscapes in the country, with hikes up tiers of emerald rice terraces rewarding walkers with panoramic views of misty mountains and serene village life. Adventure travellers who get off the beaten track gain an insight into Vietnam's hill tribes and their traditional ways of life, with an activity holiday full of cultural experiences and physical challenges in the heart of nature - far from the hectic traffic of Ho Chi Minh City and the beach resorts of Nha Trang.
From capital city Hanoi, head north to the rural Mau Chau district, a series of villages set amongst rice fields in a valley surrounded by lush mountains. Explore the villages by bicycle or on foot, stopping to peruse authentic handmade products from the stalls set up outside people's homes.
From here, travel to Dien Bien Phu. Situated in the Muong Thanh valley, deep in the highlands of northwest Vietnam and just 30 kilometres from the Laos border, the remote town of Dien Bien Phu is famous for the climactic confrontation on 7th May 1954, which ended France's reign in Indochina.
Next, journey via Lai Chau to Sapa, enjoying the incredible views of dense jungle, glistening rice terraces and undulating valleys and peaks - which make this region one of the most beautiful places in Vietnam. During this scenic journey, you'll cross over the top of the Tram Ton Pass, standing 1,900 metres tall as the highest road pass in Vietnam.
Spend at least a couple of days in Sapa, where you'll have a chance to hike in the stunning Tonkinese Alps (Hoang Lien Mountains). Depending on your level of fitness, choose options ranging from one-day hikes to challenging overnight treks, where you can also participate in a local homestay experience.
For a more detailed itinerary, take a look at our off-the-beaten-path Northwestern Vietnam holiday.
2. Conquer Tanzania's Mount Kilimanjaro
Climbing Mount Kilimanjaro in Tanzania is an adventure of a lifetime. It is undoubtedly a huge challenge which requires strength, stamina and serious determination. However, upon reaching the bestickered sign at Uhuru Peak, you'll be rewarded with awe inspiring views and an overwhelming sense of achievement. Watching the sunrise from "The Roof of Africa" is a moment you will remember for the rest of your life.
There are two routes to the summit of Kilimanjaro: the gradual ascent and strategic acclimatisation of the Lemosho Trek, and the shorter, but more strenuous, Machame Trek. Though both have their advantages, the Lemosho route is the more popular trek, with time taken to enjoy the challenge and better combat altitude sickness.
The trek begins on the lower slopes of the mountain and follows a wilderness trail passing through pristine and remote rainforest up to the Shira Plateau. Then, you'll cross the wild heath and moorlands, before heading to Lava Tower, which stands at a whopping 4,630 metres high.
From Lava Tower, you'll make our way down into Barranco Valley. The following day starts with a short steep ascent of the daunting Barranco Wall, then a gentle descent into the Karanga Valley, followed by a short ascent to a campsite - around 4,035 metres above sea level.
The next morning, you'll set off towards the final camp, and very early the next morning start your ascent by torchlight to climb to Stella Point at 5,685 metres to see the sunrise from the greatest vantage point in Africa. Those who are still feeling strong enough can then walk around the crater rim to Uhuru Peak, the highest point in Africa at 5,895 metres.
If you're looking to physically and mentally challenge yourself, conquering Kilimanjaro could be the best adventure travel experience out there for you. For more information on planning and logistics of this epic activity holiday, read our when to climb Mount Kilimanjaro and how to prepare for a Kilimanjaro trek guides.
3. Trek to see endangered mountain gorillas in Rwanda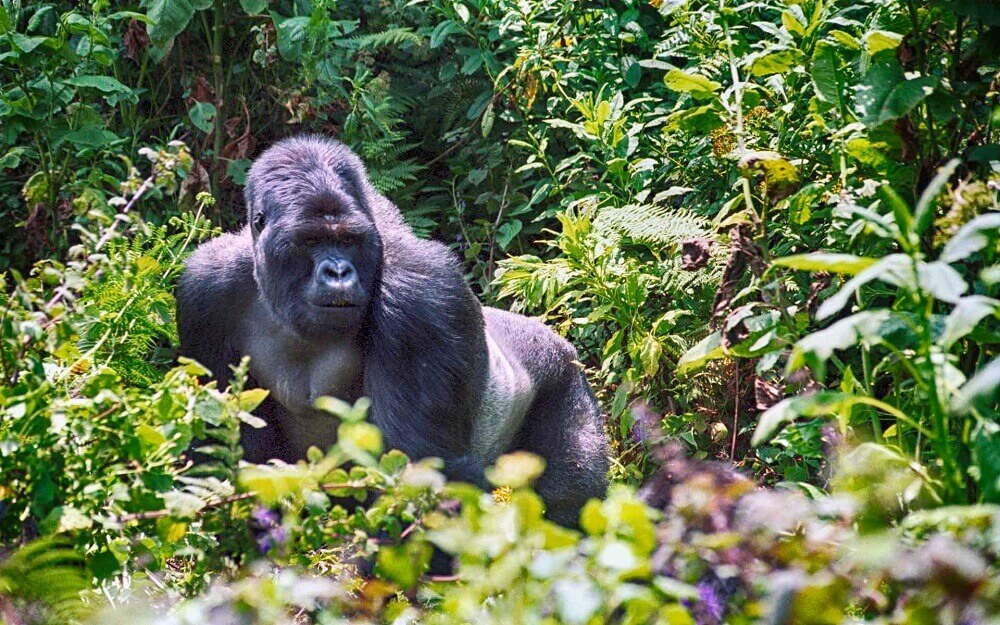 Gorilla trekking is another incredible African adventure. Also known as "The Land of a Thousand Hills," gorilla trekking is Rwanda's biggest tourism activity, as the country is home to more than half of the world's critically endangered mountain gorillas.
Start in the capital city of Kigali, then venture out to Kinigi at the foothills of the Virunga Mountains in Volcanoes National Park (Parc National des Volcans), where you'll begin your trek in search of a family of mountain gorillas.
Your professional guide and tracker will lead you into the forest, taking you on a route to see a gorilla family, though you'll see plenty of other wildlife along the way. A reasonable level of fitness is ideal, as the hike can be steep in parts and climbs to an altitude of over 2,500 metres (though the experience is definitely worth the trek). When you finally meet the gorillas, you'll have the chance to spend up to an hour quietly observing them in their natural habitat.
Learn more about how to see gorillas in the wild by browsing our Rwanda activity holiday itineraries or read our blog on gorilla trekking in Rwanda. Gorilla trekking is also available in Uganda, where there is an opportunity to participate in an exclusive gorilla habituation experience.
4. Island-hopping around southern Thailand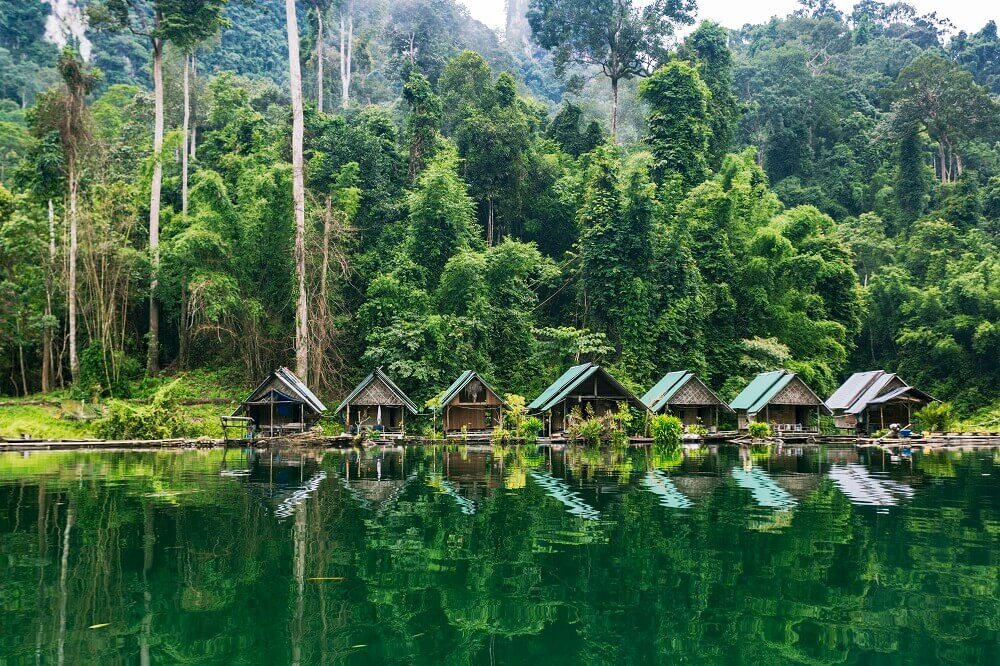 Southern Thailand is a tropical paradise of towering limestone cliffs sheltering gorgeous beaches, yet this region is still an excellent destination for adventure travel. For example, on our Elephants & Islands activity holiday, you can visit Khao Sok National Park, Phuket and the idyllic Phi Phi Island. This adventurous route offers the opportunity for activities such as rock climbing, bamboo rafting, kayaking, diving, snorkelling, jungle trekking and much more.
Khao Sok National Park is characterised by limestone mountains (or karsts), caves, lakes, waterfalls and dense rainforest. Adventure enthusiasts can choose from a range of exciting activities; including kayaking down the Khao Sok River, trekking through the jungle, exploring remote waterfalls and secret caves, then visiting the Nam Ron hot springs.
Our preferred accommodation in this region is Elephant Hills luxury tented camp, located right on the border of the rainforest of Khao Sok National Park. This unique camp offers guests a chance to participate in an elephant experience, where you can interact with these magnificent creatures in an ethical way.
On Phuket, don't miss the incredible Hong by Starlight experience: a day tour of Phang Nha Bay via sea canoe, exploring the area's hong (caves), island-hopping and swimming in the turquoise waters of the bay. In the evening, you'll release a traditional krathong (floating offering) into the water. Heading back into the hong after dark, you'll light the candles on your offerings and see the cave lit up. Once you blow the candles out, you'll be treated to nature's own light with glowing bioluminescence created by the plankton.
From Phuket, you'll take a boat to Phi Phi Island, which was used as the setting for the film The Beach. During your time here, we recommend that you hike up to Phi Phi viewpoint for a spectacular panoramic view of Phi Phi Le and Phi Phi Don, then enjoy a sunset kayaking trip to Wang Long Bay. There are also options to swim with black-tip reef sharks or try rock-climbing for the very best views of Phi Phi Island.
5. Bush walks and fly camping in Zambia
There are plenty of incredible safari holiday destinations to choose from, but if you're looking for true adventure in the African wilderness, then we recommend Zambia. Birthplace of the walking safari and one of the few places you can take a game drive at night (plus morning and evening game drives, horse riding and canoe safaris to boot), Zambia offers multi-level safari exploration.
Far from the comfort of a safari vehicle, walking safaris provide you with a true taste of the wilderness. On an adventurous bush walk with a local guide, you'll discover another level of detail to Zambia's complex ecosystems, from tiny reptiles and insects, to big game tracking techniques, to the diverse plantlife in the region.
South Luangwa National Park (great for big cats and nocturnal creatures) and Lower Zambezi National Park (riverside scenery, fishing excursions and canoe safaris) are Zambia's perfect duo of safari destinations, with both offering a wide range of adventurous wildlife watching options, including walking safaris.
Zambia is already way more under the radar in comparison to big name safari destinations such as Tanzania, Kenya and South Africa. However, if you're looking for a taste of "real Africa" before the days of safari tourism, then try remote North Luangwa (home to Zambia's population of rhino, reintroduced in 2003) or Kafue, Zambia's oldest and largest national park, which offers incredible cheetah sightings.
Kafue's huge expanse of land, plus the fact it receives far fewer visitors than South Luangwa and Lower Zambezi, means that you'll feel like you have the park all to yourself. Read our Luxury Travel Specialist Leonie Taylor's recent review of her trip to Kafue to discover how moved she was by this beautiful corner of the world.
Take things one step further by leaving the luxuries of your safari lodge behind for a fly camping experience in the heart of one of Zambia's national parks. This is where you combine game drives and walking safaris with camping right out in the bush, in mobile tents, which travel as you do. Get off the grid and back to nature, falling asleep under the stars to the sound of a distant lion's roar.
6. Adrenaline activities in New Zealand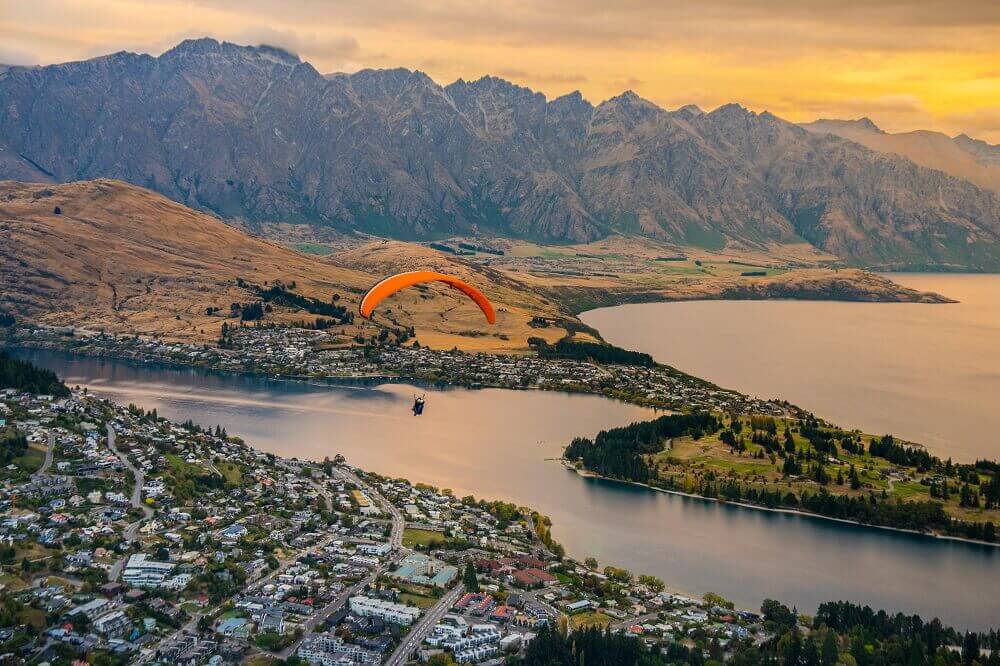 New Zealand is arguably the adrenaline capital of the world, home to the original bungee jump and known as a scenic outdoor playground of unparalleled natural beauty, best appreciated from the vantage point of a raft, helicopter or zipline - as well as through the eyes of a local though a Maori cultural experience.
Start with a glamping experience on the banks of the Takou River in the Northland Region (north Island) or Kaniere River in Hokitika (South Island); combining secluded wilderness with luxurious intimacy, including a soak in an opulent outdoor bath. Then, meet with a local Maori guide to navigate the sacred Arahura river (only accessible to Maori) to search for precious pounamu (greenstone).
Swapping riverside tranquillity for mountain adventure, your action-packed New Zealand activity holiday then takes you to the snowy peaks of Fiordland National Park on a private helicopter tour, landing at Milford Sound for a cruise around this area of spectacular natural beauty. Or choose time in the amazing Abel Tasman National Park, offering combinations of kayaking, hiking and cycling trails to hidden coves and paradise beaches.
Finish off with in Queenstown, an adventure paradise with a limitless array of adrenaline activities including skydiving, canyoning, paragliding and much more. Ascend the Skyline Gondola for amazing views of the city, take a jet boat ride through the Shotover River Canyons, then unwind with a glass champagne in natural hot pools.
7. An intrepid Antarctica expedition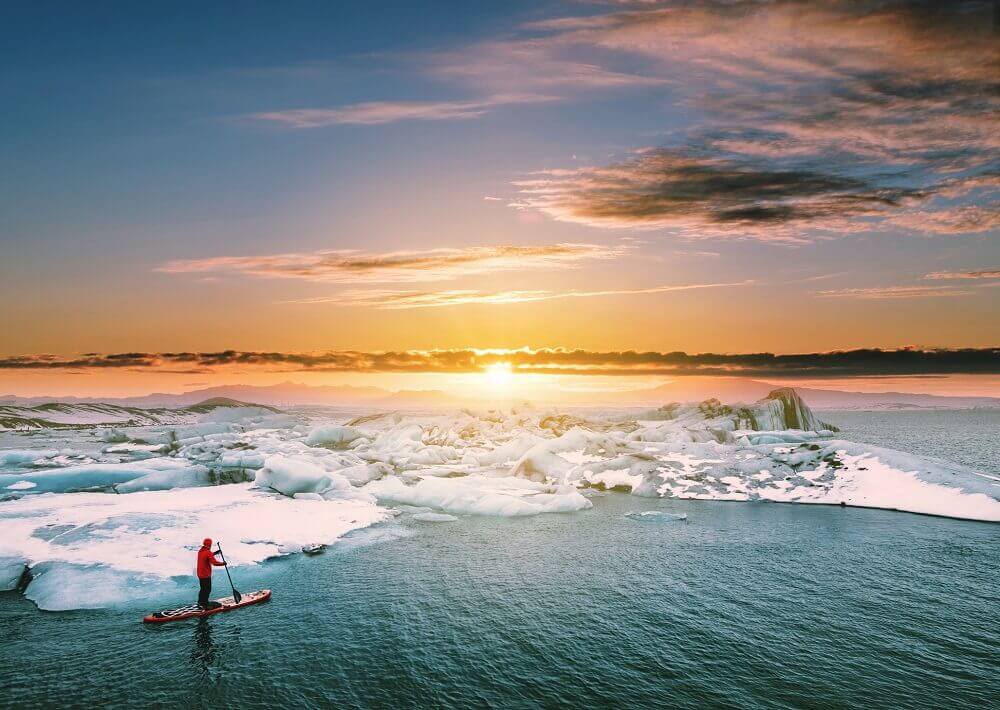 What could be more of an adventure than a trip to the end of the world? Embark on a bold polar expedition to the "Big White" on an cruise around Antarctica, braving the seasickness of the perilous Drake Passage (a rite of passage for true explorers), island-hopping around the South Shetland Islands and leaving a footprint in the snow on the Antarctic Peninsula.
Follow in the footsteps of historic polar pioneers such as Sir Ernest Shackleton, watch humpback whales breaching in the waves and feel humbled by alien landscapes filled with glistening icebergs and glaciers - your perspective on the planet is guaranteed to change. However, there's more to an Antarctic cruise than the epic views from your ship (though they are inspiring enough in themselves).
Kayak, paddle-board and hike around the snowy coastline with a team of expert historians, naturalists and marine biologists, who will provide you with daily lectures and excursions to better get to know this unique destination. Take a photography workshop to learn how to best capture otherworldly Antarctic landscapes, take a trip out to see penguin rookeries and seal colonies on remote islands, or even take the opportunity to camp out overnight on the Antarctic Peninsula to test your survival skills.
Oh, and don't forget your bathing suit for the ultimate adventure activity - the "polar plunge"!
8. 7 day horse riding expedition in Kenya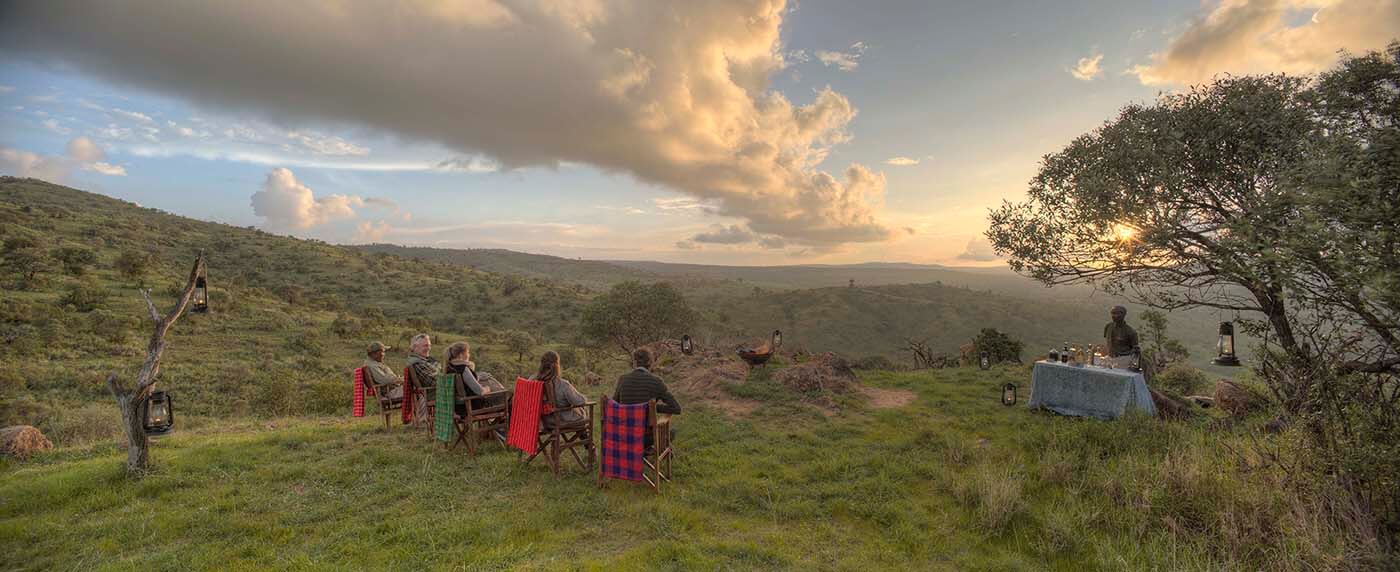 This is for the serious riders out there, with the best reputation in the region. No day rides are possible, so it's not for the light-hearted casual rider.
This week long safari offers the pure bush experience. With 4 different camp locations you will literally ride from one side of the Masai Mara to the other, covering over 250km.
Read more about Kenya's Top 10 Horse Riding Safaris.
If you've been inspired by one of these wild activity holidays, call our friendly team of Luxury Travel Specialists for chat about your ideas or send an online enquiry to start your journey.
We understand that booking trips, especially adventurous and alternative ones such as this can be intimidating, so get in touch; we can take the stress out of your holiday planning and organise a trip you won't forget!
Get in touch
Sign up to our newsletter
For more travel inspiration delivered straight to your inbox just fill in your details here
More inspiration from Wayfairer customers and travel specialist
Sign up to our newsletter
For more travel inspiration delivered straight to your inbox just fill in your details here