The Maldives has to be one of the most beautiful places on Earth
The tiny nation is made up of a string of exquisite islands set in the Indian Ocean, home to pure white sand, unbelievably blue water and rich marine life.
Renowned for its world-class luxury resorts featuring overwater villas, infinity pools, lavish spas and gourmet dining, the Maldives is the ultimate island escape.
It's also in danger of disappearing.
Global warming and rising sea levels are threatening to drown the low-lying islands, while human recklessness has caused severe damage to the coral reefs and marine ecosystems.
Although large-scale tourism in the Maldives has contributed to the destruction, many resorts are now working hard to reduce their carbon emissions and environmental impact.
Proving that luxury and sustainability go hand-in-hand, these resorts are paving the way for the tourism industry to play their part in preserving our precious planet.
We've rounded up seven of our favourite luxury eco-friendly resorts that are dedicated to sustainability and conservation in the Maldives.
1. Six Senses Laamu
Located on its own private island in a secluded corner of the Maldives, Six Senses Laamu is a true island paradise, with luxurious overwater villas, private pools, personal butlers, world-class dining, and plenty of watersports and excursions.
As the only resort in the stunning Laamu Atoll, you'll have this magical region all to yourself, filled with glittering coral reefs, colourful marine life, pristine beaches and Ying Yang, the most famous surfing spot in the Maldives.
Surrounded by incredible natural beauty, Six Senses Laamu are dedicated to protecting these fragile ecosystems.
They have created an exceptional experience that works in harmony with the natural environment, ensuring a luxury stay that gives back to both the environment and community.
Six Senses Laamu operate a range of fantastic initiatives including zero-waste programs, an organic on-site garden, desalinated water production, their innovative Earth Lab, and the elimination of plastic water bottles.
The resort has an in-house Marine Team, the largest of its kind in the Maldives. The team works to inspire and educate guests on the marine environment, through safe and ethical interactions with the underwater world.
They also conduct important research, used to develop long-term conservation programs in the region.
2. Four Seasons Landaa Giraavaru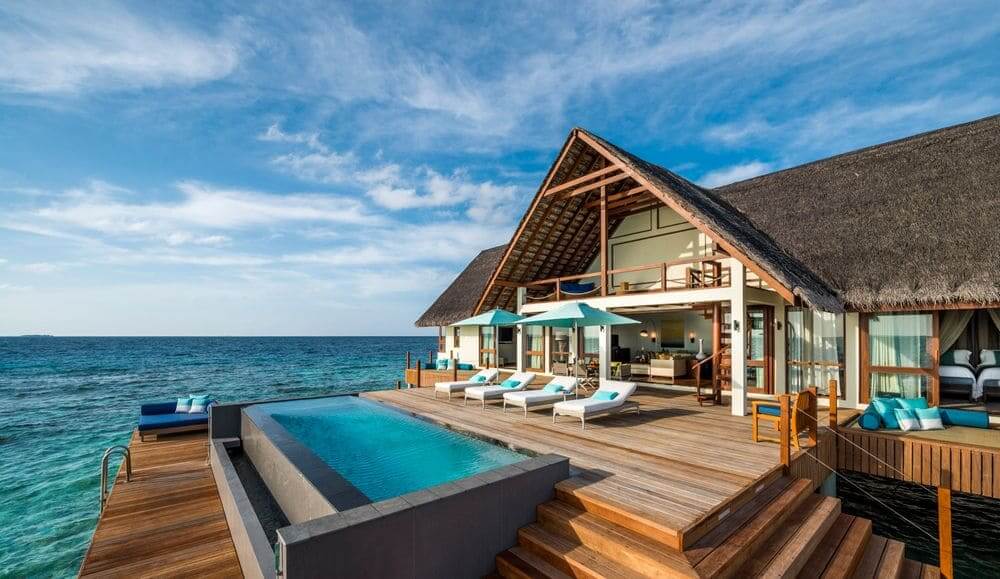 The Four Seasons is renowned for its supreme luxury and Four Seasons Landaa Giraavaru is no exception.
Located on its own private island in Baa Atoll, the Maldives' first UNESCO World Biosphere Reserve, the resort is a heavenly slice of powdery white beaches, turquoise waters and lush green jungle.
You'll find lavish overwater villas with private infinity pools, the only Olympic-size infinity pool in the Maldives, a full-service Spa and Ayurvedic Retreat, and four restaurants offering everything from North African to Asian to Italian cuisine, and even a Turkish coffee and shisha bar.
Spend your days cruising the islands on the Four Seasons Explorer or go snorkelling and diving to meet the resident manta rays.
While the Four Seasons Landaa Giraavaru are all about luxury, they're also serious about sustainability.
In early 2019, they connected their first RoofSolar inverter, one of the Maldives' largest resort-based solar installations.
It encompasses 3,105 panels that will produce around one million kWh of energy each year, saving around 650-800 tons of carbon emissions. This equates to powering all 103 of the resort's villas and suites for 32 days.
In their mission to become carbon-neutral, the resort has also eliminated plastic straws and water bottles, and leftover plastic is recycled into clothes and shoes.
They also partner with local and national environmental agencies and employ 10 full-time marine biologists at their marine conservation and research centre, running programs such as turtle rehabilitation, manta research, anemone mapping, coral propagation and more.
3. LUX* South Ari Atoll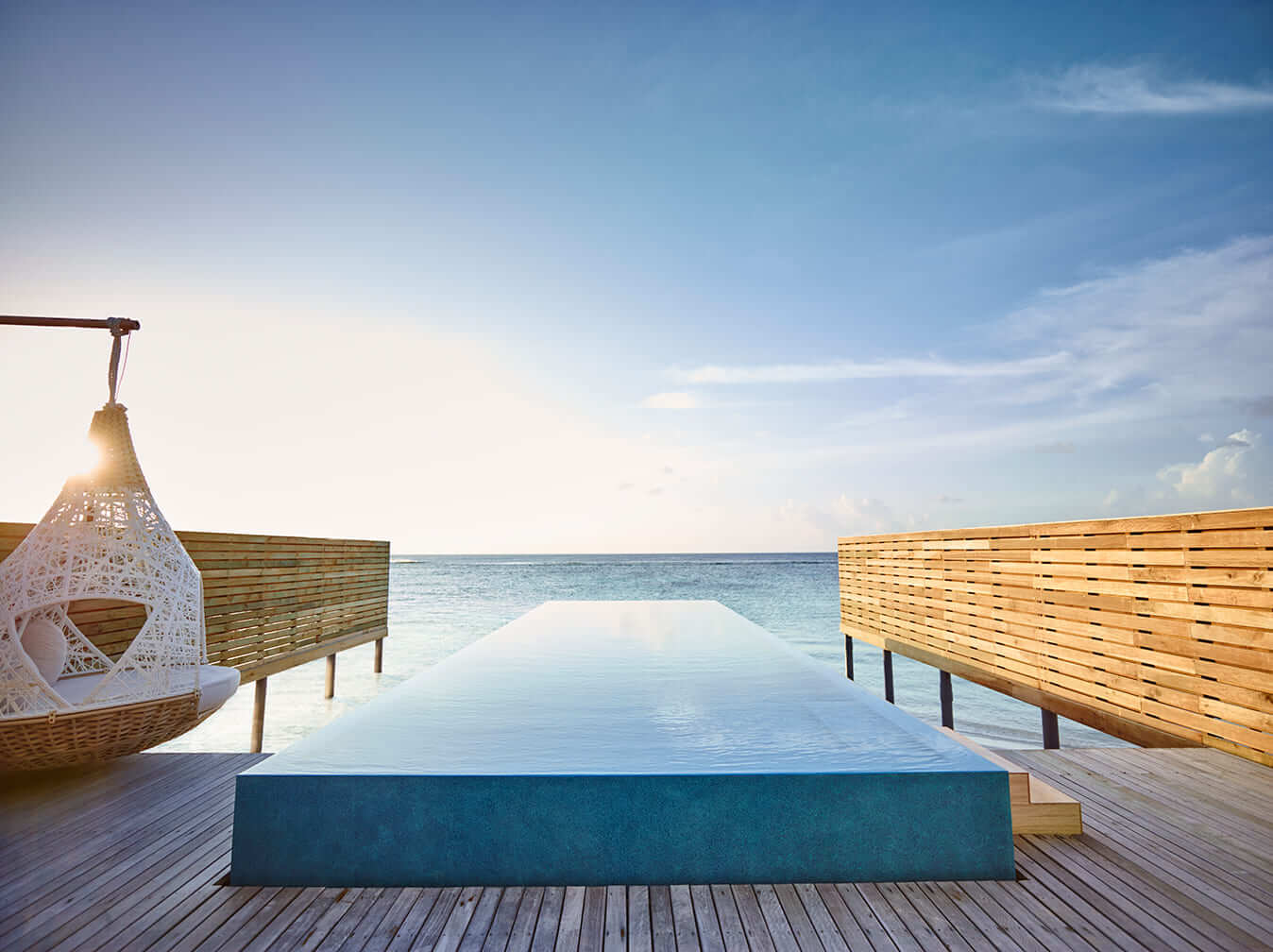 Catch your first glimpse of the breathtaking Maldives archipelago from the air, as you're whisked away by seaplane to LUX* South Ari Atoll, the only resort on the only resort on the beautiful Dhidhoofinolhu Island.
You'll arrive to stunning overwater villas, private infinity pools, 13 restaurants and bars, an award-winning spa, a 5-star PADI dive centre and one of the largest water-sports centres in the Maldives.
Get out into the dazzling ocean with flyboarding, jet-surfing, hoverboarding and snorkelling, or sink beneath the sugary shoreline to discover incredible marine life, including the resident whale sharks.
You'll do it all responsibly, as LUX* is committed to protecting this tropical paradise and its creatures.
They conduct in-house research to implement long-term conservation initiatives for the endangered whale sharks, and also operate renewable energy and water saving projects, including linen reuse and in-house bottling.
As part of the LUX* Resorts & Hotels brand, they have also committed to offsetting 100% of carbon emissions, to reduce their impact on climate change.
They calculate their carbon emissions through the Hotel Carbon Measurement Initiative (HCMI) guidelines and are audited externally by Ernst & Young.
4. Baros Maldives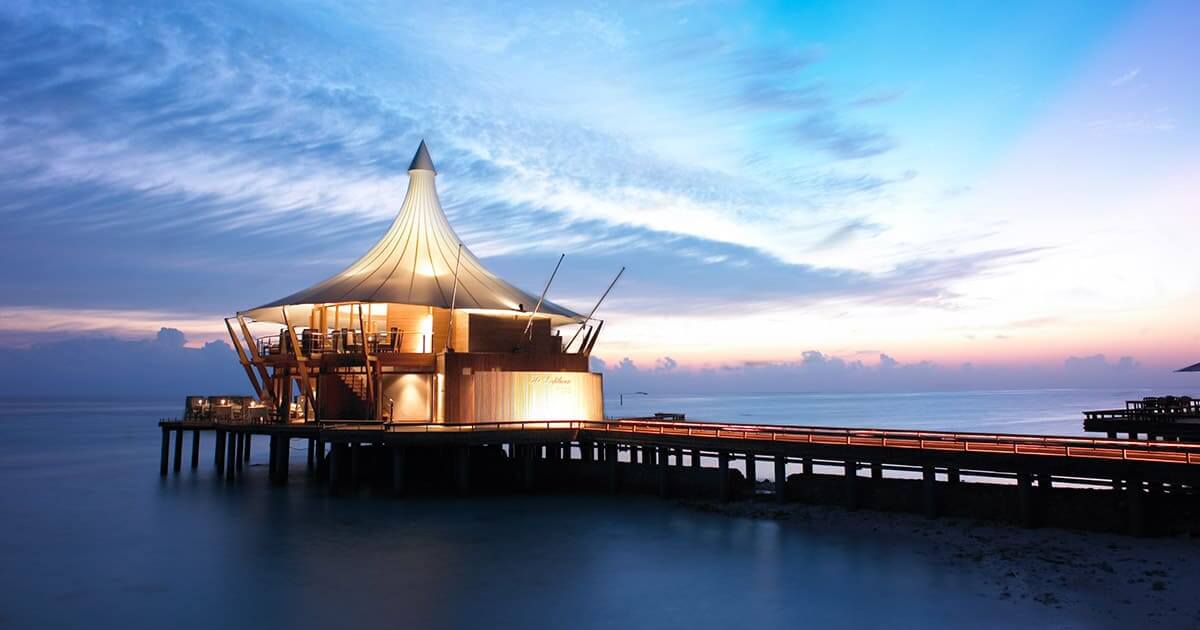 Located on a pristine private island in North Male Atoll, just 25 minutes by speedboat from the Maldives' international airport, Baros is simply breathtaking.
You'll find luxurious villas perched over the water or nestled under the jungle canopy, surrounded by powdery white sand.
Unwind in your lavish suite with private pools, open-air bathrooms, wine chillers, yoga mats and even a pillow menu.
Indulge in the Serenity Spa, enjoy gourmet dining across five restaurants and bars, or board a dinner cruise for a spectacular culinary adventure.
The resort offers a range of exclusive excursions to soak up the incredible natural environment including sailing, snorkelling, diving and glass-bottom kayaking.
Baros have been pioneers for sustainable tourism in the Maldives for over 40 years, with initiatives including biodegradable cleaning products, installing LED lights, using a heat-exchange system to heat bath water, recycling water for garden irrigation and using CFC-free air conditioning.
As the gateway to 30 dive sites filled with rich marine life, Baros offers world-class diving and established the first eco-dive centre in the Maldives.
You also can take guided snorkelling excursions with the resident marine biologist, or adopt your own coral to contribute to the resort's coral planting project.
5. Dusit Thani Maldives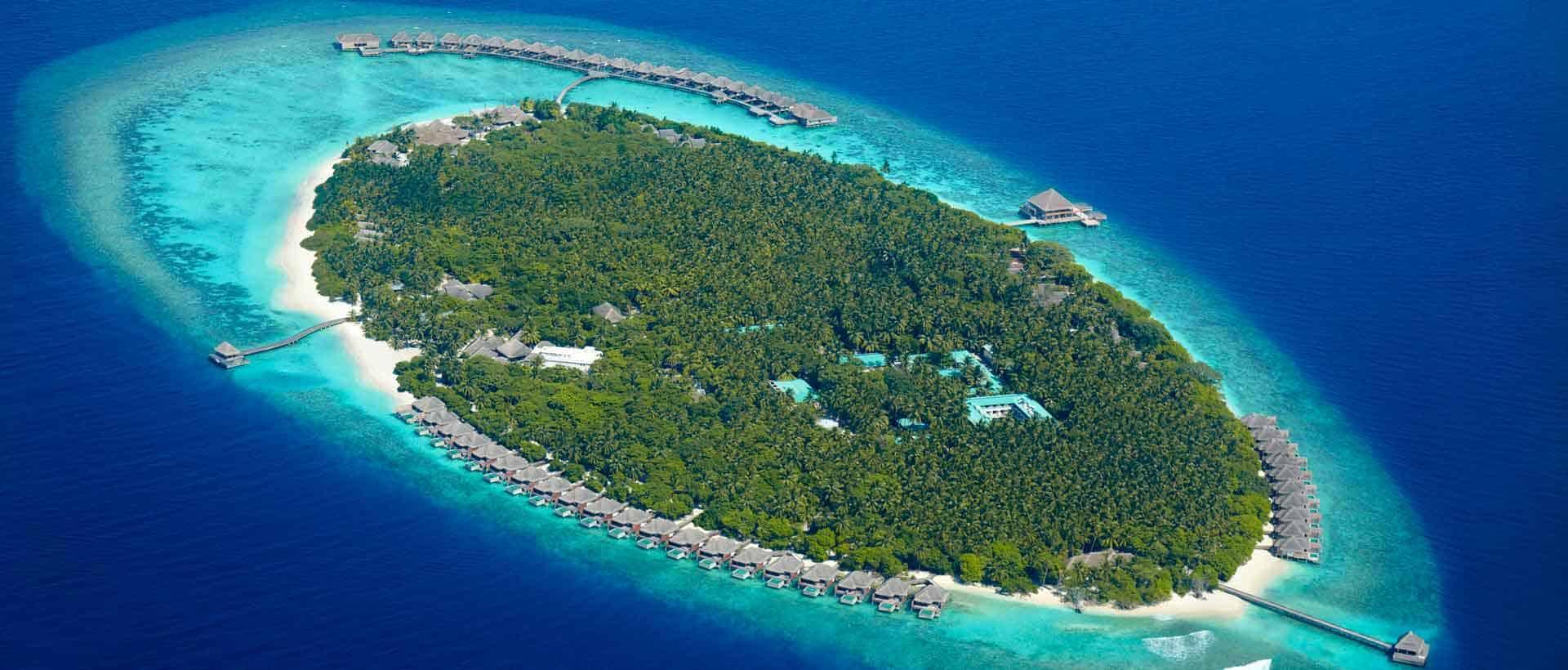 From the air, it looks like an emerald drop in the ocean, surrounded by brilliant white shores and luminescent blue seas. As you touch down on Mudhdhoo Island, you'll discover Dusit Thani Maldives, a luxurious eco-friendly resort.
Located in Baa Atoll, the Maldives' first UNESCO World Biosphere Reserve, the resort celebrates its beautiful environment with thatched-roof overwater villas, natural materials, rain showers, and even a spa elevated among the palm trees.
Explore the island with nature walks and bike rides, or get out onto the water with sunset cruises, kayaking, snorkelling and diving. You'll be well-placed to meet the manta rays of nearby Hanifaru Bay, which arrive in the area between July and November each year.
Dusit Thani Maldives is working towards complete self-sufficiency to protect this precious ecosystem.
They produce their own electricity through solar panels, use locally produced drinking water, process their own sewage, create compost from leftover food, use LED lighting in all guest areas.
They're even aiming to plant their own vegetables and make their own coconut oil from the island's native coconut trees.
They never use chlorine in their pools and have eliminated single use plastics (including plastic bottles and straws) for the last four years. Any plastic they do use is melted down and recycled multiple times.
Dusit Thani Maldives also partner with other hotels and local communities in Baa Atoll to petition the government to introduce eco-friendly initiatives.
6. Soneva Fushi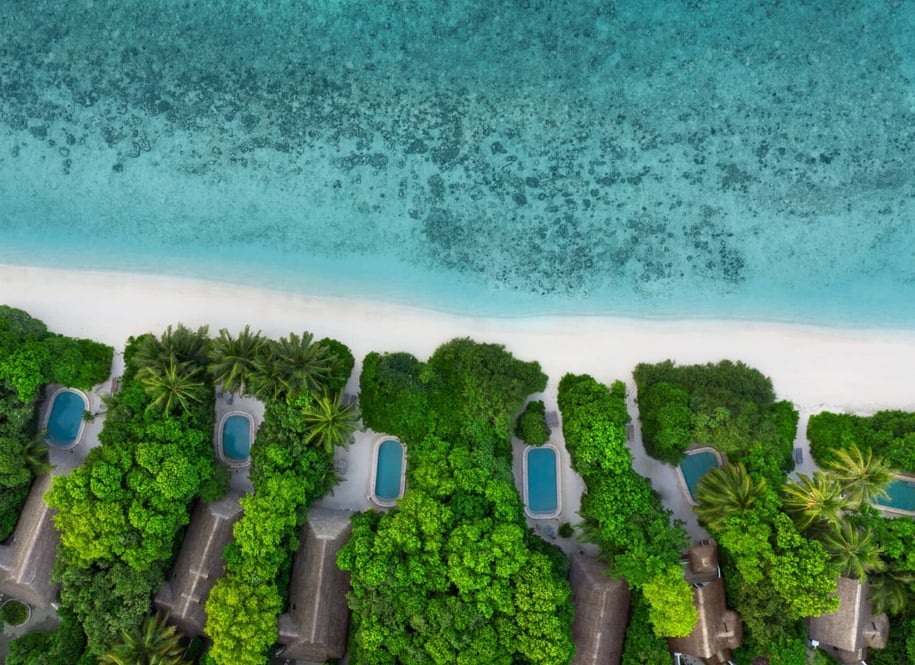 Set on one of the largest islands in the Baa Atoll, Soneva Fushi offers a magical off-the-grid experience.
As soon as you'll arrive, you'll embrace their 'no news, no shoes' motto. Slip of your sandals and dig your toes into the soft white sand, as you explore this gorgeous hideaway.
Soneva Fushi radiates luxury, beginning with their romantic villas with private pools, and stretching to their opulent residences featuring private water slides, saunas, spas, gyms, libraries, kitchens, wine cellars and even an 11-metre tall viewing tower.
With their stunning location in the the Maldives' first UNESCO World Biosphere Reserve, Soneva Fushi pays homage to the breathtaking environment with an observatory above the forest to gaze upon the stars, a world-class dive centre, freediving classes, eco-friendly surfing, and a range of other watersports.
You can even have a romantic picnic on a deserted island, or camp in a luxurious tent on a private sandbank, complete with a candlelit dinner.
Soneva Fushi is one of the few resorts that offer Maldivian cuisine, and they use locally-sourced produce and vegetables and herbs from their own garden.
They also use energy drawn from an on-site solar power plant, recycle or compost most of their waste, and use a water reservoir that allows rainwater to be recycled and reused.
7. Movenpick Resort Kuredhivaru Maldives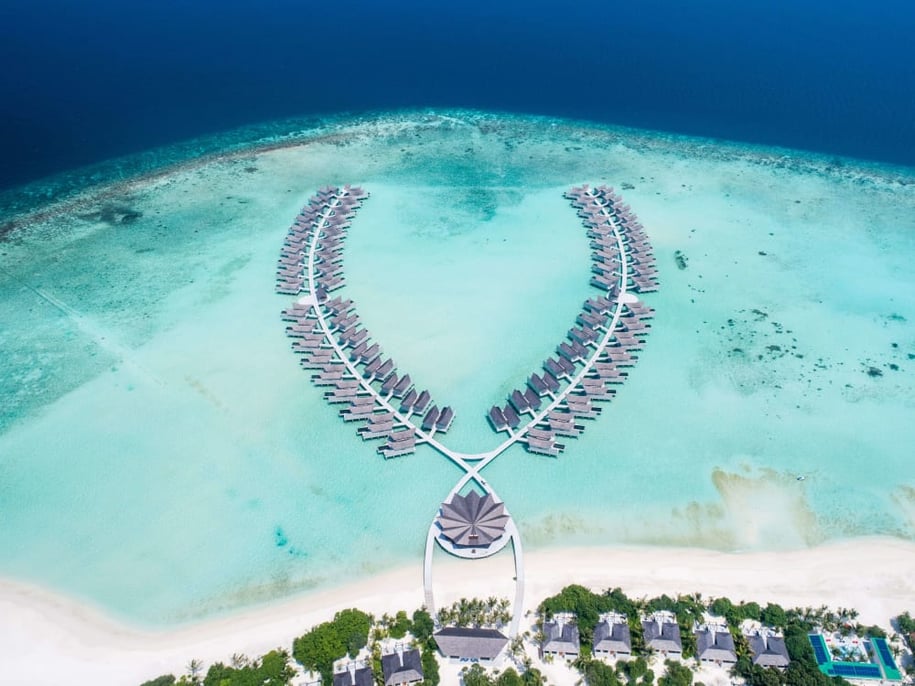 Newly opened in November 2018, Movenpick Resort Kuredhivaru Maldives have created a luxurious sanctuary on an island oasis.
Set in the middle of the glittering Noonu Atoll, Movenpick Resort is one of only 13 inhabited islands in the area, surrounded by 58 other deserted islands.
You'll be met by overwater villas with glass bottom floors, private pools and wine cellars, overwater spa rooms and lavish restaurants, topped off with first-class service and staggering natural beauty.
You can explore this underwater paradise with a range of watersports, including world-class snorkelling and diving.
Movenpick Resort Kuredhivaru Maldives is part of the largest hotel group in the world to commit to Green Globe Certification, the highest standard for sustainability world wide in the travel and tourism industry.
They've set international benchmarks for sustainable practices including reducing water consumption, optimising energy consumption, reducing carbon emissions, managing waste, and using bio-degradable alternatives to chemical products
They also operate SHINE, a global sustainability program which aims to leave a positive impact on the environment and community, through supporting charities, buying local products, and donating educational materials.