Exploring Africa with a Baby and a Toddler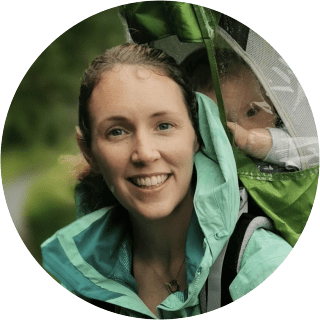 By Rebecca Blakey
August, 22, 2023

4 Min read
Whilst kids on safari is now common, travelling to Africa with a baby and a toddler is more unfamiliar to most. This article explains what we learnt from our 8 Day Luxury Gorilla Safari in Western Uganda with a 10 month old and 2 year old.
10 month old baby and 2 year old toddler on safari you say?
Yes, that's correct.
When we mentioned living in Uganda and Rwanda for 3 months and going on numerous safaris, most people first asked us this question; "are you taking the kids with you"? I would politely reply "yes and we hope they will enjoy it".
My most honest reaction was "yes, of course I am not leaving my six-month old baby and toddler at home for three months. I think we will all benefit from the travels and lifestyle change, plus we want to learn what it is like for travellers who want to explore Africa with a baby or a toddler on luxury safaris." Ultimately, this is our postponed Gorilla & Chimpanzee Tracking Honeymoon Safari that we were originally going to do without any kids, but now we have two and we wanted to bring them along.
It is very normal to think that just because you have a newborn, baby or toddler, you cannot dare visit "Africa". Alas, this has been totally untrue. We have been welcomed with literal open arms and genuine smiles wherever we have gone. It has actually brought a refreshing new dimension to our travels, helping not just our children learn new things, but us adults have learnt so much too. Travelling with children breaks down any social barriers very fast so we feel even more rewarded by our safari.
Read my ten top tips for traveling to Africa with babies.
The staff were very friendly at Chameleon Hill Lodge
What did we do?
We based ourselves in Kampala, Uganda for two months whilst taking weekend safaris to warm up to the main event. The main event was an 8 Day Luxury Gorilla Safari in Western Uganda. We then based ourselves in Northern Rwanda for a month, in the foothills of the Virunga Volcanoes whilst taking numerous other small safaris around Rwanda. Our youngest was 8 months on arrival to Uganda and had her first birthday in Rwanda.
Swimming at Kyambura Lodge and a cultural walk at Chameleon Hill Lodge
Slow Travel

Wayfairer Travel, and we as a family, are strong advocates for slow travel, and a safari in Africa with a baby and a toddler can encourage you to slow your pace. You will enjoy a little bit more downtime in the afternoons if your toddler is napping, and spend longer in each lodge or destination to explore all the activities on offer.
Due to not wanting to rush through the highlights of an itinerary, we have found we have discovered more in-depth understanding of the traditions, culture, activities, and landscape. Seeing our babies discover new parts of the world has been magical. Learning to walk, swim or feed themselves with a spoon in exotic and iconic destinations is something we can tell them for the rest of their lives.
Enjoying a family walk in Nkima Forest
Not all sunshine and rainbows

All that being said, it has been challenging. Extremely challenging at times. Yet, what I always come back to during the hard moments, is that having babies and toddlers at home is also challenging, so we may as well travel, explore, learn and see incredible wildlife and scenery to make those hard times more worthwhile.
People do lots of challenging things in life, be it run a marathon, hike a volcano, start a business or study for a degree. If we shy away from anything hard, we would never reap any satisfaction of reward and achievement. Plus, let's keep this in perspective, travelling to five-star upscale lodges to eat organic, elegant food and watch Mountain Gorillas, Chimpanzees, Elephants and Lions in their natural habit, with butlers and nannies on hand, is not all hard work!
The Ultimate Question

The ultimate question we have been asked by others and indeed that we asked ourselves everyday of our safari is; "is it worth it to do a chimp and gorilla safari when the kids are so young, or would you be better to wait until they are older"?
Our answer is unequivocally "yes, it is worth it".
From a financial perspective, the babies are either entirely free of charge, or a very minimal cost including tax for their flights.
From a social perspective, they will be exposed to new people, languages and cultures that can surely only benefit them, encouraging them to grow into open minded and curious individuals.
From a physical perspective, it is challenging in terms of heat, humidity, dust, a few insects, small planes, bumpy roads, and lots of walking (hence lots of carrying your babies!). However, this does not change whether you are travelling with or without your children, so raising them to be exposed to climates and environments like this will help them, and you, appreciate the modern comforts of their (most likely) Westernised or developed lives back home. You can read or watch TV about these environments as much as you like, but until you experience it first-hand you cannot truly understand.
At the end of the day, we do not know how long our lives are, so if you are physically able and your working life enables it, we wholly encourage you to realise your dreams while you can, kids or no-kids.
Travelling in a light aircraft to our next destination and enjoying a rainy day walk
"Will they remember it"?

I find it frustrating to think that lots of people question or comment on their ability to remember it. We do millions of things in our lives that shape our perspectives and memories without forever remembering each specific event. If they do remember their Uganda safari, then that's fabulous. If they don't, which we think is most likely, then the safari remains critical during their formative years in shaping their minds. It is also critical in our adult years as parents to youngsters that we don't feel trapped in modern society, unable to travel to exciting and inspiring destinations.

Our main Western Uganda Luxury Safari looked like this:
- 3 nights Kyambura Gorge Lodge, Queen Elizabeth National Park
Activities: Chimpanzee Tracking, Honey Harvesting, Coffee Harvesting Tour, Buffer Zone Tree Planting, Swimming, Nature Trail Hike, Lion Tracking and Wildlife Game Drive.
- 2 nights Chameleon Hill Forest Lodge, Lake Mutanda
Activities: Basket Weaving, Gorilla Carving, Nature Trail Hike, Cultural Trail Walk, Boat Trip
- 3 nights Mount Gahinga Lodge, Mgahinga Gorilla National Park
Activities: Gorilla Tracking, Golden Monkey Tracking, Batwa Heritage Experience, Batwa Cultural Village Visit, Vocational Centre Visit supporting local youths.


See Uganda with your family on a similar itinerary, like this one.
Book your Baby-Friendly Safari Today
I hope that you feel encouraged by our experiences to book your safari today with Wayfairer Travel. Whether it is for this summer, a belated honeymoon and you are now pregnant or with a newborn, or planned for a few years' time when new arrivals might have joined your clan, please do ask to speak to us and include your little ones on your dream safari.
Family walk from Nkima Forest Lodge
You've got your hands full; we understand that, so get in touch and let us take the stress out of your holiday planning. We'll organise a family trip you won't forget!
Get in touch
Sign up to our newsletter
For more travel inspiration delivered straight to your inbox just fill in your details here
More inspiration from Wayfairer customers and travel specialists
Sign up to our newsletter
For more travel inspiration delivered straight to your inbox just fill in your details here