Responsible Travel Guide: Zambia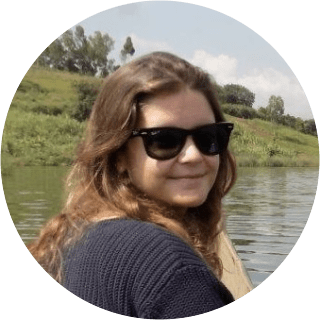 By Leonie Taylor
April, 14, 2023

4 Min read
Learn about Zambia's endemic wildlife, diverse culture & fantastic conservation practices
Having remained under the radar for many years as an African safari destination, Zambia's tourism industry has developed more slowly. Rather than being crowded with tourists and safari vehicles, the country is filled with pristine landscapes and diverse wildlife.
Visitors to Zambia have the chance to explore corners of true wilderness in off-the-beaten track destinations, spot endemic and endangered wildlife, and engage with friendly locals in rural villages.
It's incredibly important to protect these unspoiled environments and support the local communities. At Wayfairer, we are committed to responsible, sustainable and ethical tourism in Zambia and we're proud to work with fantastic local operators who share our responsible tourism values.
We encourage all visitors to Zambia to travel in a responsible and respectful manner, ensuring their visit leaves a positive impact.
Here are our top tips for a wonderful, responsible holiday in Zambia.
Environment & Wildlife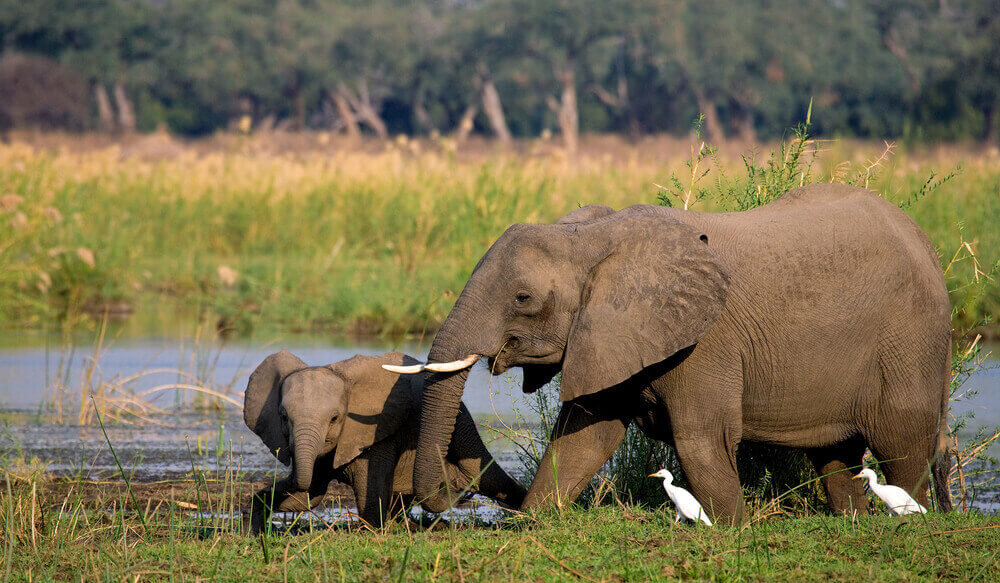 Zambia is an emerging leader in environmental conservation, with dedicated initiatives found in many of the major national parks including South Luangwa, North Luangwa, Lower Zambezi and Kafue National Parks.
These reserves have become havens for incredibly dense and diverse wildlife populations, with 30% of the country designated as protected game space. It's home to many rare and endangered species including cheetah, Thornicroft's giraffe, roan, puku, Crawshay's Zebra, Cookson's wildebeest, black rhino, warthogs, Cape wild dogs (painted wolves) and tree-climbing lions.
You'll also see the iconic Big Five including elephants, leopard, lion and buffalo, along with other amazing species such as hippos, impala, hyenas, crocodiles and hundreds of spectacular bird species. However, despite the abundance of wildlife, poaching is still a serious problem for Zambia.
The country is part of the Kavango-Zambezi Transfrontier Conservation Area (KAZA), a massive area covering Zambia, Namibia, Zimbabwe, Botswana and Angola. It's twice the size of the UK and estimated to hold up to 250,000 elephants, around half the elephants in Africa.
Worryingly, Zambia's section - the southwest Kwando region - has recently been identified as an elephant poaching hotspot, with an estimated 95% drop in elephant numbers.
The problem is particularly bad in the Sioma Ngwezi Park as there is little tourism, researchers, or anti-poaching efforts and with four international borders readily available, law enforcement won't try to pursue the poachers into international territory.
Poaching is a complex, global issue, but there are small ways to make a difference. You can show support for anti-poaching by visiting the many national parks in Zambia who work to put an end to to this damaging practice.
Kafue National Park has stable elephant numbers due to their active patrolling by rangers and great conservation programs. They are also part of KAZA and have established Game Rangers International, an independent non-government organisation that works with the Zambian government on national park conservation and wildlife.
You can also visit the South Luangwa National Park, an area which has suffered greatly from poaching. The Luangwa Valley once had the largest elephant population in Africa, and while that is no longer the case, the amazing work done by the South Luangwa Conservation Society has led to an increase in their numbers.
Zambia also once had one of the highest rhino populations in Africa but they were sadly declared extinct in 1998 due to poaching. South Luangwa lost their rhino population by 1987, however the North Luangwa National Park began a successful rhino reintroduction program in 2003.
Since then, the black rhino population has slowly increased and visitors to this remote corner of Zambia may even be lucky enough to spot the shy creatures.
Another fantastic reserve is the Lower Zambezi National Park, where Conservation Lower Zambezi runs some excellent conservation and wildlife initiatives. Visitors can attend an elephant workshop to learn about the fascinating world of elephants.
You'll gain insight into the social structures, behavioural patterns and communication methods of elephants, and their importance to the ecosystem. The workshop also provides a great insight into the destructive effects of the ivory trade in Africa.
Top Environment & Wildlife Tips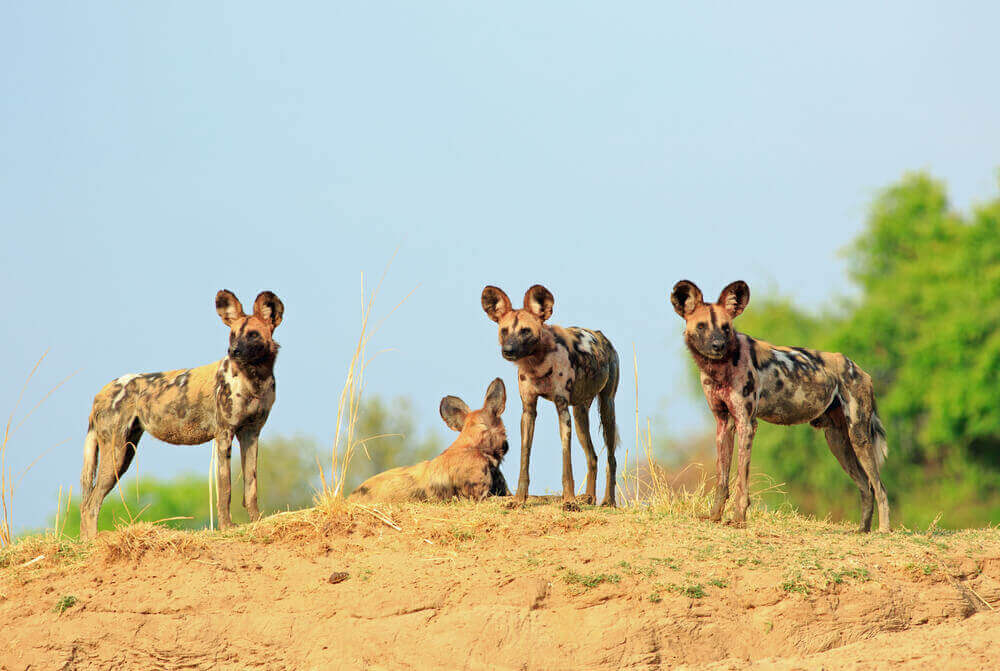 Leave no trace
It is crucial to protect Zambia's pristine environments and thriving wildlife, so whatever you take into the country, you must take out. Ensure that you never leave any litter and avoid smoking in the national parks. Not only does the litter damage the environment, but it's also harmful to the wildlife who may unknowingly ingest it.
Only shoot with a camera
Trophy hunting is an abhorrent practice and it goes without saying that visitors should completely avoid this. At Wayfairer, we only work with lodges and camps who put their profits back into the local community and conservation initiatives, rather than hunting activities. Hunting was banned in Kenya in 1977 and was recently banned in Botswana, and we hope to see Zambia join them soon.
Never purchase animal products
When shopping for special souvenirs, it's imperative to avoid any products made from ivory, fur, bone, coral, and turtle shells or eggs. Purchasing these products only puts money in the pockets of illegal poachers and perpetuates the demand for these items.
Visitors should also avoid any products made from teak that have come from forests in Sioma Ngwezi National Park, as these are the products of illegal loggers who destroy these natural environments.
Take a walking safari
Zambia is the original birthplace of the walking safari. We work with many camps and lodges across South Luangwa, North Luangwa, Lower Zambezi and Kafue National Parks who provide first-rate walking safaris with some of the most renowned guides in the country.
It's the best way to get up close and personal with the Zambian wilderness, as you become immersed in the sights, sounds and smells of the bush and track wildlife on foot.
Visit the Chimfunshi Chimpanzee Sanctuary
Due to its remote location in the northwest of Zambia, the Chimfunshi Chimpanzee Sanctuary is rarely visited by tourists, but it's well worth a visit. It's one of the oldest and largest chimpanzee sanctuaries in the world, caring for around 130 chimps.
They also permanently employ 60 local people who live in villages around the sanctuary, run a school for 80 children and provide medical care, and also buy food for the chimps from local farmers which greatly contributes to the economy.
They also run a number of fantastic social and education projects and you can get involved by visiting the sanctuary, sponsoring a chimp or supporting them through their website.
People & Culture
During your time in Zambia, we highly recommend spending time in the local villages of Zambia. Here, you'll engage in some wonderful cultural interactions, learning about the local traditions and customs, forging some unforgettable memories with the beautiful Zambian people.
Zambia is an incredibly poor country, with around 74% of Zambians living below the international poverty line and 40% of children experiencing stunted growth. The country faces many challenges including food insecurity, chronic poverty, natural disasters and the decline of one copper mining, one of their main commodities.
Another issue in Zambia is education; the adult literacy rate is 61.4%, compared to the global literacy rate of 86.3%. The school dropout rate is also high, particularly for girls who often drop out after just a few years of schooling when they are considered old enough for marriage and child rearing.
Responsible tourism can help to provide another source of income for locals and can also support social programs. However, it's imperative that any tourism initiatives prioritise the preservation of local culture and the empowerment of the local people.
Wayfairer works with a number of camps and lodges who organise cultural visits and run excellent economic and education programs in the local communities.
Flatdogs Camp in South Luangwa National Park has an exceptional record in community involvement. They organise trips into the local Mfuwe Village to observe local life and community projects. All of the Flatdogs staff live in this village and the camp ensures they buy all their supplies from the shops here.
The camp also promotes women's rights and education through Project Luangwa, organises game drives for children, and builds classrooms, libraries and science labs in the local schools.
Another great camp is Ila Safari Lodge. They run a range of social conservation projects including the Ila Community Farm which allows the local community to grow produce for their families and for selling at the markets.
They've also recently launched the Lunch With the Ladies Club at the local Chunga Community, where guests can share a traditional meal, learn about the local culture and interact with the friendly locals.
You can also support the brilliant work of Waterberry Lodge. This gorgeous lodge in Livingstone (Victoria Falls) offers village walks to the nearby working rural village, guided by the lodge's staff who live in these villages. You'll learn about local life and observe their community projects, run under the Tukongote Community Projects.
Established in 2009, this initiative is dedicated to improving the education of the region. They currently support over 400 children in three preschools and one primary school, provide free schooling for 75 children, employ 25 local teachers and assist 14 teachers to gain formally recognised teaching qualifications.
Guests are encouraged to support these initiatives by bringing resources for the classrooms, such as books, pencils and other supplies.
Top People & Culture Tips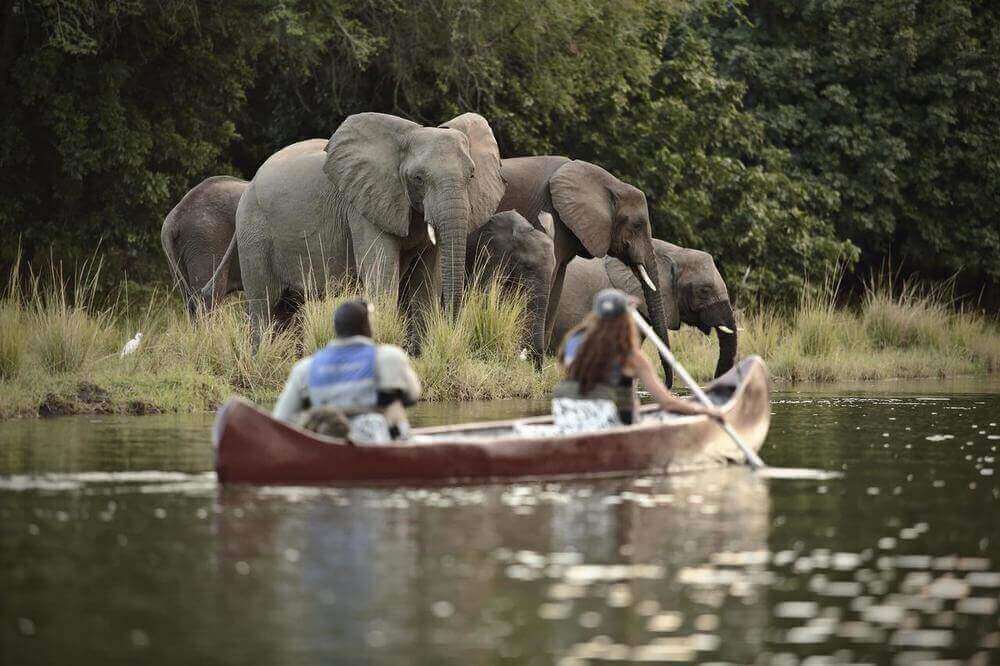 Don't disrupt the kids
At Wayfairer, we do not condone school visits while students are present. It's extremely disruptive to have tourists streaming in and out of classrooms taking photos while the children are trying to learn. Also, don't hand out money, gifts or food to children. The best way to support the communities is through the amazing initiatives run by many of Wayfairer's partner lodges and camps.
Dress conservatively
It's best to respect the culture and dress conservatively when travelling through Zambia. It's inappropriate to wear mini shorts, mini skirts and tight leggings and you should always ensure your back and midriff are covered.
Be respectful
Zambia is an incredibly culturally diverse country with 72 ethnic groups in a population of around 17 million. Zambia also has more than 20 traditional ceremonies and festivals each year, providing an amazing insight into the country's rituals and social and spiritual culture. In a country that's bursting with fascinating customs, it's important to treat everyone with respect during your visit. Always greet people politely and don't take their photograph without permission.
Learn some phrases
Although English is the official language of Zambia, there are over 72 indigenous languages spoken across the country. Bemba (or Chibemba), a Bantu language, is the most widely spoken local language, with 52% of the population speaking it as a first or second language.
Learning even just a few phrases in the local language can help to build a rapport with the locals and lead to some wonderful cultural interactions. Here are a few Bemba phrases to get you started:
Hello - Muli shani I'm pleased to meet you - Natemwa pakukumona Thank you - Natotela Please - Mukwai Goodbye - Shalenipo Cheers! - Chileshe!
Accommodation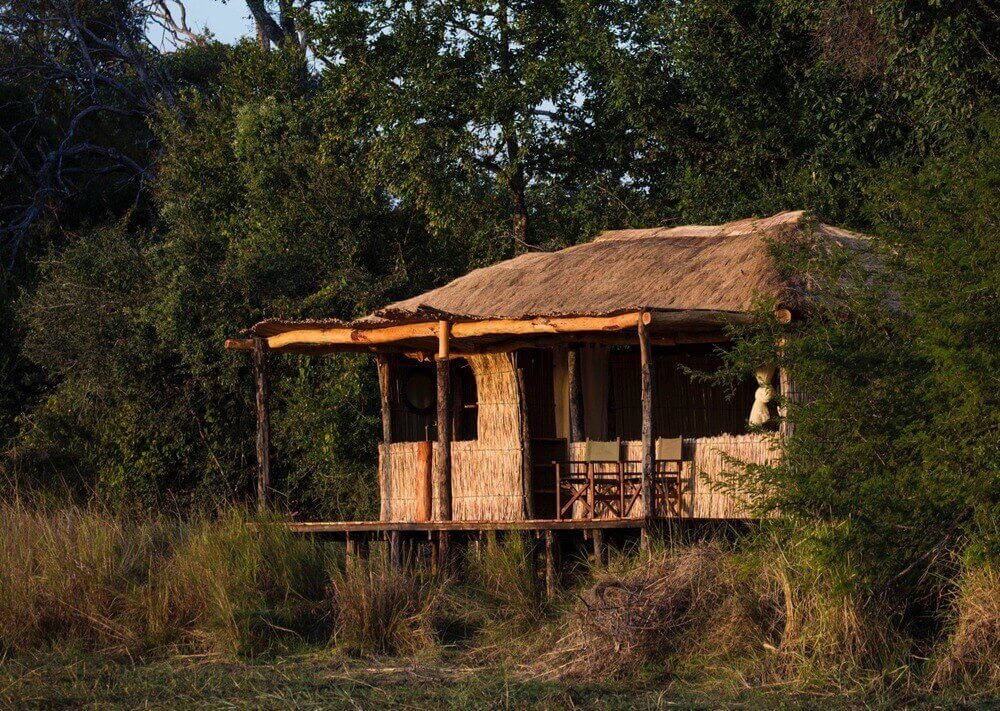 Wayfairer is proud to partner with a range of incredible lodges and camps who share our responsible travel values. All our partner lodges are dedicated to environmental, wildlife and community conservation and are leaders in responsible tourism.
You'll stay in lodges and camps which prioritise a sustainable ethos by using natural, locally sourced materials, hiring staff from local villages, conducting ethical wildlife viewing activities, and running conservation and community initiatives.
You can even stay in some of Zambia's most remote wilderness for a truly authentic bush experience. Mwaleshi Camp is located in an isolated corner of North Luangwa National Park. It's a seasonal camp with just four simple thatched chalets on the banks of the Luangwa River.
The camp is only assembled from June to October, and disassembled for the remainder of the year to preserve the environment. The national park itself is a declared wilderness area with no permanent lodges and only a handful of permitted walking safari operators.
Another incredible property is Musekese Camp in Kafue National Park, run by passionate Kafue experts and centred around authentic walking safari experiences. The camp is part of the Musekese Conservation, a not-for-profit initiative that works to secure intensive protection zones in the Kafue National Park to stop poaching.
We also partner with the Time + Tide group who run luxury camps and lodges in South Luangwa and Lower Zambezi National Parks. They are members of the African Travel & Tourism Association (ATTA) who promote responsible and sustainable tourism to Africa.
Time + Tide also run the Time & Tide Foundation which supports education in Zambia and Madagascar, the brilliant initiatives of the South Luangwa Conservation Society and Conservation Lower Zambezi and also contributed funds to help introduce the black rhino back into the North Luangwa National Park.
Whether you choose to travel to Livingstone (Victoria Falls), the Lower Zambezi, the Kafue or the Luangwa Valley, you'll be staying in some of Zambia's most incredible lodges and camps that are dedicated to preserving the environment and supporting their communities.
Top Accommodation Tips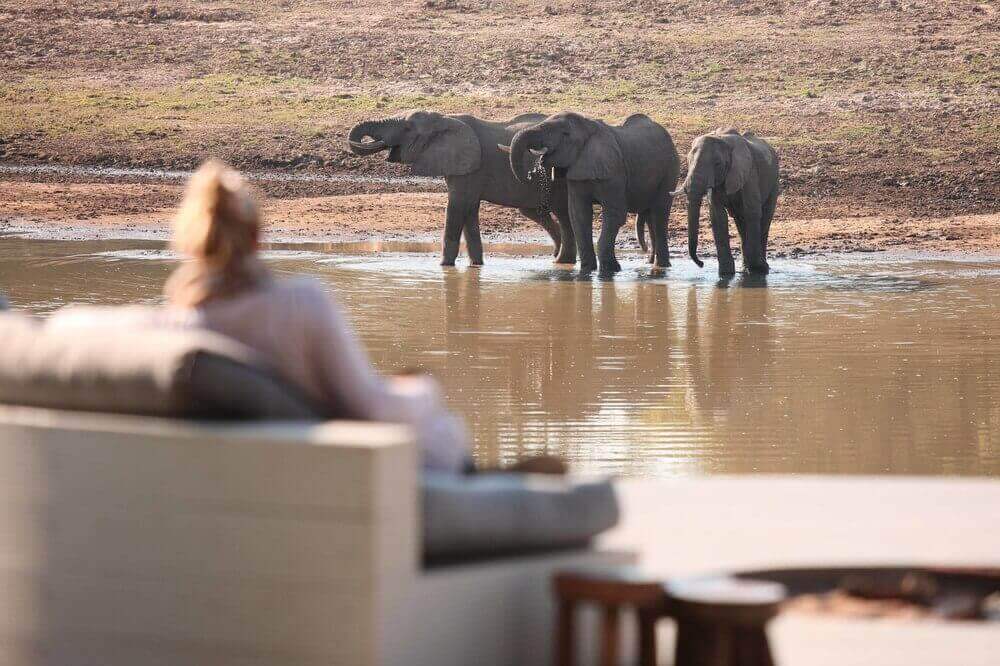 Tip the staff
Be sure to tip generously and support all your drivers, guides, cooks and camp staff who work hard to ensure you have a memorable trip to Zambia. You can discuss the appropriate tip amount with your camp or lodge manager.
Get involved
All of our partner camps and lodges run excellent conservation and community initiatives. A donation to these projects is the best way to give back and leave a positive impact on the places you visit. It's also a great opportunity to gain a special insight into the local culture and wildlife.
Pack for a Purpose
Another great way to get involved is through the wonderful Pack for a Purpose program, where you use a small amount of space in your luggage to bring supplies for local community initiatives. You can leave your donations with our partner hotels and lodges who will pass them on to the school, medical centre or animal welfare project.
If you're planning a trip to Zambia, we hope these tips will help you to travel in a responsible and sustainable manner. Contact our Luxury Travel Specialists to chat about your ideas and start planning your dream Zambia holiday.
We understand that booking trips, especially adventurous and alternative ones such as this can be intimidating, so get in touch; we can take the stress out of your holiday planning and organise a trip you won't forget!
Get in touch
Sign up to our newsletter
For more travel inspiration delivered straight to your inbox just fill in your details here
More inspiration from Wayfairer customers and travel specialist
Sign up to our newsletter
For more travel inspiration delivered straight to your inbox just fill in your details here