Wayfairer Travel Guide: Maldives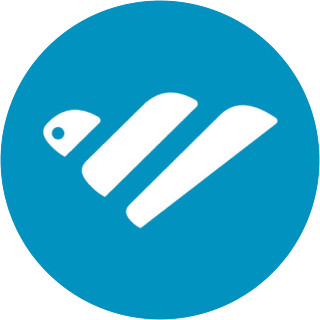 By Wayfairer Team
April, 14, 2023

4 Min read
Read our Maldives travel guide to discover everything you need to know about a luxury holiday in the Maldives
As one of the most exclusive destinations in the world, the Maldives are synonymous with romance, luxury and underwater adventure.
From the picture-perfect beaches and the psychedelic seas, to the unbelievably lavish resorts, the Maldives are the perfect destination for your dream island escape.
In this comprehensive Maldives travel guide, we discuss where to go, when to visit, what to see and do, as well as practical travel information for this spectacular destination.
Introduction to the Maldives Things to in the Maldives Best time to visit the Maldives
What to pack for the Maldives Resorts in the Maldives Maldives Travel Advice
Introduction to the Maldives
Perched on the equator in the middle of the Indian Ocean, the Maldives are a remote archipelago made up of nearly 1,200 islands across 26 ring-shaped atolls.
They are located to the south of India and the west of Sri Lanka, and while the chain of islands extends for 823 km, the Maldives occupies an area of just 298 km2.
This tiny paradise is like a jewel in the ocean, renowned for its spellbinding beaches with some of the finest sand in the world, and world-class diving in the crystalline waters and dazzling coral reefs.
You'll most likely start your Maldives holiday by flying into capital city of Male, arriving into Velana International Airport. Depending on your chosen resort, you'll be escorted to a private lounge to await your transfer to your accommodation.
Most resorts occupy an entire private island, so you'll be whisked over the water by seaplane or speedboat, catching your first awe-inspiring glimpse of this incredible paradise.
Things to do in the Maldives
The Maldives are famed for their luxury resorts surrounded by pristine nature. Here are four of our favourite things to do in the Maldives, to make the most of the dreamy beaches and underwater worlds.
1. Underwater adventure
The Maldives boasts some of the best snorkelling and diving in the world, with warm, clear waters and calm seas. Sink below the impossibly blue waters to find huge shoals of technicolour fish, beautiful coral gardens, mysterious caves and thriving populations of green turtles, manta rays, whale sharks and dolphins.
You can also get involved with marine conservation programs, venturing out on guided snorkelling tours with marine biologists, or tracking and photographing turtles to track the local population.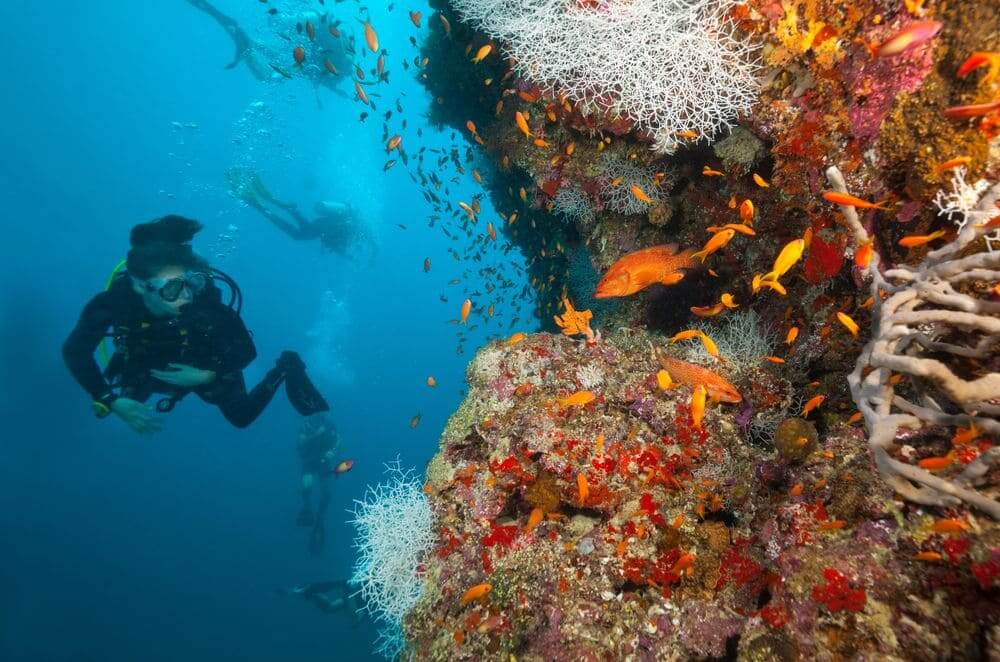 2. Watersports
The surface of the water is just as enticing, with most resorts offering a fantastic array of watersports, including kayaking, canoeing, windsurfing, kitesurfing, hoverboarding, jet-skiing, and wakeboarding. You can take traditional fishing trips, go sailing into the sunset, or surf in Ying Yang, the best break in the Maldives at Six Senses Laamu.
3. Gastronomic delights
The exquisite cuisine is a highlight for many when staying at a luxury Maldives resorts. Each private island contains multiple restaurants and bars, ranging from fine dining to breakfast buffets.
Enjoy fresh seafood overlooking the ocean, private candelit dinners under the stars, picnics on a deserted island, and special treats such as the bottomless ice cream stand at Six Senses Laamu, the creative pancake station and Thai cooking class at Dusit Thani, or the decadent chocolate hour at Mövenpick Resort Kuredhivaru Maldives.

4. Spas & wellness centres
Indulging in a massage or spa treatment is practically a prerequisite of a luxury beach getaway. All luxury resorts feature a sumptuous spa, offering award-winning services and personalised treatments, set in gorgeous locations. You can get a manicure in an overwater treatment room or enjoy a massage in a deluxe pod suspended in the air among the palm trees at Dusit Thani Maldives
Best time to visit the Maldives
The Maldives are a year-round destination with balmy temperatures and near perennial sunshine. There are two distinct season, with the dry season running from November to April, and the wet season lasting from May to October.
The dry season is the best to visit the Maldives, with constant sunshine, very little rain and low humidity. November to late December still sees frequent showers, however they usually only last for a few refreshing hours.
The diving conditions are better in the dry season, and February and March are the best months for clear waters and abundant marine life such as green turtles, tropical fish, manta rays, whale sharks and dolphins.
The wet season is still warm, however visitors should expect daily downpours and possible tropical storms. You can still swim and dive in rainy conditions, as temperatures still average 25-29°C, however visibility is reduced from June to November due to a buildup of plankton.
If you go diving between September and November, you'll have the best chance of spotting whale sharks and manta rays in Hanifaru Bay, while surfing is also at its best during the wet season.
For a month-by-month breakdown of weather and events in the Maldives, read our in-depth When to Go to the Maldives Guide.
Why we love it
From the moment you arrive, the Maldives oozes exclusive luxury and natural beauty. As you touch down on your private island, you'll feel like you've stumbled across heaven on earth and the lavish resorts have to be experienced to be believed. It's a dream destination for many, and it's one of the most extraordinary places I've ever visited.

Harry Prowse
Luxury Travel Specialist
What to pack for the Maldives
With balmy temperatures sitting around 25 to 30°C all year round, packing for the Maldives is generally a breeze.
You'll need to be prepared for the tropical climate and any dress codes for fine dining restaurants, although resort attire is generally quite relaxed.
It's important to note that the Maldives are a Muslim country and you'll need to dress conservatively outside of the resorts.
Also note that domestic and seaplane flights usually have luggage limited to 20 kilograms per person and it's best to use a soft case or holdall to maximise space.
Here's our advice on what you should pack for a holiday in the Maldives:
Swimwear and clothes for water activities, such as kayaking, especially closed-toe waterproof shoes or old trainers.
Long, loose fitting clothing in light colours and fabrics, to protect you from the heat, insect bites and for more conservative dress when outside the resorts.
Dress clothes for fine-dining experiences.

Light kaftan or scarves to cover up after a day in the sun.

Some warm layers (like a cosy cardigan or jumper) for the chilly airplane ride.

Hat and sunglasses.

Sandals or flip-flops.

Waterproof day bag.

Toiletries such as sun cream, insect repellent, after-sun, bite relief cream and lip balm.

Camera, extra memory and waterproof equipment for snapping pictures underwater.

Reusable water bottle to limit waste.

Multi-way travel adaptor. Maldives uses plug type D (three large round pins in a triangular pattern) and type G (three rectangular blades in a triangular pattern), and operates on a 220V to 240V supply voltage and 50Hz.
Resorts in the Maldives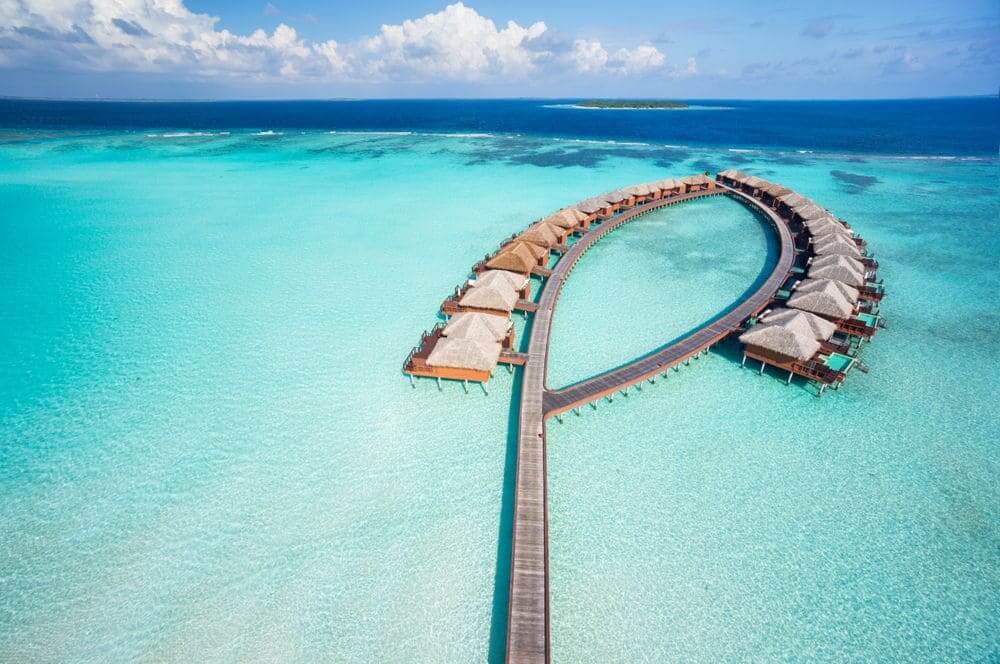 The Maldives are famed for their exclusive resorts, offering unrivalled luxury in spectacular natural surroundings. Each resort is located on its own private island and you'll reach the islands by seaplane or speedboat transfers.
Our favourite resorts focus on sustainable and socially responsible practices, without compromising on a first-class standard of luxury.
For relaxed barefoot luxury and exceptional personalised service, stay at Six Senses Laamu, the only resort in the twinkling Laamu Atoll. They run a range of fantastic environmental initiatives throughout their property while also offering superb luxury, with gorgeous overwater villas, personal butlers, an award-winning spa, a bottomless ice cream stand, incredible diving and the Maldives' best surf spot.
Venture to the secluded Noonu Atoll for a stay at Mövenpick Resort Kuredhivaru Maldives, located on a spellbinding private island and surrounded by deserted islands. With private plunge pools, private wine cellars, glass-bottomed villa floors, outdoor showers, direct ocean access, beachfront gym, and unique dining experiences, all your Maldives dreams will come true.
For world-class underwater adventure, head to LUX* South Ari Atoll, the only resort set on the stunning Dhidhoofinolhu Island and surrounded by astonishing natural beauty. There's a 5-star PADI dive centre, resident whale sharks and dazzling marine life, and one of the largest offerings of watersports in the Maldives, all accompanied by luxurious overwater villas and exceptional service.
You can even stay in the Maldives' first and only UNESCO World Biosphere Reserve, at Dusit Thani Maldives, located on the picturesque Mudhdhoo Island in Baa Atoll.
Here, no expense is spared with luxurious overwater villas, private plunge pools, floodlit tennis courts, watersports centre, yoga pavilion, sunset cruises, island nature walks, wine tastings, photography studio, Thai cooking classes and an opulent spa with pods elevated up in the palm trees.
Maldives Travel Advice
Get to know the culture and customs of the Maldives, as well as the practical side of travelling to the country.
Before you go to the Maldives
You'll most likely begin your Maldives holiday by flying into Male, the archipelago's bustling capital. You'll then transfer to your hotel or resort in Male by private vehicle, or transfer to your island resort by speedboat or seaplane.
International flights are not included in our itineraries, however we are happy to arrange these for you, should you request them.
Visa Requirements
All nationalities are able to enter the Maldives without a pre-issued visa, and you'll receive a free 30-day visa on arrival.
Your passport must be valid for six months beyond the end of your intended stay and have at least two blank pages. You must also have a return ticket showing your departure out of the country. Without proof of onward travel, you may be denied boarding at the airport or on arrival in the Maldives.
You must also have a confirmation of reservation at a resort or hotel, or have enough funds to cover your expenses for the duration of your stay (US$100 + $50 per day). For more information see Maldives Immigration.
Vaccinations & Medication
Visit your doctor at least four to six weeks before your departure to ensure you have all necessary (or recommended) vaccinations before your trip.
There are no legally required vaccinations for the Maldives, however it is recommended to get basic traveller vaccinations such as tetanus, typhoid, hepatitis and cholera.
You'll only need a yellow fever vaccination certificate if you are coming from an area where yellow fever is a risk, and it is also not necessary to take malaria prophylaxis.
The Zika virus is a current risk in the Maldives. Pregnant women should avoid travelling to Zika-affected areas and discuss travel plans with their doctor.
Travel Insurance
Ensure you have sufficient travel insurance before you travel and that this covers any activities you may like to do, such as diving, snorkelling, surfing, sailing, wakeboarding, kitesurfing and any other watersports you'd like to try at your Maldives resort.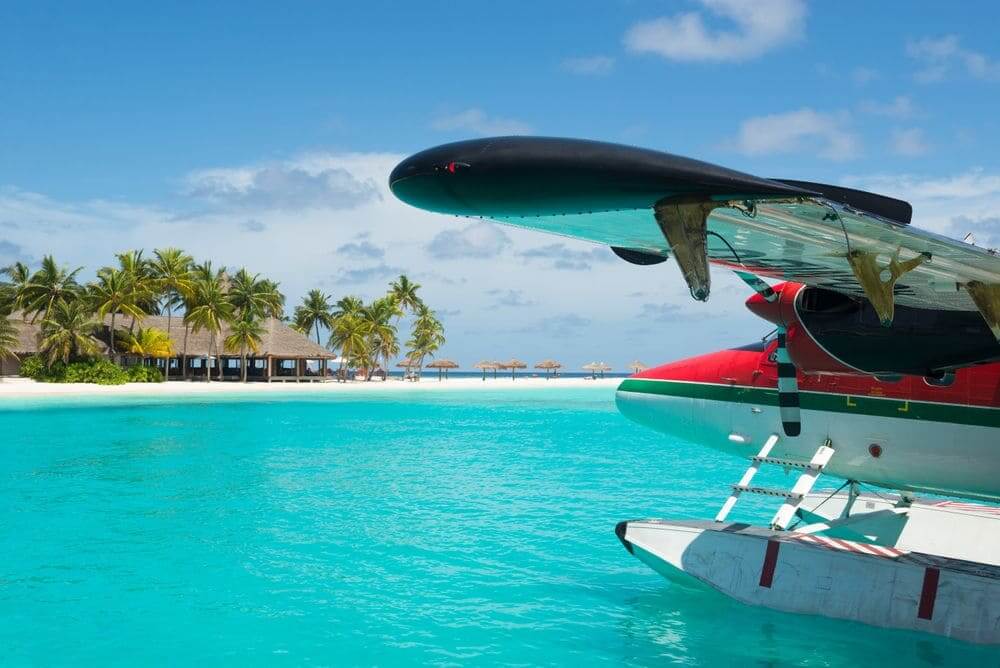 During your trip to the Maldives
Here are some things to know while you are travelling through the Maldives.
Money
The Maldives uses the Maldivian rufiyaa (MVR). The US Dollar is accepted as legal tender throughout the Maldives, however if you make a purchase in US dollars, your change will be given in local Maldivian rufiyaa currency.
You can take a look at the most up-to-date exchange values against your local currency on XE.com.
ATMs
You will find a number of ATMs in Male, represented by banks such as the Bank of Maldives, State Bank of India, Bank of Ceylon and HSBC. Only local Maldivian currency will be dispensed from ATMs and there are no banks on resort islands or on many local islands.
Credit cards
All major credit cards will be accepted at resorts and hotels, and in shops and restaurants in Male and local islands. Most businesses will add a surcharge of up to 5% to credit card purchases.
Money Exchange
The Maldivian rufiyaa is a non-convertible currency and cannot be purchased beforehand, however you can exchange USD and other major foreign currency at the Bank of Maldives Foreign Exchange counter, located in the arrival hall.
It is not advised to exchange currency in Male, due to long queues and waiting times, so be sure to exchange your currency in the airport arrival hall.
You must also keep your exchange receipt as you will need it at departure, if you are changing the local currency back to foreign currency.
Note that only major foreign currency will be exchanged for Maldivian rufiyaa and the banks will refuse old style US dollars and damaged, creased or well-worn notes.
Tipping
A 10% service charge and a 12.5% T-GST (Tourism Goods and Service Tax) is added to all services related to tourism, and an Environmental 'Green' tax of US$6 per person per night. Therefore, it's not necessary to tip and you may do so at your discretion. Tipping at restaurants on local islands or independent restaurants is generally not required.
It's best practice to tip your room staff at your resort and you should always give tips to the staff personally. It's acceptable to tip in the local currency or with major foreign currencies such as US dollars or euros.
Business Hours
In the Maldives, the business week operates from Sunday to Thursday, and most places are closed on Friday until after the midday Friday prayer. Public ferries also stop operating between 11:30am and 1:30pm for the Friday prayer.
The Maldives is a Muslim country, so shops are generally open between 9:00am and 10:00pm, but close for intervals of 15 minutes for prayer times.
Health
It is not advisable to drink the tap water in the Maldives, as it is all treated rainwater. Generally, all resorts supply purified drinking water to their guests, and some resorts, such as Six Senses Laamu, desalinate water and use glass water bottles to preserve resources and avoid plastic.
The emergency number in the Maldives is 119 and the country has excellent health services. Nearly all resorts have an in-house doctor, however for serious illness or injury, you should head to the hospitals in Male.
The health care is high quality but also highly priced, however you can keep your receipts to claim any treatment from your travel insurance.
Although malaria is not a risk, it is still important to protect yourself from mosquitoes and other insects. Use a strong mosquito repellant and wear long, loose, light-coloured clothing at dusk.
Safety
In general, the Maldives are a very safe destination, with political stability and low crime rates.
Most of the potential dangers you may encounter come from environmental hazards, such as heat stroke and heat exhaustion. You should always cover up with hats and sunscreen to avoid sunburn.
Hazardous wildlife include coral (which can cut and sting and some are poisonous), anemones, sea urchins, stingrays and stonefish. You should immediately consult a doctor if you come into contact with any of these creatures. Most resorts have an onsite doctor or a nurse with medical supplies.
When diving, it is imperative to follow the divemaster's instructions. Diving carries many risks, including decompression sickness, a serious condition caused from diving too deep, staying in deep water for too long, or rising too quickly. The following laws apply to scuba diving in the Maldives and should be enforced at all times:
Maximum dive depth is 30 metres.

Maximum dive time is 60 minutes.

Take a three-minute safety stop at 5 metres.

No decompression dives.

Every diver must carry a dive computer.

You must take your last dive no later than 24 hours before any flight, including seaplanes.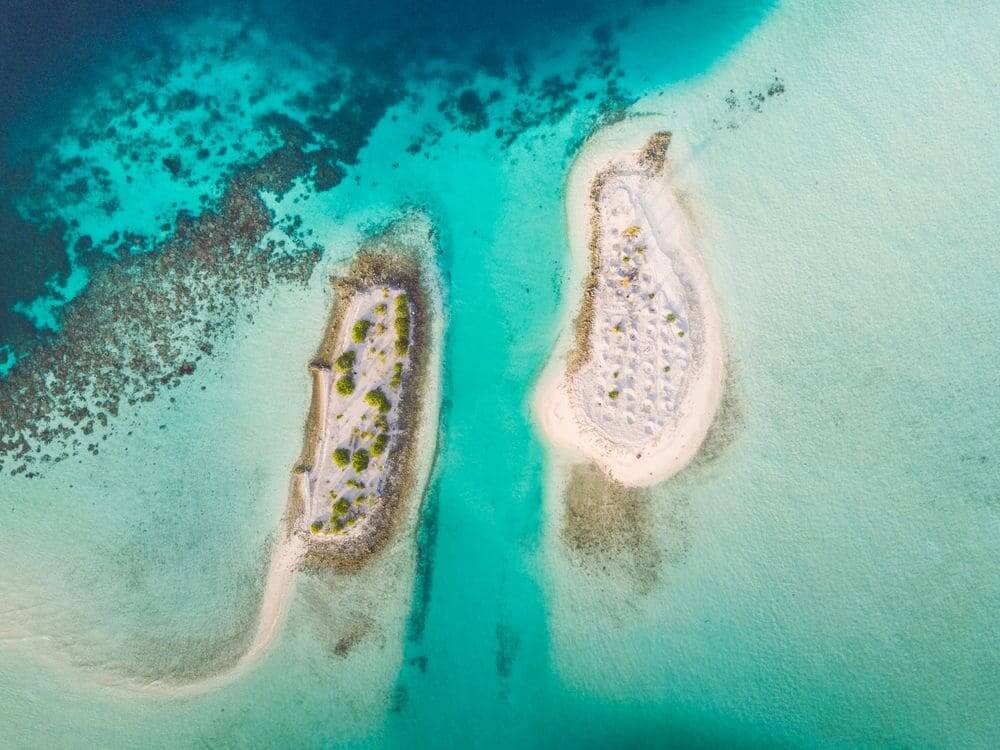 LGBTQ travel
Homosexuality is illegal in the Maldives. The country criminalises same-sex conduct and relationships, and these acts are punishable with fines, prison sentences and lashings.
The Maldives government has continually rejected LGBTQ reformation, signing a document to oppose LGBTQ rights in the 2008 UN declaration on sexual orientation and gender identity and rejecting a proposal for an LGBTQ rights resolution in the UN Human Rights Council in 2011.
Although homosexuality is rarely prosecuted, it is a social taboo, and locals in the LGBTQ community are subjected to discrimination.
Despite this, travellers will find that these (and other) local laws are essentially overlooked on the private island resorts.
As a country that relies heavily on the tourism industry, and with most of the industry made up of large private resorts and international brands, the Maldives tends to have a lax attitude towards these resorts.
The local laws generally don't extend to the private island resorts and they function in their own bubble of rules.
In these resorts, you can drink alcohol (illegal on the mainland), swim in a bikini (although it is illegal to swim or sunbathe in the nude) and book a room as a gay couple without any trouble.
Furthermore, most of the resort staff come from all over the world and have undergone training which includes welcoming LGBTQ couples.
Even gay honeymoons are becoming more popular in the Maldives, as more resorts take an open-minded approach to same-sex couples.
Those staying in the mainland capital of Male should definitely be discreet at all times, however if you are staying on an island resort, you'll be warmly welcomed.
Ultimately, gay couples can travel to the Maldives and have a wonderful holiday without encountering any problems, although it is best to stay on an island resort and to avoid public displays of affection.
Family Travel
The Maldives are typically renowned as a honeymoon destination, however if you pick the right resort, these beautiful islands can also be a wonderful family holiday destination.
There are a number of luxurious family-friendly resorts, complete with kids clubs and child-friendly activities and menus.
Toddlers and young children will love playing in the powdery white sand and splashing in the crystal waters, while teenagers will revel in the watersports on offer.
Children as young as 10 can try scuba diving or supervised snorkelling, and older kids will love exploring the spectacular underwater world. They can also try kayaking, sailing, windsurfing, kitesurfing, wakeboarding and other watersports.
There are kids clubs for children under 12 and also clubs for teenagers, with libraries, computers, and activities.
Note that some resorts do not accommodate for children, and some have a minimum age requirement. It's best to check with the resort about their family policies and facilities before booking.
You should also bring plenty of hats and sunscreen, as children are more likely to burn in the searing Maldives sun.
If you're travelling with babies, you won't find any baby supplies in the resorts (although you may be able to find baby supplies in Male), so bring enough nappies, formula and other baby supplies for the duration of your holiday.
It should also be noted that the Maldives are a very conservative society, so breast-feeding should be done in private when outside the resorts.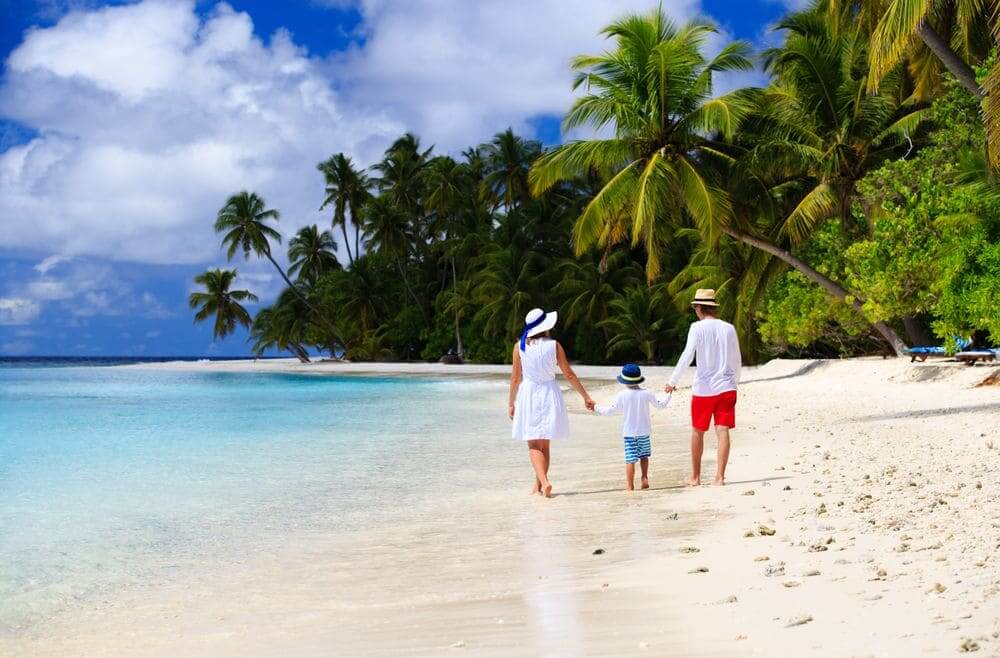 Accessible Travel
Travelling with a disability can be a challenge in the Maldives, although it is possible to customise your holiday to suit your needs.
Beginning at the Velana International Airport in Male, it is possible to get assistance for passengers with limited mobility, including disembarking from the plane. If you are staying at a resort, you will need to transfer there by speedboat or seaplane, and crews are always happy to provide assistance.
You will find ground-level rooms at all resorts, and most have ramps and smooth paths around the property, however you will need to contact resorts directly to check the suitability of the resort for disabled guests.
The best thing about a Maldives holiday is that everyone can enjoy lounging on the white sandy beaches or enjoying cocktails at sunset.
Some resorts also offer a range of activities for guests with physical disabilities, such as sailing, kayaking, swimming, snorkelling, or even scuba diving, depending on your ability and experience.
It is important to note that no dogs are permitted in the Maldives, so it is not a suitable destination for anyone dependent on a guide dog.
If you have any other needs or requests, don't hesitate to get in contact and we can create a tailor made Maldives holiday that works for you.
Responsible Travel
Read our Responsible Travel Guide to the Maldives for more information on how you can travel responsibly during your trip.
If you're interested in a Maldives holiday, call our friendly team of Luxury Travel Specialists to chat about your ideas or fill out our enquiry form with details of your dream Maldives trip.
We understand that booking trips, especially adventurous and alternative ones such as this can be intimidating, so get in touch; we can take the stress out of your holiday planning and organise a trip you won't forget!
Get in touch
Sign up to our newsletter
For more travel inspiration delivered straight to your inbox just fill in your details here
More inspiration from Wayfairer customers and travel specialist
Sign up to our newsletter
For more travel inspiration delivered straight to your inbox just fill in your details here