Japan Food Guide: Learning About Japanese Cuisine

By Malcolm Wellby
April, 14, 2023

4 Min read
Slurp soba, sip sake, munch mochi and gorge on the freshest sushi in the world.
The best way to get to know a country and understand its culture is through its food, and Japan has no limits when it comes to gourmet flair.
So, we've put together this ultimate Japan food guide full of hands-on foodie experiences and opportunities to learn more about Japanese cuisine during your visit to the Land of the Rising Sun.
Here are 19 foodie experiences every curious culinary connoisseur should try and squeeze into their next Japan trip:
1. Sample Sushi at Tokyo's Fish Market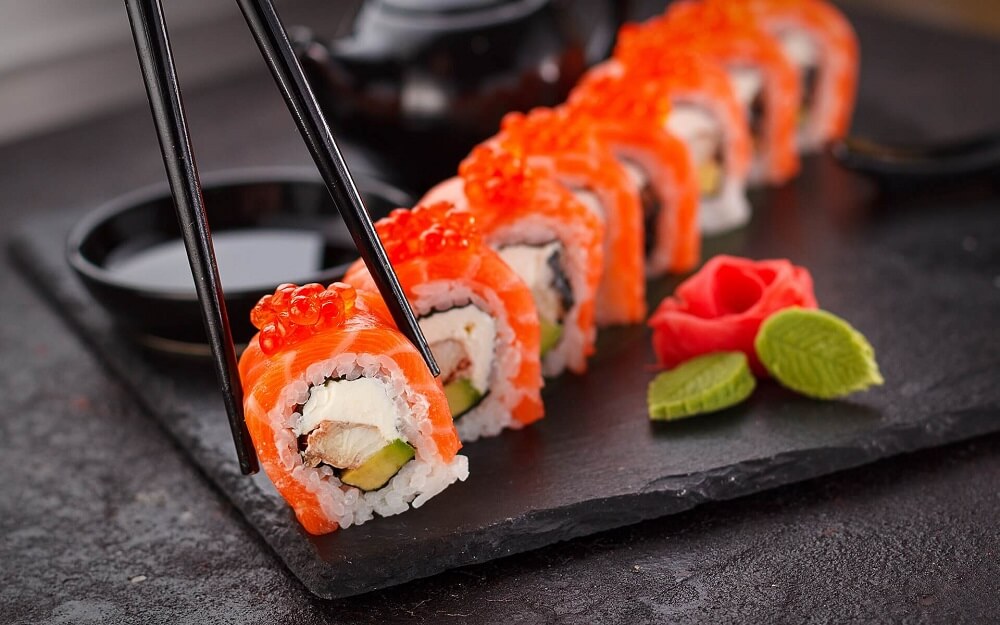 No Japan food guide would be complete without a mention of sushi, which can be found in restaurants and carousels around the whole of Japan. However, we believe that the ultimate sushi experience can be found in Tokyo's lively fish market.
As of October 2018, Tokyo's historic Tsukiji Fish Market is sadly closed, but its successor Toyosu is set to open soon. Most visitors opt to get to the market early to watch stall sellers shouting prices and showing off their fresh seafood to local chefs looking for the best product. Others arrive even earlier, at the crack of dawn, to see the tuna auction.
After some exploring of the market (bring waterproof shoes), opt for a late sushi breakfast at one of the many restaurants around and in the market. These get busy quickly though, so make sure you get there early, book ahead if possible, or take a ticket and come back later.
2. Feast on a Kaiseki Banquet at a Traditional Ryokan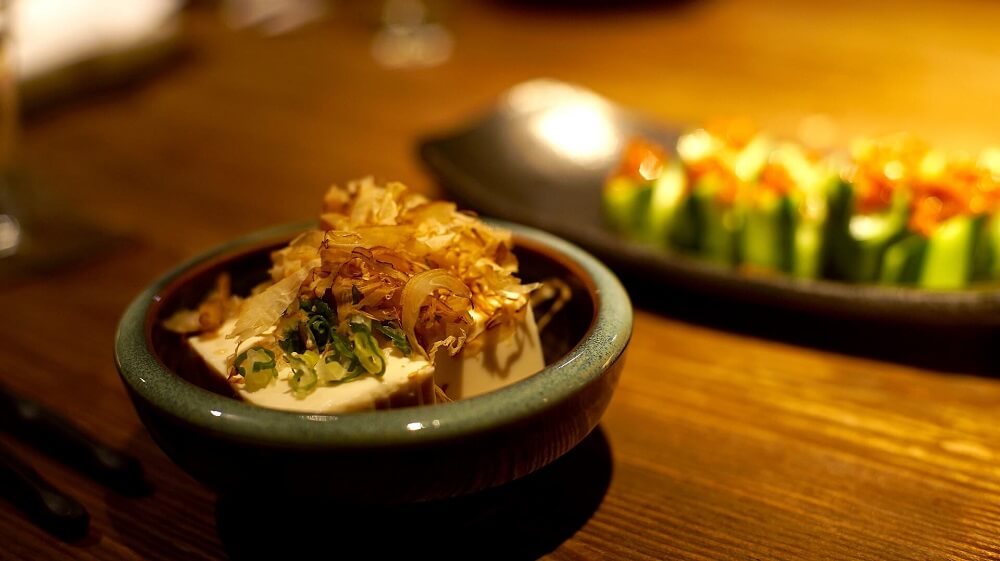 Kaiseki is a special meal of many small courses, often taken during a stay at a traditional Japanese ryokan (guesthouse). The dishes are usually seasonal, the ingredients fresh and sourced locally, and the meal is lovingly prepared in an exquisitely plated display. The multi-course set-up is also a great opportunity to try many different kinds of Japanese cuisine.
You may not recognise the dishes on offer (or indeed, many of the ingredients), so it may be an idea to ask ahead for a written version of the menu, so you can learn about what you're eating. If you have any dietary requirements, make sure that you let the ryokan know well in advance as they buy ingredients according to the number of guests.
For more information about what to expect in a kaiseki banquet, including the order and contents of each course (with fun cartoon references), read Gurunavi's Guide to Kaiseki.
3. Have Afternoon Tea with a Geisha in Kyoto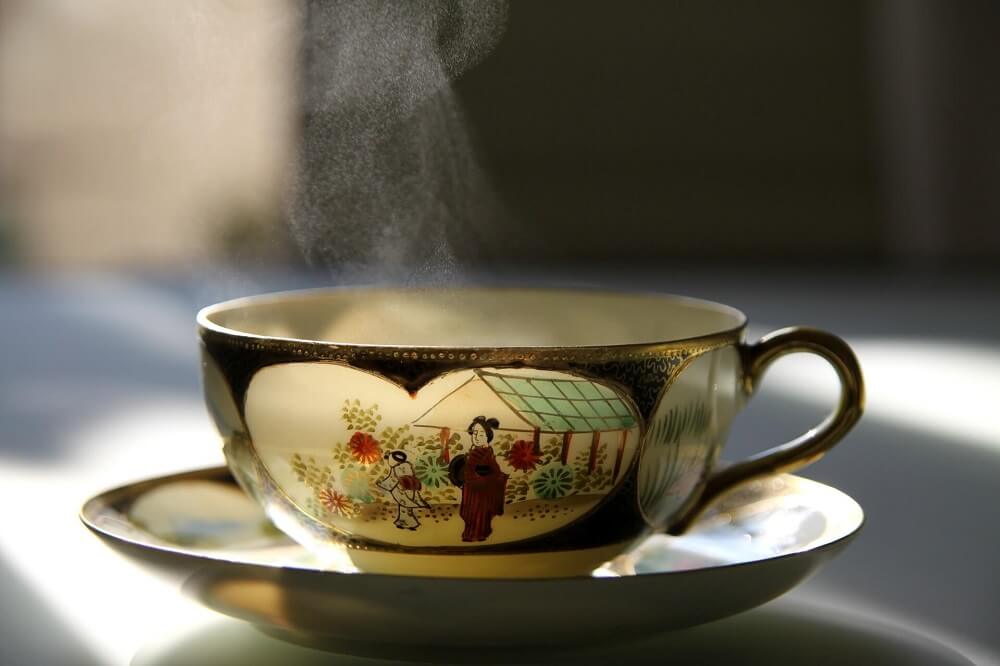 Geisha are often misunderstood in the West, but these professional artists, entertainers and caretakers of traditional Japanese culture are fascinating to learn about.
An invitation to an ochaya (teahouse), where geisha entertain, is a rare opportunity even for local Japanese, as social hierarchy and connections dictate whether you are a suitable candidate.
However, as part of our Japan Honeymoon tour we offer the chance to have afternoon tea with a geiko (geisha) or maiko (apprentice geisha) at a local ochaya in Kyoto. As part of this experience, you can enjoy green tea, Japanese confectionaries and a traditional dance performance by a geisha.
After the performance, you can take photos and ask any questions you may have, with the help of a translator. It's a real opportunity for an exclusive look into the mysterious world of geisha.
4. Try Eggs Boiled in the Volcanic Waters of Japan's Hot Springs
Eating eggs boiled in the volcanic hot springs of an onsen town is a must if you're heading off the beaten path to rural Japan. Onsen tamago (hot spring eggs) are poached by the geothermal waters and served in a soy dashi broth.
The eggs are lowered into the hot springs and gently poached for up to 40 minutes, giving the eggs a silky, custard-like consistency. You'll often see them served with breakfast, or on top of rice or noodle bowls during lunch and dinner.
5. Participate in a Street Food Safari in Osaka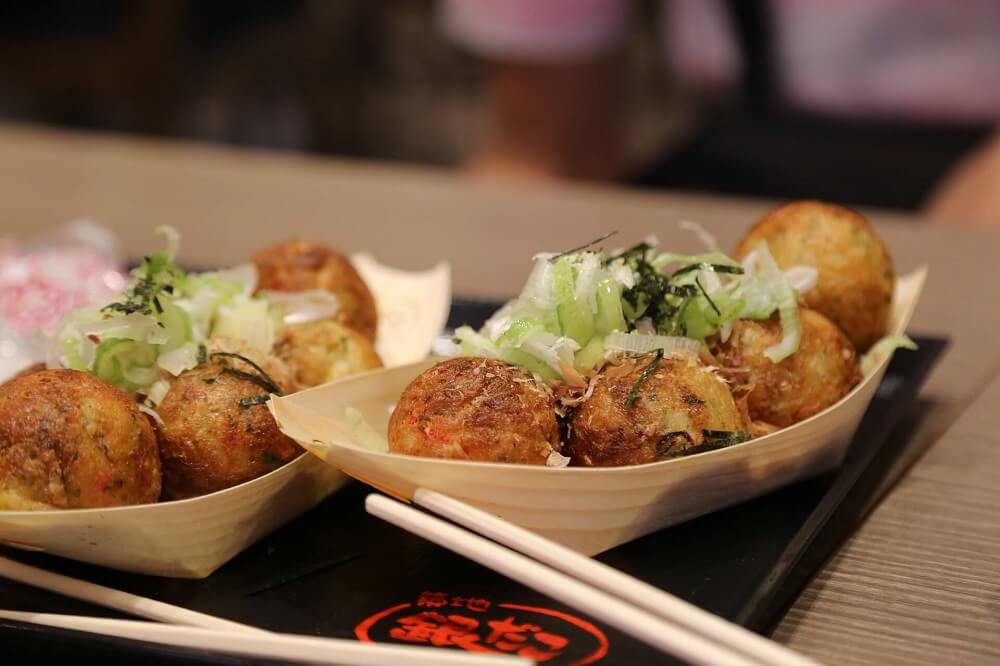 Osaka is Japan's culinary capital and the canal district of Dotonbori is where you can find the best local delicacies. With flashing neon signs of competing restaurants and steaming smells of street food, you're sure to find something that takes your fancy.
One of the best ways to explore what Dotonbori has to offer is via a "street food safari" tour of the district with a local food guide, which diverts off the tourist track to the backstreet izayaka (pub-restaurants) frequented by Osakans. Sample takoyaki octopus dumplings and kushikatsu fried skewers, as well as other Osakan dishes.
6. Swig Japanese Whisky at a Hotel Bar in Tokyo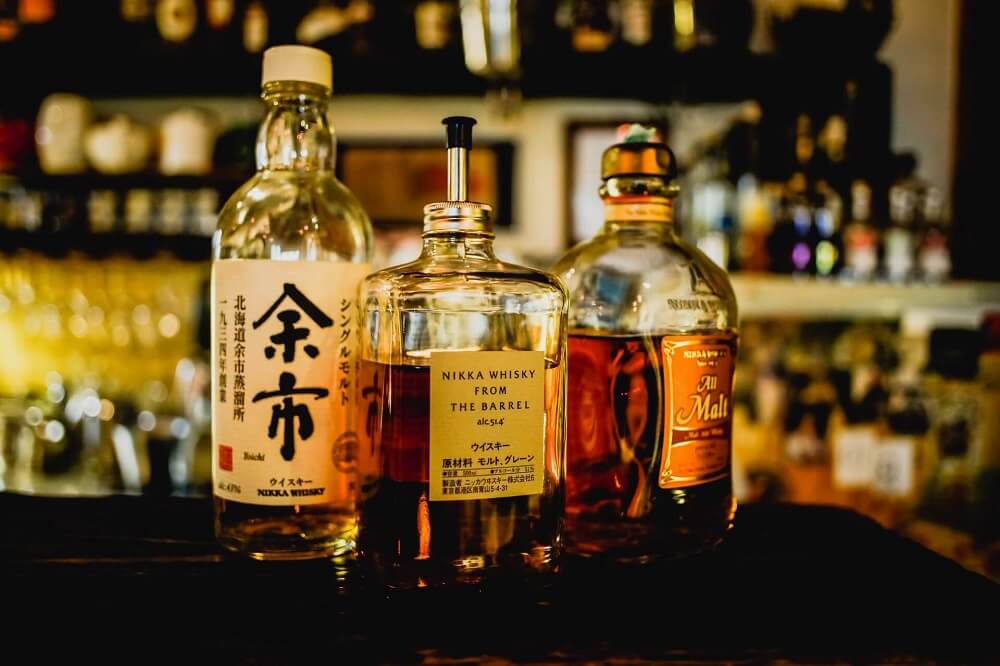 You may be more familiar with a peaty Scotch or an American bourbon, but Japanese whisky (yes, spelt without the e) is rising in popularity across the globe. Japanese whisky has been brewed for over a century, using the help of Scottish methodology to open the first distillery in Yamazaki in the early 20th Century.
The drink resembles a gentle scotch, with a silky-smooth taste and makes good use of the soft mineral water found in the natural springs of Japan. You can learn more about the best Japanese whisky in a recent GQ article on the history, production and rise in popularity of the beverage.
Have a Lost in Translation moment and sample a Japanese whisky at your hotel bar (or the Park Hyatt Tokyo, where Lost in Translation was filmed). You may be pleasantly surprised.
7. Take Part in a Sake-Tasting Contest in Takayama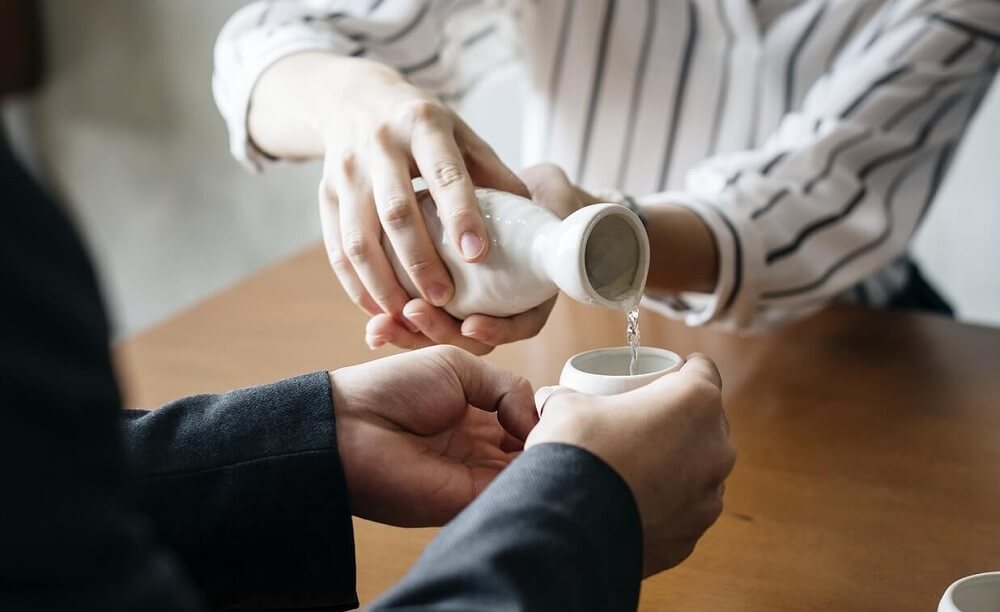 Although Japanese whisky is rising up the ranks, Japan's traditional beverage of choice is still sake. This clear rice wine has a high alcohol content but a sweet taste and can be served hot or cold – often in a small porcelain bottle, which is decanted into a matching porcelain cup.
One of the best places to sample sake is in Takayama, a small city in the Japanese Alps famous for sake production and home to many micro-breweries.
Our Food & Art: Cultural Tour of Japan includes a sake-tasting session in Takayama, where you can try different sakes, discuss similarities and differences, as well as how to pair sake with food. Make sure you're paying attention though, as the session ends with a blind sake tasting contest and the winner receives a prize!
8. Splash Out on Exquisite Kobe Beef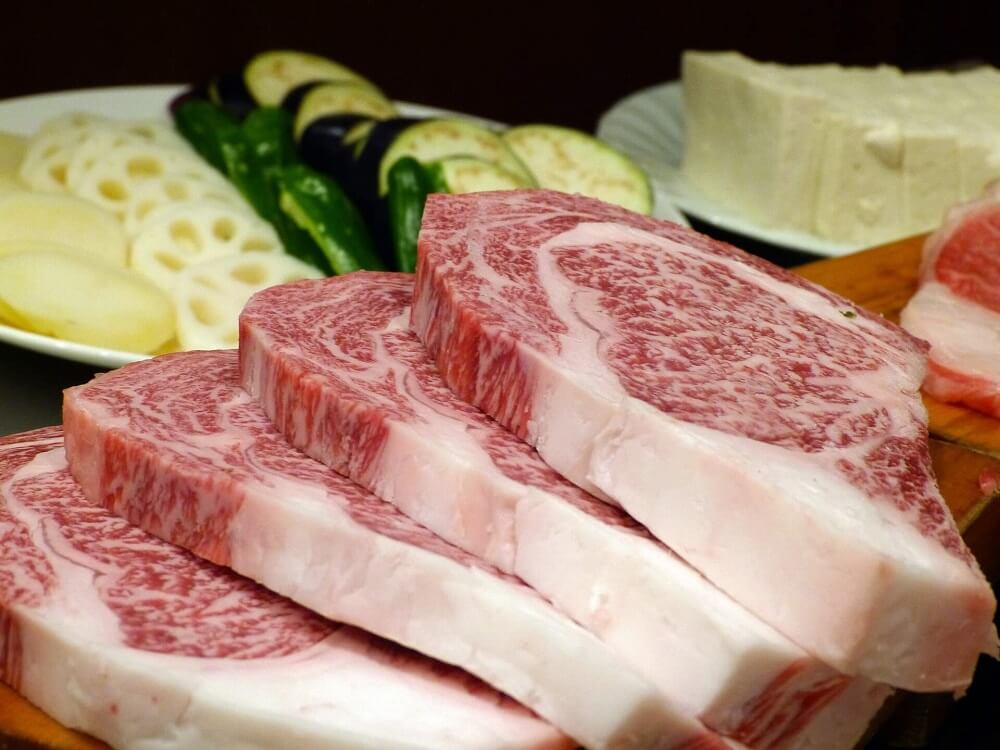 Kobe beef is a luxurious (and expensive) Japanese delicacy famous for its tenderness, flavour and signature fatty, marbled texture. One of the best places to try Kobe beef is, of course, the city of Kobe. If you're unsure, check a restaurant's certification first to make sure you're really trying authentic Kobe beef.
Kobe beef is a variety of Wagyu and the cattle is raised to such strict standards (none of which include getting massages, drinking beer or listening to classical music – those are all myths), only around 3,000 head of cattle qualify as true Kobe beef each year. It's easy to see why Kobe beef is the absolute height of Japanese cuisine.
So, contrary to what you may have seen advertised in restaurants in the West, real Kobe beef is very rarely available outside of Japan, so don't miss the opportunity to try this indulgent dish while you have the chance.
For more information about what makes Kobe beef authentic, read this article on Wagyu and Kobe beef on the Steak University website.
9. Take a Cooking Class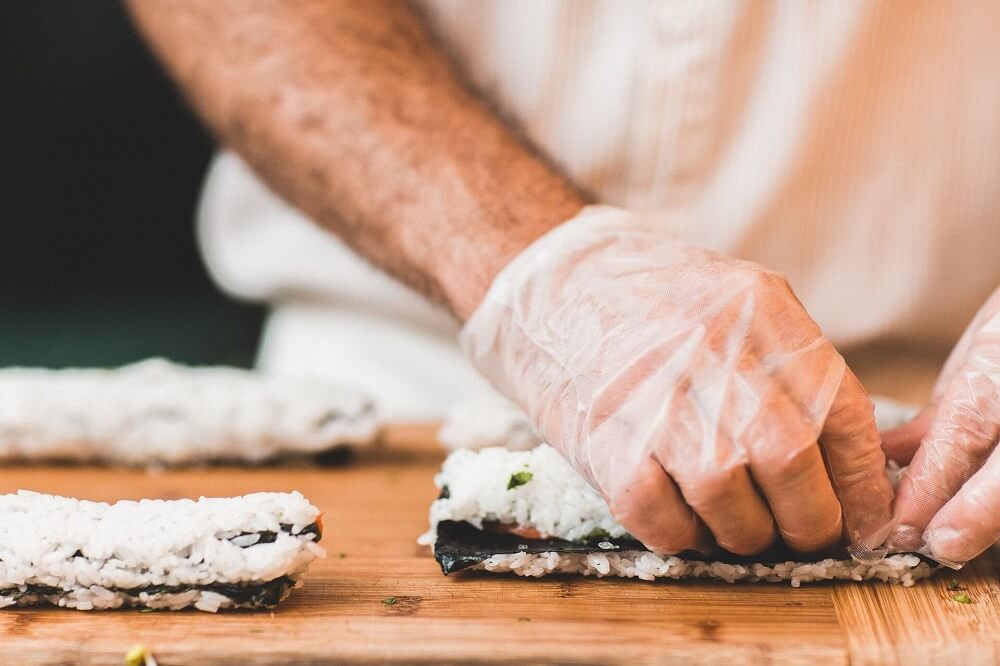 of the best ways to understand a culture is through its food, so a cooking class is a great way to discover more about Japanese cuisine and customs. Plus, you can even take a piece of Japan home with you, replicating the dishes for friends and family.
As part of our Highlights of Japan tour, we include a cooking class in Kanazawa, where you can learn to make maki sushi, Japanese-style omelette and jibuni, a local dish. This three-hour cooking experience takes place in a traditional machiya townhouse and is conducted in English.
(This cooking course can also be customised for dietary requirements upon request.)
10. Visit a Cute Themed Café
Japan loves anything kawaii (cute), so there are plenty of themed cafes to choose from, especially in Tokyo. From controversial maid cafes to cartoon-character fare to animal cafes to robot waiters, your experience is sure to be bizarre and unique!
Popular character-themed cafes include those with décor and dishes featuring Hello Kitty, Doraemon (a blue robot-cat) and Gudetama (an apathetic egg), among many others. A visit to one of these cafes is a great thing to do if you're travelling Japan with kids.
You can find animal cafes with cats, owls, hedgehogs, goats… you name an animal and it probably exists in a café in Tokyo somewhere. However, be aware the animals at these establishments aren't meant to live in such conditions, with many treated poorly.
Therefore, even thought we've included a mention in this Japan food guide, we would advise you not to patronise these cafes with your tourist dollars and instead, opt for another themed café (there are plenty to choose from).
For more ideas on weird and wonderful themed cafes to visit, read Klook's guide to the 10 most bizarre cafes in Tokyo (we highly recommend an evening at the Robot Restaurant!).
11. Make Your Own Soba Noodles in Matsumoto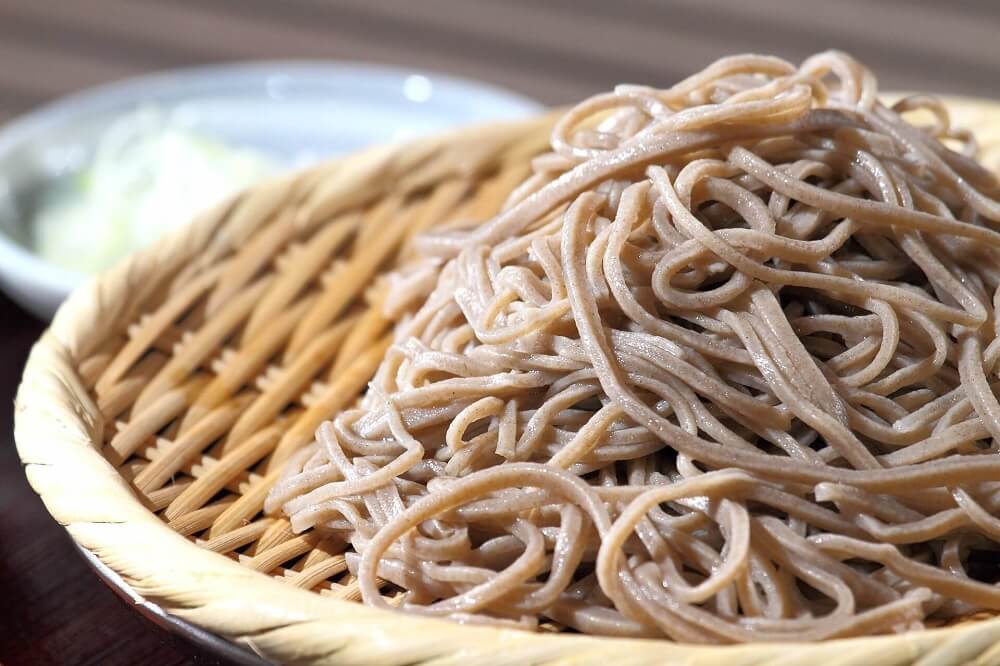 Buckwheat soba noodles can be eaten either hot or cold in a variety of dishes. Originating from the Japanese Alps, one of the best places to sample soba is in the alpine town of Matsumoto.
The Takagi soba shop in this town boasts an impressive 130-year history and offers soba-making classes for those who wish to learn more about the process of making noodles. The class takes approximately one hour and is conducted mostly in Japanese, though it's easy enough to follow.
12. Nibble on Tempura at a Century-old Restaurant in Kyoto
Tempura is another quintessential Japanese dish you must try while you're in Japan. It consists of seafood or vegetables that have been lightly battered and deep fried, though it isn't as heavy or greasy as you may think.
If you're visiting Kyoto on your Japan trip, one of the best tempura restaurants can be found at Tempura Yasaka Endo, a tempura institution with an impressive century-long history, set in an old ochaya (teahouse). A branch can also be found at the Celestine Kyoto Gion Hotel.
13. Buy a Bento Box for Lunch or Make Your Own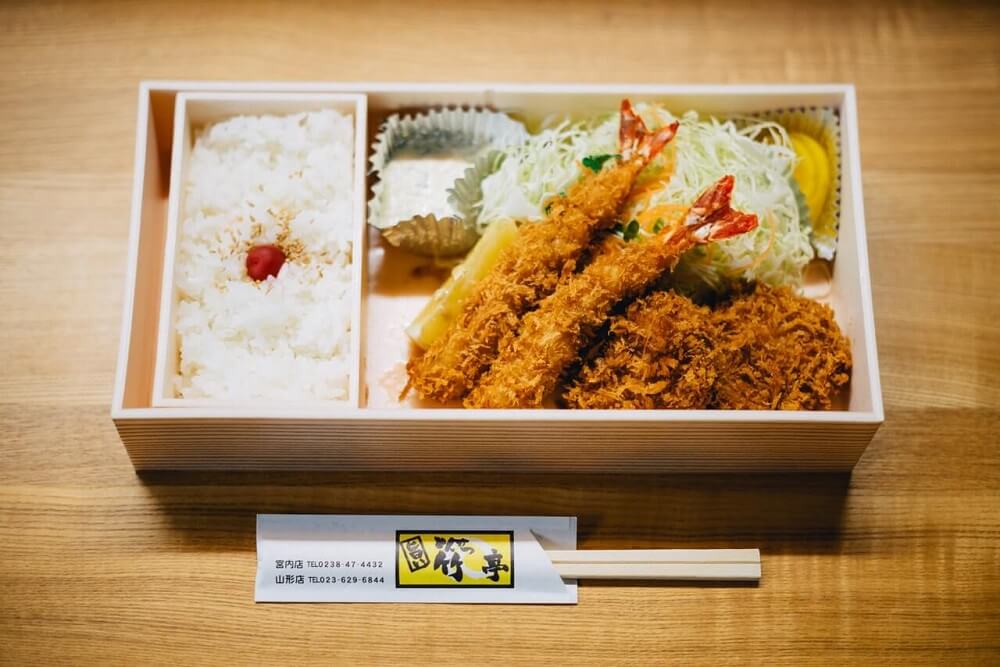 A bento box is a lunchbox taken to the next level, often divided into several sections and featuring little portions of food, which combine to make a whole meal. Bento can be found throughout Japan in convenience stores, bento shops, train stations… anywhere where you might eat lunch on the go.
You may also see kyaraben (character bento), which is an elaborate arrangement specially decorated around a theme, cartoon or video game. This is another must for a family holiday to Japan.
You could even make your own bento lunchbox at a bento-making class in Kyoto, where a small food school runs sessions with instruction in English. You'll create five or six seasonal dishes (including teriyaki chicken, tempura, sushi and miso), then eat your creation in time for lunch.
14. Eat Humble Vegetarian Fare with Local Monks at Mount Koya
Buddhist monks eat a simple diet of vegetarian fare (shojin-ryori) and the best place to try this type of food is at a Buddhist monastery. Mount Koya, in the Kansai region, is home to a huge monastery complex and you can even stay overnight in the temple lodgings there.
Breakfast and dinner are included in your stay, however you'll be dining with the monks, so the timings are set according their the daily routine. Morning sutra reciting starts at 7am and breakfast is served afterwards at 8am, whereas dinner is taken at 5pm in the communal shukubo building.
15. Cook an Omelette at Your Table in Hiroshima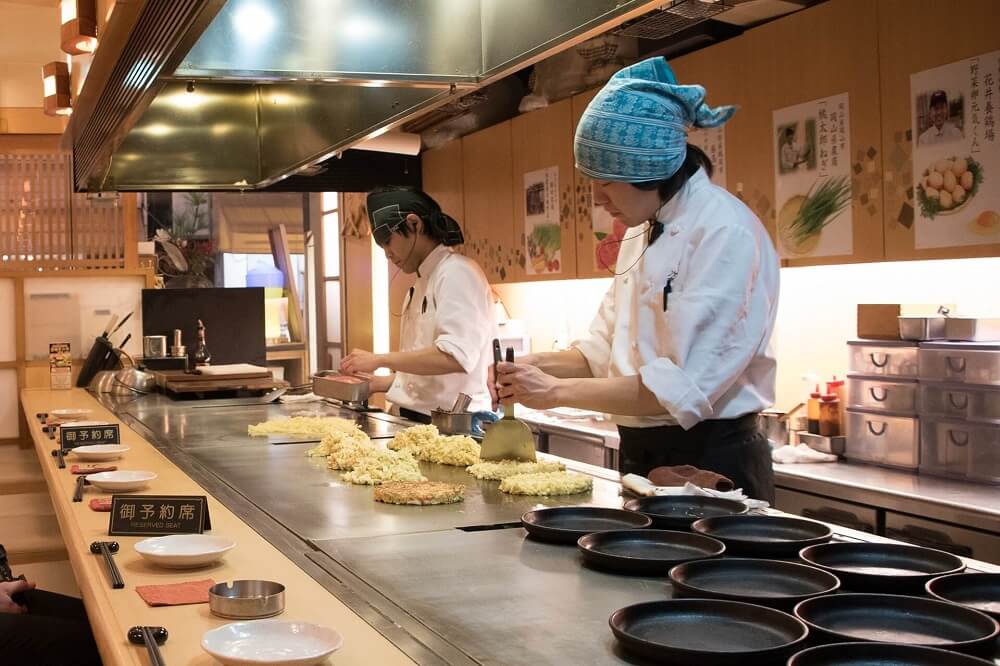 The name okonomiyaki literally translates as "what you like, grilled," referring to the variety of ingredients you can choose to put in your dish. Sometimes referred to as Japanese pizza, this savoury cabbage pancake is typical of the Kansai and Hiroshima regions of Japan, but you'll see it throughout the country as well.
First, decide which ingredients you'd like to include, then cook the pancake on a hot plate at your table – what you like, grilled! Typical fillings include meat, seafood, vegetables and cheese – often topped with a thick, sweet sauce, Japanese mayonnaise, pickled ginger and seaweed and bonito flakes.
16. Visit a Wasabi Plantation in the Japanese Alps
Near Matusmoto, the aforementioned home of soba noodles, is where you can find Daio Wasabi Farm, the largest wasabi plantation in Japan. The fresh alpine water provides the fields of wasabi with a special irrigation system that makes wasabi cultivation possible.
The farm also makes for a great visit for tourists who wish to learn more about the fiery green paste they see next to their sushi rolls. Walking trails around the farm and the idyllic rural setting with old-fashioned, wooden water wheels are very pleasant.
On your way out, make sure you pop into the farm shop and restaurant to ogle at the range of wasabi products on offer. Aside from the obvious wasabi paste, snacks and flavoured noodles (which make for great souvenirs), why not try wasabi beer, wasabi chocolate or wasabi ice cream?
17. Hairy Crab in Hokkaido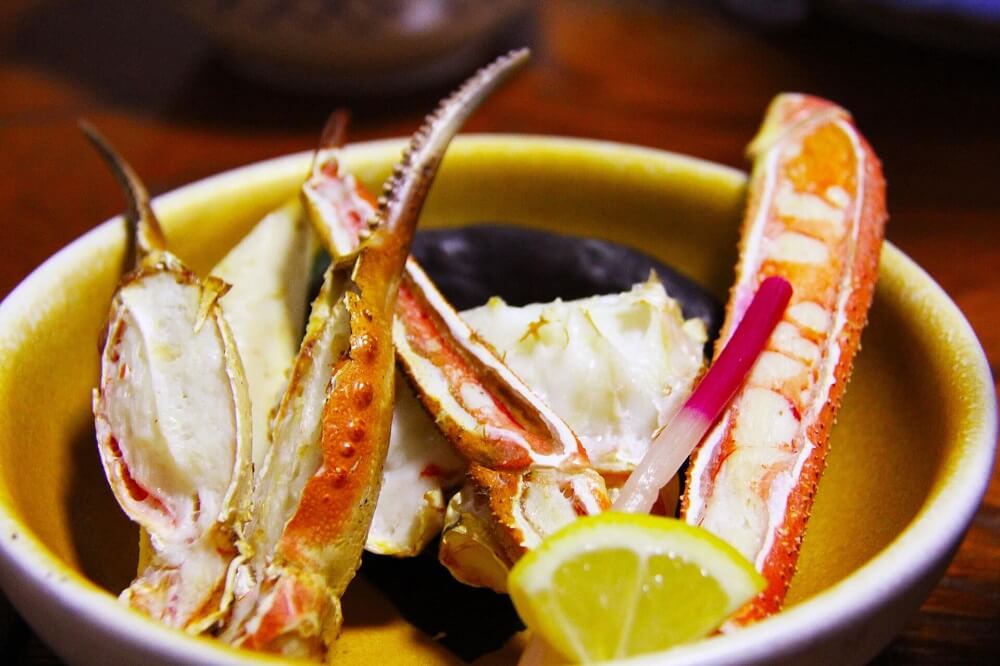 If you're travelling to Japan in the winter, you will get to taste one of the delicious species of Japanese crabs on offer, especially in the northernmost island of Hokkaido.
The hairy crab gets its name from the spiky hairs on its body and is slightly smaller than the snow crab and red king crab. Due to its size, the hairy crab can be more difficult to eat, but the sweet flavour makes the effort worth it. The crab is boiled in saltwater, cut into sections and eaten by hand.
The snow crab has a bumpy shell and long, skinny legs. The males are larger than the females, so they can be more expensive due to the larger amount of meat on them. The females contain orange egg sacks, which are also tasty and often served over rice or on sushi.
The red king crab is a monster with a shell around 25 centimetres wide and a leg span of over a metre. Despite its vast size, the meat is light and you'll have no problem handling the large portion.
You may also see a hanasaki (blooming flower) crab, noted for its bright red colour. It's smaller than the red king, though their appearances can be similar. The meat is sweet and the females' eggs are particularly delicious.
18. Order Ramen from a Vending Machine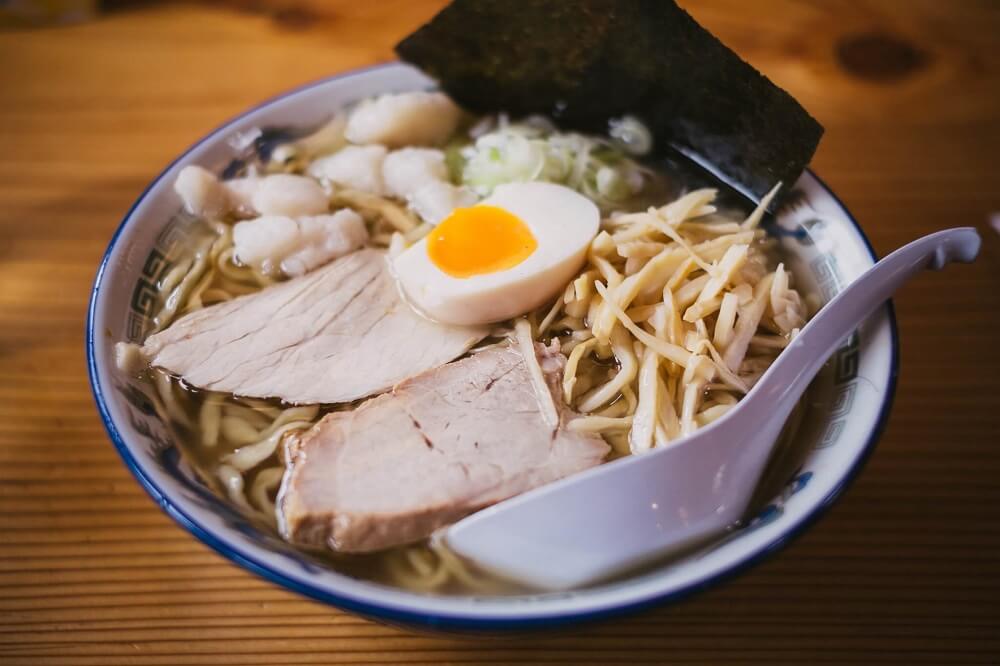 Ramen soup noodles are beloved all over the world, but eating ramen in Japan is a completely different experience, not just because of the wider variety of flavours on offer, but because of how you can order this famous dish – via vending machine!
Placing your food order through a vending machine is common practice in Japan, especially for ramen shops. Insert cash, press your chosen dish and add any sides, then you'll be granted a ticket. The efficient system leaves little room for error and a speedy service (as long as you know what you want to order first).
19. Take Part in a Hanami Picnic
Visiting Japan during spring means ample opportunity for cherry blossom (sakura) viewing, which is a popular pastime for the Japanese during the change in the seasons. Hanami (cherry blossom viewing) involves a picnic party under the cherry blossom trees with friends and family.
Grab a picnic blanket, a bottle of wine and a hanami-themed bento (you'll see a lot of cherry-blossom-flavoured food and drink options available around Japan during the spring) and spend your day eating, drinking and laughing under the picturesque trees of fluffy pink, weather pending.
The Ultimate Japan Food Guide: What to Eat Where
Japanese cuisine is rich in both taste and tradition, with a huge range of different dishes and flavours to choose from (be sure to tell your family and friends back home its not all sushi!). We've only just started to scrape the surface of Japanese food with our Japan Food Guide, recommending experiences to have as well as delicacies to try.
We hope this ultimate Japan Food Guide has helped inspire you to get hands-on with your meals on your next holiday to Japan, given you some context about some of Japan's most famous dishes and made you just a little bit hungry.
Wayfairer Travel provides tailor made luxury tour itineraries with a focus on responsible, sustainable and ethical travel. To discuss your next trip to Japan, don't hesitate to contact our friendly team of luxury travel specialists to discuss a bespoke Japan travel itinerary suited to your specific needs and interests.
We understand that booking trips, especially adventurous and alternative ones such as this can be intimidating, so get in touch; we can take the stress out of your holiday planning and organise a trip you won't forget!
Get in touch
Sign up to our newsletter
For more travel inspiration delivered straight to your inbox just fill in your details here
More inspiration from Wayfairer customers and travel specialist
Sign up to our newsletter
For more travel inspiration delivered straight to your inbox just fill in your details here