The Ultimate Guide to Angkor Wat (Including Where to Stay)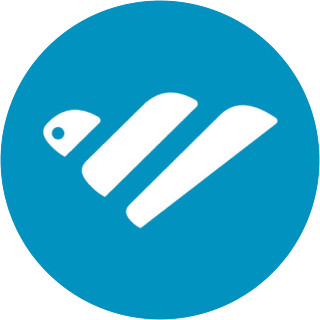 By Wayfairer Team
April, 14, 2023

4 Min read
Our Angkor Wat guide to the best Angkor Wat tours, travel tips, where to stay in Siem Reap and much more
The ancient temple complex of Angkor is home to a multitude of fascinating architectural wonders, including the iconic Angkor Wat. Here, in our guide to Angkor Wat, we share our advice for planning your trip to Cambodia, visiting Angkor Wat and its surrounding temples and getting the most out of your Angkor tour:
Introduction to the ancient city of Angkor
Angkor was once the capital city of the Khmer Empire, which covered much of Southeast Asia during the Middle Ages. Built between 800AD to 1300AD by Yasovarman I, it's estimated that Angkor was home to around a million people during the empire's peak, which was approximately 0.1% of the entire global population at the time.
An urban sprawl covering an expanse of 1,000 square kilometres, the ancient city's size is on par with many modern metropolises around the world today. Advanced technology, such as complex water systems, helped support the ever-increasing population.
Yet, around 431AD, the city was mysteriously abandoned, leaving few clues for historians to understand how and why the city fell so suddenly. Common hypotheses include climate change (extreme drought or extreme flooding), disease and contamination of the city's irrigation system, or other natural disasters, such as earthquakes.
After the fall of the Khmer Empire, the temple city was reclaimed by the jungle and lay dormant for centuries. Whilst Angkor was known to local Khmer and was often shown to foreign visitors, the forgotten capital remained cloaked by the forest until the end of the 19th century.
It wasn't until European archaeologists such as Louis Delaporte and ethnologists such as Adolf Bastian popularised the site in Europe that a restoration process finally began in 1907. However, in 1970, the Cambodian Civil War and communist Khmer Rouge regime took over. It wasn't until 1993 that restoration resumed once more.
Today, many of Angkor's beautiful temples have now been restored, the entire archaeological area is a protected UNESCO World Heritage Site and more than 2.5 million tourists visit Angkor Wat each year.
Wayfairer Top Tip
Although the names Angkor and Angkor Wat are often used interchangeably by visitors, the Angkor temple complex consists of hundreds of different temples and monuments. Angkor Wat refers to a specific walled area within Angkor, as well as the iconic three-spired Angkor Wat structure itself. If that sounds a little confusing, remember than the word Angkor means city or capital, and the word Wat means temple, so you are sure to hear both of these words a lot around the archaeological park!

Amy Poulton
Content Writer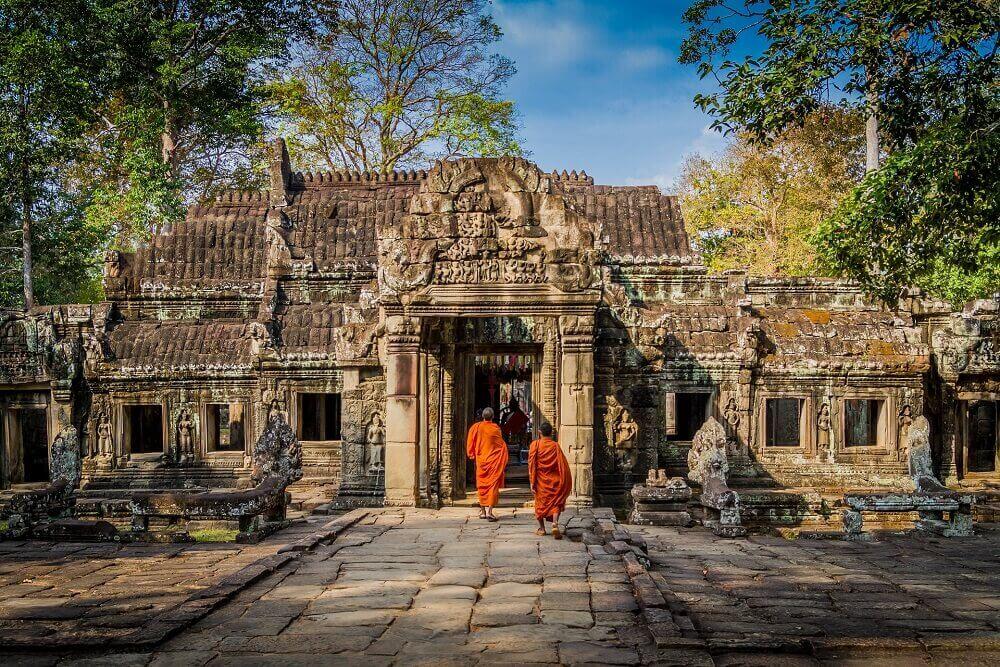 Angkor Temple Guide
Angkor Wat is at the top of everyone's bucket list, with other favourites including Angkor Thom, Ta Prohm and Bayon not far behind. However, don't discount the hundreds of other temples around the archaeological park; with so many to choose from, you're likely to have some of the them all to yourself.
Here are just a few of our favourite Angkor temples to visit: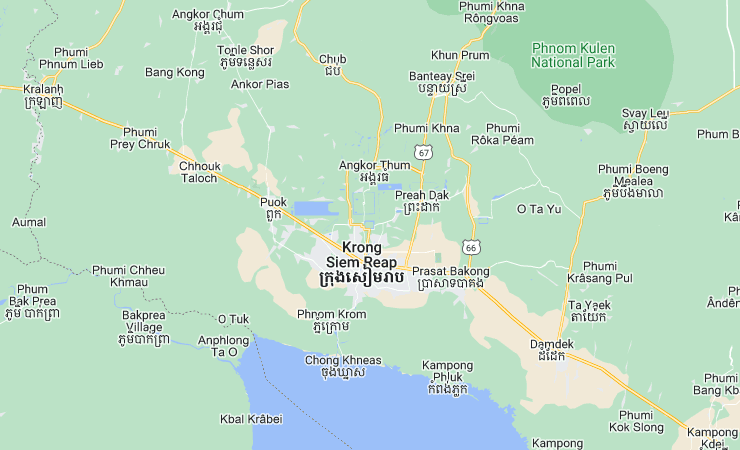 1. Angkor Wat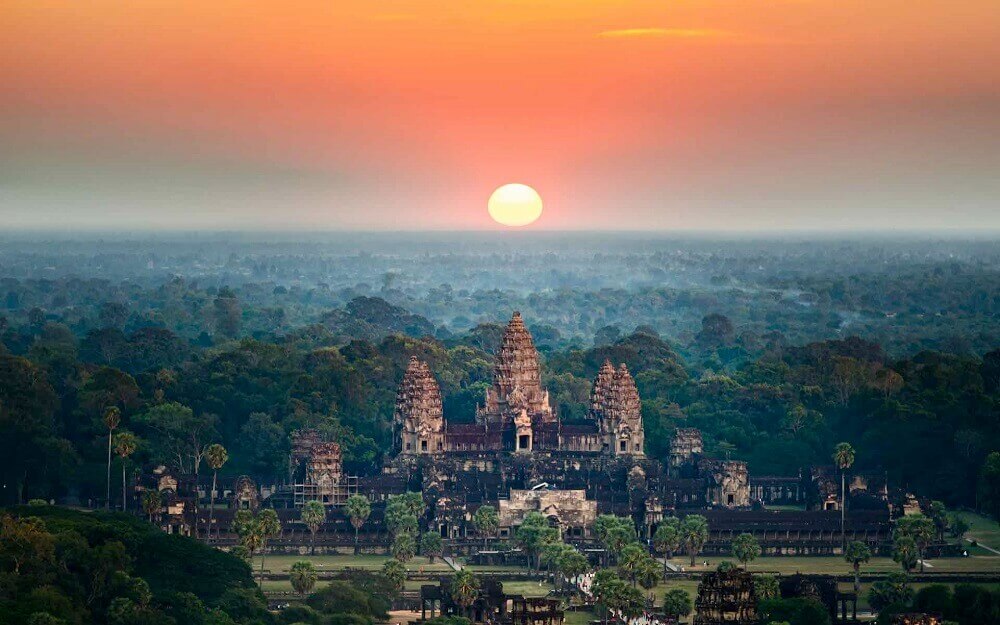 Angkor Wat is the centrepiece of the Angkor temple complex and one of the largest religious monuments in the world. Surrounded by a moat and an exterior wall measuring 1,300 metres by 1,500 metres, the temple itself covers a perfect square kilometre and consists of three terraces crowned by five lotus-like towers.
Angkor Wat's trio of spires is typical of Khmer architecture and represents the traditional temple mountain of Mount Meru, home of the gods in Hinduism (the people of Angkor were Hindu first and later Buddhist).
Angkor Wat sunrise
An Angkor Wat sunrise is simply spectacular. The sun rises behind the temple, which creates a stunning reflection in the pools in front. However, be aware that there are always huge crowds at the West Gate at this time of day and you'll be sharing your idyllic sunrise moment with thousands of others, armed with selfie-sticks and smartphones.
Wayfairer Top Tip
Enter via the East Gate just before dawn and you will find it relatively quiet compared to the West. If you're lucky, you will have the chance to get some photographs without any tourists in them. Head back outside before the sun starts to rise to snap the iconic sunrise picture, but once the sun has risen, many tour groups go back to their hotels for breakfast, so this is the perfect time to explore the temple further without the crowds.

Thea Gillingham
Luxury Travel Specialist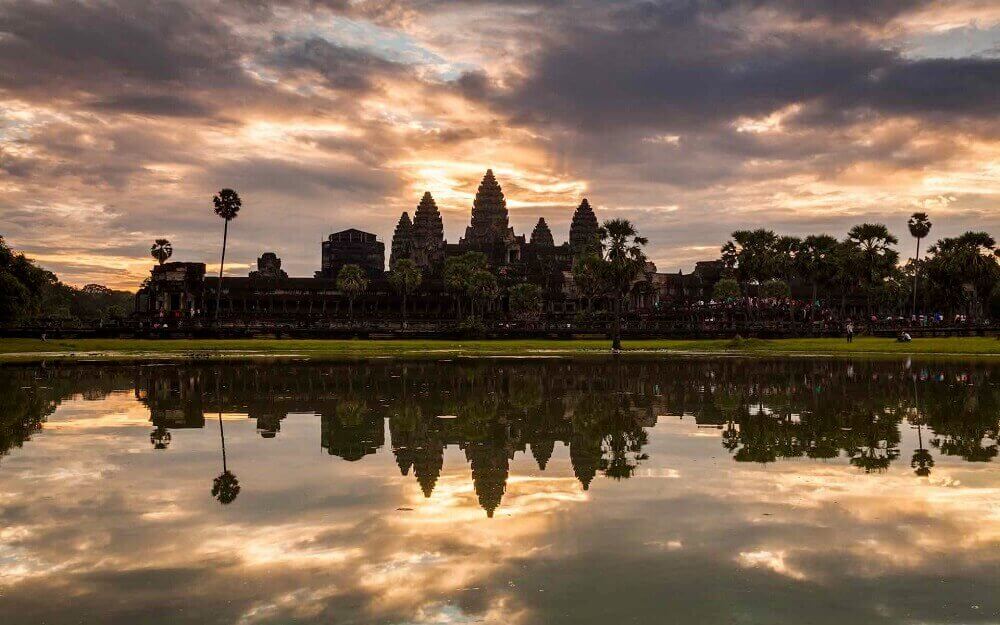 If you opt for a multi-day Angkor tour, then perhaps choose an Angkor Wat sunrise for one day and another, lesser-known temple for the following day, so you're sure to get your tranquil sunrise moment - ask your local guide for recommendations and remember that sunset is also just as beautiful.
2. Angkor Thom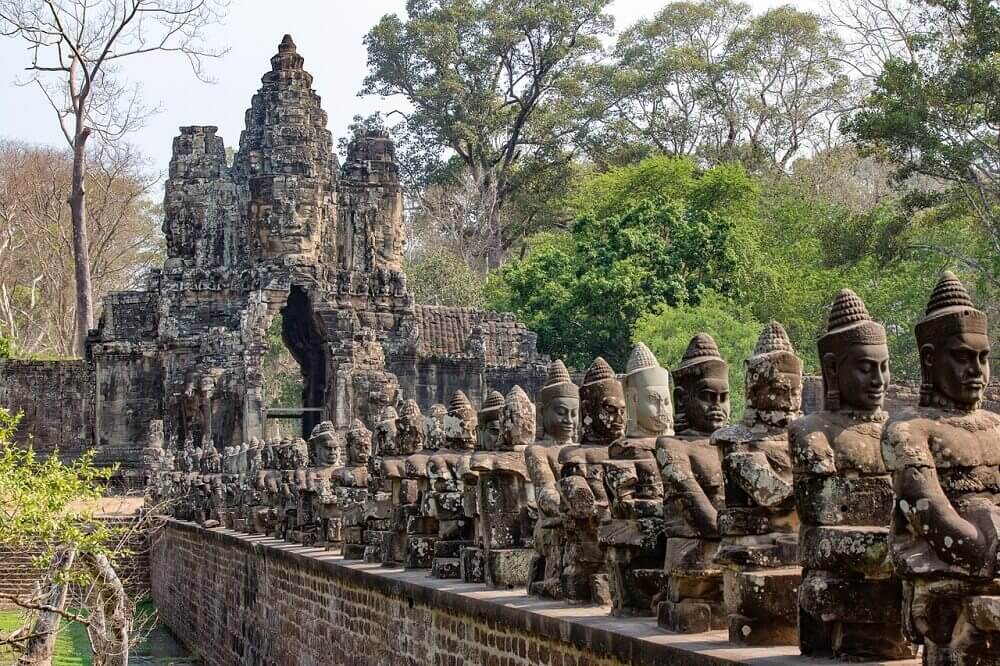 Similar to Angkor Wat, Angkor Thom is the name given to a city-within-a-city area in central Angkor, as well as the name often attributed to the main temple building within that area too. This is an incredible temple to visit, as you can scale the building (although the bamboo ladders are not for the faint-hearted) to get to the Terrace of Elephants.
The Terrace of Elephants
The 350-metre-long viewing platform is intricately carved with human and animal figures, including the elephants which give the balcony its name. It's believed that this platform was once used during public ceremonies and also served as a base for the King's grand audience hall to listen to the complaints and problems of the citizens of Angkor.
Today, the Terrace of Elephants provides excellent photo opportunities and gorgeous views across Angkor Thom, Bayon and Angkor. We suggest visiting early morning or late afternoon to avoid the crowds and the heat, which also provides the best lighting for your photos.
3. Bayon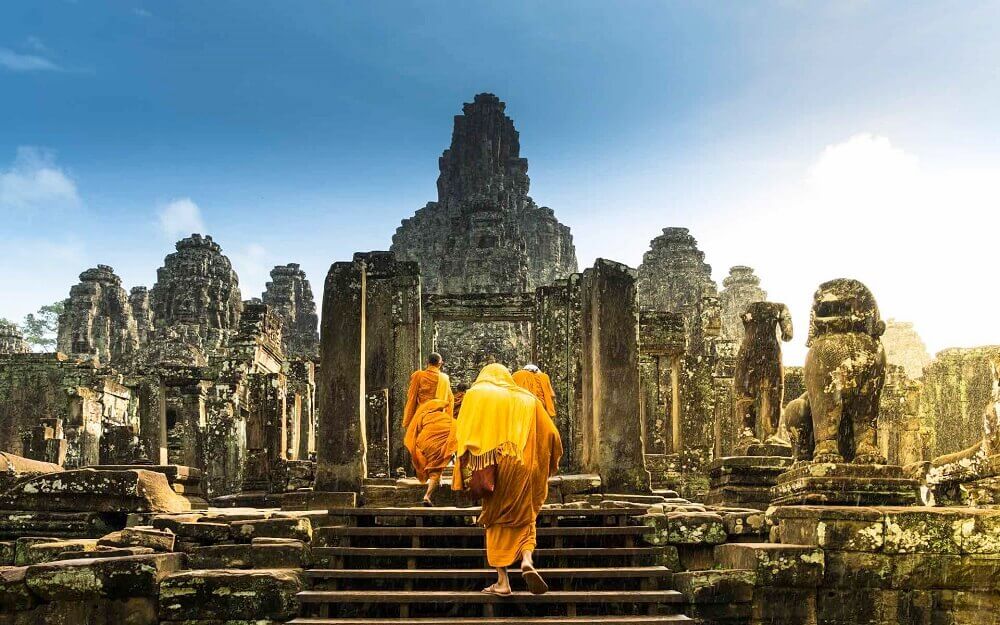 Built by Jayavarman VII, Bayon is the central temple in Angkor Thom and known for its 54 gothic towers featuring over 200 huge stone faces, which glare down from every angle and give Bayon the nickname of "The Temple of Faces."
Bayon's sculptured exteriors and interiors incorporate more than 11,000 figures depicting everyday life during the 12th century and the Khmer Empire. This temple is also often crowded, but is especially stunning at sunset, when shadows are cast over the omniscient faces and appear to bring them to life.
4. Pre Rup
With its three central spires, Pre Rup looks like Angkor Wat in miniature. The name Pre Rup means "Turning the Body" and refers to a traditional method of cremation in which a corpse's outline is traced in the cinders. This suggests that the temple may have served as a royal crematorium.
The temple is made of grey sandstone, which is less durable than the pink sandstone of many other Angkor temples, therefore most of the complex carvings have been worn away by rain and erosion. Yet, the crumbling ruins make this temple all the more atmospheric and it's still well worth a visit, especially at sunset.
5. Ta Prohm
Ta Prohm, which featured in the film Tomb Raider, is one of the most atmospheric temples in Angkor. Swallowed by the jungle, Ta Prohm makes it easy to imagine how the whole complex looked when it was "rediscovered" in 19th century and leads visitors to contemplate the awesome power of Mother Nature.
Ta Prohm is most impressive in the morning, however many visitors make a beeline for this temple after their Angkor Wat sunrise, so be mindful there could still be crowds.
6. Preah Khan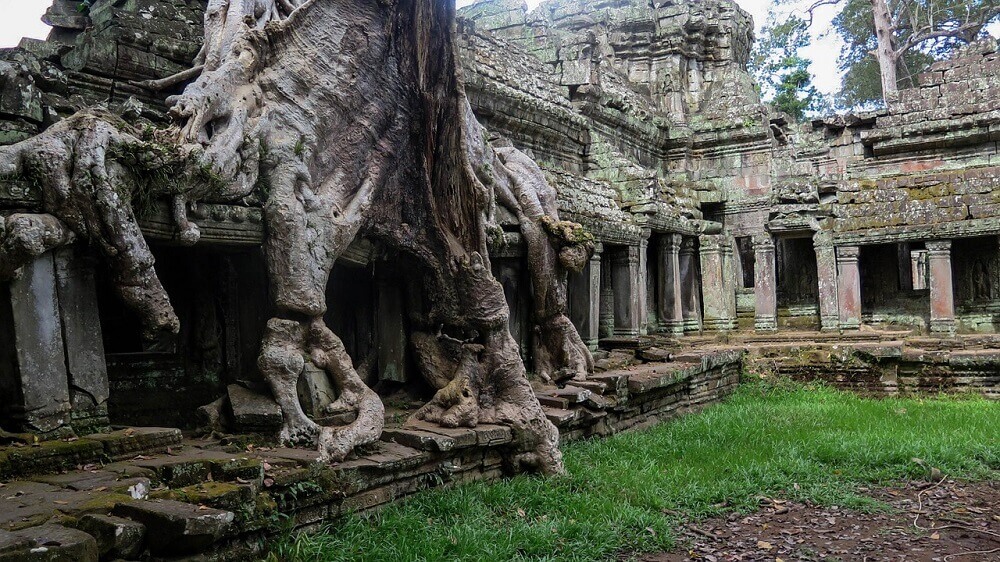 Preah Khan is a breathtaking, if slightly unsettling, optical illusion, comprised of a labyrinthine grid of identical chambers that seem to go on forever. However, if you persist in the same direction and cross a bridge flanked by unnerving headless statues, you'll reach a serene lake on the other side.
This monastic complex has escaped restoration and succumbed to the jungle, similar to Ta Prohm, which makes for a feeling of intrepid discovery and an atmosphere of mystery.
7. Banteay Srei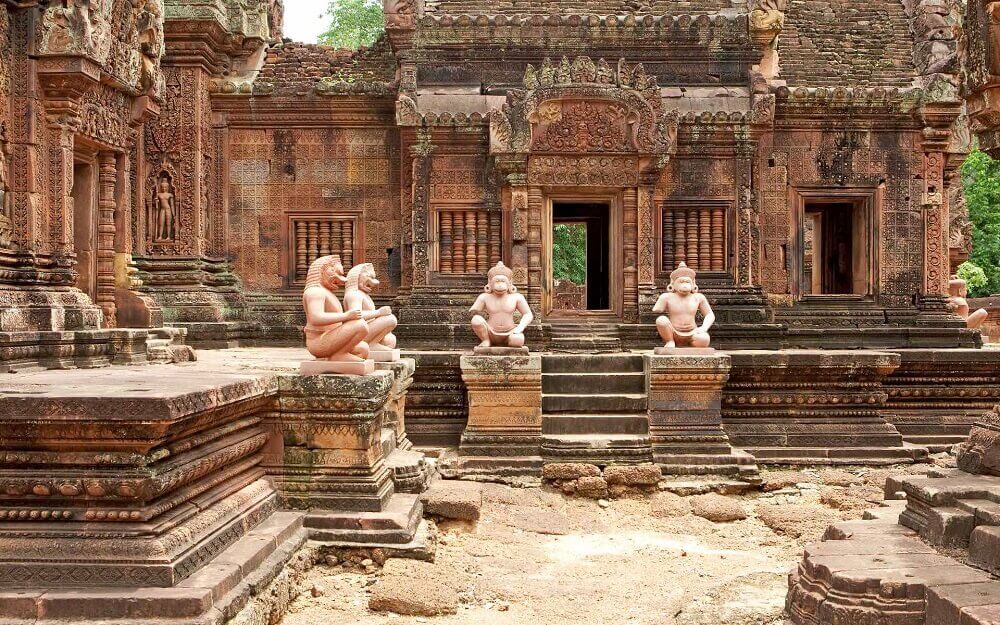 Although still technically located within the area of Angkor, Banteay Srei is some 25 kilometres northeast of the main temples listed above and best included on a multi-day Angkor tour.
Banteay Srei is built largely of hard red sandstone, a medium that can be carved like wood and lends itself to elaborate decorative wall carvings, which have survived both time and the elements. In particular, the temple is known for the beautiful carvings on its lintels (horizontal beam between two posts) and pediments (triangular space above a rectangular doorway or opening).
Wayfairer Top Tip
A trip to Banteay Srei is definitely worthwhile and if you are opting for a tour in a private vehicle, then the 25 kilometres each way can be covered comfortably in half an hour (with the strong advantage of air conditioning).

Carmen Castrovillari
Luxury Travel Concierge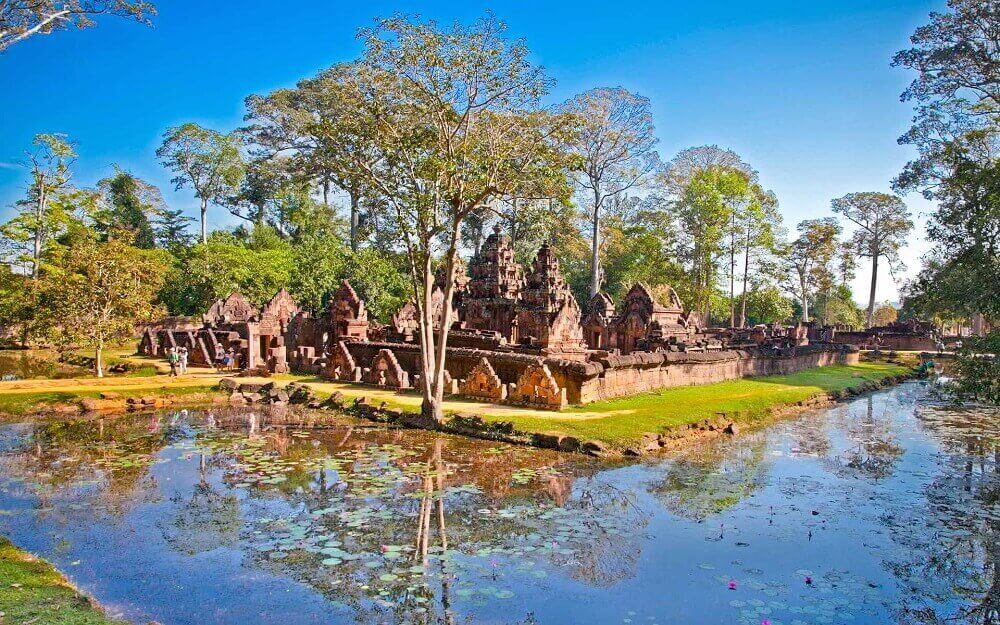 8. Other Angkor temples
The guardian lion statues of Sra Srang reservoir, little Ta Keo tucked away in the middle of nowhere, the hodgepodge restoration of Baphuon (also known as the biggest jigsaw in the world), the quintet of temples at Preah Pithu, the artificial temple island of Neak Pean, plus little temples missing from maps that you'll discover yourself.
The best way to explore Angkor is to have a rough plan and deviate from it. Don't just stick to the most well-known, as there are so many wonders to discover. Start a journey from Temple A to Temple B and you'll find yourself drawn in by and making stops at Temples X, Y and Z along the way.
Visiting Angkor Wat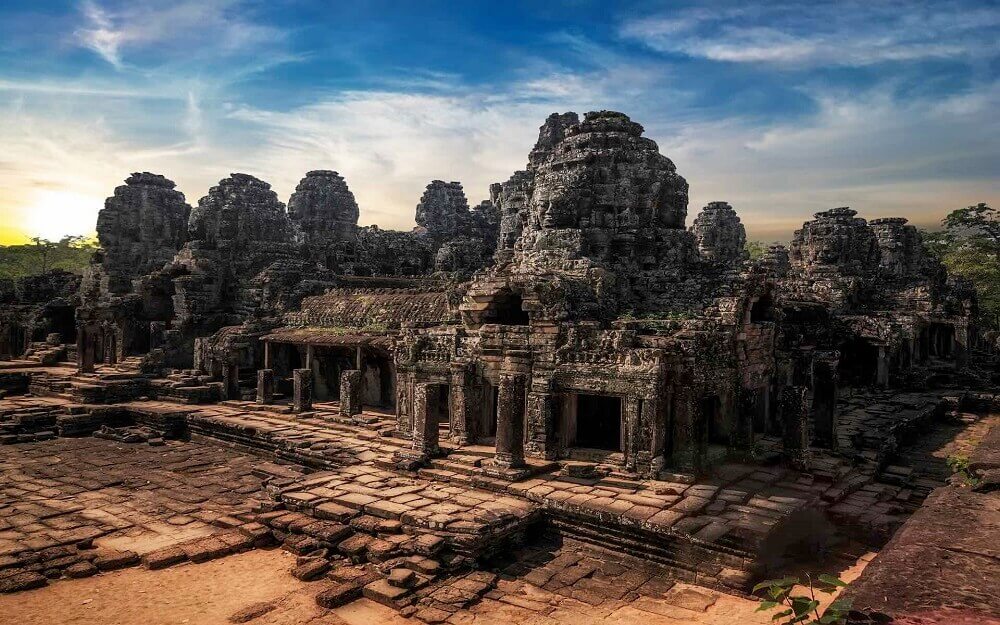 Tuk-tuk, bicycle or private car? Wet season or dry season? One-day or three-day pass? With so many options to choose from, your Angkor Wat tour can be completely tailored to your needs and preferences. Here's our advice on visiting Angkor Wat, in order to get the most out of your trip:
Angkor Wat entrance fee
Tickets are available as one-day (US$37), three-day (US$62) and seven-day passes ($72), as of February 2017. The three-day ticket can be used over a week and a seven-day ticket can be used over a 30-day period, which is ideal if you plan on travelling around Cambodia and returning to Siem Reap at a later date.
Please note that prices are subject to change and often at short, if any, notice. Check local websites such as SiemReap.net for updates or confirm with your tour provider, as official websites aren't always reliable.
Angkor archaeological park is just a few kilometres north of the city of Siem Reap, yet the main ticket office is inexplicably located on Charles de Gaulle Road, northeast of central Siem Reap and southeast of Angkor. Your ticket requires a photograph, therefore you cannot buy from a tour operator nor ask someone to purchase on your behalf.
Tickets are only available the evening before your visit (after 5pm but before the ticket office closes at 5.30pm). Or, you can brave a 4am start and get to the ticket office before queues form and it opens at 5am. As long as you're not right at the back of the queue, that should give you enough time to get your ticket and get to Angkor for sunrise.
Angkor Wat tours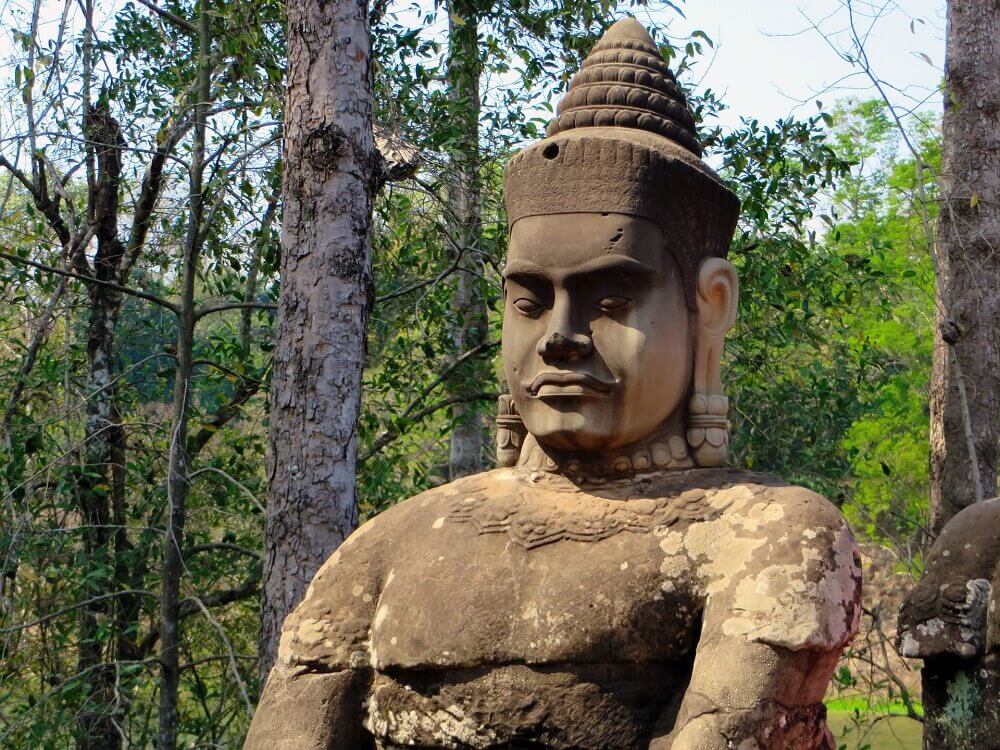 Whilst it is possible to see the highlights of Angkor in one or two days, we suggest a minimum of three days, so that you're not rushing and you get to enjoy your Angkor tour and also see some of the more remote temples and sites.
Some of the smaller temples can be visited in less than an hour, however for larger temples, such as Angkor Wat, you may wish to spend two to three hours exploring the site.
Most Angkor temples are open daily from 7:30am to 5:30pm. However, three temples have extended hours to allow for sunrise and sunset visits:
Angkor Wat: The famous sunrise location is open from 5am to 5:30pm.
Phnom Bakheng: Set on a hill, Phnom Bakheng is a popular spot for sunset and open from 5am-5:30pm.
Pre Rup: The only temple in Angkor that is open to accommodate both sunrise and sunset visits, this is a great place to escape the crowds at Angkor Wat and Phnom Bakeng. Open from 5am-7pm.
Wayfairer Top Tip
Remember that Angkor is a city of temples and a revered religious site, therefore visitors are asked to dress respectfully by wearing clothing that covers their shoulders and legs down to the knees.
Alexandra Aistrup
Luxury Travel Specialist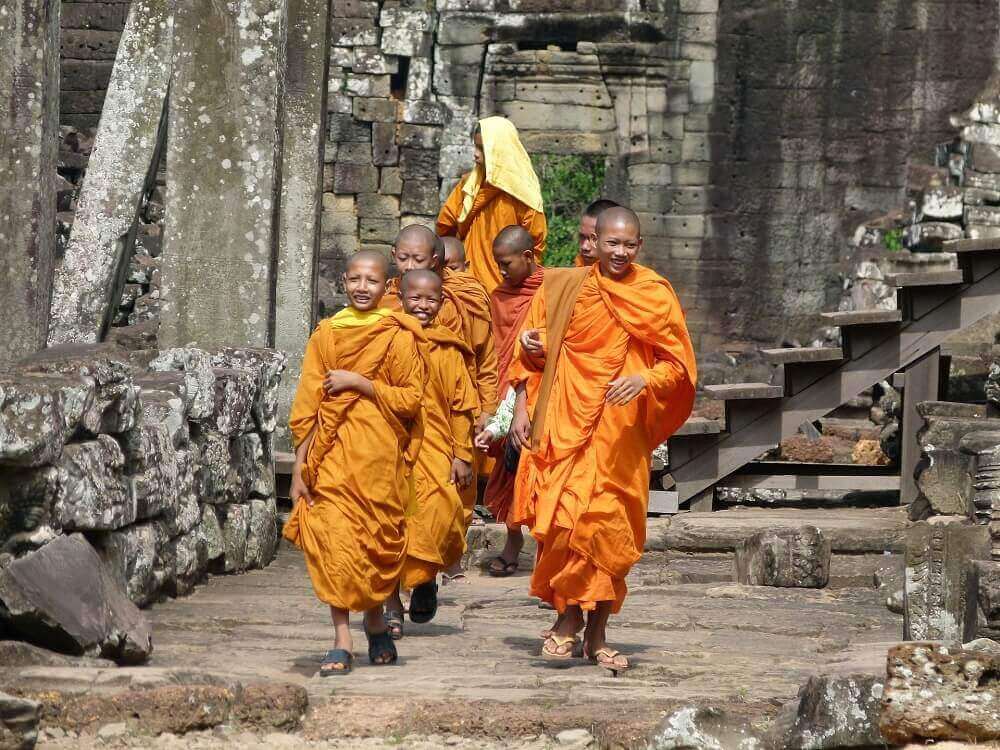 Getting from Siem Reap to Angkor Wat
Angkor Wat can be reached from Siem Reap by taxi, tuk-tuk or bicycle. Your hotel will be able to assist in finding a reliable taxi, tuk-tuk driver or bicycle rental shop, or we can arrange this as part of your Angkor Wat tour.
If you're going it alone, we recommend hiring a tuk-tuk driver/guide who has extensive knowledge of the different temples, plus they can also advise the best time of day to visit each temple, avoiding the big tour groups as much as possible.
Shop around and take recommendations, as a knowledgeable and enthusiastic guide truly makes a difference.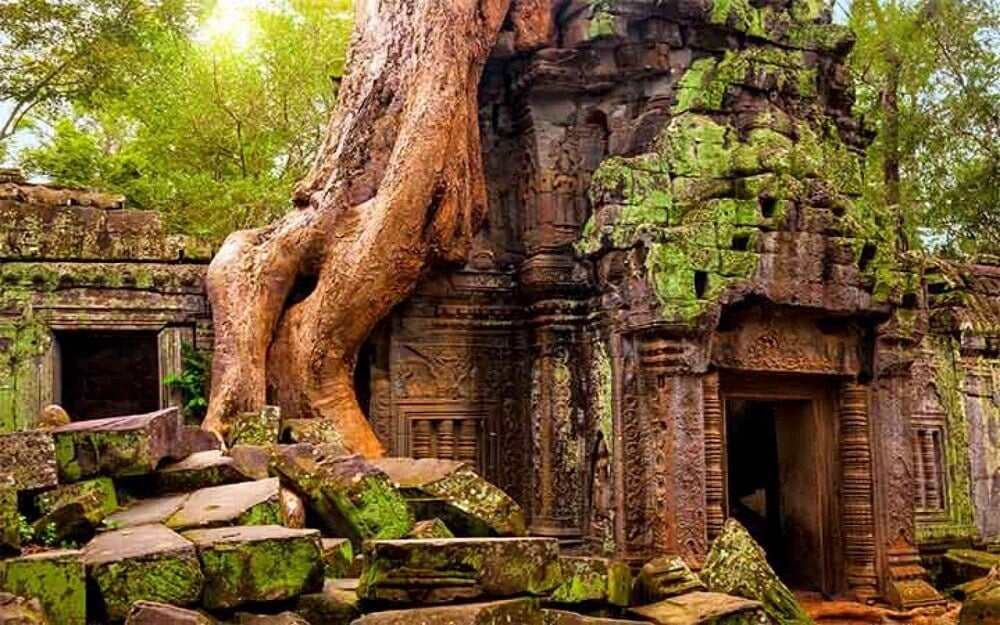 Cycling around Angkor
Although the core area of Angkor can be traversed by bike, you should keep in mind that the temples are spread over a vast area and you may find it exhausting (and a bit sweaty!) cycling from one site to another. However, a great benefit of cycling is the slower pace of travel and the opportunity to stop where you like.
To cycle from the centre of Siem Reap to Angkor Wat (in the primary cluster of temples) is 6.5 kilometres, plus you'll most likely be cycling to and from the ticket office. Getting from the central cluster to Banteay Srei is another 25 kilometres.
Best time to visit Angkor Wat
Cambodia is warm throughout the year, with a dry season from November to May and a wet season from May to October. The dry season is the most popular time to visit Angkor, as the dirt roads around the city are more manageable, but the temples can also be more crowded.
The wet season may bring downpours, but these are usually only once a day and have other benefits such as clearing the humidity, filling the picturesque canals and reservoirs of Angkor and transforming the jungle into lush foliage. Of course, there's also the extra benefit of fewer visitors.
For more information, read our full guide to When to Go to Cambodia.
Best hotels in Siem Reap
There are plenty of accommodation options in Siem Reap, the gateway city to Angkor and filled with attractions in itself. Here are a few of our favourite luxury hotels in Siem Reap, which we recommend to our travellers:
Raffles Grand d'Angkor
Located near Siem Reap's Royal Palace in the heart of the city's French Quarter, Raffles Grand Hotel d'Angkor exudes 1930s sophistication and luxury chic. This five-star property is set in 15 acres of French-style gardens and features classic Art Deco decor, including a fully-functional cage lift.
Raffles' 119 guestrooms, suites and villas are decked out in Cambodian object d'art style furnishings, including some originals from when the hotel first opened its doors in 1932. Each room has a gorgeous view of the gardens or swimming pool, with the cabana suites being the most intimate and romantic option for couples.
Boasting the largest swimming pool in the whole of Cambodia, traditional Khmer and modern treatments at the hotel's spa, plus 24-hour butler service, a stay at Raffles Grand Hotel d'Angkor is truly an experience of grandeur.
Anantara Angkor Resort
Romantic, charming and luxurious, Anantara Angkor Resort & Spa is ideal for couples looking for a peaceful escape. This property is located near the Cambodian Cultural Village and Tonle Sap Lake, a 15-minute drive away from Angkor and a 10-minute drive from the town centre - an oasis to return to at the end of a day of intrepid adventure.
Anantara's 39 suites are subdivided into eight different categories, which cater for varying tastes and preferences. All suites are designed in the style of Khmer villas, with handcrafted teak furniture, local textiles and hand-carved sandstone touches. Facilities include private balconies, large bathtubs and soft goose-down bedding.
Complimentary transport makes hopping to and from Angkor a breeze, whilst the spa's complimentary foot massage is a godsend after a long day exploring Angkor's temples. Post-Angkor, relax in the hotel's large outdoor saltwater pool, enjoy private dining at Dining by Design, or ask your personal Experience Butler for activity recommendations.
Frangipani Villa Hotel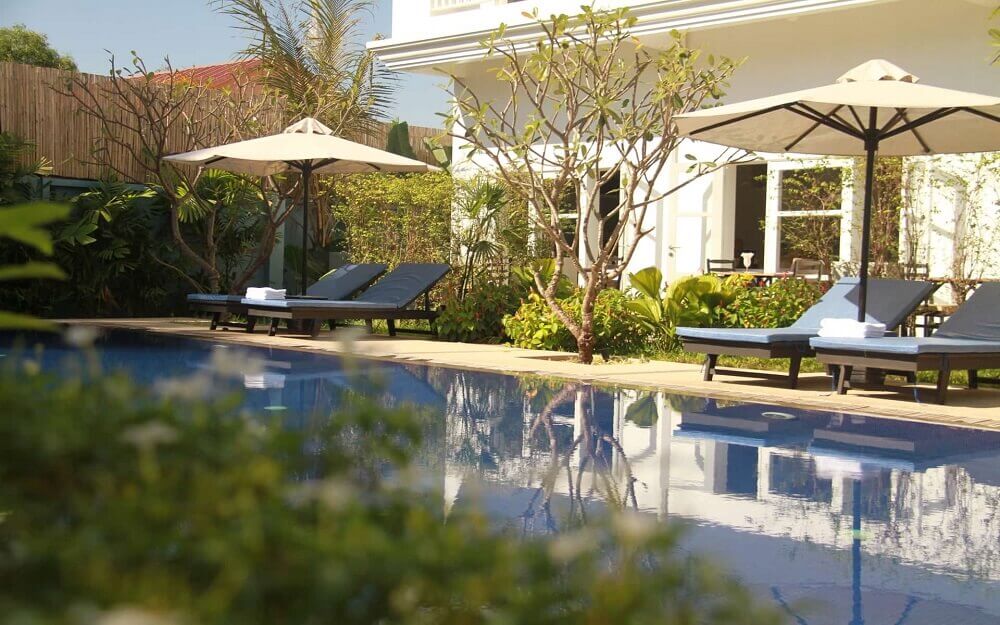 Frangipani Villa Hotel is a boutique property in the city centre, just one block away from the river and within walking distance of many of Siem Reap's main attractions. Enjoy the city's best restaurants, shop at the local handicraft markets for souvenirs and participate in cultural excursions about town.
All rooms are styled in contemporary Cambodian design, including elegant, locally-crafted wooden furniture and full-size baths. Upgrade to a premium suite to enjoy a spacious balcony and a four-poster bed.
A bright an airy ambiance, warm and personable service and peaceful surroundings in a quiet neighbourhood of a bustling city, Frangipani Villa Hotel is unbeatable when it comes to prime location and city exploration.
Shinta Mani Shack
Unique chic and quirky luxury tucked away in Siem Reap's French Quarter, Shinta Mani Shack is all about iconic design and elevated experiences. Design by renowned architect, designer and philanthropist, Bill Bensley, the property marries sustainable practices with eye-catching detail, to redefine what a luxury hotel should be and look like.
The Shack's 62 guestrooms offer rain showers, bathtubs and private terraces or balconies. Those familiar with Bensley's work will recognise his signature mirrored feature walls, handcrafted light fittings, custom furnishings, rich colour palettes, architectural creativity and artistic flair.
The hotel is also home to an award-winning spa (the ideal place to spend some time treating aching muscles after your Angkor tour), exquisite dining options including cookery classes with the Executive Chef, plus a large swimming pool and verdant gardens to unwind in.
Siddharta Boutique Hotel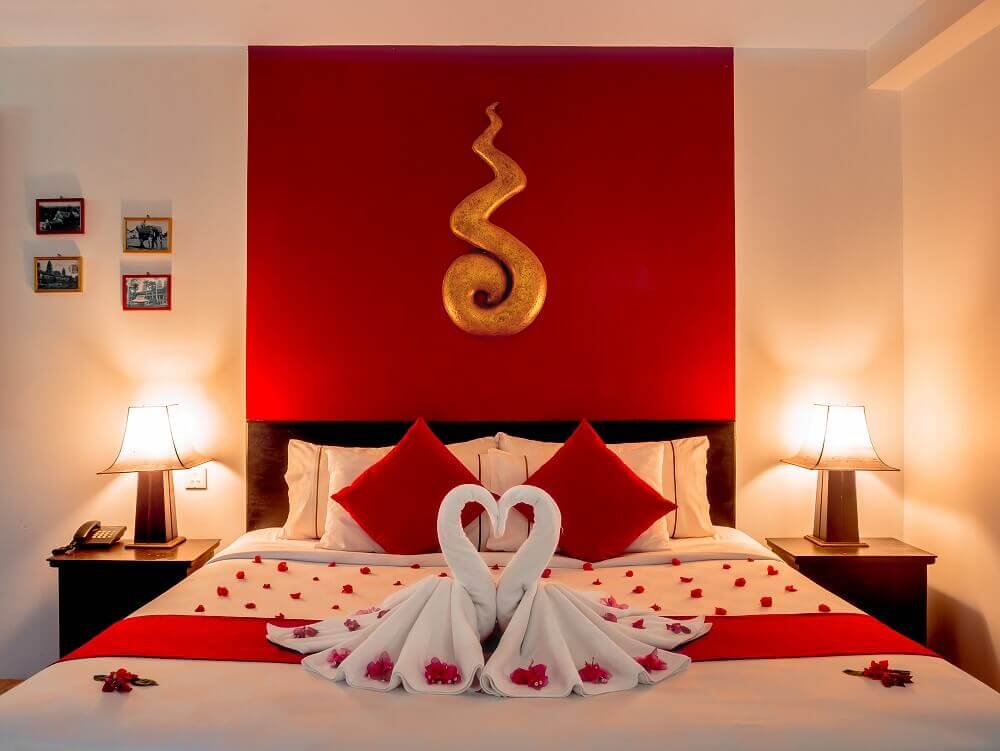 Pretty and petite, Siddharta Boutique Hotel offers tranquillity, simplicity and elegance just outside of the city. Nestled in a quiet and leafy neighbourhood close to Angkor, guests can enjoy unobstructed views of the famous temples of the ancient complex from the hotel's rooftop restaurant and lounge bar - a real treat.
With only 24 rooms, the focus at Siddharta is the quality of your visit, and this is reflected in the personal service and discreet, private experience provided by a stay here. Deluxe rooms feature a private balcony with views of the hotel's tropical gardens and swimming pool, whilst ground floor rooms have large private terraces.
Take in sunset views of Angkor with a sundowner in hand, snug into the sofa at the library with a good book and a glass of wine after an action-packed day of sightseeing, dip into the saltwater pool to revitalise sore limbs, or find your own corner of paradise hidden away in the hotel's gorgeous gardens.
Cambodia holidays
A visit to Angkor Wat is a key fixture on any Cambodia holiday itinerary and best combined with other Cambodian destinations including capital Phnom Penh and beach time on the south coast, or as part of a larger Southeast Asia itinerary. Here are a few of our favourite Cambodia holidays, which can be tailor-made to your requests:
Cambodia Explorer (10 days)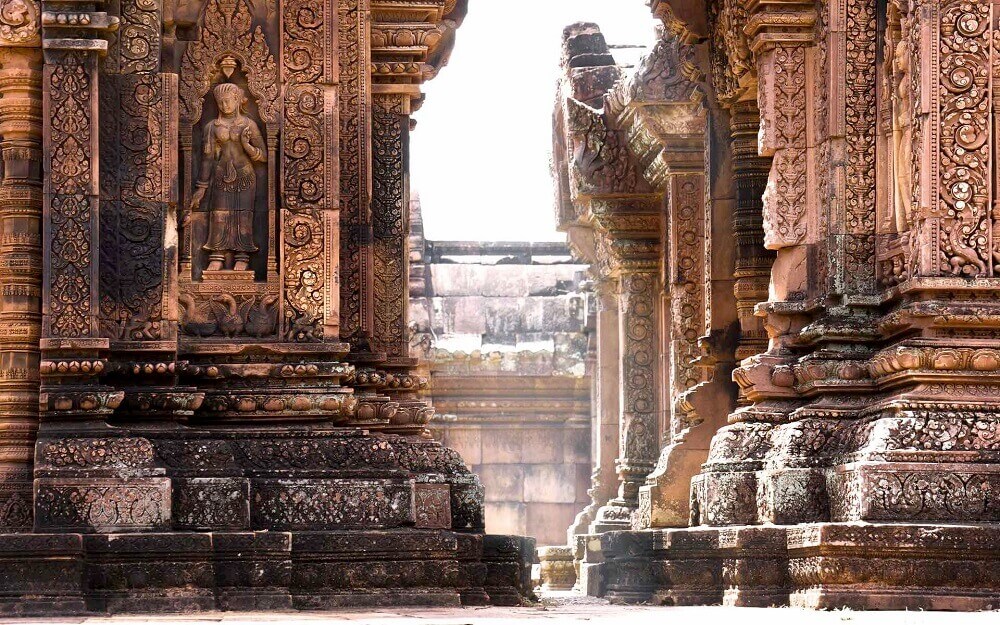 3 days Siem Reap and Angkor, 2 days Phnom Penh, 1 day Chambok, 2 days Sihanoukville and 2 days Phnom Penh
This Cambodia Explorer holiday includes the country's cultural and historical highlights, including Angkor. This is combined with beach relaxation in Sihanoukville and a local homestay in Kirirom National Park, where you can stay with a local family and gain further insight into the nation's rich culture.
Complete Cambodia Holiday (15 days)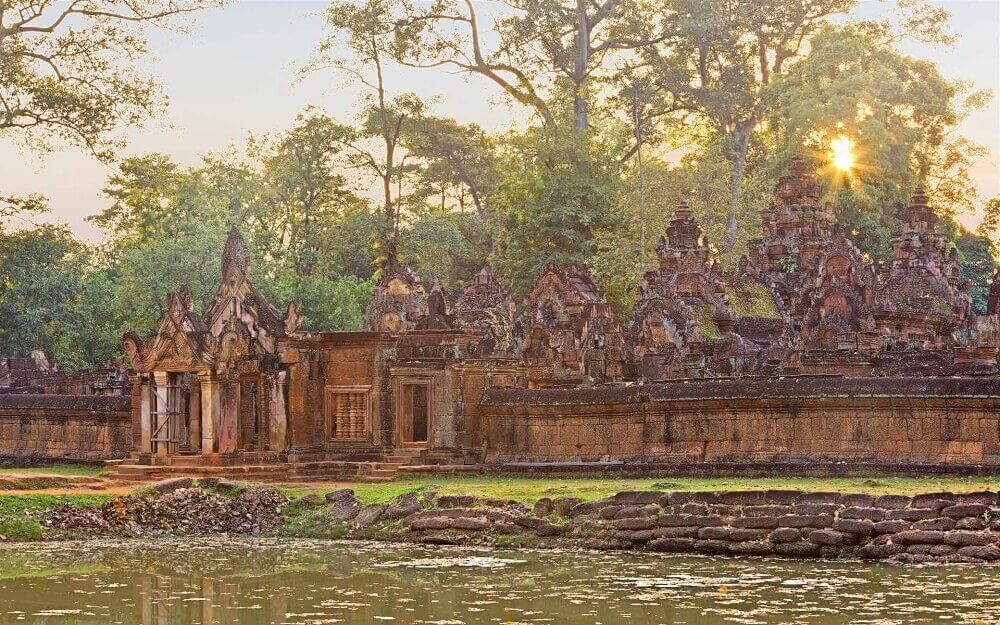 2 days Phnom Penh, 2 days Ko Trong Island, 1 day Kampong Thom, 4 days Siem Reap and Angkor, 1 day Phnom Penh, 3 days Kep and 2 days Phnom Penh
This Complete Cambodia Holiday mixes modern cities such as Phnom Penh with ancient historical sites, including Angkor and the lesser-known temple site of Sambor Pre Kuk. In Kratie and Ko Trong, you'll be able to spot endangered Irrawaddy dolphins. Relax by the river in Kampot and then by the lapping ocean in Kep.
Cambodia & Vietnam Holiday (13 days)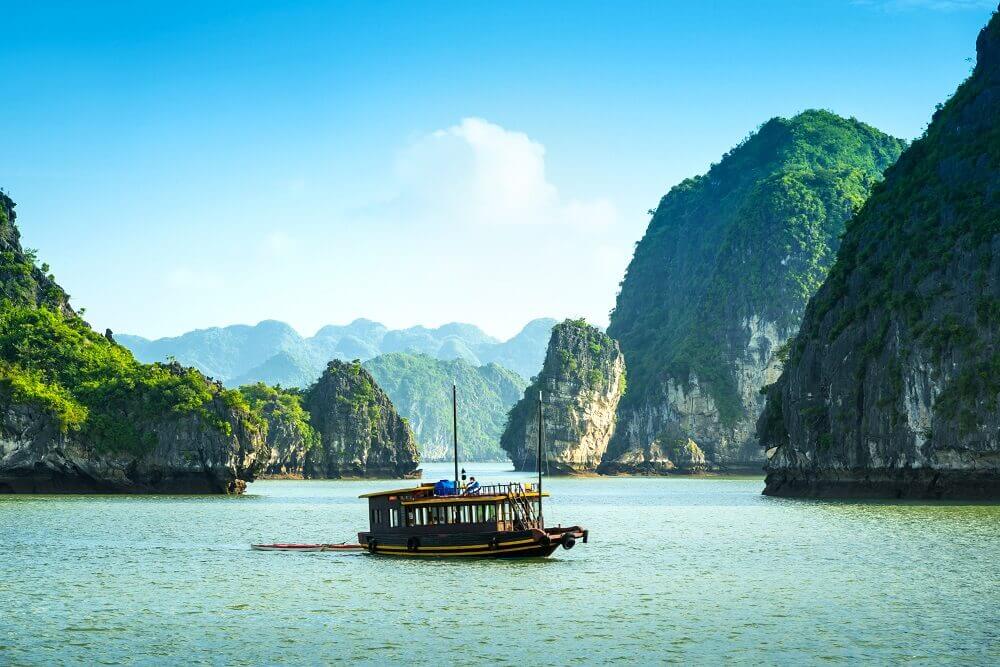 3 days Siem Reap and Angkor, 2 days Phnom Penh, 2 days Ho Chi Minh City (Saigon), 2 days Hoi An, 1 day Hanoi, 2 days Halong Bay and 1 day Hanoi
Combine two of Southeast Asia's most intense and fascinating countries with this Cambodia and Vietnam holiday. Explore Angkor Wat and Cambodian capital Phnom Penh before heading east to Vietnam, traversing south (Saigon) to north (Hanoi), discovering the cultural wonders of Hoi An and the natural wonders of Halong Bay.
Following the Mekong (16 days)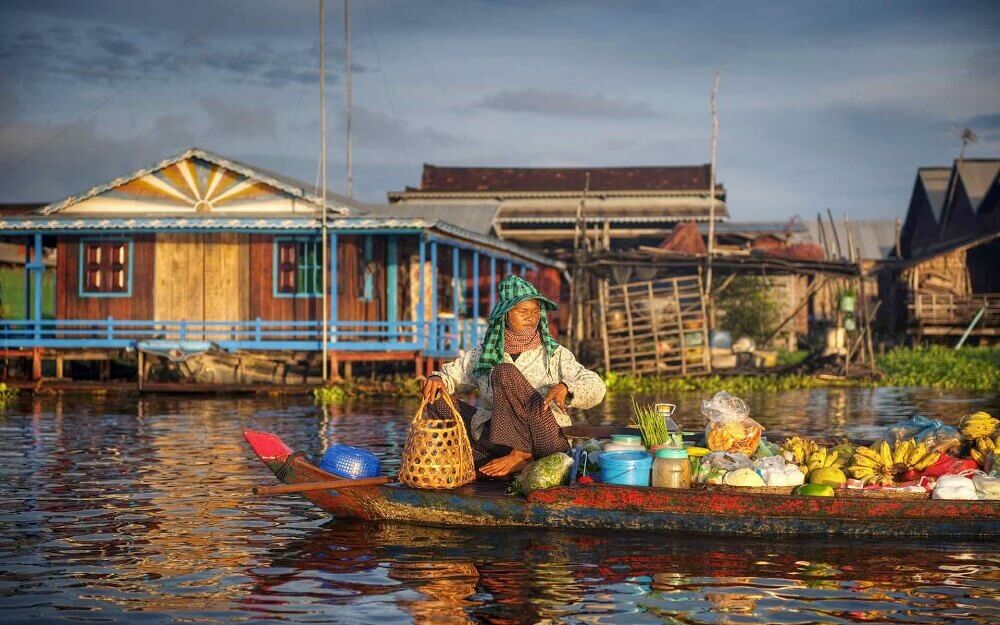 1 day Bangkok, 1 day Chiang Rai, 1 day Pakbeng, 4 days Luang Prabang, 3 days Siem Reap and Angkor, 1 day Phnom Penh, 3 days Kep and 2 days Phnom Penh
The Mekong is the main artery and lifeblood of much of Southeast Asia and this Following the Mekong itinerary showcases the highlights of Thailand, Laos and Cambodia, with a focus on the river that connects them all. Start in lively Bangkok, head north to Chiang Rai, then take a boat down the Mekong to sleepy Luang Prabang. Next, you'll fly to Cambodia, exploring from Angkor to Phnom Penh, then head south to the river mouths of the south coast.
Grand Indochina Explorer (21 days)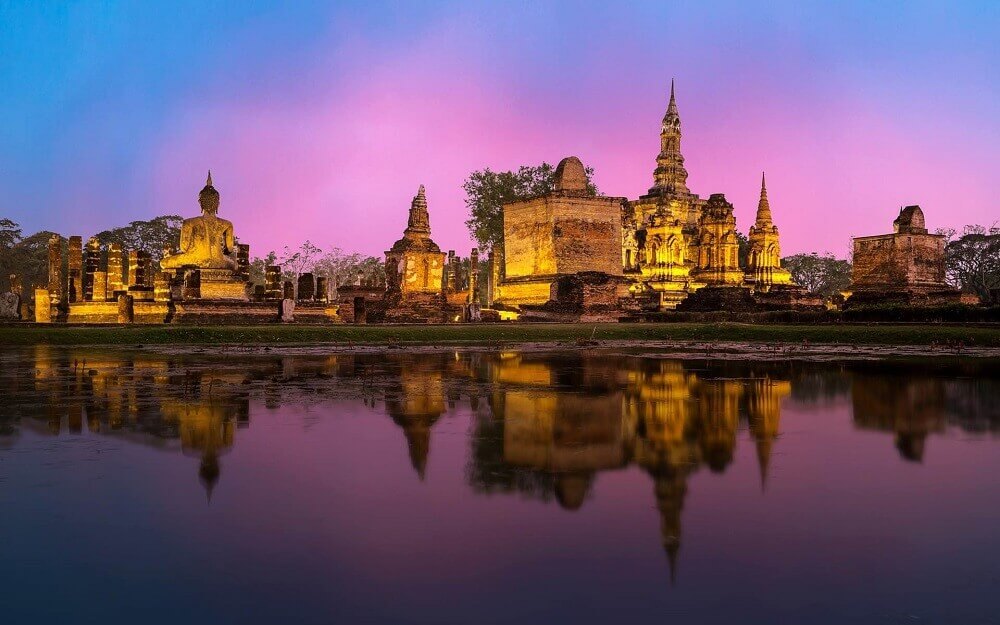 1 day Bangkok, 1 day Chiang Rai, 1 day Pakbeng, 2 days Luang Prabang, 1 day Phonsavan, 2 days Vientiane, 3 days Siem Reap and Angkor, 2 days Phnom Penh, 2 days Ho Chi Minh City (Saigon), 2 days Hoi An, 1 day Hanoi, 1 day Halong Bay and 2 days Hanoi
For a full three-week discovery tour of Southeast Asia, opt for our Grand Indochina Explorer, which covers Thailand, Laos, Cambodia and Vietnam in one epic itinerary. Highlights include an Angkor Wat sunrise, a Mekong River cruise from Thailand to Laos, the mysterious Plain of Jars, beach paradise in Da Nang and a surreal Halong Bay cruise.
Mekong and Temples Tour (14 days)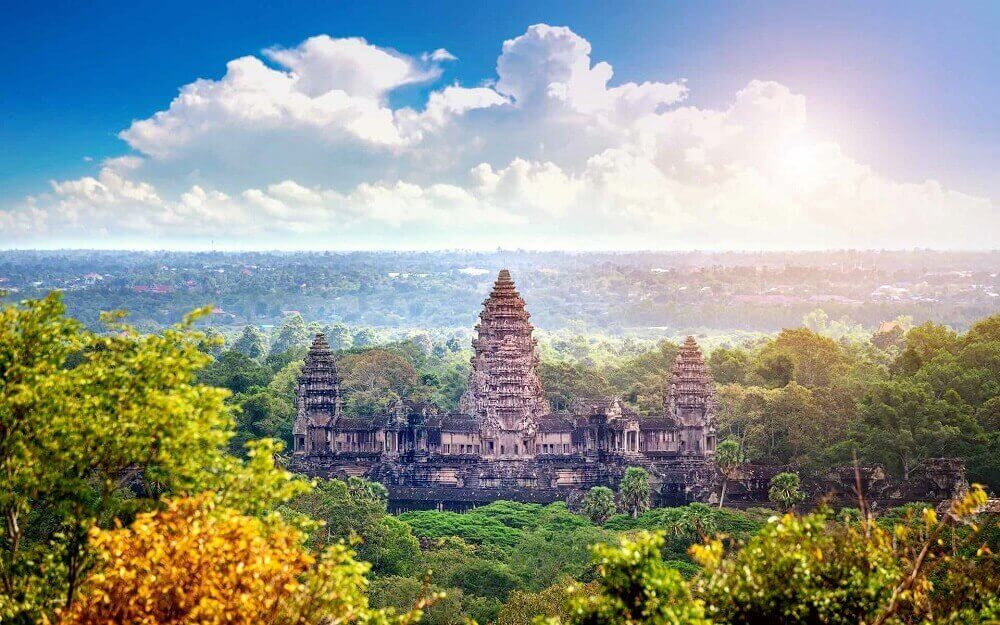 1 day Bangkok, 1 day Chiang Rai, 1 day Pakbeng, 2 days Luang Prabang, 1 day Phonsavan, 2 days Vientiane, 3 days Siem Reap and 3 days Phnom Penh
If ancient temples are calling you to Southeast Asia, don't stop at just Angkor. This Mekong and Temples Tour traverses through Thailand, Laos and Cambodia, as well as time, as you navigate enduring sites from Angkor to the Plain of Jars, which have survived over the centuries and continue to inspire even today.
If you'd like to plan a holiday to Cambodia, call our Luxury Travel Specialists for a chat about your dream trip or fill out our no-obligation enquiry form:
We understand that booking trips, especially adventurous and alternative ones such as this can be intimidating, so get in touch; we can take the stress out of your holiday planning and organise a trip you won't forget!
Get in touch
Sign up to our newsletter
For more travel inspiration delivered straight to your inbox just fill in your details here
More inspiration from Wayfairer customers and travel specialist
Sign up to our newsletter
For more travel inspiration delivered straight to your inbox just fill in your details here