Top 10 Horse Riding Safaris in Kenya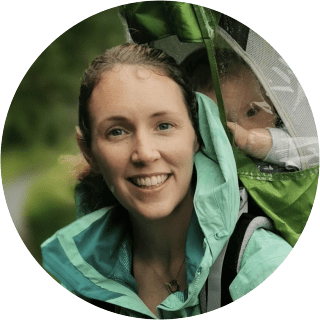 By Rebecca Blakey
April, 14, 2023

4 Min read
Discover horseback safaris at their best in the wilderness, conservancies, National Parks, mountains and beaches of Kenya. Where to stay and what they offer.
Thinking of horseback riding on your safari in Kenya?
Most people include a few nights in the iconic and bursting with wildlife Masai Mara. Nevertheless, there are very few lodges that offer horse riding, so we have just three suggested here. This helps narrow down your seemingly endless options of where to stay, if you know this is on your bucket list. Our team of Luxury Travel Consultants will check availability on your chosen travel dates and discuss specifics of each option with you.
If, however, you are interested in horse riding in other areas of Kenya, we have seven suggestions here. Locations are varied: mountains, savannahs, plateaus, conservancies in the North, the foothills of Mount Kenya, or on the white sandy shores of Kenya's coast.
This blog will help you decide which destination and lodge suits you best.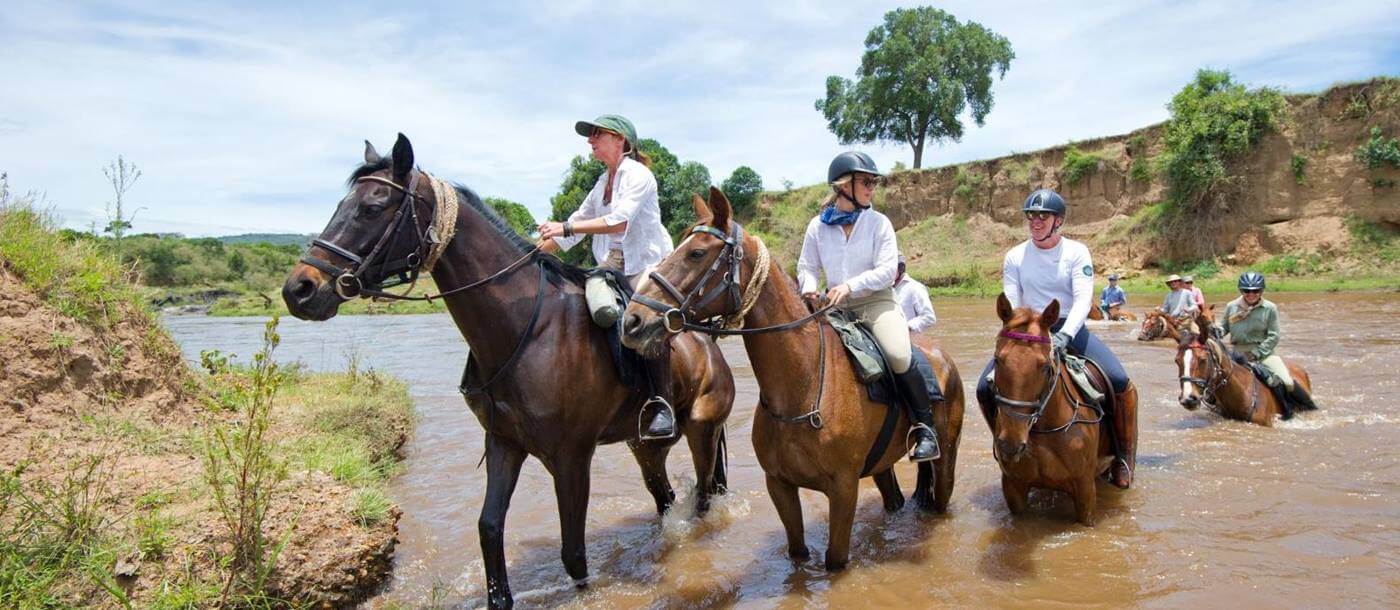 Wading through a river on horseback is one of the more thrilling experiences on offer.
3 Masai Mara horse riding safaris
1) 7 day horseback expedition from Offbeat Mara.
This is for the serious riders out there, with the best reputation in the region. No day rides are possible, so it's not for the light hearted casual rider.
This week long safari offers the pure bush experience. With 4 different camp locations you will literally ride from one side of the Masai Mara to the other, covering over 250km.
2) 2 day horseback expedition from Lerai Safari Camp (with Ride Kenya - Mara).
This is ideal for those who want a taste of fly camping and sleeping out in the bush, travelling by horseback, but returning to the comfort and security of main camp after a night exploring. It's recommended to horse ride for half of each day, with a game drive or bush walk for the other half of the day as the reserve isn't enormous, a mix of horse and foot allows the best experience.
Read more about Ride Kenya below.
3) 2 – 6 hours day rides from Kilima Camp on Oloololo escarpment bordering the Masai Mara National Park.
Suiting everyone from beginners to advanced riders, Kilima is ideal for those looking to combine horse riding in the Mara with a more traditional game drive safari. This is great for those who are travelling as a family or group where some are keen riders and others are new to it.
Read more about Kilima Camp Stables below.
Offbeat Riding Safaris in the Mara.
7 horse riding safaris elsewhere in Kenya
1) 2 day horseback expedition (or day riding for 1-3 hours morning/afternoon) from Sosian Lodge (Offbeat Safaris), Laikipia.
2) Day riding from Deloraine House near Great Rift Valley's Lake Nakuru. Over 60 horses at Deloraine: mountain riding, cross country jumping & a full size polo pitch.
3) Day riding from Ol Pejeta Safari Cottages, Laikipia. Book in advance a morning or evening ride within the 600-acre northern white rhino enclosure which is predator-free to support the recovery of the northern white rhino.
4) Day riding from Sarara Camp, Laikipia. The sturdy bush ponies can take you into the mountains for a bush breakfast or sundowners.
5) Beach horse riding from Kinondo Kwetu, Galu Beach at the Southern quieter end of Diani Beach, south of Mombasa.
6) Ol Malo Lodge, Laikipia. If you're looking for a couple of experiences, Ol Malo offer day horse and camel riding.
7) Last but certainly not least, we must include the incredible multi-day horseback expedition (or day riding) from Borana Lodge, Laikipia. It was previously the only way to travel around the Borana Wildlife Conservancy so they genuinely have a horse riding background. The wildlife is used to the horses and you can choose how often you want to head out on horseback, depending on your enthusiasm and ability. They offer fly camping expeditions across vast expanses of land, or shorter morning/afternoon rides from the lodge.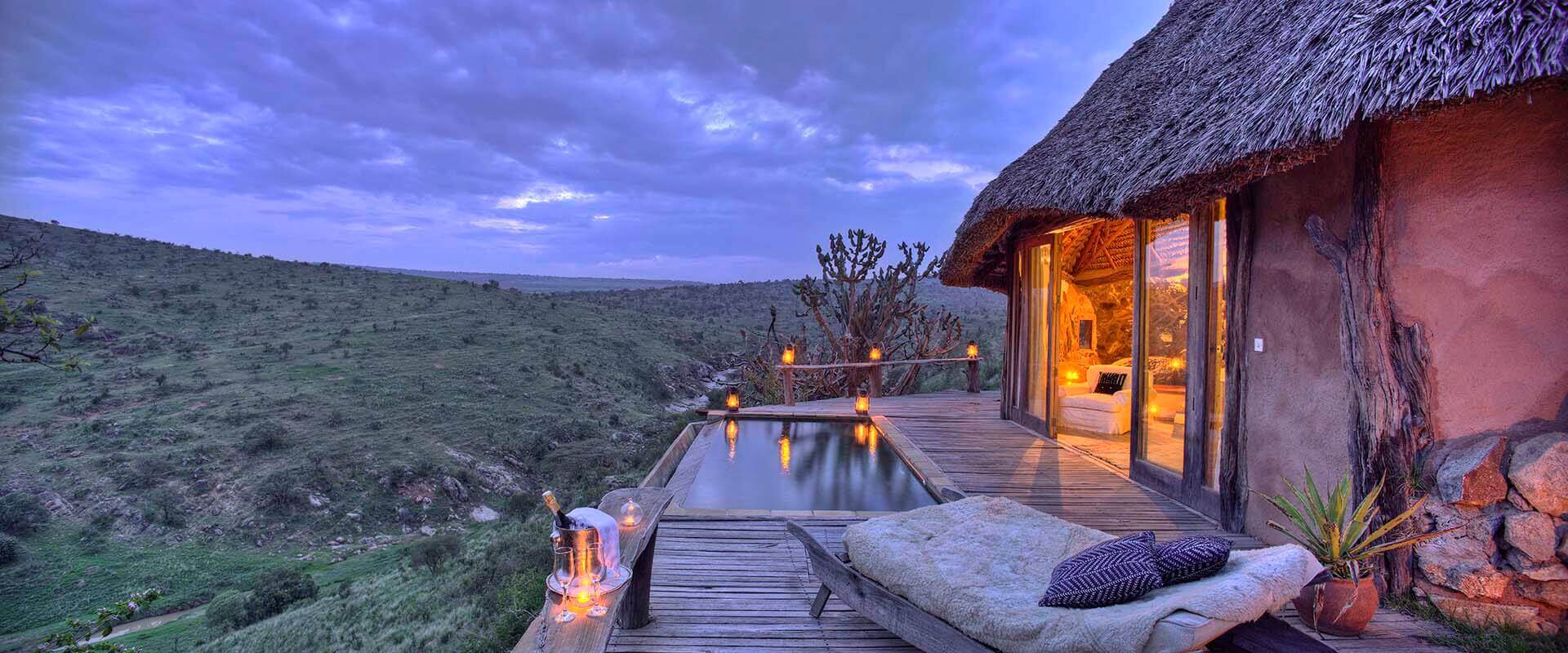 Base yourself at Borana Lodge for the ultimate horsey escape in vast, varied, wilderness.
Plus... New in 2022, Horseback Safari from El Karama Lodge in Laikipia, Kenya
A brand new collaboration with their neighbours: Saddlebag Adventures Ltd, a local company set up by two amazing local young women, Spanna and Claudia, who grew up next door to El Karama. They have bred their own horses and keep them in their beautiful stables at their home adjacent to El Karama Conservancy. Saddlebag Adventures have been operating in this area on horseback for the past 4 years and have created a lovely bush savvy herd that know this bush and all the animals in it, they and the girls can take you steadily and gently through it!
The ultimate intro for curious adventurers is the new Wild Weekends - Bivouac on Horseback experience. This allows for 1 night in the lodge on arrival, an early morning departure, all day rides with river stops, picnics and snooze time near the hippo pools, followed by a fly camp under the stars. On Day 2 you ride out again, eventually ending up back at El Karama EcoLodge for a lunch/brunch, poolside chill time while the horses have some food and ride home. Bliss.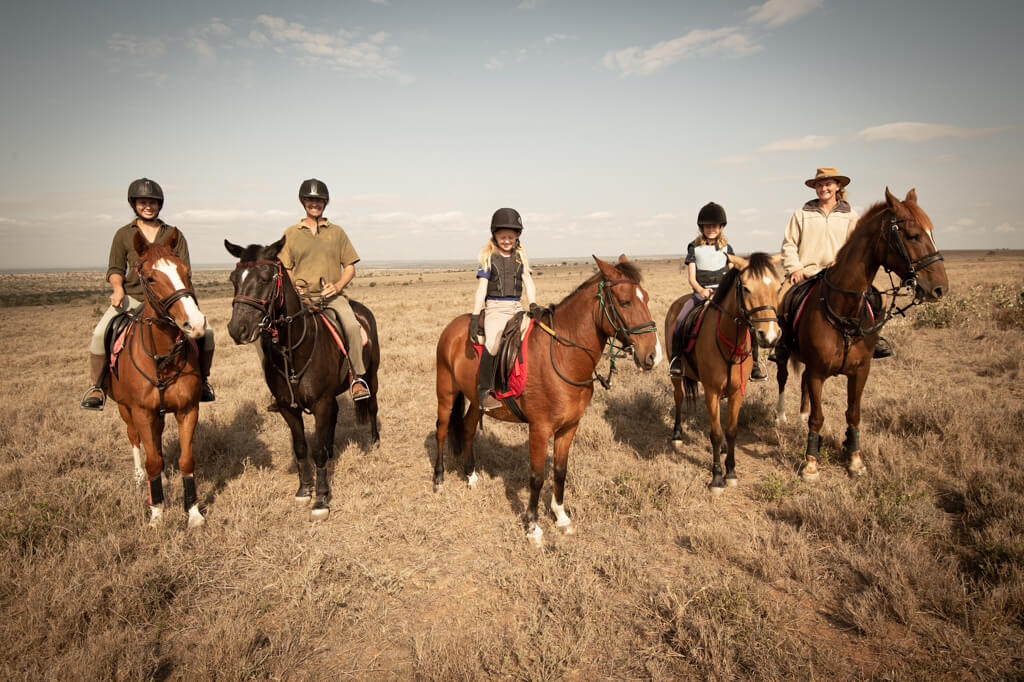 El Karama Wild Weekends horse riding adventure with a luxury sleep out for one night.
More about Ride Kenya – Mara
The Ride Kenya – Mara stables are located on the border of the Olare Motorogi Conservancy and Maasai Mara National Reserve.
They are a stand-alone riding stable of 16 horses. The rides are available to any competent horse rider (min. age 14+, max. weight 95kgs) staying in any camp in the Mara Conservancies and Maasai Mara National Reserve. Morning and afternoon rides of up to 8 guests are available to competent riders at a price of US$250 per ride.
Great Plains' Mara Expedition Camp and Mara Plains Camp are two of the closest camps to the stables, approximately 1.5 and 2 kilometres away respectively. Guests from other nearby camps can also book rides at the stables. Rides are possible from the stables into the Olare Motorogi Conservancy, Mara North Conservancy and Naboisho Conservancy.
More about Kilima Camp Stables
Somali-Arab crossbreds and thoroughbreds are well-in and mild mannered. They are also completely used to being among wildlife. They use General-Purpose full leather saddles. Min age 8+, max weight 85kg. Up to 6 guests per ride. If you're not looking at doing a huge amount of riding, they are much cheaper than Ride Kenya – Mara as you can pay for just a 2 hour ride.
If you are new to horse-riding, you can get a 30-minute lesson on basic horse riding followed by a 30 minutes excursion into their conservation for an experience you are yet to have, and will hardly find elsewhere.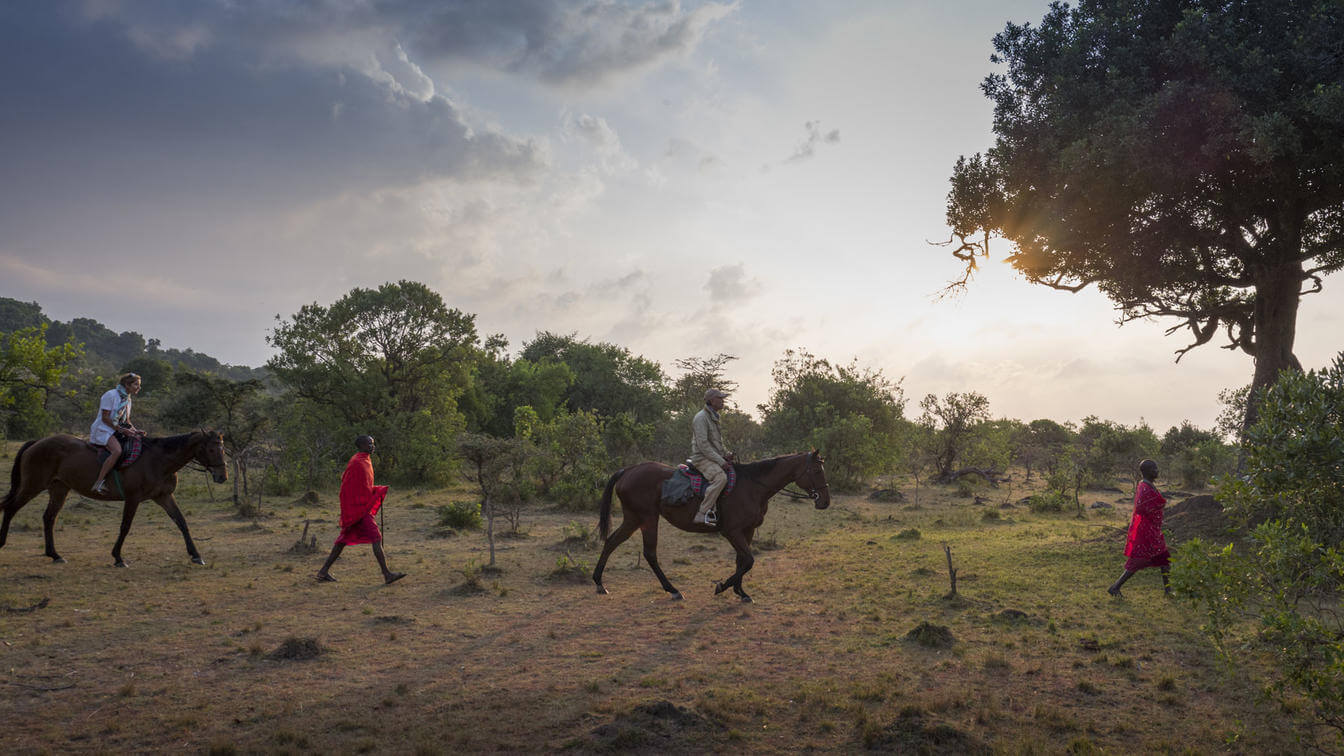 Picturesque Kilima Camp Horse Riding in the Masai Mara with Masai guides.
We understand that booking trips, especially adventurous and alternative ones such as this can be intimidating, so get in touch; we can take the stress out of your holiday planning and organise a trip you won't forget!
Get in touch
Sign up to our newsletter
For more travel inspiration delivered straight to your inbox just fill in your details here
More inspiration from Wayfairer customers and travel specialist
Sign up to our newsletter
For more travel inspiration delivered straight to your inbox just fill in your details here