If you're planning a holiday to Myanmar our travel guide will help you decide where and when to go and what to do.
From the ancient temples of Bagan, to the serenely picturesque Inle Lake, and the pristine, palm-tree-fringed white sandy beaches of Ngapali in the Bay of Bengal, Myanmar is one of our favourite destinations in Asia.
Whether you wish to marvel at the colonial era architecture in Yangon on a walking tour, trek in the Shan highlands for a chance to gain an insight into the lifestyle of the Shan people or visit remote villages and temples on a luxury cruise along the Ayarwaddy River, our tailor-made Myanmar holidays offer a perfect combination of history, culture, adventure and relaxation.
Where to go in Myanmar
Our Myanmar holidays focus on the following areas: Yangon > Mount Kyaiktiyo > Bagan > Mandalay > Hsipaw > Kalaw > Inle Lake > Ngapali
What to do
Irrawaddy River
The Irrawaddy (Ayeyarwady) River is the country's largest river running through Myanmar's spine, from north to south. Originating from the confluence of the N'mai and Mali rivers, the river was historically used for trade and transport.
Today, the Irrawaddy is vital for exporting goods as the river is mostly unfettered. Unfortunately, there are plans to install hydroelectric dams. This raised concerns as it negatively affects the river's biodiverse ecosystems, including potential threats to the Irrawaddy Dolphin.
Discover a culture rich and spiritual way of life through a multi-day luxury cruise along the river. Blissfully watch the countless monasteries perched on the river banks and listen to the devotional chanting each morning. Witness ancient practices in action and be a part of the locals' daily lives.
Ngapali Beach
Located on the Bay of Bangal coast in Rakhine State and safe from the political unrest of the north, Ngapali is home to an unspoiled, white-powdery beach that's lapped by crystal clear waters of the Indian ocean. Ngapali is known as Myanmar's premier beach getaway with a series of classy, beach-front accommodations.
This sleepy town, apparently named after Italy's Napoli, maintains its traditional fishing village vibe. Enjoy the quiet and rural surroundings and savour the fresh seafood that's brought by the local fishermen each morning. Enjoy breath-taking views of the sunsets each evening from an isolated slice of the beach.
The generous and helpful locals in this part of Myanmar are known to create artisan carvings using coconut shells. Return with a souvenir whilst knowing you've made a difference to the community.
The temples of Bagan
Located on the banks of the Irrawaddy River and known as the Angkor Wat of Myanmar, the ancient city of Bagan is home to the largest and densest concentration of temples and pagodas in the world.
As one of the world's greatest archeological site, Bagan was built by its previous kings between 11th and 13th century. Today, almost half of the original temples and pagados survived (over 2000) and is being continuously preserved by UNESCO and other organisations.
The city's skyline is fringed by spiralling pagodas and the streets filled with older and young, novice monks dressed in burgundy robes and shaded by red umbrellas.
With thousands of temples, visiting them all isn't viable. However, one of the most unique and exotic ways to see Bagan is through a hot air balloon trip. This luxurious flight over Bagan offers a magnificent opportunity for a bird's-eye view of ancient temples drifting by.
What else to do & see in Myanmar
Take a leisurely boat trip around the picturesque Inle Lake and cruise alongside the leg rowing fisherman
Visit Sagaing, renowned for its monasteries and pagodas, and take in the view from the top of Sagaing Hill
Trek through traditional farming villages in the Shan Highlands and gain an insight into the lifestyle of the Shan people
Explore the quirky hill station of Pyin Oo Lwin (also known as Maymyo), set high in the mountains of the Shan plateau
Watch the sun set from the top of Mandalay Hill, 236m above the city
Visit the Chauk That Gyi pagoda in Yangon to view its magnificent reclining Buddha
Discover Yangon's grand colonial buildings, including the former High Courts, Telegraph Office, Post Office and the Strand Hotel on a walking tour
Visit Mandalay's Shwenandaw Monastery which is adorned with beautiful teak carvings, and Kuthodaw Pagoda which contains the world's largest book.
Trek through the spectacular countryside surrounding Kalaw with a local guide and gain a unique insight into the culture and traditions of the hill tribe people
Visit U Bein Bridge (11km south of Mandalay) to see the spectacular sunset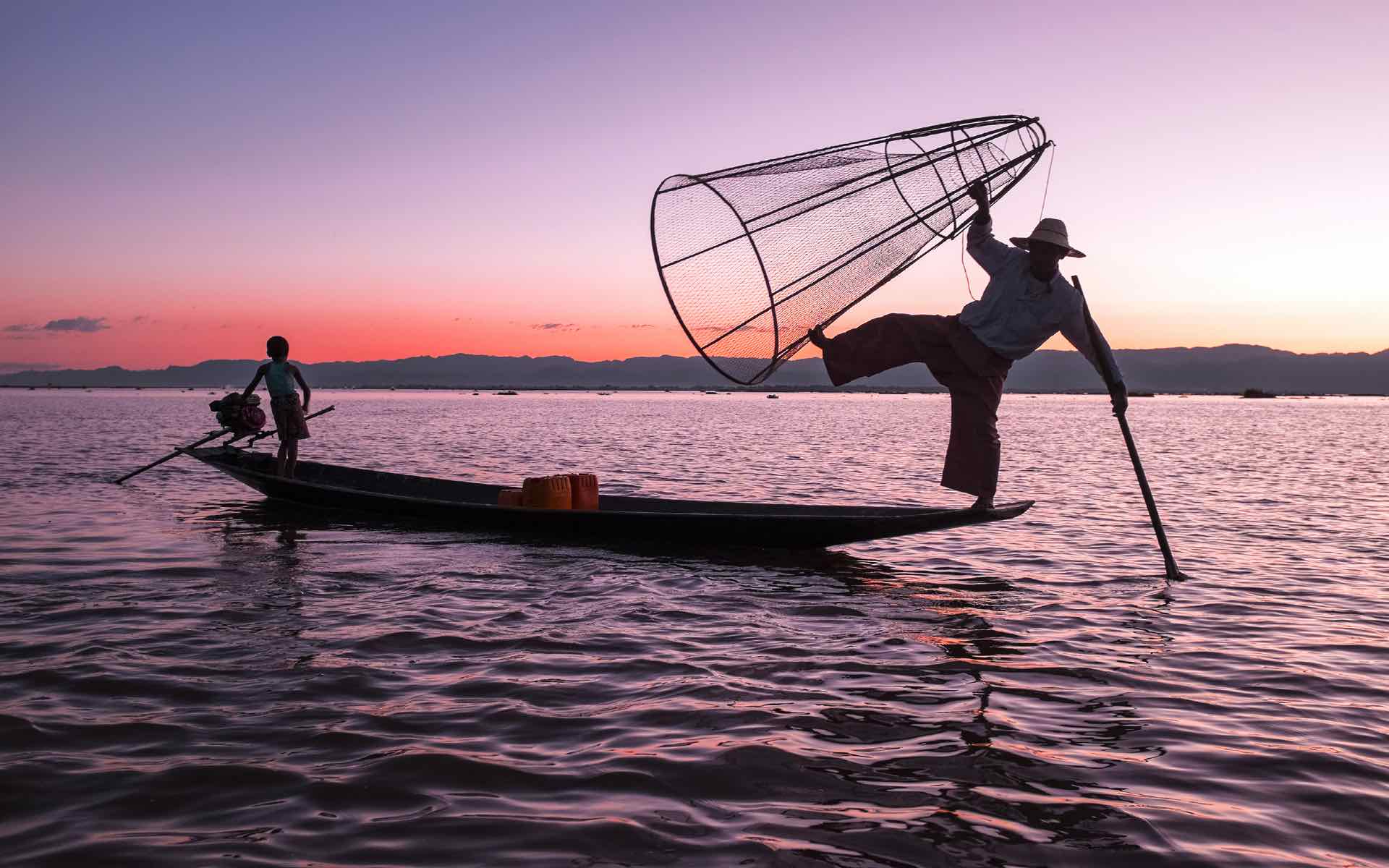 When to visit Myanmar
Although Myanmar has two distinct seasons – dry and wet – you can visit at any time of the year, however you should bear in mind that during the wet season some regions become inaccessible and beach resorts such as Ngapali, close due to the high winds and heavy rainfall.
Known as the Land of Pagodas, Myanmar is also referred to as the Land of Festivals due to the numerous celebrations that take place throughout the year.
If you're planning a trip to this magical country you may want to consider incorporating a festival into your itinerary. Our month-by-month guide to Myanmar's weather, festivals and events will help you plan when to go.
Where to stay in Myanmar
Inle Princess Hotel - Inle Lake
Inle Princess Resort is the most famous hotel in Inle Lake. This superb hotel lies within the blue mountain ranges on the east bank of Inle Lake near the Magyizin Village, surrounded by the picturesque lake and beautiful tropical gardens.
The design is inspired by the traditions and culture of the Shan and Intha people and the resort combines simplicity with modern comfort. Accommodation is 46 wooden chalets built on stilts above the lake and guests can enjoy the spectacular views of the fields, mountain and the serene Inle Lake.
Bagan Thande Hotel - Began
Bagan Thande Hotel is located at the southwest corner of the ancient walls of Old Bagan City, on the eastern bank of the River Ayerwaddy and within Bagan Archaeological Zone.
It is one of the oldest hotels in the area having opened in 1922 for the visit of King Edward VIII. The 78 en-suite rooms are furnished meticulously with teakwood, fine fabrics and traditional handcrafts and are equipped with modern amenities. The hotel is set in well-tended grounds with a small swimming pool that provides a welcome relief after a day of sightseeing.
Yoma Cherry Lodge - Ngapali Beach
Yoma Cherry Lodge is a small boutique hotel located in a village within a secluded bay at Ngapali Beach (15 minutes' drive from Thandwe Airport).
This charming hotel located right on the beach is a perfect spot to relax and enjoy the sun, sea and delicious fresh seafood.
The hotel has a total of 15 en-suite rooms split between The Garden Pavilion (10 rooms) and The Beach Pavilion (5 rooms) offering either beach or garden views.
Myanamr Itinerary Ideas
The suggestions below are examples of holidays which we can arrange, however they can be tailored to suit your personal preference.
Classical Myanmar - 12 days
Our Classical Myanmar holiday starts in Yangon where you'll have an opportunity to visit the magnificent Shwedagon Pagoda and see the colonial era architecture.
Next you'll explore the archaeological site of Bagan on the banks of the Ayarwaddy River, the fascinating city of Mandalay and the breathtaking Inle Lake. Your holiday ends with a few days of relaxation on the pristine shores of Ngapali Beach in the Bay of Bengal.
Ayarwaddy River Cruise - 11 days
On this holiday you'll enjoy a week long cruise onboard the luxurious 'Belmond Road to Mandalay' visiting quaint villages and historical sites along the way. You'll explore the temples of Bagan, the picturesque Sagaing hills and the monasteries, pagodas and shrines of Mount Popa.
Golden Myanmar - 12 days
The Golden Myanmar holiday starts in Yangon where you can stroll down the tree-lined boulevards, visit the Buddhist pagodas and explore the bustling markets. From here you'll travel south to Mount Kyaiktiyo to see the famous golden rock, and then you'll return to Yangon for one night before boarding a flight to Bagan the following morning.
You'll have plenty of time to explore the ancient temples and colourful markets of Bagan, and then you'll visit the fascinating city of Mandalay and the serene Inle Lake. Your holiday ends with a few days of relaxation at Ngapali Beach.
Responsible Travel in Myanmar
We are committed to responsible, sustainable and ethical tourism and we're proud to work with a fantastic supplier in Myanmar that wholeheartedly shares our core values with regards to responsible tourism. You can read more about our responsible tourism values here.
We encourage all of our clients who are visiting Myanmar to travel in a responsible and respectful manner to ensure that tourism has a positive impact on the economy, the environment, and the local communities. You can read our guide to responsible travel in Myanmar here.
Myanmar Travel Essentials
Getting there: Most of our Myanmar holidays start and finish in Yangon. We can also create tailor-made itineraries which include other countries (Laos and Thailand) and on these holidays you can enter Myanmar from Mae Sai in the Chiang Rai Province in Thailand.
Flying time from London to Yangon: 14 hours 40 minutes (via Bangkok)
Recommended Airlines: Thai Airways
Time difference: Myanmar is 6 hours 30 minutes ahead of United Kingdom
Currency: The kyat (pronounced 'chat') is the official currency of Myanmar, abbreviated as 'K' or 'MMK' and usually placed before the numerical value (i.e. K500). Kyat come in notes (no coins) of value K50, K100. K200, K500, K1000, K5000 and K10,000.
The exchange rate is approximately UK £1 = 1,836.88 MMK, US $1 = 1,358.09 MMK and €1 = 1,636.03 MMK
ATMs: While visitors once had to bring in cash for their travels in Myanmar, there are now thousands of ATMs that accept international bank and credit cards located around the country, however most are concentrated in Yangon, Mandalay, Nay Pyi Taw, Bagan and Inle Lake. For ATM cash withdrawals, there is typically a K5000 transaction fee, and a withdrawal limit of K300,000 per transaction
Visa Requirements: British nationals must obtain a visa before travelling to Myanmar. You should apply at the nearest Myanmar Embassy well in advance of travelling, or you can apply online. For more information about entry requirements you can contact the Myanmar Embassy in London.
Your passport should be valid for a minimum period of six months from the date of entry into Myanmar.
Vaccinations: Visitors to Myanmar should ensure that they have Hepatitis A, Typhoid and Tetanus vaccinations. Other vaccinations may also be required.
There is a low risk of malaria in all areas of Myanmar, however you should take precautions to avoid mosquito bites. Avoid mosquito bites by wearing long sleeves and long trousers especially after sunset, using insect repellents on exposed skin and sleeping under a mosquito net.
There is no risk of yellow fever in Myanmar, however, there is a certificate requirement. Under International Health Regulations a yellow fever vaccination certificate is required for travellers arriving from countries with risk of yellow fever transmission and for travellers who have transited for more than 12 hours through an airport of a country with risk of yellow fever transmission. Click here for further information about yellow fever vaccination certificates and recommended vaccinations for Myanmar.
If you'd like to plan a holiday to Myanmar, call our Luxury Travel Specialists for a chat about your dream trip or fill out our no-obligation enquiry form.