If you're planning a holiday to India our travel guide will help you decide where and when to go and what to do whilst you're there.
From the busy, bustling streets of Delhi, to the rural villages of Rajasthan, and the tranquil backwaters and tropical beaches of Kerala, India is a diverse, intoxicating and fascinating country.
Whether you want to visit the iconic Taj Mahal and the magnificent forts and palaces of Rajasthan, search for Royal Bengal tigers in one of the country's famous national parks or tiger reserves, learn how to cook authentic Indian cuisine, or relax on a cruise on Kerala's backwaters, our luxury, tailor-made India holidays offer endless unique and unforgettable experiences.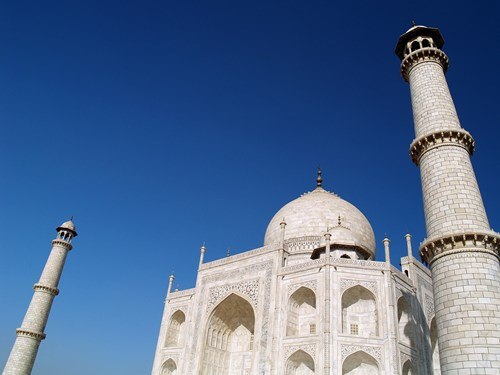 Where to go
Our tailor made India holidays focus on the following areas:
Northern India > Delhi > Lucknow > Agra > Varanasi > Ramathra > Bandhavgarh National Park > Panna National Park > Jaipur > Rajasthan's Jawai Hills > Udaipur > Jodpur > Kanha National Park > Khajuraho
Southern India > Cochin > Munnar > Kolkata > Madurai > Chennai > Kerala Backwaters > Marari Beach > Mumbai
What to do
Discover the fascinating contrasts between Old and New Delhi with an English speaking local guide
Visit India's most iconic building, the Taj Mahal, built by Emperor Shah Jahan in memory of his wife Mumtaz after her death
Visit the spectacular Agra Fort, a fortress, palace and prison built of red sandstone by Emperor Akbar in 1565
Discover the magnificent fortified ancient city of Fatehpur Sikri, 40km west of Agra
Stay at Ramathra Fort, a 350-year-old fort which is now a stunning heritage hotel, and gain an insight into rural life in Rajasthan on a walking tour of Ramathra Village
Explore the 'Pink City' of Jaipur and take a walking tour through the busy, bustling streets which are packed with cars, camels, rickshaws and bicycles
Discover the rich history and spectacular architecture of the 'Jewel of Jaipur', Amber Fort
Explore the winding alleys of Chandni Chowk Bazaar in Old Delhi on a rickshaw city tour
Visit Varanasi's Golden Temple, the centre of faith for millions of Hindus
Witness Ganges Aarti, a ritual offering to the River Ganges which is performed every evening at Dashashwamedh Ghat in Varanasi
Take a sunrise boat ride on the sacred River Ganges
Discover the erotic temples at Khajuraho
Enjoy a delicious traditional meal at a Bengali home in Kolkata
Enjoy a jeep safari in Panna National Park in search of rare wildlife species such as the leopard, hyena, jackal, sloth bear, wolf and gharial
Explore the tea plantations of the hill-station of Munnar in Kerala
Take a guided tour of Jodphur and visit the huge City Palace, and the beautiful gardens of Sahelion-ki-Bari
Stay at Jawai Leopard Camp, a sophisticated safari camp set within the remote wilderness of Rajasthan's Jawai Hills, where leopards roam wild and free.
Explore the lakes, museums, temples and palaces of Udaipur
Visit the famous Dhobi Ghat (washermen colony) in Mumbai
Stay at Chanoud Garh, a charming heritage hotel in rural Rajasthan
Try the rich Awadhi cuisine of Lucknow
Visit Kapaleeshwar Temple in Chennai with its towering gopuram of brightly painted figures and busy shrines
Embark on an idyllic cruise on a traditional houseboat through Kerala's tranquil backwaters and experience the laid back way of life in this unique area
Watch a Kathakali show, Kerala's very own classical dance-drama form which combines facets of ballet, opera, masque and the pantomime
Discover the extraordinary Tamil traders' bungalows in Chettinadu
Explore the historic port city of Cochin and discover the Jewish synagogue and Portuguese churches, Dutch architecture, mosques, temples and Chinese fishing nets
Have lunch at the famous Café Leopold's in Mumbai
Visit Bandhavgarh National Park for a chance to see Royal Bengal tigers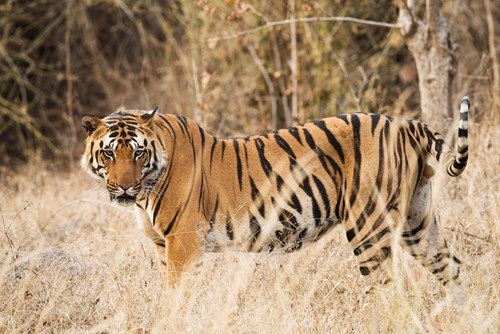 When to go
Northern India
September to April is the best time to visit Northern India. The days are warm, the nights are mild, and there is very low humidity and no rain. Please bear in mind that in March-April and September-October it can get very hot during the day, making sightseeing difficult. Evenings in Delhi and in Bandhavgarh, Panna and Kanha National Parks can be cool and you're advised to take a jumper or lightweight fleece, you'll also need a sun hat, sun cream and sunglasses.
From December to February Northern India gets very cold. It can drop to near freezing in the early mornings and evening, so you'll need to pack warm clothing such as fleece jackets, gloves and a scarf.
Please note that the national parks (Bandhavgarh, Panna and Kanha) close during the monsoon season – from the end of June until October.
Southern India
The best time to visit Southern India is during the dry season from October to March as the days will be hot, but not unbearable, and the nights warm. Average daytime temperatures are typically between 21ºC to 30ºC and night temperatures are between 6ºC to 20ºC. In the hills it is considerably cooler and you can expect temperatures to drop to just a few degrees above zero at night. Rainstorms occur throughout November, however the storms are usually short and the sun normally comes out quickly afterwards.
In April it starts to get very hot and humid in Southern India, and then the monsoon rains strike the coast of Kerala in late May or early June. Temperatures are in excess of 35 °C from May-September and there's heavy rainfall throughout the day, therefore the summer is not a great time to visit southern India.
Where to stay
In October 2017 Wayfairer co-founder, Tom Blakey, travelled to Northern India where he visited over 50 outstanding luxury hotels – from historic havelis to royal palaces and forts of the Maharajas - so he is perfectly placed to offer expert advice about the best places to stay. Here are some of Tom's favourite places in Rajasthan:
Ramathra Fort
This spectacular heritage hotel is a 350-year-old fort which has been brought back to life by the current owners, who you will meet when you stay here. You'll either sleep under canvas in a luxury spacious tent or in a luxury suite or deluxe room in the old fort.
During your stay here you can take a guided tour to Ramathra village, discover old forts, visit nearby temples, join guided nature walks, or experience a night safari where you may be lucky enough to spot wolves, hyena, jackals and sloth bear.
Dera Mandawa
Although it is located in the centre of Jaipur amid a maze of narrow lanes and passageways, Dera Mandawa is a calm retreat away from the chaos of the city. The property has been built in a traditional style, with Rajasthani arches and awnings complementing British touches. It's decorated in rich colours and furnishings which provide an authentic Indian ambiance. The hotel is ideally located for visits to the City Palace, Jantar Mantar and local markets.
The Singhs offer a warm welcome and make their guests feel very much a part of the family, even giving you an opportunity to join in the family temple ceremony each evening. They also offer activities such as kite flying, puppet shows, sari and turban tying and cooking lessons.
Jawai Leopard Camp
Jawai Leopard Camp, part of the luxurious SUJÁN brand, is located at the foot of the Aravali Mountains, between Udaipur and Jodhpur, approximately 130km from both. This spectacular camp has eight luxury tents, each with its own private veranda and en suite bathroom with powerful hot showers.
There's plenty to do during your stay here, from visiting the 15th century fort of Kumbhalgarh, a UNESCO World Heritage Site, to enjoying local walks with the red-turbaned Rabari herdsmen who live in this region and getting an insight into how the local communities farm their land and tend their crops, and of course joining early morning game drives which offer a good chance of spotting leopards, plus wolves, antelope, crocodiles, sloth bears, flamingos and storks that also make their home here.
Itinerary Ideas
The suggestions below are examples of holidays which we can arrange, however they can be tailored to suit your personal preference.
On this Indian adventure you'll visit Rajasthan's most famous cities, plus you'll get off the beaten track as you explore rural villages and engage with the locals. You'll discover historical palaces, ancient forts, colourful cities and breathtaking countryside, staying in wonderful heritage hotels along the way.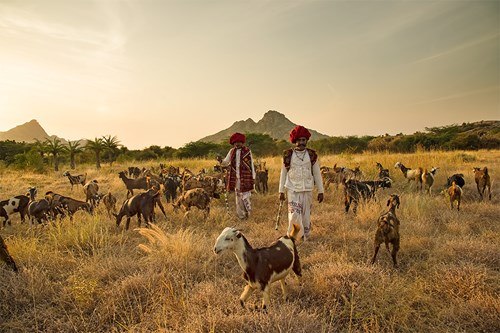 Wayfairer Top Tip: Enhance your 'Rural Rajasthan' holiday by including a stay at Jawai Leopard Camp - set within the remote wilderness of Rajasthan's Jawai Hills, this area is undoubtedly the best place to see leopards in India.
Discover the exotic flavours of India on this culinary adventure. You'll start in Delhi where you can explore the sites and eat delicious Punjabi food, and then you'll sample the famous street food and Awadhi cuisine of Lucknow. From here you'll travel to Kolkata where you'll have an opportunity to watch a cooking demonstration and enjoy dinner at a traditional Bengali home. Next stop is Chennai where you can try Chettinadu and traditional Tamil Brahmin Cuisine. Then you'll cruise through the backwaters of Kerala on a houseboat and you can interact with your onboard cook who will prepare traditional Keralan food. Finally you'll enjoy a wonderful seafood meal in Mumbai where this holiday ends.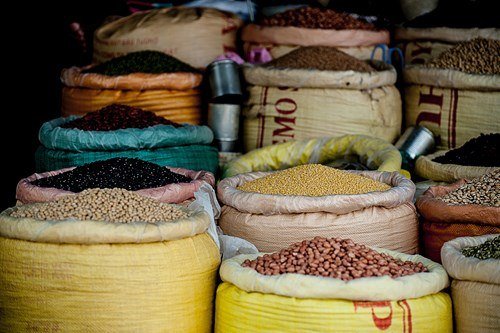 Discover the highlights of Kerala on this exciting holiday. You'll start with a guided tour of the old colonial port town of Cochin, you'll then travel to the tea plantations of Munnar, and then on to Madurai where you'll witness the nightly wedding ritual of Lord Shiva and Goddess Parvati at Shri Meenakshi Temple. Next you'll stay at the wonderful Paradisa Plantation Retreat, before enjoying a cruise through Kerala's serene backwaters, and finally you'll have time to relax on a palm-fringed tropical beach.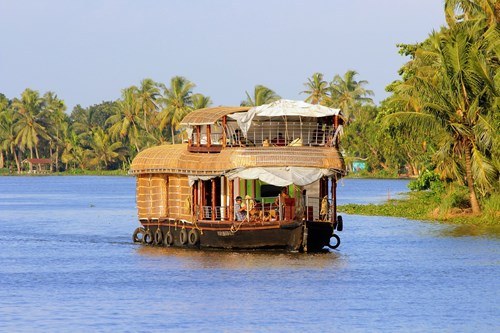 Responsible Travel
We are committed to responsible, sustainable and ethical tourism and we're proud to work with a fantastic supplier in India that wholeheartedly shares our core values with regards to responsible tourism. You can read more about our responsible tourism values here.
We encourage all of our clients who are visiting India to travel in a responsible and respectful manner to ensure that tourism has a positive impact on the economy, the environment, and the local communities. You can read our guide to responsible travel in India here.
Travel Essentials
Getting there: Depending on your itinerary, you'll either need to fly into Delhi or Cochin – your Wayfairer Travel Specialist will advise accordingly.
Flying time: London Heathrow to Delhi = 8 hours 30 minutes (direct), London Heathrow to Cochin = 12 hours 25 minutes (via Abu Dhabi)
Recommended airlines: British Airways, Ethiad
Time difference: Despite the vast size of India, the entire country operates on the same time zone, which is 5½ hrs ahead of GMT.
Currency: The national currency of India is the Indian Rupee (INR). The exchange rate is approximately UK£1 = 86.0202, US$1 = 65.1973 and €1 = 76.9769
You are not allowed to import or export Rupees, therefore you'll need to exchange GBP or USD at the start of your trip. Do not accept torn or dirty Indian banknotes from banks or in change as they are unlikely to be accepted as legal tender in India. We recommend that you ask for low denomination notes of 100 Rupees, as 500 Rupee notes are often difficult to use. You can change money back from Rupees into GBP or USD at Delhi airport, but you must produce an exchange receipt showing that you changed money in India.
ATMs in India: ATM machines are widely available in cities and large towns across India. As our tailor-made holidays tend to spend a lot of time in remote and rural areas where ATM machines are not available, we recommend that you travel with cash rather than relying on ATMs. It is advisable to inform your bank before departure that you are travelling to India as they may need to unblock your card.
Visa requirements: All foreign nationals must have a valid e-Tourist visa (ETV) before they begin their travel to India. Make sure you get the right visa for your travel and that it's valid for the purpose and duration of your stay. If you enter India on the wrong visa, you could be detained on arrival and you may be deported and blacklisted, meaning that you can't enter India again. You must arrive within 34 days after getting the approval and you can stay for a maximum of 60 days from the date of entry. When you arrive at the airport, your passport will be stamped and an expiry date for your e-visa will be handwritten by an Immigration Officer. Check the date that is written on your passport and make sure you leave the country before your visa expires. Click here for further information about e-Tourist Visas.
Your passport should have at least six months validity from the date of arrival in India and it must have at least two blank pages. You are also required to have a return ticket or onward journey ticket.
Vaccinations: Visitors to India should ensure that they have Hepatitis A, Typhoid and Tetanus vaccinations. Other vaccinations may also be required.
The risk of malaria is low, however we recommend that you consult your GP or travel health clinic for further advice. We advise you to take precautions to avoid mosquito bites (particularly if you're travelling during the monsoon season and if you're visiting any national parks) by wearing long sleeves and long trousers especially after sunset, using insect repellents on exposed skin and sleeping under a mosquito net.
There is no risk of yellow fever in India, however, there is a certificate requirement. Under International Health Regulations a yellow fever vaccination certificate is required for travellers arriving from countries with risk of yellow fever transmission and for travellers who have transited for more than 12 hours through an airport of a country with risk of yellow fever transmission. Click here for further information about yellow fever vaccination certificates and recommended vaccinations for India.
Recommended Reading
From Rudyard Kipling's 'The Jungle Book' to Arundhati Roy's debut novel 'The God of Small Things', there are some fascinating books about India, all guaranteed to build your excitement for an upcoming trip - if you have one booked - or inspire you to start planning your next adventure.
If you'd like to plan a holiday to India, call our Luxury Travel Specialists for a chat about your dream trip or fill out our no-obligation enquiry form.