The Best Elephant Sanctuary in Chiang Mai for Ethical Elephant Tours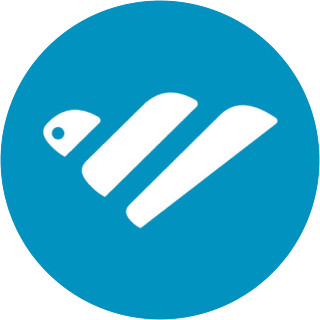 By Wayfairer Team
April, 14, 2023

4 Min read
Why Elephant Nature Park is one of the most ethical elephant sanctuaries to visit and an interview with its founder, Lek
One look at the collaged walls of red truck taxis or a stop at one of the many tourist agencies on the streets of Chiang Mai and you'll see endless photos of foreign visitors cuddling sedated tigers, monkeys in costumes and elephant ride excursions.
The latter often takes place at establishments which claim to be the best elephant sanctuaries, orphanages, parks and camps for ethical elephant encounters, but it's obvious that's not the case.
Due to a rise in awareness about responsible travel and wildlife conservation through the power of the Internet and social media, word has spread about the many elephant tour operators using the terms "elephant sanctuary" or "orphanage" to attract visitors, though their practices are far from ethical.
As this recent Guardian article for World Elephant Day points out, elephants at some of these establishments are mistreated, chained up and trained in such a way to "break their spirit", so that they obey commands and obediently allow tourists to ride them or perform tricks to entertain visitors.
Yet, there are also ethical elephant sanctuaries in Thailand doing incredible work with elephant conservation and rehabilitation, so how can you differentiate between elephant exploitation and an ethical elephant sanctuary?
We ventured to renowned rescue centre Elephant Nature Park in Chiang Mai to find out.
Elephant Nature Park in Chiang Mai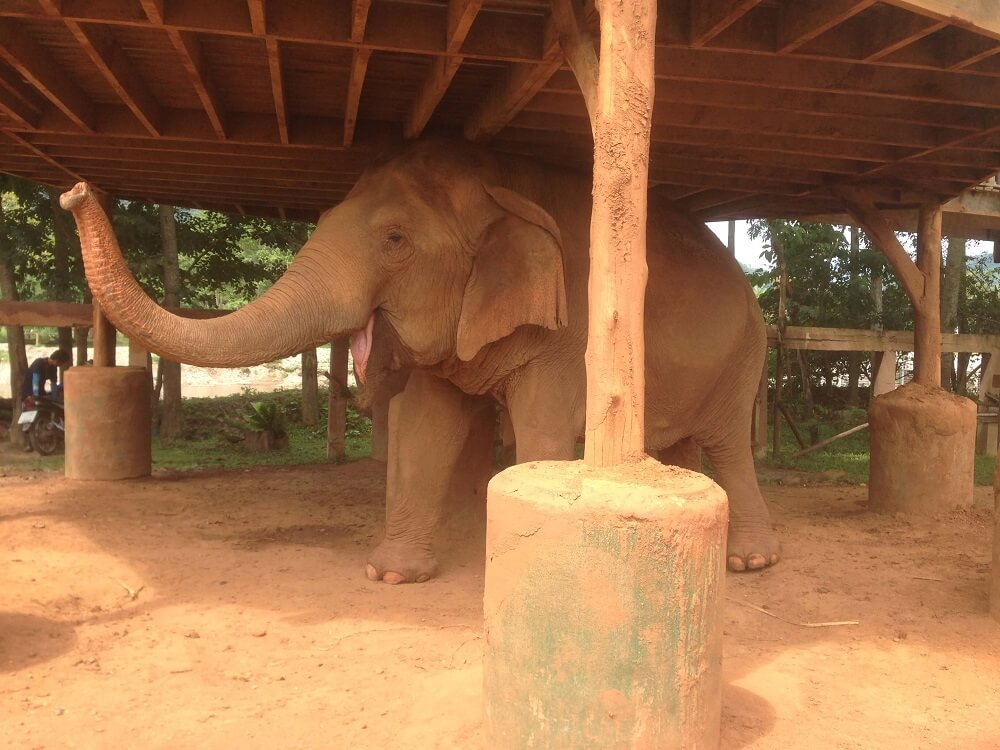 Elephant Nature Park has become world-famous for its emphasis on ethical practices and conservation. The park is the brainchild of charismatic Save Elephant Foundation founder Lek, who has rescued and lovingly nurtured all of the 30-strong herd of elephants here, healed their physical and mental scars through positive rehabilitation processes and created a place for them to live out their retirement in peace.
Each of the park's herd has their own story (a summary of which can be found on the walls of the park's main building). Many are heartbreaking eulogies to their past lives as circus and street performers, logging labour, breeders, trekking elephants for tourist rides and other sad tales.
Often, their severe mistreatment or neglect at the hands of humans results in injury or sickness, which means they are no longer useful to their owners/captors and are only then brought to Lek's attention. With a broken spirit, declining physical and mental health, as well as old age or other complications, these elephants would sadly not survive in the wild.
Interview with Elephant Nature Park's Founder, Lek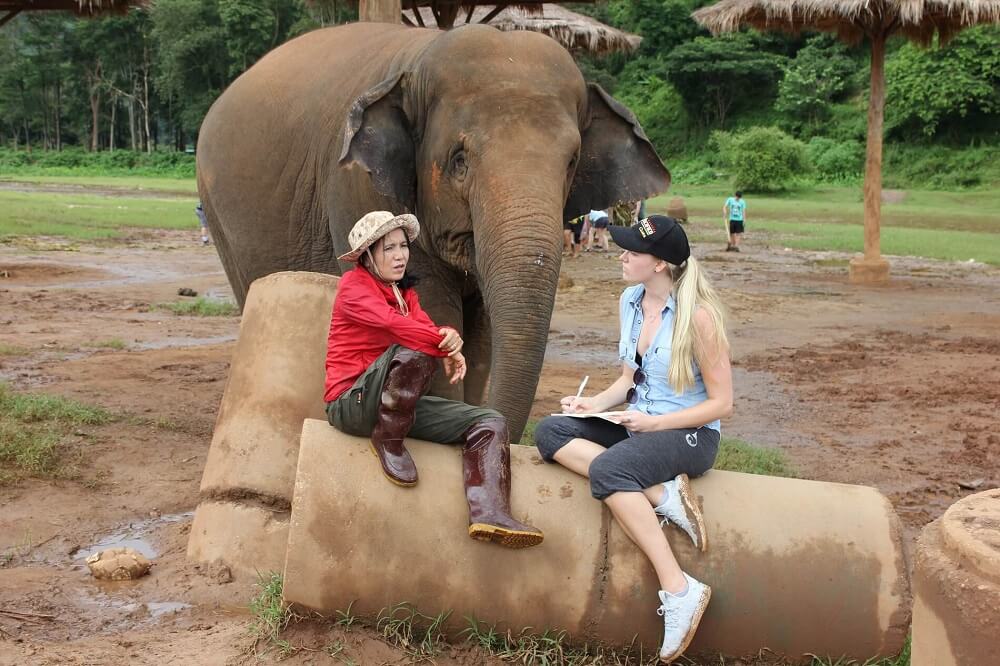 Photo credit: Shannon Thomas
We spoke to Lek about what makes an ethical elephant sanctuary (though we struggled get a word in edgeways between visits from the elephants who come for cuddles with their adoptive mother!) and why Elephant Nature Park continues to put the elephants first, even when that means losing business.
How is Elephant Nature Park different from other elephant sanctuaries?
Other so-called elephant sanctuaries may still use the barbaric torture method used to "break" an elephant, so that the animal follows human commands in order to perform tricks or be ridden. Elephant Nature Park is a chain-free sanctuary for abused elephants.
How do you spot a "fake" elephant sanctuary?
Any elephant sanctuary or elephant retirement facility that still has elephants performing any sort of entertainment is not an ethical facility.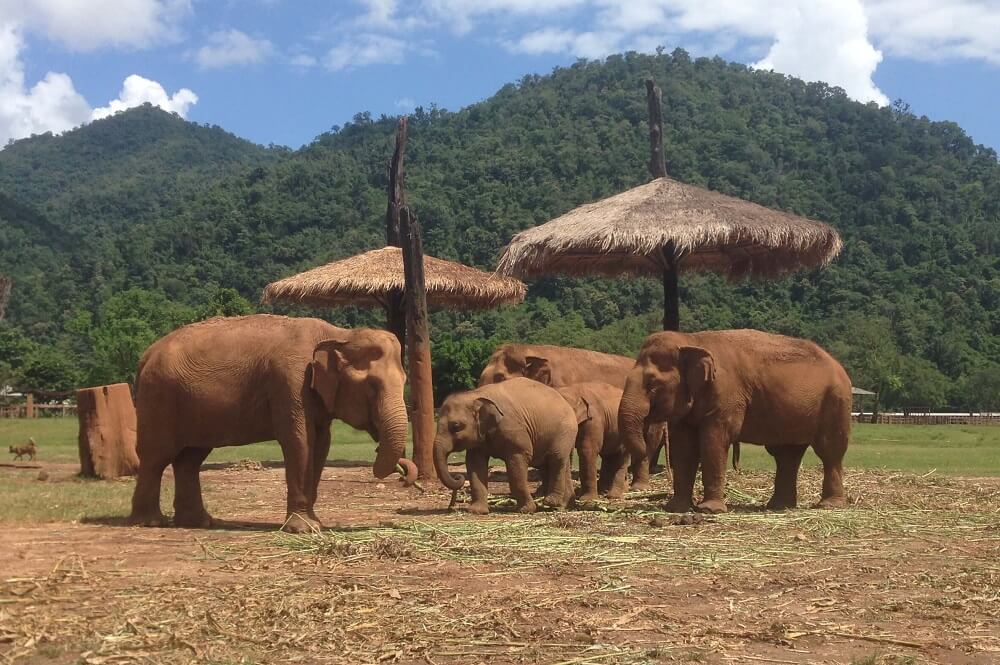 What are the three most important things you want people to know about elephant sanctuaries?
1. Never ride an elephant.
2. If a park separates a baby from its mother, it is not a safe place for elephants.
3. The best thing for elephants is to be able to play, roam free, and be themselves.
How has Elephant Nature Park evolved in the interactions that guests have with the elephants and why?
Elephant Nature Park no longer allows guests to bathe with the elephants or touch them, but there are still ample opportunities to interact with the animals, including feeding (elephants spend an incredible 12 to 18 hours of their day eating, consuming up to 600 pounds of food).
The decision to end bathing with guests has caused a 50% drop in sign-ups for park visits, but the entire point of the park is to save these beautiful creatures from the trauma they endured at the hands of humans, so we decided to let them enjoy their freedom to the utmost. Guests who want to support a truly ethical elephant sanctuary will understand that.
It's not about us, it is about the elephants.
Why we believe Elephant Nature Park is the best elephant sanctuary in Chiang Mai:
Of course, the best place for elephants is in the wild, but sadly this isn't possible for many of the amazing creatures who have wound up on Lek's doorstep. Through our regular visits to this incredible rescue centre, we've come to believe that Elephant Nature Park is the best elephant sanctuary in Chiang Mai. Here are a few reasons why:
1. The elephants are free to roam
Most of elephants are free to move around the acres of land, though two of the bull elephants have their own separate enclosures. This is because they are naturally aggressive towards each other, which can be dangerous for both human visitors and the other elephants. Males tend to leave the herd as they mature, whereas females and their offspring stick together.
What is noticeable is that all the animals here have distinct personalities, in part shaped by experiences in their past lives as working elephants. Therefore, you'll see many different groups of elephants around the park and they like to move around; bathing in the river, rolling in the mud or snacking in the shade when it gets too hot.
Many prefer a solitary existence, with a few preferring no contact with humans at all (which is respected by Elephant Nature Park – you won't see those few roaming around); others have a "best friend" that they stick together with; while others still prefer to be social and hang out in a group, particularly around the youngest creatures, a few of which are less than 10 years old.
Interestingly, this also means that family politics can come into play! Not all the elephants at the park get along with each other; some get territorial over their young (the babies seem to get along with everyone, much to the chagrin of their many nannies and aunties who are forever running after them), some struggle to accept a newcomer into the herd and one couple even managed to keep their "hidden romance" a secret from the staff until the female became pregnant!
And elephants aren't the only creatures you'll see. Due to Lek's compassion and reputation for taking in unwanted animals, the park has also become home to retired water buffalo, an estimated 300 dogs and also hundreds of cats (the cats prefer to stay indoors and can mostly be seen in their "cat heaven" quarters).
2. High standards in elephant welfare and ethical visitor interactions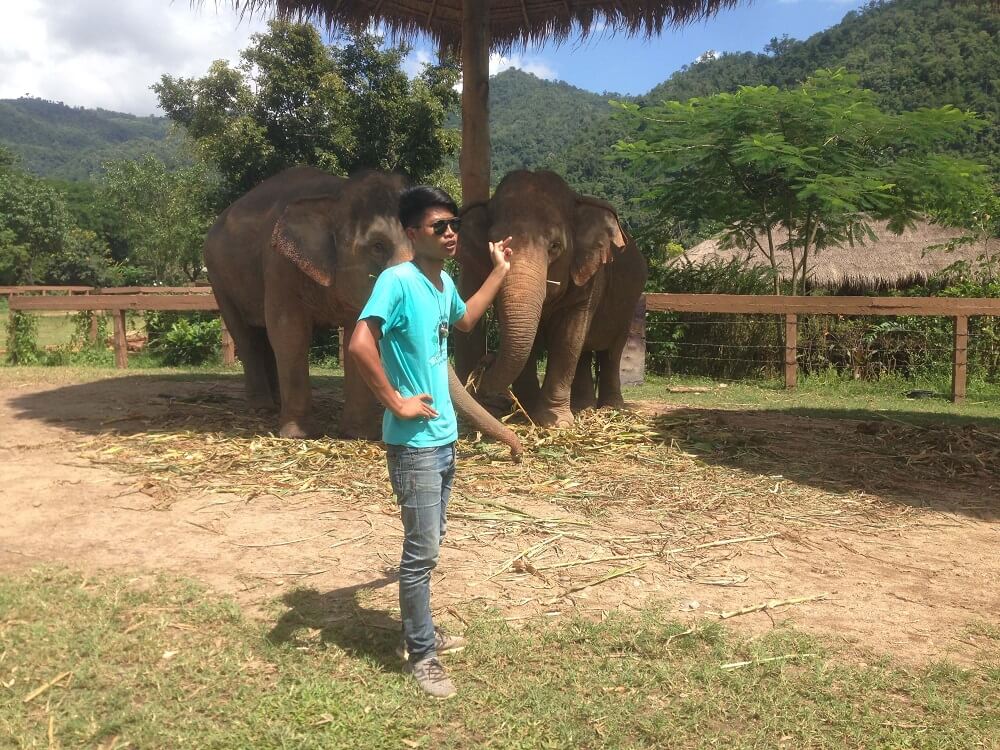 Elephant Nature Park isn't afraid to change its model. As Lek mentioned, the park previously allowed elephant bathing activities, but has decided to stop this practice in order to further enrich the lives of the elephants here and respect their freedom.
What's more, in contrast to our previous post on Luxury Travel Consultant Thea's experience at Elephant Nature Park, upon further visits we were discouraged from touching the elephants too, other than during feeding times.
The fact that Elephant Nature Park is constantly challenging its own standards and redefining ethical elephant encounters so that the animals come first is what really sets this elephant sanctuary apart from the others in Chiang Mai. The park isn't afraid to hold up the mirror and question what is best for the herd and is working step-by-step towards a more natural elephant habitat.
The end goal is "Hands Off", as Elephant Nature Park acquires more land and slowly works towards creating a space where tourists will observe at a distance, leaving the elephants completely free to roam around without being disturbed. Of course, this all takes time and is just in the beginning stages at the moment. You can find out more about this new initiative here:
3. Your park fees contribute to more than just the elephants
Elephants are expensive to look after, especially those with ongoing medical issues. Your park fees directly contribute to expensive medicine (some of which isn't available in Thailand and must be shipped overseas), the elephants' large appetites, staff wages, funds for rescuing more animals, the expansion into a more natural elephant habitat, as well as the upkeep of the park itself.
These hefty expenses are why Elephant Nature Park accepts visitors at all: to pay for the elephants' upkeep and to educate visitors about elephants, the devastating impact that humans can have on wildlife and how to be savvy about animal tourism.
Your park fees also contribute and support the local community, as Elephant Nature Park provides employment opportunities for the elephant mahouts (one-on-one overseers who look after the elephants), safety staff, tour guides and many other staff members who work in the kitchens, cafes (Elephant Nature Park also produces locally-grown ENP coffee), gift shop and in many other roles.
What's more, all the fruit (and there's a lot of it when you have 30 elephants eating up 600 pounds a day!), plus the vegetarian food for visitors, staff and volunteers is grown and bought locally, which further supports the local community.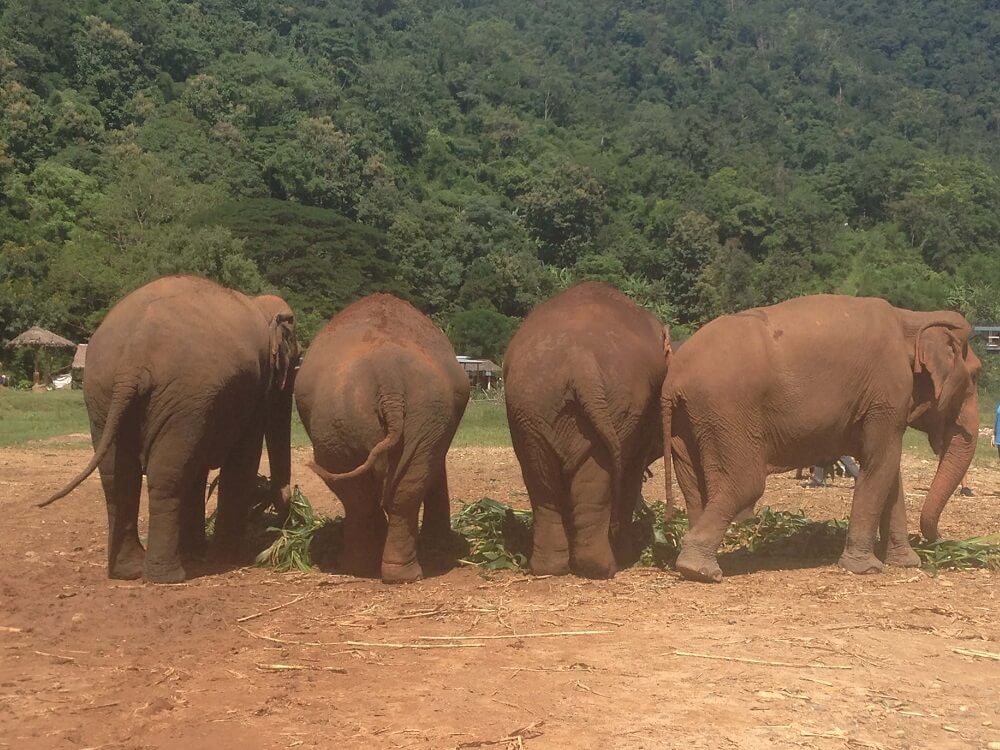 Finally, your visit here sends a message to the Thailand tourism bodies and less-than-ethical elephant sanctuaries in Chiang Mai that visitors want these animals to be well looked after and for these organisations to have a focus on conservation, not business.
By spending your tourist dollars here and spreading the word, you'll be encouraging and supporting higher standards in elephant welfare and animal tourism practices in Chiang Mai and all across Thailand, by creating a demand for more ethical elephant sanctuaries.
Ethical elephant sanctuaries in Thailand
An encounter with an Asian elephant is an unforgettable experience and a trip to Elephant Nature Park in Chiang Mai is sure to be a highlight of your trip to Thailand.​
Why we love it

Spending time with the elephants at Elephant Nature Park and learning about their habits, individual personalities and heartbreaking backstories was an incredible experience. What was great was that I did not have to worry if I had done my research right or if I was truly visiting an ethical elephant sanctuary, as I knew I was supporting one of the best places for elephant tours in Chiang Mai and Thailand in general.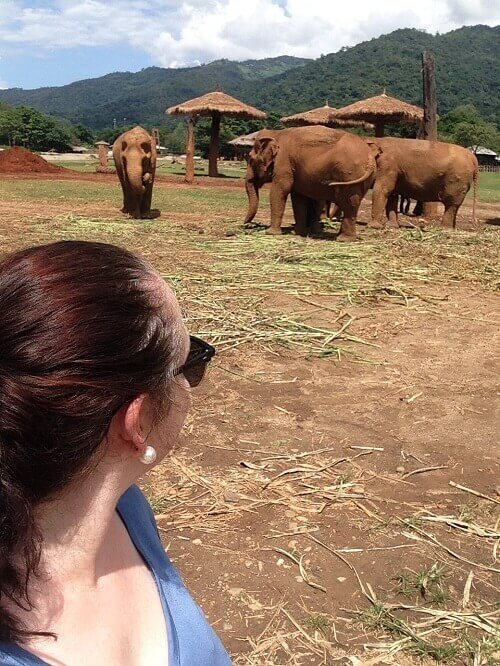 However, if your Thailand holiday doesn't take you up to the jungles and mountains of the north, then there are still other ethical elephant sanctuaries in Thailand associated with Elephant Nature Park that you can visit to see these majestic giants in person. Here are a few that we recommend:
Kanchanaburi – Elephant Haven
Ban Tha Klang – Surin Project
Siem Reap (Cambodia) – Elephant Sanctuary Cambodia
Myanmar – Save Elephant Foundation Myanmar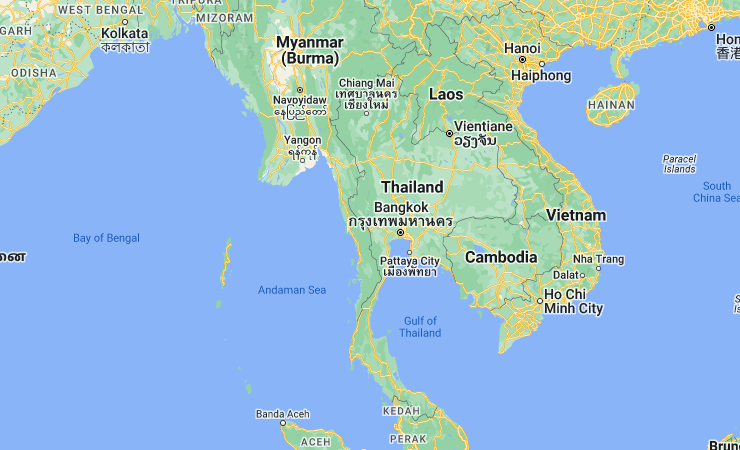 For an even more extensive list of ethical elephant sanctuaries across Asia and Africa (including a list of unethical elephant sanctuaries to avoid, read Responsible Travel's travel guide to elephant conservation).
If you're interested in visiting Elephant Nature Park as part of your Thailand holiday (there's also the option to stay overnight), then take a look at our suggested Thailand itineraries on our Luxury Thailand Holidays page or contact one of our Luxury Travel Specialists to start planning your tailor made tour of this beautiful Southeast Asian country.
*This post was a collaboration with previous Wayfairer intern Lauren Thomas. Header image credit: Shannon Thomas.
We understand that booking trips, especially adventurous and alternative ones such as this can be intimidating, so get in touch; we can take the stress out of your holiday planning and organise a trip you won't forget!
Get in touch
Sign up to our newsletter
For more travel inspiration delivered straight to your inbox just fill in your details here
More inspiration from Wayfairer customers and travel specialist
Sign up to our newsletter
For more travel inspiration delivered straight to your inbox just fill in your details here