15 Magical Thailand Festivals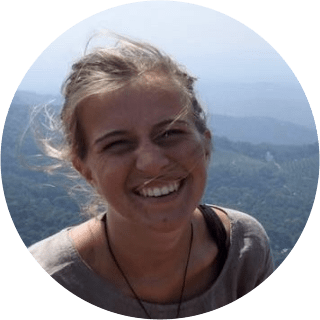 By Lotte Nash
April, 14, 2023

4 Min read
From Songkran to Loy Krathong, here are 15 of the best Thai festivals to time with your Thailand holiday
Thailand boasts one of the highest numbers of public holidays in the world and with so many magical Thailand festivals taking place throughout the year, it's easy to see why.
The most magical of Thailand's events and holidays include Thai New Year and the water-throwing celebrations of Songkran, the fairy-tale floating offerings of Loy Krathong and the unexplained phenomenon of Naga Fireballs, which rise from the Mekong River during every October full moon.
Whether you're looking to learn about Thai culture and Buddhist rituals, pay your respects on religious holidays, or simply have fun participating in and witnessing some of the best Thailand festivals, here are our recommendations for unmissable Thailand holidays and other events that you can time with your Southeast Asia trip:
1. Chinese New Year (January or February)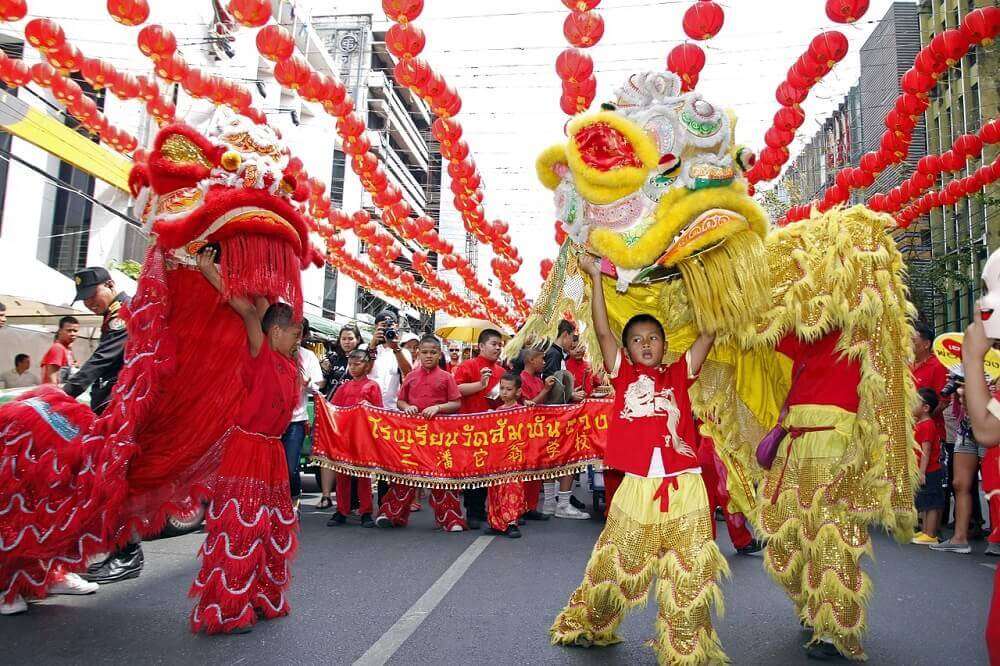 Chinese New Year celebrations in Thailand
Thailand has a large Chinese population, particularly in areas such as Bangkok and Phuket. Therefore, Chinese New Year (also known as Spring Festival) is one of biggest festivals in Thailand.
The narrow alleyways of Bangkok's Chinatown (Yarowaraj) are filled with festivities: dragon and lion dances, parades, firecrackers, lanterns and plenty of excellent things to eat from Chinatown's famous street food vendors.
Make sure you wear red, the lucky colour in Chinese culture, and wish others "Gong Xi Fa Cai" (Mandarin) or "Gong Hey Fat Choy" (Cantonese) for a Happy Lunar New Year.
You'll also find Chinese New Year celebrations elsewhere in Thailand, most notably in Koh Samui, Chiang Mai, Nakhon Sawan and Phuket. Head to the area's Chinese temples and you're sure to find celebrations around in the days leading up to and after Spring Festival.
Chinese New Year festival dates

The first day of Chinese New Year begins on the new moon that appears between 21 January and 20 February.
2. Chiang Mai Flower Festival (February)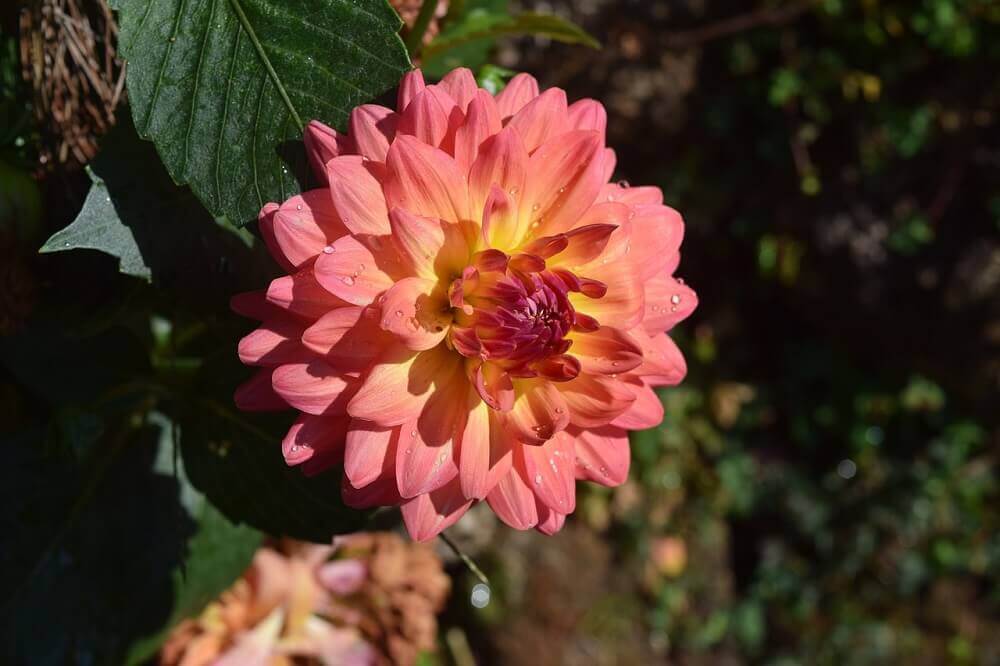 Every year in the first week of February, Thailand's northern city of Chiang Mai (known as "the rose of the north") explodes in floral wonder, with the Chiang Mai Flower Festival. Blooms indigenous to Chiang Mai and its surrounds are in abundance, including yellow and white chrysanthemums, as well as the Damask rose.
To see parades of floral floats, horticultural contests and stunning botanical displays, head to the public garden of Suan Buak Haad, where there are also vendors selling flowers such as orchids, plants and garden decorations.
The biggest parade takes place on the Saturday morning, with huge floats, traditional dances and music. Many young girls sit atop these floats, waving to the crowd - these are the candidates for the Chiang Mai Flower Festival Queen.
Chiang Mai Flower Festival dates

The festival takes place on the first weekend of February and lasts 3 days.
3. Songkran - Water Festival - Thai New Year (April)
Songkran is the biggest - and arguably the best - festival in Thailand, a huge celebration for Thai New Year which takes the form of massive, country-wide water fight!
The tradition started back in the 13th century, when religious rituals such as sprinkling water on images of the Buddha took place to symbolise washing away the bad deeds of the previous year and starting anew. Today, water is is thrown by the bucketload and whether you're Thai or foreigner, you are guaranteed to get soaked.
Songkran is also one of the most significant Buddhist holidays in Thailand and although water fights and celebrations can get raucous, remember to be respectful, especially if visiting temples or religious sites around this time.
Wayfairer Top Tip
If you are celebrating Songkran in Thailand, be like the locals and wear a bright, floral shirt on top of your swimsuit (Thailand is still a conservative country and Songkran is a religious holiday). Goggles or sunglasses help protect your eyes from water and also the white paste Thai's will spread on your cheeks as a blessing. If you are taking your phone out, keep it in a plastic wallet or to be on the safe side, leave it at your hotel!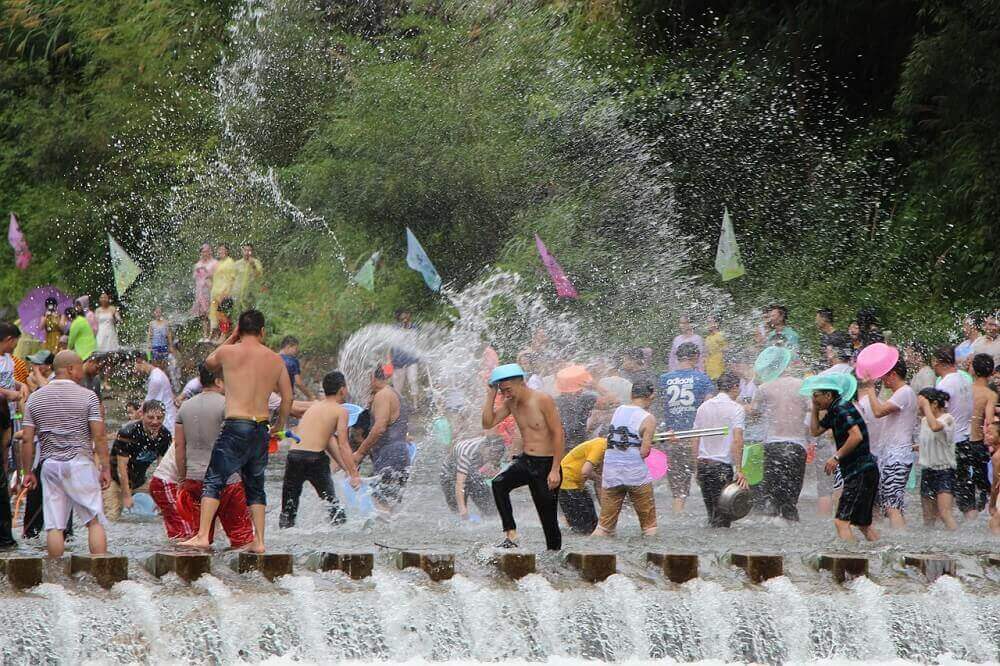 For a full, in-depth guide to celebrating Thai New Year, read our Survival Guide to Songkran.
Songkran festival dates

The festival takes place on the 13th - 15th April every year
4. Boon Bang Fai - Rocket Festival (May)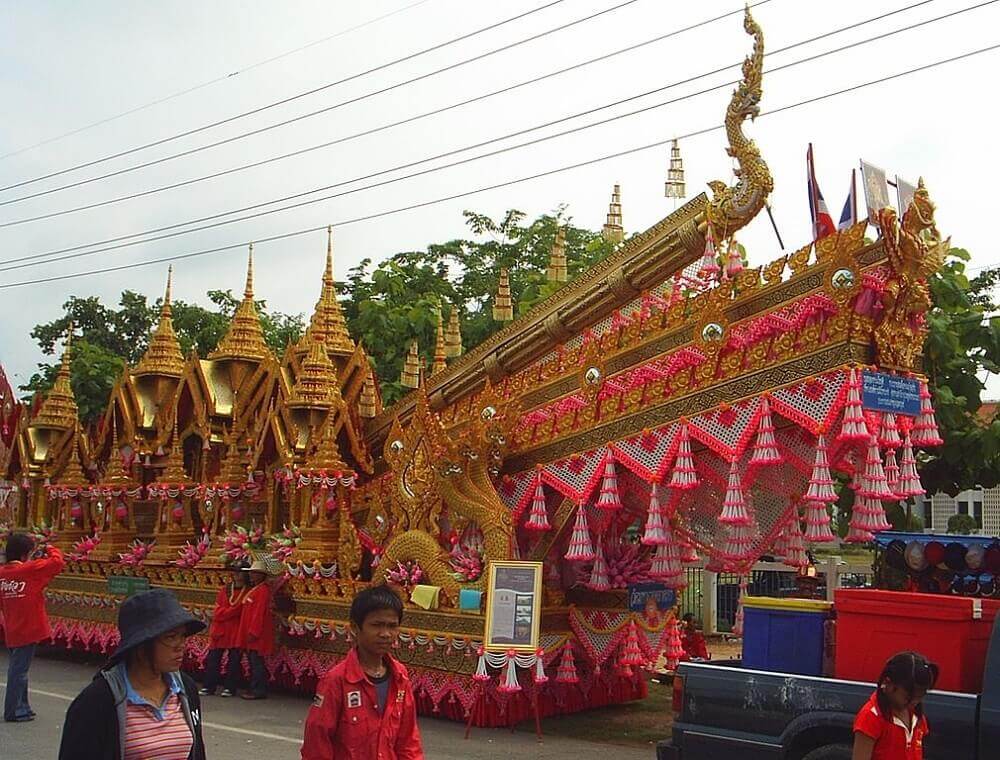 Boon Bang Fai, also known as Rocket Festival, is celebrated by the farming communities of Isan, up in the northeast of Thailand, as well as throughout neighbouring Laos. Taking place at the start of the wet season, Boon Bang Fai is the big party before planting season begins.
During the festival, villages come together and celebrations take the form of music, dance, pageants, float processions featuring homemade rockets and plenty of rice wine. On the third day, the rockets are fired as part of a competition and are judged by height and distance of the launch, as well as the beauty of the vapour trail.
To learn about other places in Southeast Asia which celebrate similar festivals, read our list of unmissable Cultural Holidays and Festivals in Asia.
Boon Bang Fai Rocket Festival dates

The festival takes place on the second weekend in May every year
5. Phi Ta Khon - Ghost Festival (July)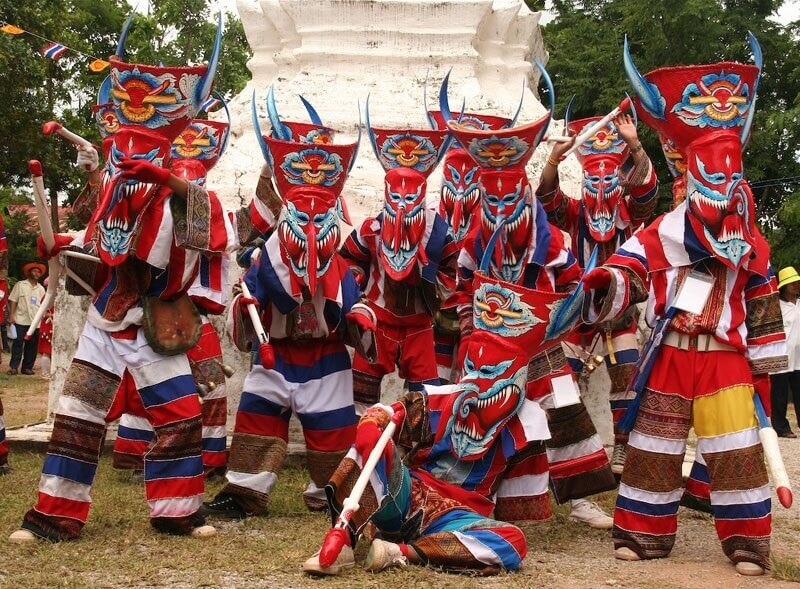 One of the most unusual (and creepy) Thailand festivals is Phi Ta Khon, or Ghost Festival. Phi Ta Khon is actually the name given to a group of ghost-themed festivals that take place in Isan, northern Thailand, as part of the Bun Luang or Bun Phawet Buddhist merit-making holiday.
Phi Ta Khon combines Buddhist tradition with pre-Buddhist animism, with participants dressing up in ghostly attire, donning gruesome masks, waving wooden phalluses and competing in a series of games and contests.
The Buddhist strand of this festival comes from the story of Vessantara Jataka, which follows one of Buddha's past lives. In this life, he was a prince who made a long journey and was presumed dead, so once he returned home the celebrations were so huge they were said to wake the dead.
The festival takes place over a weekend, with parades on the Friday, music shows and pageants on the Saturday, and Buddhist ceremonies on the Sunday. Adding to the atmosphere of mystery, the dates of Phi Ta Khon are selected annually by the town's mediums.
Phi Ta Khon Ghost Festival dates

The festival takes place annually between March and July.
6. Ubon Ratchathani Candle Festival (July)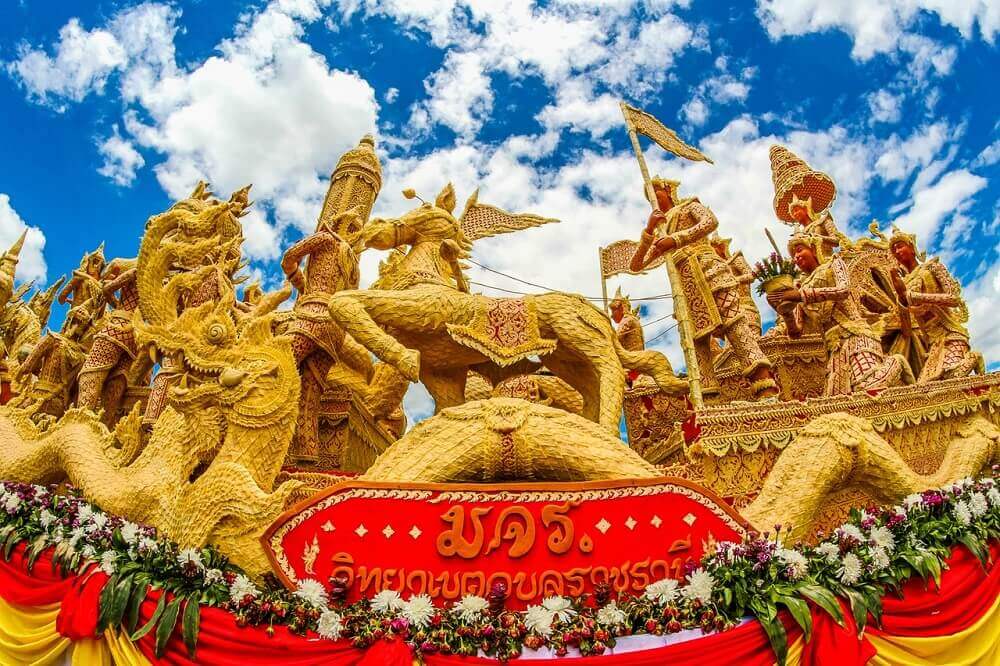 Another Thailand festival held in the northeastern provinces of Isan, Ubon Ratchathani Candle Festival consists of an elaborate parade of carved candles to local temples, known as wats.
The parades take place over the days of Asanha Puja (a date that commemorates the Buddha's first sermon) and Wan Kao Pansa (the date that marks the start of vassa, a three-month retreat period observed by Theravada Buddhists during Thailand's wet season, also known as Buddhist Lent).
During this time, offerings such as candles are donated to monks for the vassa period and the Ubon Ratchathani festival grew out of this tradition. In the Isan region, candles are placed on huge floats, carved to depict scenes from Hindu and Buddhist mythology (or sometimes carved out of wood and coated in wax).
After the parades, the candles are put on display before being taken to the temples. The festival culminates in music, dance and feasts, as typical of many of Thailand's Buddhist festivals.
Candle festival dates

The festival takes place every year in July
7. Mothers' Day - Queen Mother's Birthday (August)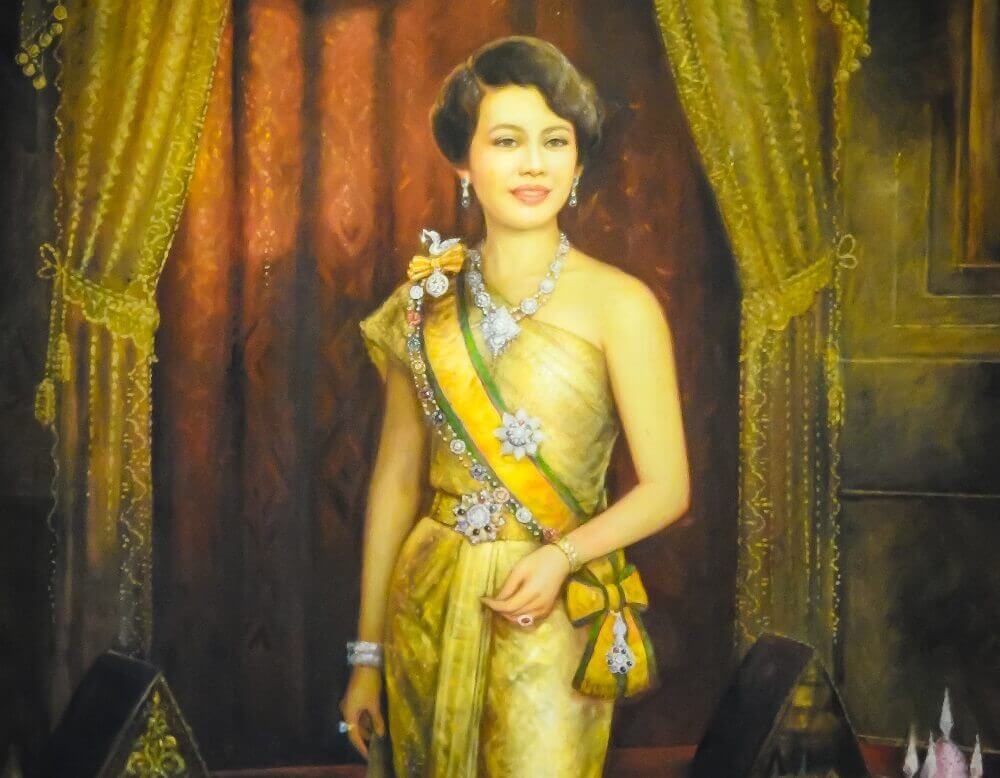 Thailand's monarchy is greatly revered, as shown with Mother's Day, which is on the date of the queen (now queen mother's) birthday and it is also a public holiday. This is a special occasion not only to celebrate the nation's mothers, but also the queen mother herself, Her Majesty Queen Sirikit.
On this day, many Thais choose to celebrate by donating offerings to monks, treating their mothers to a special meal, as well as giving cards and gifts, such as jasmine - a flower that symbolises purity, gentleness and motherhood in Thai culture. Many schools hold special events for Mothers' Day and students' parents are invited to attend.
Mothers' Day festival dates

The Festival takes place every year on the 12th of August
8. Jay Festival - Vegetarian Festival (September and October)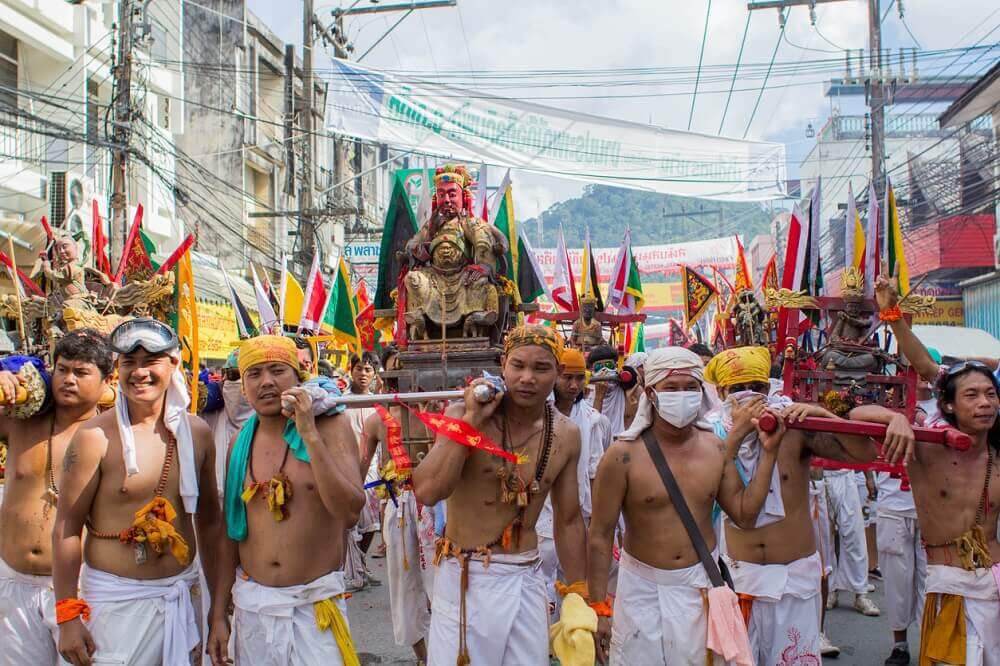 Thailand's Nine Emperor Gods Festival, also known as Jay Festival or Vegetarian Festival, is a Taoist celebration that takes place over a period of nine days during the ninth lunar month of the Chinese calendar. The festival is celebrated in Malaysia, Myanmar, Indonesia and Thailand, by Chinese communities, although locals tend to join in too.
During the nine-day period, participants must follow a set of 10 rules, including a vegan diet without pungent ingredients (such as onions or garlic) and abstinence from vices such as drugs, alcohol and sex.
However, Phuket takes this one step further and has now become infamous for mutilation rituals, including impaling, cutting, skinning and bloodletting. This gruesome side to Jay Festival comes from a legend that a Chinese opera group once got sick in Phuket, but after fasting and praying for nine days, they were cured, boasting invincibility.
Look out for yellow flags at restaurants and street vendors, which denote that they are participating in the festival by selling only vegan food. Bangkok's Chinatown is particularly busy at this time of year, as street vendors sell "mock-meat" which appears to look and taste like the real thing.
For more information on the festivities, read our full guide to Vegetarian Festival in Phuket, Thailand.
Jay Vegetarian Festival dates

The Festival takes place annually in September or October
Wayfairer Top Tip
Two popular Thailand festivals that we have chosen not to include on this list are Buffalo Racing Festival or Wing Kwai (October) and Surin Elephant Festival (November). Although these festivals have a long tradition in Thai culture, we do not encourage or condone the animal abuse practices of these festivals, and we ask you to consider animal welfare before you choose to join in the celebrations.
9. Bang Fai Phaya - Naga Fireballs Festival (October)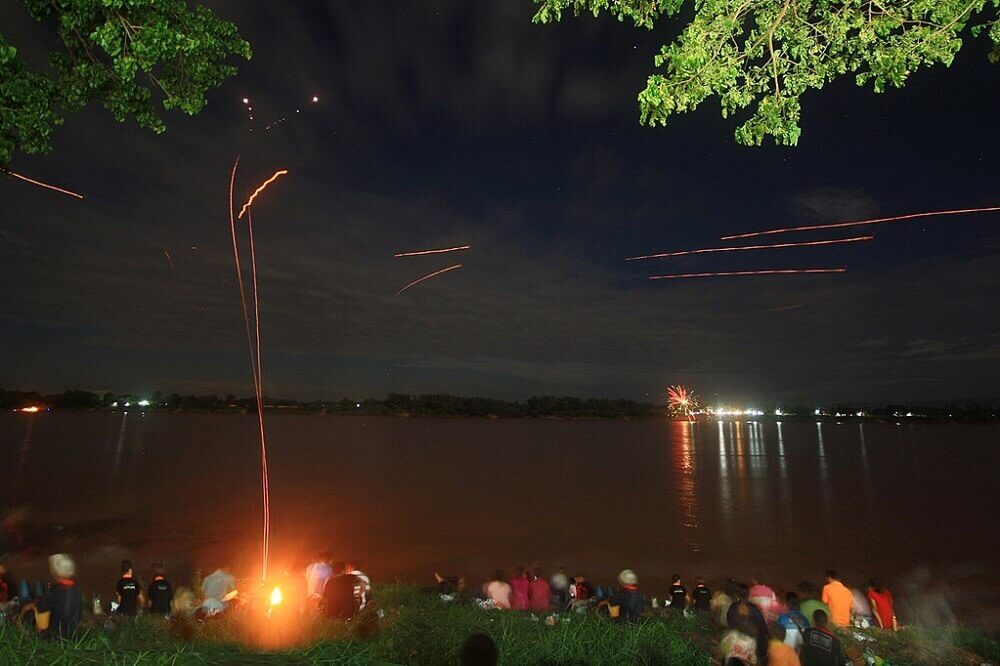 Although it may sound impossible, Bang Fai Phaya or Naga Fireballs Festival takes place every year in October around the full moon, when mysterious balls of fire rise into sky from the Mekong River around Nong Khai, with no scientific explanation as to how.
Smokeless, soundless and odourless, the fireballs materialise on the river's surface as pink, floating spheres, then rise up to heights of 30 metres, before disappearing. The unexplained phenomenon draws crowds of tourists to witness this magical sight, creating a festival atmosphere.
There is a theory that these fireballs are made of a combination of nitrogen and methane, which reaches a certain temperature at this time of year, causing a reaction - but this is unconfirmed. Thai folklore says that nagas (serpents) that live in the river release the fireballs to signify the end of Buddhist Lent and call Buddha back down to Earth.
Bang Fai Phaya festival dates

The festival takes place annually in October
10. Lai Reua Fai Festival - Boat Procession (October or November)
Although not quite as mysterious as naga fireballs, the Lai Ruea Fai Festival in Nakhon Phanom also celebrates the end of Buddhist Lent with illuminations on the Mekong River, this time in the form of an impressive light-up boat procession.
Traditionally, rafts loaded with flowers, candles and food were released down the river as offerings to the naga that inhabited the waters. Today's modern twist includes giant bamboo structures featuring lanterns, candles and incense in elaborate designs (sometimes even featuring animation), which come alive at night and reflect in the river.
In keeping with many of Thailand's festivals, you can also enjoy music, dance, street food, banquets, cultural performances and other traditional festivities during the celebratory period.
Lai Reua Fai Festival dates

The festival takes place annually in October or November
11. Loy Krathong Festival (November)
Loy Krathong is Thailand's "Festival of Lights" and it's one of the country's most important holidays, along with Songkran (Thai New Year).
On the evening of Loy Krathong, people gather around lakes, rivers and canals to pay respects to the goddess of water by releasing small, floating, candlelit vessels called "krathongs" onto the water.
It is believed that the krathong carries away misfortunes, signalling a fresh start. If the candle on your krathong manages to stay alight until you can no longer see it, this signifies that you will have good luck in the next year.
In Bangkok, the Chao Phraya River is the centre of the Loy Krathong celebrations with cultural performances, boat processions, krathong-making workshops, firework displays and many other activities taking place. Elsewhere in Thailand, rivers, lakes and the beachfront are where you'll see people floating their krathongs.
Wayfairer Top Tip
Krathongs are traditionally made of biodegradable materials, such as banana leaves. However, many modern offerings are made with plastics and styrofoam, which causes serious pollution in rivers, canals, lakes and oceans. If you plan on participating during Loy Krathong festival, be mindful of your environmental imprint, or simply participate as an observer, rather than adding to the waste.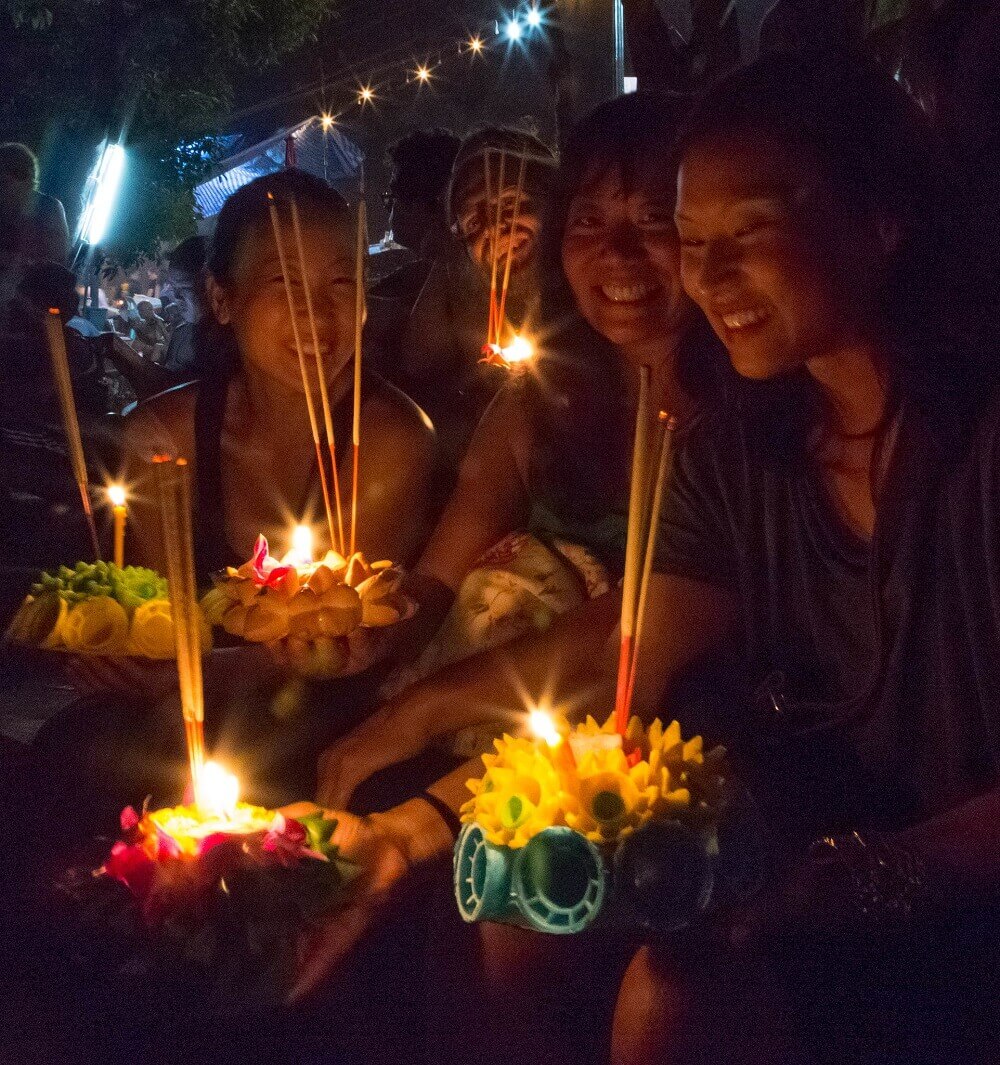 To learn more about the environmental impact of Loy Krathong and Yi Peng (see below), as well as how you can celebrate in a more sustainable way, read our article on How Festivals Impact the Environment.
Loy Krathong festival dates

Loy Krathong takes place in November
12. Yi Peng Festival (November)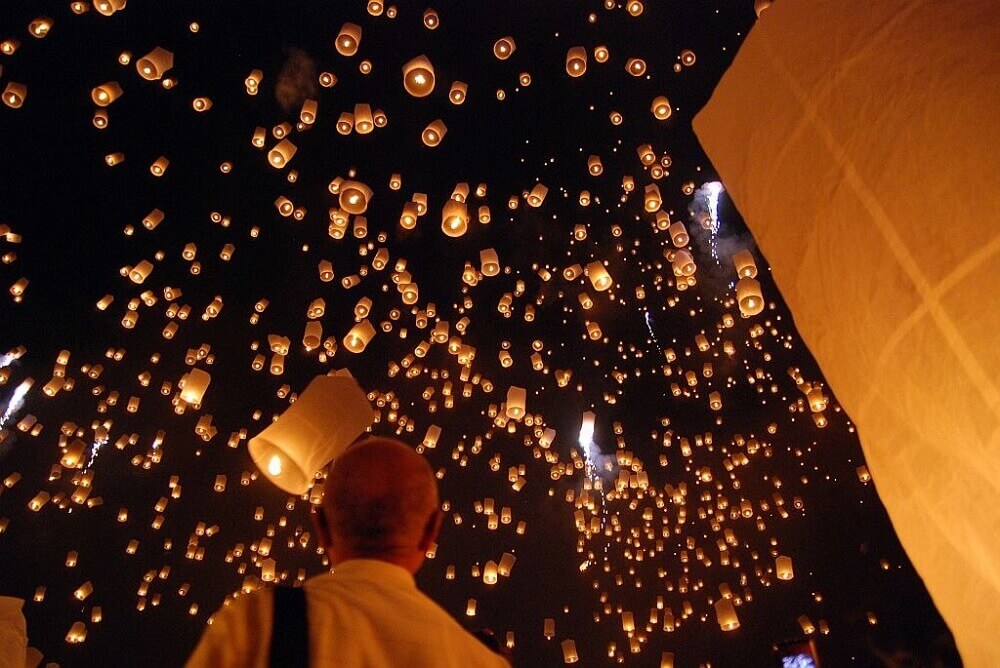 Yi Peng Festival is unique to northern Thailand. It was originally an individual event in its own right, marking the end of the rainy season, however Yi Peng now takes place at the same time as Loy Krathong.
Although it is celebrated across northern Thailand, the cultural capital of Chiang Mai has become synonymous with Yi Peng and the festivities in Chiang Mai take place over three days with religious events, cultural activities, street parades and the release of fire lanterns.
"Khom loy" (floating lanterns) are released all around Chiang Mai and seeing the lanterns floating in the night sky against the backdrop of the full moon is a truly magical sight. The release of lanterns is a way to pay respect to Buddha and also to release bad memories, making a wish for the future.
Yi Peng festival dates

The festival takes place in November
13. Lopburi Monkey Festival (November)
Lopburi Monkey Festival is an annual banquet thrown in honour of the mischievous macaques of Lopburi (around 150 kilometres north of capital Bangkok), which overrun the temples there.
Usually, the monkeys are free to roam and feeding them with anything other than sunflower seeds is discouraged. However, once a year, to celebrate the Hindu monkey-god Hanuman, the monkeys are treated to a banquet of huge tables of fruit, salad and other monkey-friendly goodies, reminiscent of a Mad Hatter's Tea Party!
Look out for when food fights erupt and be sure to keep your valuables well out of sight, as these pesky and mischievous creatures will try to get away with them!
Lopburi Monkey Festival dates

Lopburi Monkey Festival takes place on the last weekend pf November every year
14. King Rama IX's Birthday - Previously Fathers' Day (December)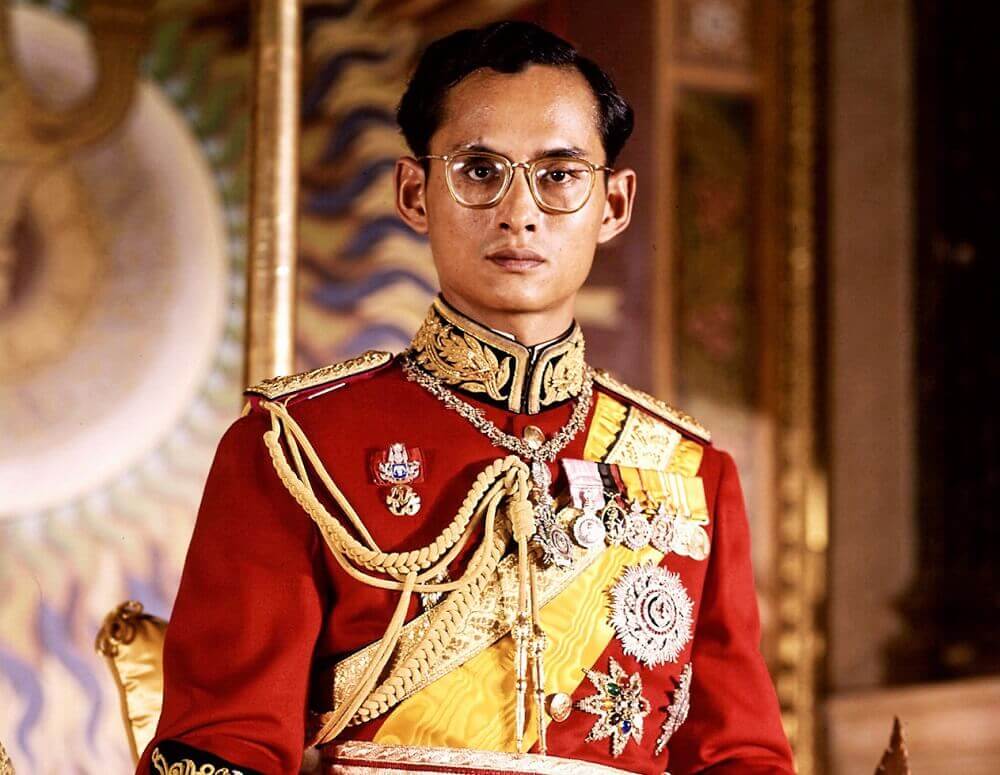 Similar to Mothers' Day above, Fathers' Day is also a public holiday and was previously held on 5th December. This was the birthday of late King Bhumibol Adulyadej (Rama IX), a symbolic father of Thailand, who passed away in 2016.
As of 2017, Fathers' Day has moved to the birthday of the current king, King Vajiralongkorn or King Rama X, on 28th July. On Fathers' Day, Thai people pay respect to their fathers and grandfathers, often with the gift of a canna flower, a bloom similar to a lily.
Despite this change, 5th December has remained a public holiday and has been renamed as King Bhumibol Adulyadej's Birthday Anniversary, in memory of the beloved monarch. Thais may wear yellow on this day, a colour of celebration and recognition of royalty, or black to commemorate the late king.
King Bhumibol Adulyadej's Birthday Anniversary festival dates

King Bhumibol Adulyadej's Birthday Anniversary festival takes place on the 5th of December every year
King Bhumibol Adulyadej's Birthday Anniversary 15. New Year's Eve (December)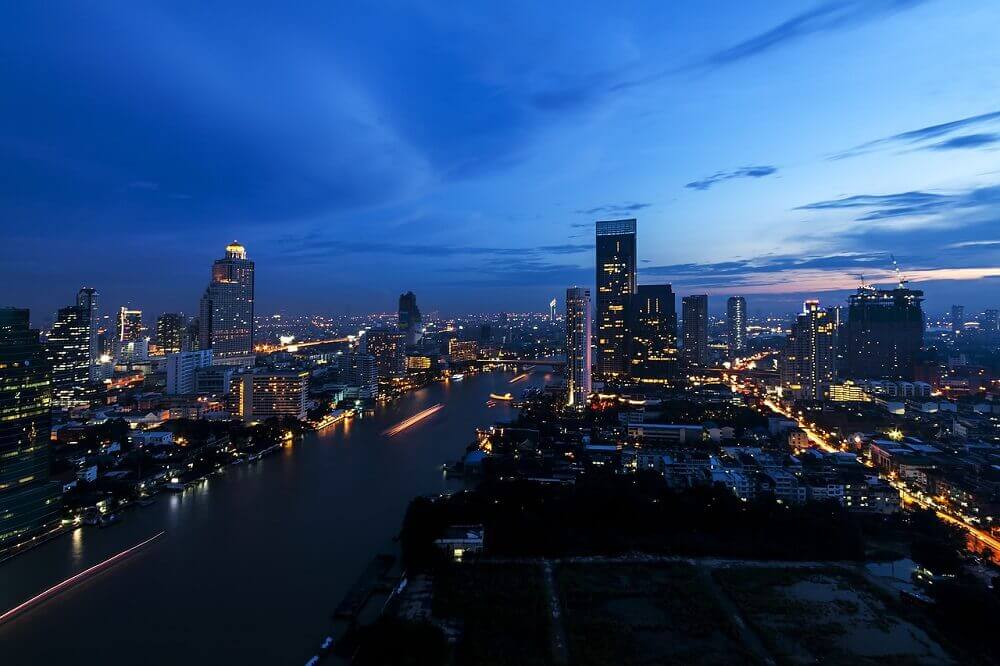 Although Thai New Year is celebrated with Songkran in April, Thailand still celebrates with the rest of the world at midnight on 31st December by ringing in the new year with fireworks and parties.
Bangkok is where you'll have the biggest festival atmosphere, with plenty of rooftop bars hosting New Year parties, providing the perfect vantage point to see the capital's firework displays. Up in Chiang Mai, the celebrations are more traditional, featuring candlelit lantern ceremonies and releasing floating lanterns into the sky.
On the island of Phuket, Surin Beach and Kata Beach are transformed into parties on the sand, with barbecues, live music and dancing. Meanwhile, beach destination Pattaya and home of the Full Moon Party Koh Phangan host the wildest of celebrations.
New Year's Eve festival dates

The festival takes place annually on the 31st December
Wayfairer Top Tip
Be aware that Thailand uses two calendars: the Thai solar calendar (based on the Gregorian calendar) and the Thai lunar calendar, which numbers the years following the Buddha Era and is 543 years ahead of the common calendar. For example, the year 2019 is 2562 BE in Thailand.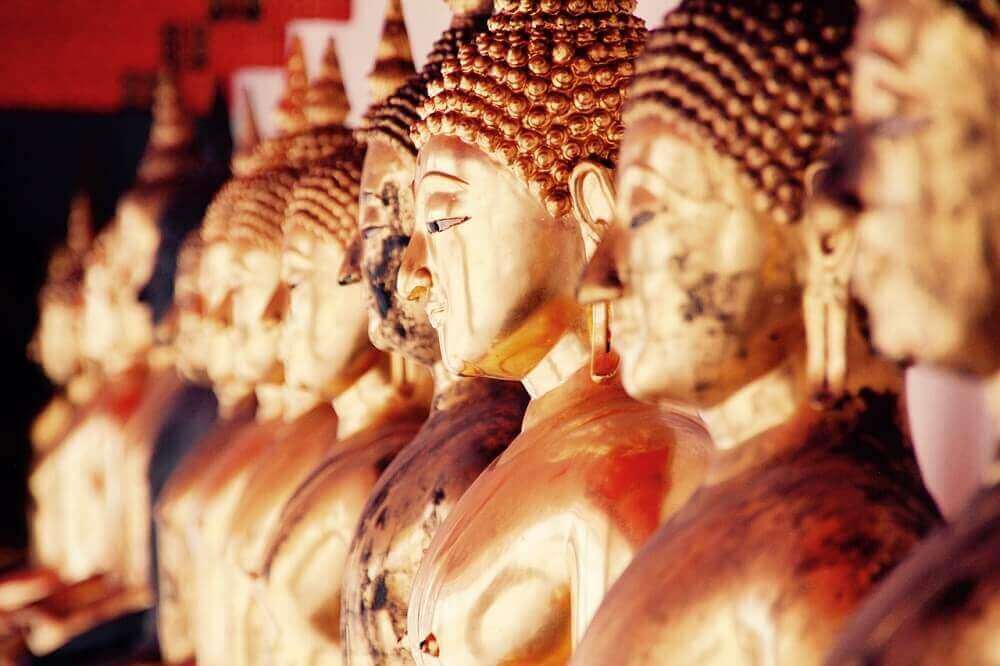 If you'd like to plan your Thailand holiday around one these magical Thai festivals, call our friendly team of Luxury Travel Specialists to chat about your dream Southeast Asia trip, or fill out our no-obligation enquiry form below:
Image credits
Rocket Festival - Markalexander100 via Wikimedia Commons
Ghost Festival - Nachomaans via Wikimedia Commons
Queen Sirikit - Tris T7 via Wikimedia Commons
Naga Fireballs - J A Forbes via Wikimedia Commons
Loy Krathong - John Shedrick via Flickr and Stefan Magdalinski via Flickr
Yi Peng - Takeaway via Wikimedia Commons
King Rama IX - manhhai via Flickr
We understand that booking trips, especially adventurous and alternative ones such as this can be intimidating, so get in touch; we can take the stress out of your holiday planning and organise a trip you won't forget!
Get in touch
Sign up to our newsletter
For more travel inspiration delivered straight to your inbox just fill in your details here
More Thailand travel inspiration from Wayfairer customers and travel specialist
Sign up to our newsletter
For more travel inspiration delivered straight to your inbox just fill in your details here