Bandhavgarh Tiger Reserve, India (Tiger Safari Guide)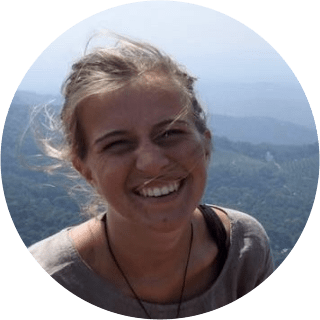 By Lotte Nash
April, 14, 2023

4 Min read
Cradled in the picturesque hills of Central India, Bandhavgarh Tiger Reserve is one of the best places to see wild Royal Bengal tigers
Bandhavgarh Tiger Reserve has the highest tiger density of any of India's reserves and a sighting on a tiger safari here is almost guaranteed.
Getting close to Royal Bengal tigers in their natural habitat in India is a truly magical moment. When you first spot the faint image of yellow and black stripes through the early morning mist, hear movement through the tall sal trees and bamboo bushes, or see a tiger emerge from a waterhole, you'll no doubt have goosebumps.
Here's our guide on how to make the most of a trip to Bandhavgarh Tiger Reserve:
Introduction to Bandhavgarh Tiger Reserve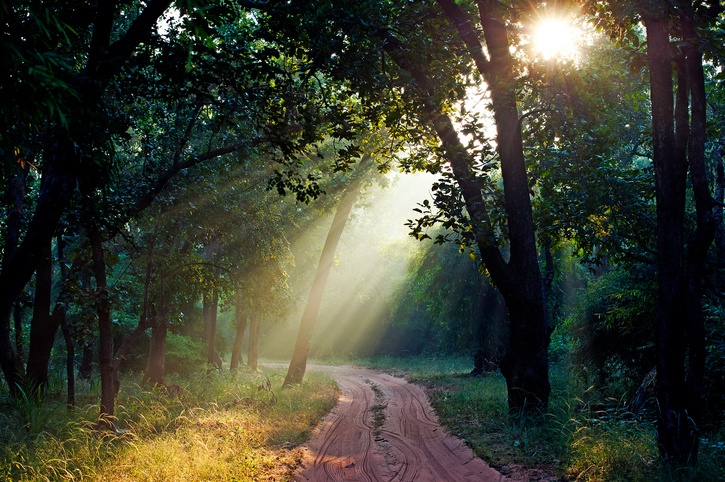 Bandhavgarh Tiger Reserve, located in the Umaria district of Madhya Pradesh, is one of the popular national parks in India and one of the best places in the world for spotting tigers. One of the park's tiger families was recently featured in the BBC Earth and David Attenborough wildlife documentary series, Dynasties.
The park's name comes from the most prominent hillock of the area. In Hindu legend, this hillock was gifted by Lord Rama to his brother Lakshmana, to help him keep watch over Sri Lanka (Ceylon). Therefore, the name Bandhavgarh translates into Sanskrit as: "Brother's Fort."
In 1968, 105 square kilometres were declared for Bandhavgarh National Park, which extended to include surrounding forest areas in 1982 to cover over 1,161 square kilometres.
Panpatha Wildlife Sanctuary was included as part of Bandhavgarh Tiger Reserve in 1983, and in 1993 Bandhavgarh National Park, Panpatha Wildlife Sanctuary and a Buffer Zone Area of the park were declared as the Bandhavgarh Tiger Reserve.
Bandhavgarh Tiger Reserve has a healthy population of approximately 80 tigers, which roam the sal and bamboo forests in search of prey. The park is also home to other wildlife including leopard, deer, sloth bear, gaur, sambar, chital, jungle cat and wild pig, plus 150 species of birds.
Around 207 square kilometres (approximately 20%) of the Bandhavgarh Tiger Reserve has been designated as a tourism zone within the park, and this area has been further divided into three zones:
Tala Zone
The Tala Zone is the premium zone, which means that visitors have to pay a double entry-ticket fee if they wish to enjoy a tiger safari in this area. The Tala Zone is known for its excellent tiger sightings.
Magadhi Zone
The Magadhi Zone is the most popular zone with visitors and it is also good for tiger sightings, plus sambar and spotted deer are frequently spotted.
Khitauli Zone
The Khitauli Zone is good for birding, plus sloth bear and blue-bull sightings.
When to visit Bandhavgarh Tiger Reserve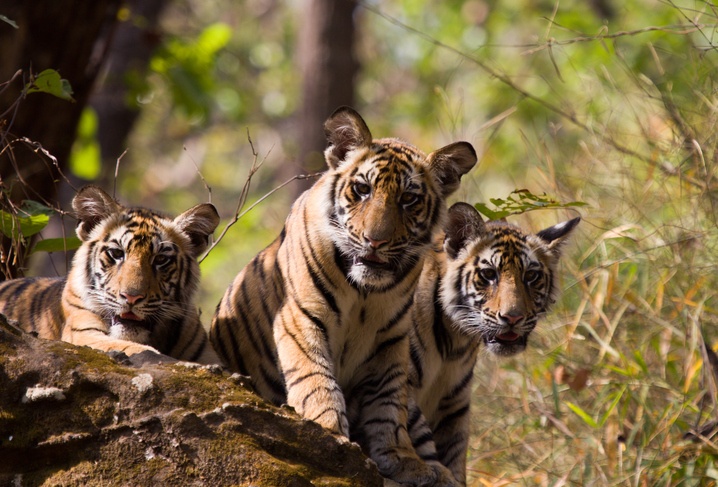 Bandhavgarh is open from 16th October until 30th June and closed during the monsoon months from July to September.
October to January
When the park reopens in October after the monsoon season, the forest vegetation is lush and green and the waterholes are full. October to January can be a lovely time to visit Bandhavgarh as temperatures tend to remain below 30 degrees Celsius and you can enjoy the greenery of the forests.
However, keep in mind that from October to January the grass is longer and the vegetation in the forest is more dense, which can make spotting tigers more challenging, although it can also make for more exciting safari drives.
If you're interested in birdlife, October to December are the best months to visit. The forests of Bandhavgarh attract many migratory birds during these winter months, including birds of prey such as the steppe eagle, and a variety of wildfowl.
During December, it can get very chilly in Bandhavgarh and nighttime temperatures can drop to less than 5 degrees Celsius, so it's essential that you pack warm clothes and choose accommodation with heating. In contrast, if you plan to visit between March and June, we highly recommend that you choose accommodation with air conditioning.
Wayfairer Top Tip
During the festival months of November and December, the park is very popular with domestic tourists, as schools are on holiday. Therefore, if you wish to visit at this time we recommend booking well in advance to ensure availability at your preferred accommodation. Please note that the park is closed for a full day on Diwali.

Thea Gillingham
Luxury Travel Specialist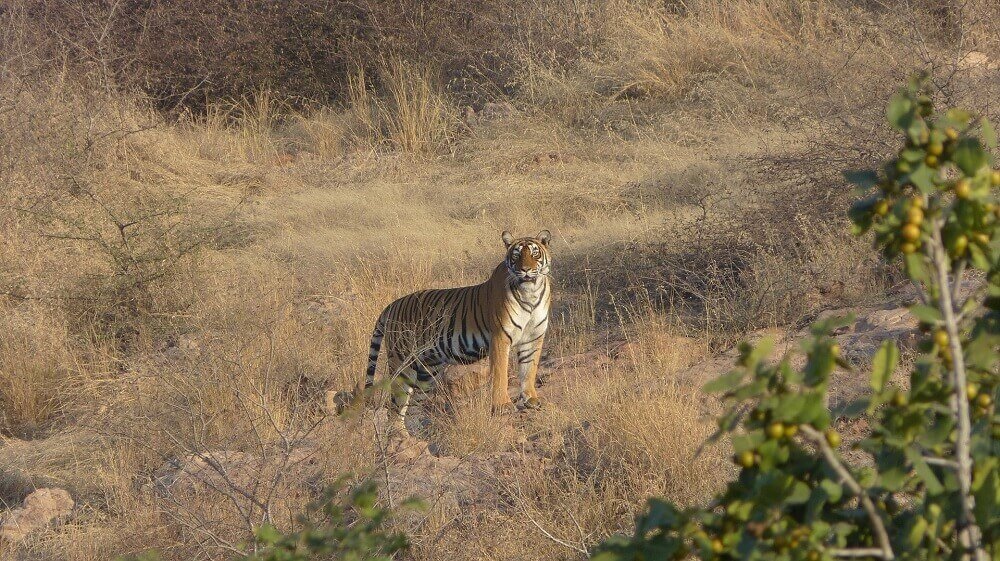 January to March
Late January to March is a great time to visit the park as the temperatures are likely to remain below 25 degrees Celsius, which makes for more comfortable tiger safaris.
During February and March, the bright orange flowers of the "Flame of Forest" tree (also called the Palash Tree) blossom, making the forest extremely beautiful and photogenic. The flowers also attract a variety of birds, as well as sloth bears.
April to June
By March and into the first half of April, Bandhavgarh Tiger Reserve becomes very hot, with temperatures exceeding 25 degrees Celsius. During the second half of April and until June, temperatures are extremely high (between 30 and 40 degrees Celsius) and the sun is very strong, especially in the middle of the day.
The land becomes dustier, the forests have much less foliage and the waterholes dry up. If you can cope with the intense heat, the months of April to June are fantastic for wildlife sightings. The hot weather and lack of water means that animals tend to congregate around the remaining waterholes, which makes for excellent wildlife viewing.
You'll have a greater chance of seeing tigers at this time, as they are often seen cooling off in the waterholes and the thinning vegetation in the forests means that they're more exposed. The Tala Zone is the best area to visit during these months with tiger sightings more likely.
For more information on the best times to visit Bandhavgarh Tiger Reserve and other destinations in the country, read our India When to Go Guide.
A typical tiger safari at Bandhavgarh Tiger Reserve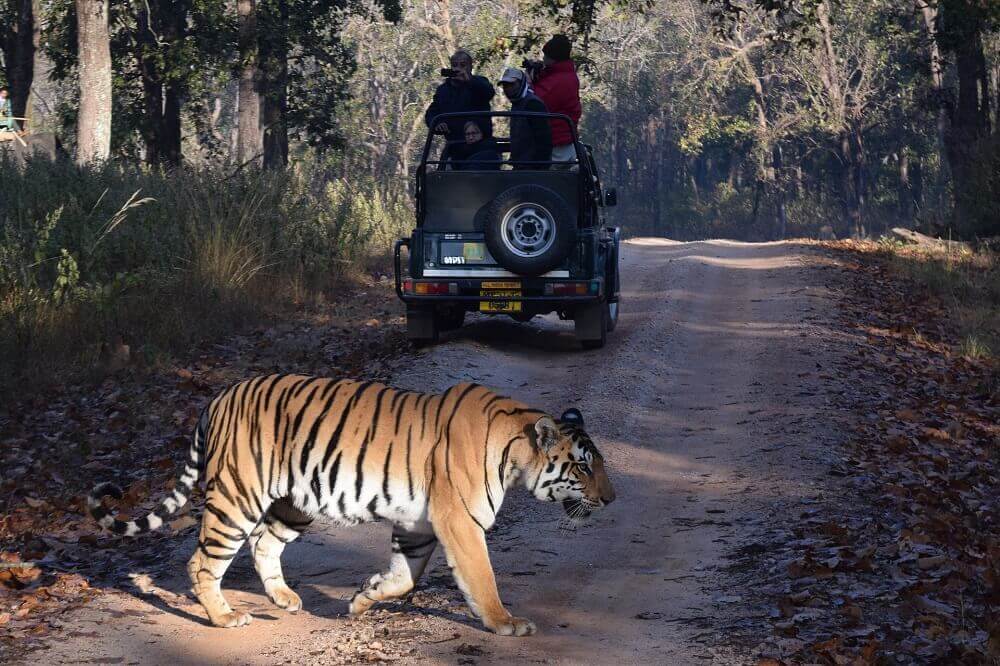 Solitary, elusive and perfectly camouflaged with their surroundings, tigers are experts at hiding. Therefore, the best way of spotting those iconic orange and black stripes is on a tiger safari with a local guide, and with buckets of patience. As a rule of thumb, the more game drives you do, the better your chances of a tiger encounter.
Game drives take place in the morning and evening in the designated zones of Bandhavgarh Tiger Reserve declared for tourism, and each drive lasts between three to four hours depending on the season. You'll be accompanied by a ranger and a guide, who can lead you to the best wildlife-watching spots and entertain you with key information.
Official guides are experienced and knowledgeable; they know the territory best, they're experts at tracking and they know places where tigers have been most recently spotted.
The tiger safari vehicles are usually six-seater open jeeps, which traverse the rough roads well (and give you a bit of a massage along the way!). It's best to wear old clothes, as the dusty roads and hot weather are sure to leave their mark. In the cooler months, be sure to wrap up warm, as you'll be exposed to the elements.
Wayfairer Top Tip
Sadly, elephant riding safaris are still common in India and in Bandhavgarh National Park. Wayfairer Travel does not encourage or condone elephant safaris, but we acknowledge that the funding provided by this activity at present is desperately needed for support of the national park and tiger conservation. As a travel operator, we only offer jeep tiger safaris and suggest you vote with your tourist dollars to discourage elephant riding and choose a jeep tiger safari too.

Victoria Erskine
Luxury Travel Specialist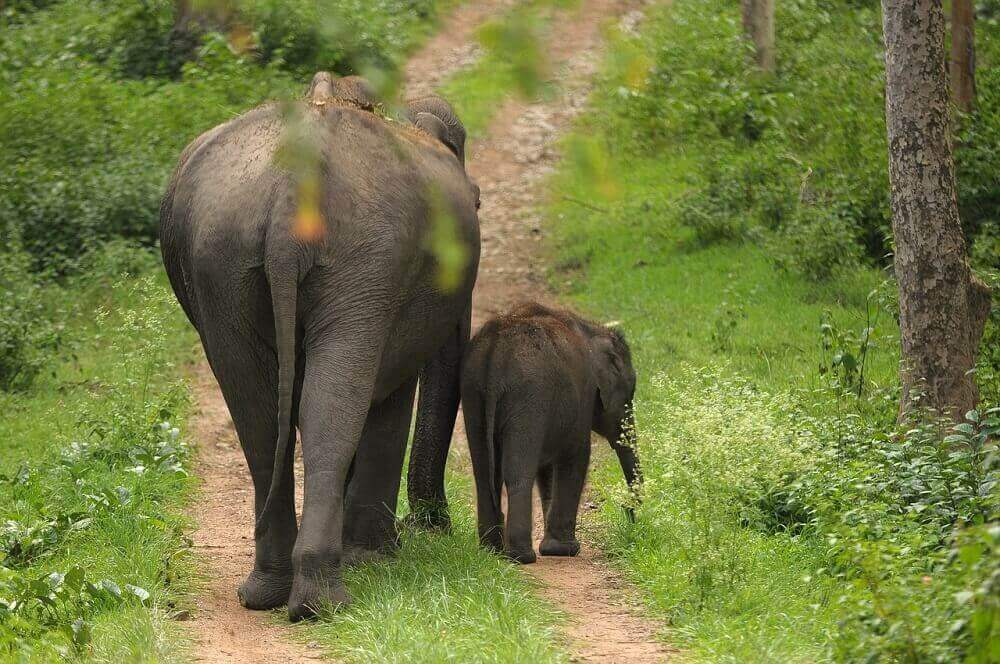 Sustainable wildlife tourism with TOFTigers
Wayfairer Travel is proud to partner with TOFTigers, a collective action initiative with a commitment to saving and protecting tigers and their natural habitats across the Indian subcontinent, including Bandhavgarh National Park, as well as supporting sustainable nature tourism and wildlife conservation in general.
TOFTiger's projects include a PUG Eco Rating for accommodation to indicate eco-friendly and wildlife-friendly hotels and resorts, biannual Wildlife Travel Awards to celebrate and highlight the very best in nature tourism around the world, Good Wildlife Travel Guides listing all TOFTigers-recommended tour operators and suppliers, as well as many other projects.
To learn more about Wayfairer's commitment to sustainable tourism, read our Responsible Travel Guide to India.
Wayfairer Top Tip
You can also donate and support TOFTigers and tiger conservation via their website. These funds help sponsor local Village Wildlife Guardians by providing them with income and equipment, so they can be the eyes and ears of sustainable nature tourism across the Indian subcontinent.

Laura Bannister
PR and Communications Manager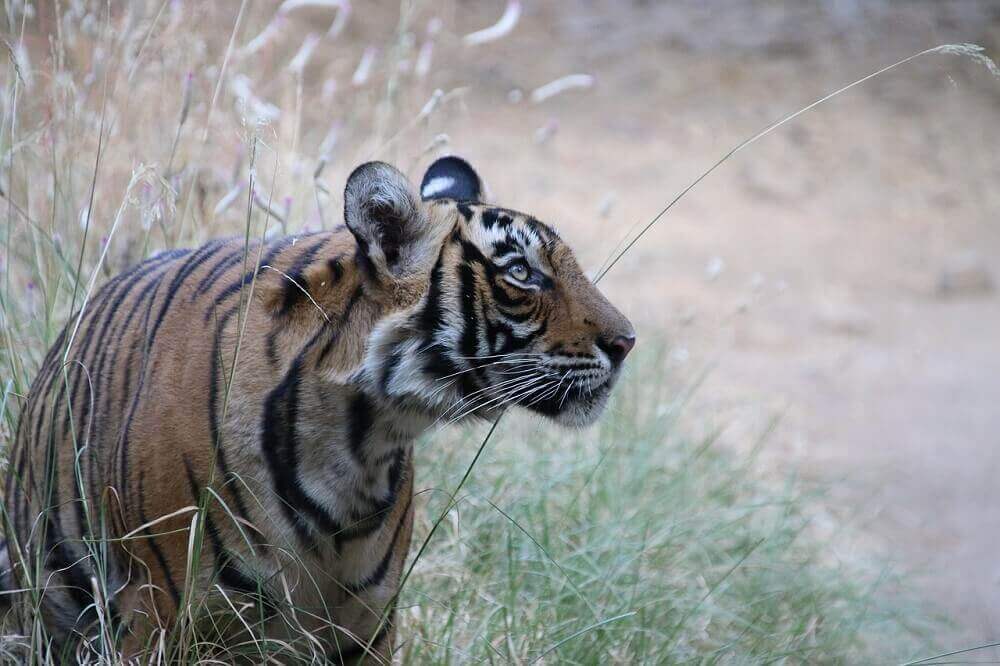 Luxury Bandhavgarh hotels & resorts
There are many different hotels and resorts in the Bandhavgarh Tiger Reserve area, suited to all different types of travellers. Here are our recommendations for the most comfortable stays in Bandhavgarh, with accommodation suppliers who are committed to sustainability and responsible tourism: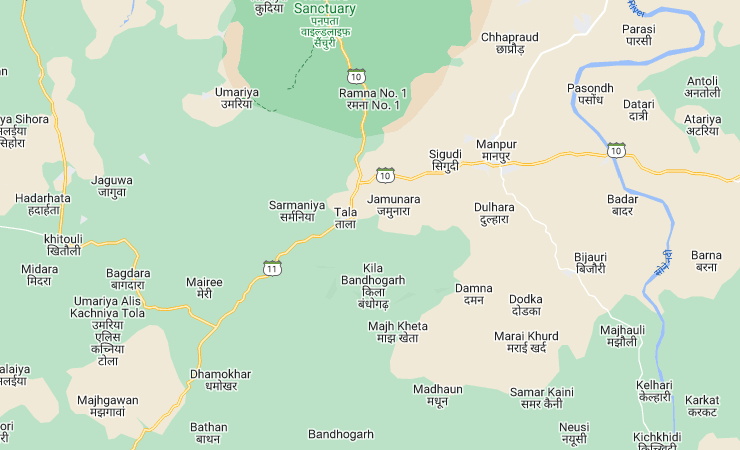 1. Tree House Hideaway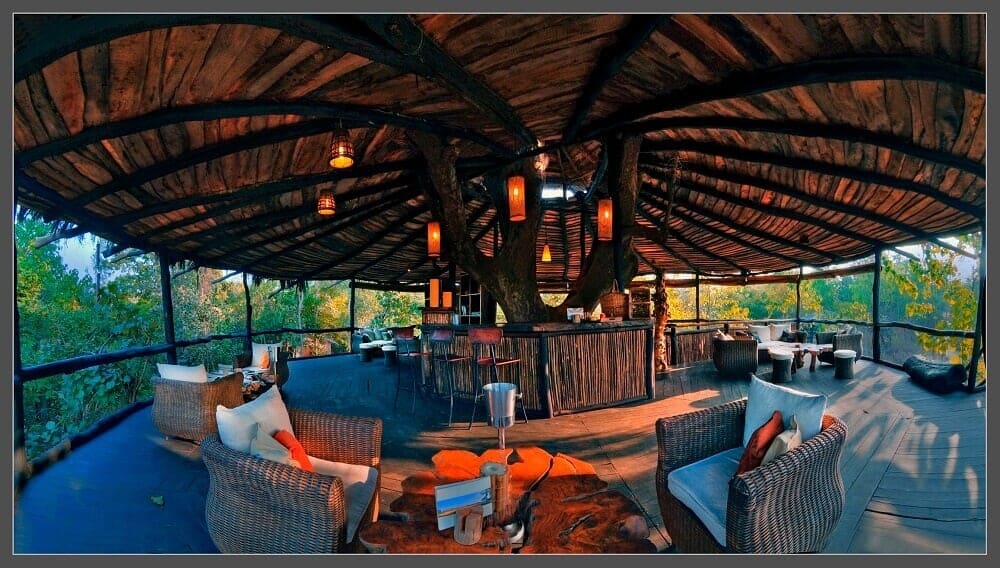 Part of the Pugdundee Safaris group, the luxury tree houses of Tree House Hideaway are tucked into the forest, right in the heart of the Bandhavgarh Tiger Reserve. Immersed in nature, the property's five exclusive tree houses are set in 21 acres of land, right up in the canopy above the forest floor.
However, despite the rugged setting, this resort does not compromise on comfort and luxury, with features such as hot showers, air conditioning, private balconies, WiFi and mini-bars. The hotel's restaurant is built around a centenary Mahua tree, but there are also regular bush barbecues and vegetable garden picnics to enjoy.
TOFTigers has awarded Tree House Hideaway a Quality PUG Eco Rating.
2. Kings Lodge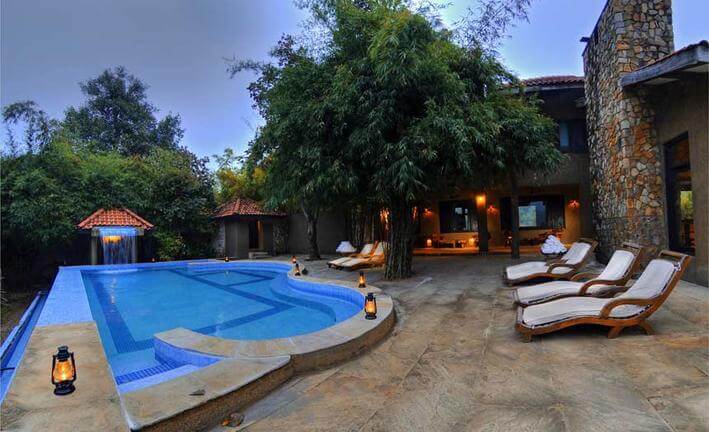 Spread over an estate of 12 acres of grasslands, surrounded by the sal forests of Bandhavgarh Tiger Reserve, Kings Lodge is designed to be environmentally sensitive and in harmony with the beautiful natural surroundings.
Comprised of 18 twin and double cottages, each accommodation includes ensuite bathrooms, air conditioning and large verandahs. Take your farm-to-table organic meals at the old Neem tree table in the dining area, unwind by the roaring fire, relax by the swimming pool, or treat yourself to Ayurvedic massage treatments at the in-house spa.
Aside from safari excursions around Bandhavgarh Tiger Reserve, Kings Lodge also offers activities such as nature walks and cycling, birdwatching, photography tours, day walks to Bandhavgarh Fort, outdoor barbecue and bush dinners, village visits and cultural workshops.
TOFTigers has awarded Kings Lodge a Quality PUG Eco Rating.
3. Samode Safari Lodge
Just a kilometre away from Bandhavgarh Tiger Reserve's Tala entrance and 10 kilometres from Bandhavgarh Fort, the award-winning Samode Safari Lodge offers luxury and comfort in a prime location.
The lodge's rooms are decked out in modern amenities, including flat-screen televisions, air conditioning, fridges, iPod docks and a DVD player. However, make the most of the gorgeous views by sitting out on your private balcony, lounging on the main lodge's open air deck or relaxing in the outdoor swimming pool.
Families will enjoy the lodge's kids' club, plus Indian and Western dishes are available at the in-house restaurants, as well as in-room dining. Jog along the trails near the lodge, participate in nature walks and cycling tours, or visit the local Madari village. Then, pamper yourself with a therapeutic treatment at the lodge's modern spa.
TOFTigers is currently assessing Samode Safari Lodge for a PUG Eco Rating.
4. Mahua Kothi
Set in 40 acres of land and just 20 minutes from the entrance to Bandhavgarh Tiger Reserve, Mahua Kothi derives its name from the revered Mahua tree, also known as a butter tree. Drawing on local culture and tradition, a stay here makes for a truly authentic retreat.
Beautifully renovated, the original kothi is comprised of 12 kutiyas (jungle village huts) built in the style typical of Central India. Each of the kutiyas are accessed through a private courtyard and feature traditional mud floors and walls coloured in lime and earth washes, finished by hand.
Indian and Western cuisine can be found on the menu, with each meal taken in a unique location on the property. A special Baghiya breakfast can be enjoyed in the backyard of the village house, lunch is taken under the cool shade next to the swimming pool, by the watering hole, or in your private courtyard, whilst dinner and evening drinks are served under the mahua tree on an open terrace.
TOFTigers has awarded Mahua Kothi an Outstanding PUG Eco Rating.
Tiger Safari Holidays in India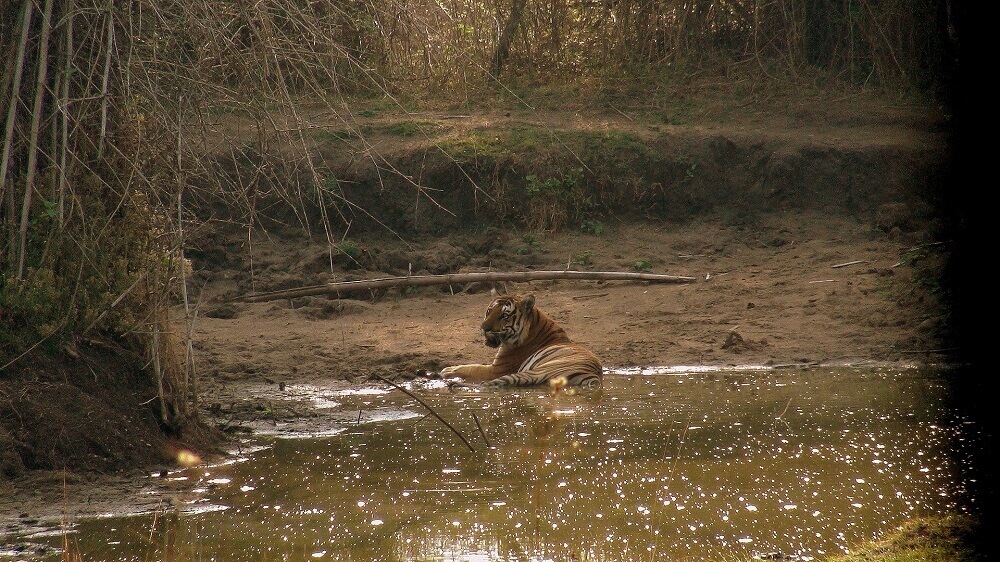 Tiger safaris are one of the most memorable wildlife experiences you can have, therefore we recommend visiting two or more national parks to increase your chances of spotting wild tigers, plus you'll have the opportunity to enjoy a variety of wildlife and scenery.
Wayfairer Top Tip
Tiger sightings are rare in most national parks in India, but very common on tiger safaris in Bandhavgarh. Having said that, be aware that these tigers are wild animals and have minds of their own, so a sighting can never be fully guaranteed. Keep an open mind, enjoy wildlife watching in the lush forest and when a tiger does come into view, you will appreciate your lucky encounter even more.
Alexandra Aistrup
Luxury Travel Specialist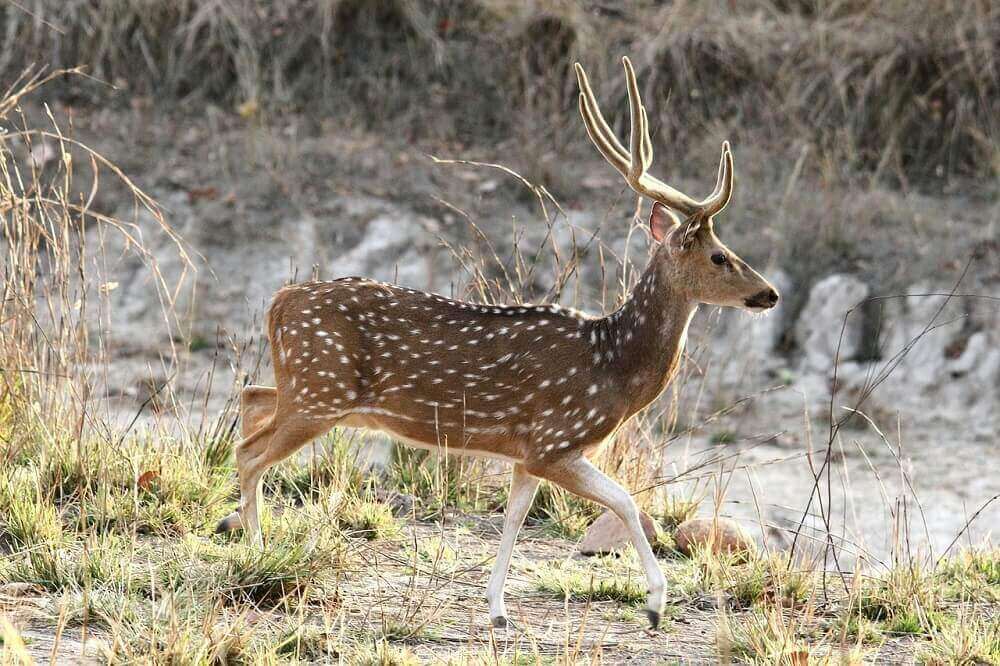 Suggested Tiger Safari Itinerary (15 Days)
2 Days Dehli, 3 Days Kanha National Park, 3 Days Bandhavgarh National Park, 2 Days Panna National Park, 2 Days Agra, 3 Days Jaipur.
On our Wild India, The Land of the Tiger tailor-made holiday, you'll visit the magnificent palaces and temples of Delhi, Agra and Jaipur, and enjoy tiger safaris in Kanha, Panna and Bandhavgarh National Parks, which are teeming with rare wildlife, and the perfect trio of tiger safari destinations in India.
If you're planning a tiger-spotting trip to India, call our Luxury Travel Specialists for a chat about your dream India holiday or fill out our no-obligation enquiry form:
We understand that booking trips, especially adventurous and alternative ones such as this can be intimidating, so get in touch; we can take the stress out of your holiday planning and organise a trip you won't forget!
Get in touch
Sign up to our newsletter
For more travel inspiration delivered straight to your inbox just fill in your details here
More inspiration from Wayfairer customers and travel specialist
Sign up to our newsletter
For more travel inspiration delivered straight to your inbox just fill in your details here