10 Ideas for Honeymoon Destinations in Asia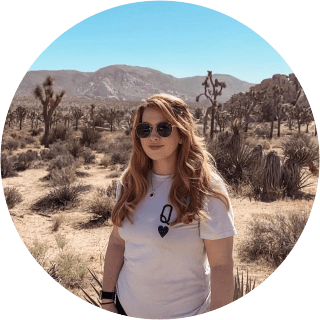 By Shelley Cross
April, 14, 2023

4 Min read
Our guide to the best luxury honeymoon holidays in Asia, perfect for a romantic getaway
Honeymoon destinations in Asia are plentiful and diverse.
From luxury beach honeymoon destinations in Thailand to romantic getaways in India, private island resorts in the Maldives to unique honeymoon holidays in Japan – Asia is home to some of the most beautiful places in the world for a honeymoon.
With so many great Asia honeymoon ideas to choose from, we've compiled this comprehensive guide to some of the best honeymoon destinations in Asia by country with details on where to go, what to see, some incredible places to stay, plus suggested trip ideas.
We want to take the pain out of organising your dream honeymoon, so that all you need to do is grab your partner and your passports, get on the plane and arrive at your romantic honeymoon destination, ready to relax, make some memories and spend some quality time together as newlyweds.
Click below to explore honeymoon destinations in Asia:
11. Tailor-Made Asia Honeymoon
1. Cambodia Honeymoons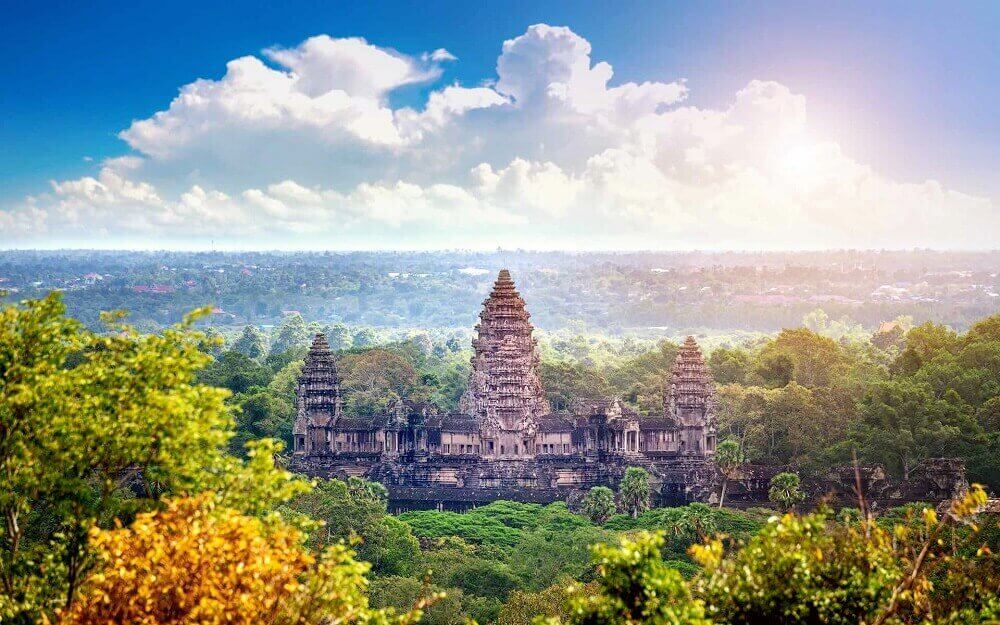 Cambodia is best known for the mysterious ancient city of Angkor, home to the monumental temple site of Angkor Wat, but add to the mix some idyllic beaches and islands in the south, bustling cities and tranquil floating villages of Tonle Sap, Cambodia has all the ingredients for an exotic and exciting luxury honeymoon in Asia.
Where to go in Cambodia
Phnom Penh – Capital city Phnom Penh is great for exploring, sightseeing and learning about the history and culture of Cambodia. The Royal Palace and Silver Pagoda are highlights, whereas the Tuol Sleng Prison Museum and Choeung Ek Killing Fields make for a sombre, but important piece of Cambodia's history to visit.
Siem Reap & Angkor – Siem Reap is a lively city and the gateway to the famed attraction of Angkor. Angkor is unmissable and takes at least a day to explore (we'd recommend two or more), with stops at temple sites such as Angkor Wat, Bayon and Banteay Srei. Nearby Tonle Sap Lake also makes for a tranquil visit and the floating villages are fascinating to navigate.
Ko Trong - Take a cruise down the Mekong River, which winds though many Southeast Asian countries, stopping at Ko Trong for an idyllic island retreat and a chance to glimpse the endangered Irrawaddy fresh water dolphins.
Kampot - Down in the south of Cambodia, you can experience riverside and beachfront relaxation, the perfect ingredients for a luxury honeymoon. In laidback Kampot, you can take a sunset river trip, discover the region's picturesque farmlands and grate some famous Kampot pepper on your delicious dinner.
Kep - Spend a few days in the quiet fishing town of Kep, known for its wonderful seafood, especially fresh crab. This relaxed town offers a peaceful respite away from the crowds found elsewhere on the Cambodian coast. Kep is Cambodia's best kept secret and an ideal location for a romantic getaway in Asia.
Rabbit Island - From Kep, you can take day trips to nearby islands, including Koh Thonsay, also known as Rabbit Island, where you can spend a relaxing afternoon on the remote and virtually empty beaches.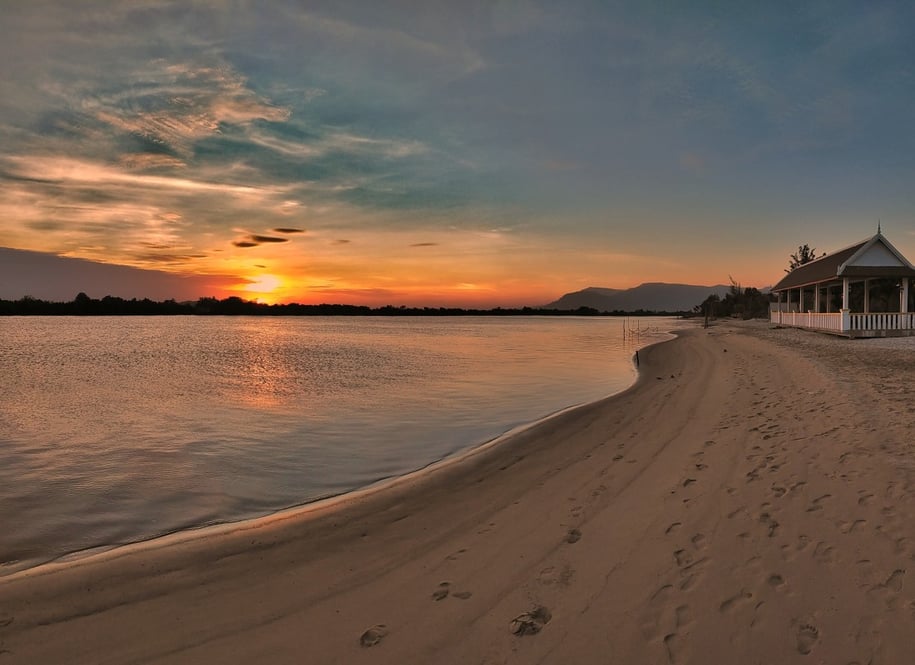 Where to stay in Cambodia
Luxury resorts and boutique hotels abound in Cambodia. The secluded hideaway of Villa Langka is set in a refurbished colonial house overlooking the serene Wat Langka temple, featuring a gorgeous outdoor swimming pool for those humid Southeast Asian days. The property offers such a peaceful ambiance, you won't believe you're in central Phnom Penh.
Elsewhere, you'll find an intimate and rustic eco-retreat at the Lonely Beach Resort on the unspoilt north shore of Koh Rong Island. For the utmost in honeymoon luxury and with an eco-friendly conscience, Song Saa Private Island is a paradise based on luxury values, exclusivity and conservation.
Cambodia honeymoon trip ideas
Take a look at our suggested Cambodia itineraries for more Asia honeymoon ideas, such as our Cambodia Explorer highlights tour (10 days) or Complete Cambodia Holiday (15 days) for a combination of main attractions and hidden gems.
Alternatively, you can combine Cambodia with neighbouring country to build your own tailor made Asia honeymoon. A popular combination is Cambodia and Vietnam, or a longer Indochina tour.
2. India Honeymoons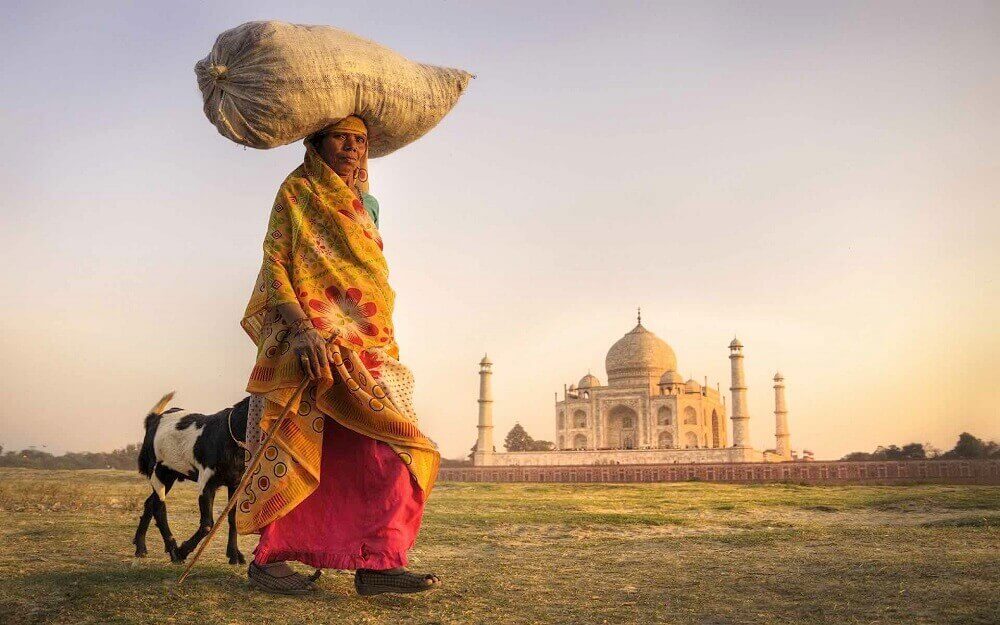 Packed with vibrant cities, a rich culture and the alluring smells of spices in the air, India makes for a colourful and unique honeymoon destination in Asia. Adventurous couples will love India's fascinating history, tongue-tickling cuisine and a chance to explore some of the most romantic locations in the world, including the ivory-coloured Taj Mahal.
Where to go in India
New Delhi & Mumbai – Hectic New Delhi is a throw into the deep end of India's chaotic city life, with a mix of bazaars, temples and significant historical sights. Mumbai is another of India's beating hearts, home to excellent museums and the famous open-air laundromat of Dhobi Ghat.
Varanasi – No trip to India is complete without a pilgrimage to the Ganges and a stop in the holy city of Varanasi is the best place to go to understand the cultural importance of the sacred river. Guaranteed to be one of the most memorable stops on your India honeymoon, here you can witness the nightly ritual offerings and ceremonies of Ganges Aarti.
Agra – Catching a sunrise at the Taj Mahal, India's most famous building and an instantly recognisable landmark, is an incredibly moving experience. A monument to love and loss, the construction was built by Emperior Shah Jahan as a tomb for his wife.
Rajasthan – The colourful cities of Rajasthan are sure to stimulate the senses, from the lively markets of sapphire-hued Jodhpur to the pink alleys of Jaipur. Don't miss Jaipur's palace, the Royal Gaitor Tumbas, or the Jaigarh Fort. Then, head to the fairy-tale palaces and medieval legends of Udaipur, the stunning city of lakes.
National Parks – When you think of India, images of crowded cities and ethereal sacred sites may come to mind. However, the country is also home to an abundance of animal life, particularly in the many national parks. Catch a glimpse of a wild tiger at Panna National Park or Bandhavgarh National Park, then visit Kanha National Park, which inspired Rudyard Kipling's The Jungle Book.
Kerala – Kerala is a tropical a paradise located in the south of India, populated with old colonial towns, rolling tea plantations, beautiful backwaters and palm-fringed beaches. Marvel at the architectural melting pot of Cochin, the mountain streams of Munnar and the ancient pilgrimage city of Madurai, before reclining on the shores of Marari Beach.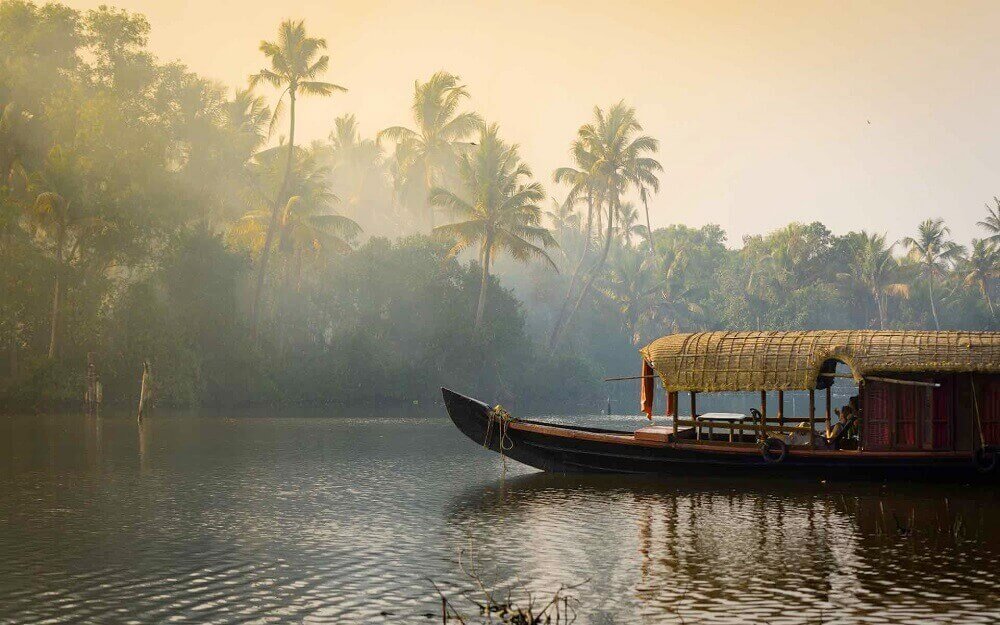 Where to stay in India
Luxury accommodation takes on a new meaning in India, where boutique hotels are replaced with converted palaces, safari lodges become treetop hideaways and riverside resorts become floating boathouse tranquillity.
Enjoy unobstructed views of the Taj Mahal in Agra's The Oberoi Amarvillas, a stunning complex of pavilions, reflection pools and terraced lawns. Stay in the branches of Banhavgarh Tiger Reserve at Tree House Hideaway, offering luxury jungle accommodation and a chance to encounter Bengal tigers (sightings on the Pugdundee Safaris are almost guaranteed!).
Stay on the Lotus Houseboat to explore Kerala's intertwining network of lagoons, rivers and lakes. Or, stay in a literal palace at Chanoud Garh: a 200,000-square-foot estate in a restored 300-year-old palace.
India honeymoon trip ideas
With so much to see and do (and most importantly, eat) in India, it can be hard to choose a route for an Indian honeymoon tour. Browse our suggested India holiday itineraries by activity, region or for some India honeymoon ideas. Take a highlights tour via the Golden Triangle (9 days), tickle your taste buds on a Taste of India Culinary Tour (14 days), or opt for an intimate and idyllic getaway with Kerala: A Tropical Paradise (15 days).
Stick to one region with tours such as Rural Rajasthan (17 days) and Introduction to North India (18 days), or head off the beaten path with Wild India: The Land of the Tiger (15 days). On the other hand, you can use these suggestions to design your own bespoke India honeymoon tour; let us know and Wayfairer Travel can arrange this for you.
4. Laos Honeymoons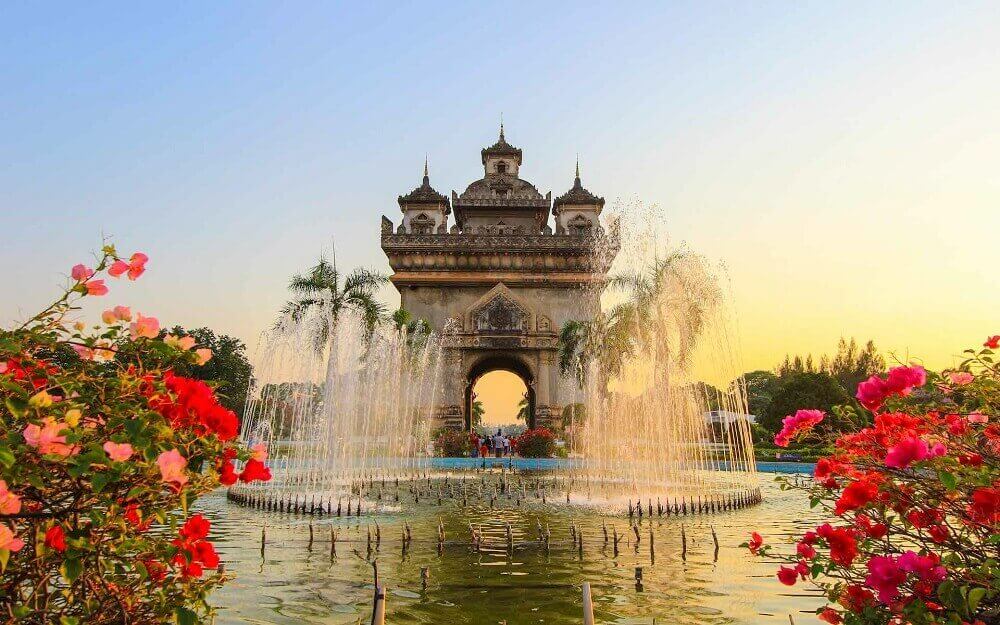 When it comes to honeymoon destinations in Asia, little Laos often lies under the radar, meaning that a holiday here is one of the top honeymoon destinations in Asia for couples looking to get away from the crowds.
Landlocked Laos is a quiet and peaceful Southeast Asia country of saffron-robed monks, French-influenced architecture and cuisine, as well as breath-taking natural beauty in the form of dense jungle, epic mountains, winding rivers, enchanting lagoons and cascading waterfalls.
Where to go in Laos
Luang Prabang – This may be one of the country's biggest "cities" but Luang Prabang is more like a small town, filled with Buddhist temples, old-world IndoChinese villas and riverside relaxation. Don't miss the fairy-tale turquoise pools of Kuang Si Falls and the revered Buddhist site of the Pak Ou Caves, located just outside of town.
Vientiane – Laos' capital is a mix of traditional and modern, from European-style bakeries to typical Southeast Asian street food and market stalls. Climb the city's famous Patuxai monument at sunset for spectacular views (the building is modelled after the Arc de Triomphe).
Phonsavan – A trip to Laos is perfect for couples who want to get off the beaten track on their honeymoon, which is exactly what you'll do in the remote pine forests of Phonsavan. The land here is home to Red Hmong villages of colourful wooden houses and cattle herders. The nearby Plain of Jars, a mysterious plateau thought to be 2,000 years old, is worth a visit to let your imagination run wild.
Si Phan Don – The "Four Thousand Islands" are located deep in the south of Laos in the wide expanses of the Mekong, where the pace of life seems to wind down completely. Don Khong is the largest and sleepiest of the islands and activities here include kayaking, waterfall-chasing, dolphin-spotting and simply reclining in a hammock.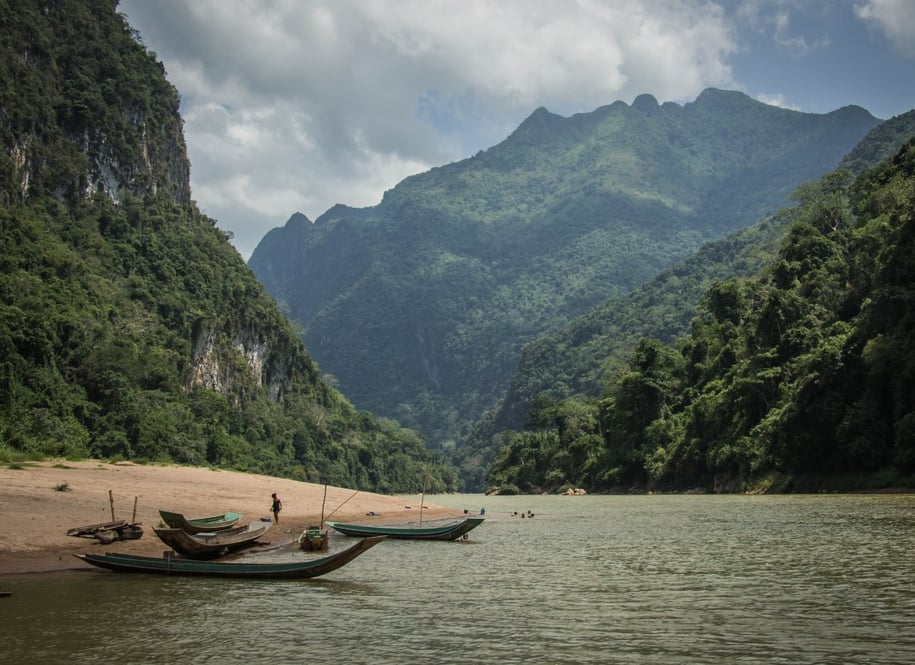 Where to stay in Laos
Though Laos has no coastline, you wouldn't know it from the luxurious riverside resorts which can be found along Laos' main waterways. On the Mekong, you can find the five-star, eco-friendly River Resort, complete with an infinity pool overlooking the river and opulent spa facilities.
On the banks of the Nam Song in Vang Vieng, Villa Nam Song offers spectacular views of limestone karsts and riverside tranquillity. Up in northern Laos, Muang La Lodge is an isolated retreat at a crossroads between Myanmar, China, Thailand and Vietnam; tucked away in verdant hills next to a sparkling river.
Laos honeymoon trip ideas
Laos has to be the least visited Asian countries for a honeymoon, which makes it ideal for couples looking to explore a lesser-known region of Asia and do something different. Even the "big cities" of Vientiane and Luang Prabang feel like small towns in comparison to Laos' louder and more famous Southeast Asian neighbours.
For Laos honeymoon itinerary ideas, browse our suggested trips, including An Introduction to Laos (7 days), Essence of Laos Holiday (9 days) or Laos on the Loose Tour (14 days). Laos is also a popular honeymoon destination to include as part of a larger Southeast Asian trip and is often combined with neighbouring Thailand, Vietnam, Cambodia and Myanmar.
5. Maldives Honeymoons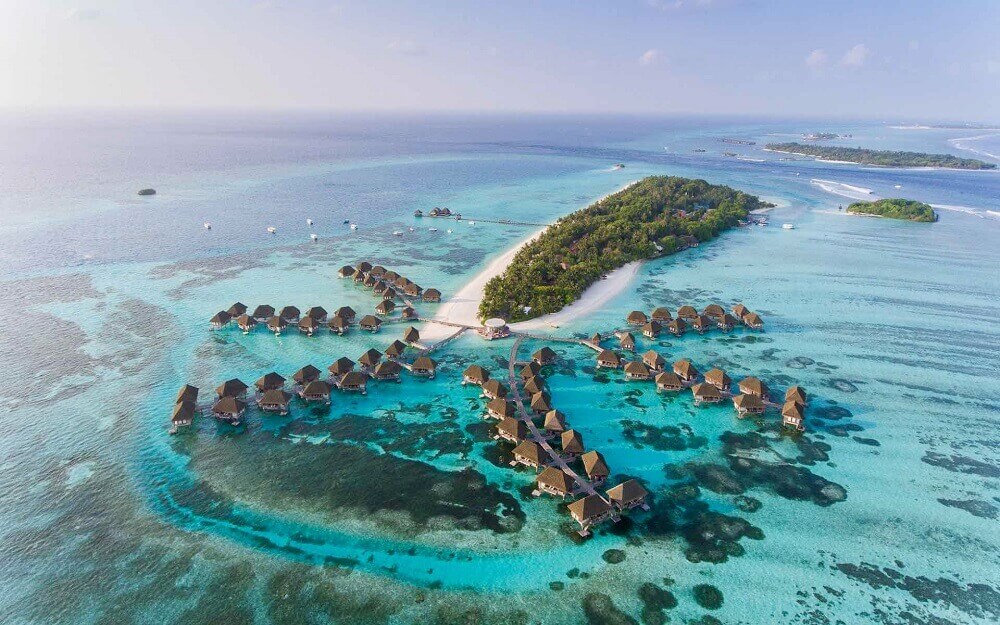 When you think of Asia honeymoons, it's hard not to picture the powder white sands, lapping turquoise waters and overwater villas of the Maldives.
This tiny tropical nation is comprised of almost 1,200 islands, only around 200 of which are inhabited, spread across 26 ring-shaped coral atolls in the brilliant blues and greens of the Indian Ocean.
Stay at a private island resort to enjoy lazy days reading in overwater hammocks and ocean-set daybeds, then plunge into the clear waves for world-class snorkelling and diving, to encounter the Maldives' diverse marine life.
Back on land, you can enjoy romantic candlelit dinners under the stars, champagne from your private wine cellar, opulent in-room spa treatments, personal butler service and of course, spectacular sunsets.
Romantic Maldives resorts
Laamu Atoll - Located on its own private island as the only resort in the glittering Laamu Atoll, Six Senses Laamu offers divine barefoot luxury, thatched roof villas, palm-fringed shores, dazzling coral reefs, vibrant marine life and the best surfing spots in the Maldives.
Noonu Atoll - The lavish private island resort of Movenpick Resort Kuredhivaru opened in November 2018 and provides honeymooners with pristine beaches, brilliant sunsets, world-class diving and overwater villas with glass bottom floors. Be sure not to miss their decadent daily "chocolate hour" when sweet treats are served in the lounge.
South Ari Atoll - The peaceful island paradise of LUX* South Ari Atoll allows you and your partner to get off-the-grid and relax in each others' company in stunning natural surroundings. Each romantic stilted villa includes a suspended daybed over the luminous water and a private pool, perfect for a midnight dip under the stars.
Mudhdhoo Island - Set on a private island in a UNESCO-protected atoll, Dusit Thani Maldives' thatched-roof villas are set over the beach and on the beachfront. If you're travelling between July and November, you may also be able to swim with the graceful manta rays and whale sharks which call nearby Hanifaru Bay home.
Maldives honeymoon trip ideas
Your Maldives honeymoon can include time away on a private island resort, such as those listed above, a combination of two or more islands for the different activities you're looking to enjoy, or as the relaxing finale of a cultural tour of nearby India and Sri Lanka. The choice is yours.
6. Myanmar Honeymoons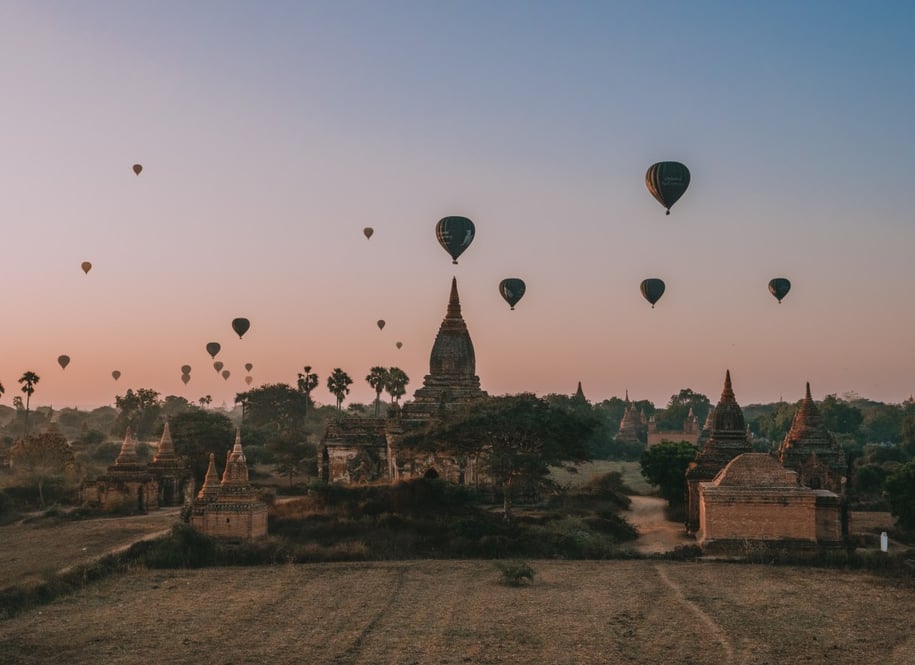 Watch the sunrise over the temples of Bagan
From the ancient temples of Bagan to the serene waters of Inle Lake, to the white sands and palm trees of Ngapali in the Bay of Bengal, a Myanmar honeymoon is guaranteed to be the trip of the lifetime.
We recommend a river cruise on board the luxurious "Belmond Road to Mandalay." During this wonderful week-long cruise, you'll visit the temples of Bagan, the picturesque Sagaing hills and the monasteries, pagodas and shrines of Mount Popa. You may even have a chance to receive a special blessing from a Buddhist monk, which is traditionally bestowed upon honeymooners to wish them good luck and eternal happiness.
Where to go in Myanmar
Yangon – Myanmar's largest city, a commercial and artistic hub, Yangon is the point of entry for most visitors to the country. Formerly known as Rangoon, the city has changed a lot in the past 10 years or so and yet, has hardly changed at all. The golden spires of the Shwedagon Paya are still gleaming, while the city centre bustles with markets, street vendors and the infamous traffic.
Bagan – The ancient temple city of Bagan is one of Myanmar's most beautiful attractions and was once the capital of a powerful ancient kingdom. Navigate the complex of 400 temples by scooter and hot air balloon rides, with epic sunsets and sunrises which illuminate the landscape in ethereal tones of gold.
Inle Lake – The vast, serene waters of Inle Lake stretch 13.5 miles long and seven miles wide. Floating gardens, stilt-house villages and Buddhist temples are found along the shore, whilst the Intha fisher folk can be seen leg-rowing across the lake.
Ngapali – Glittering white sand and clear waters make Ngapali Myanmar's best beach getaway, though it retains a laidback fishing village atmosphere, along with the colourful fishing boats that can be found along the shore. The seafood here is delicious and as fresh as you can get.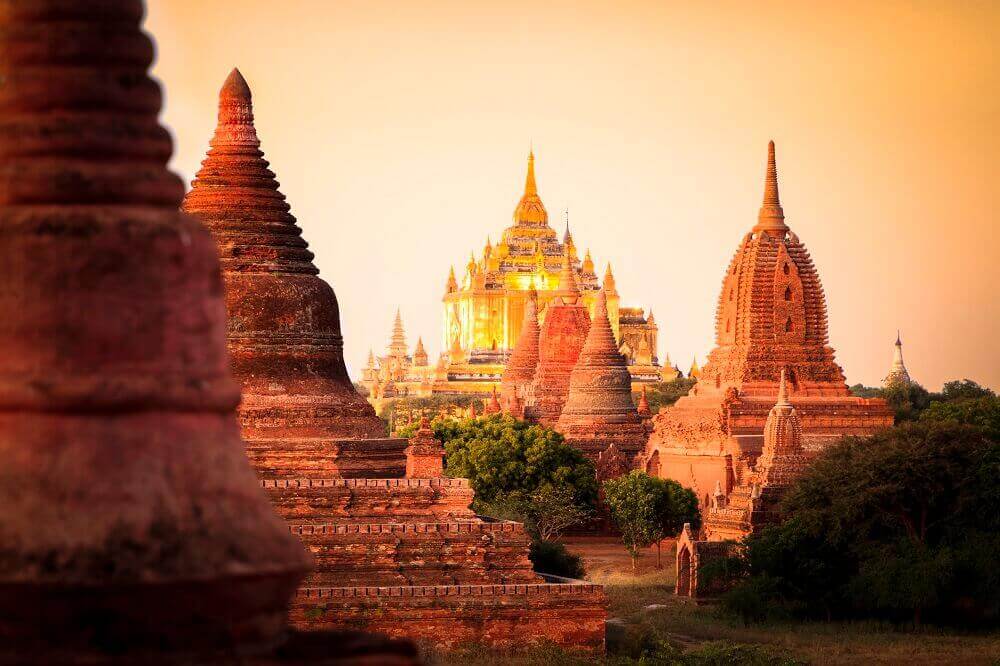 Where to stay in Myanmar
Myanmar's tourism industry may be young, but that doesn't mean that luxury, elegance and character can't be found in the country's accommodation options. Here are just a few of our favourites places for honeymooners to stay in Myanmar:
Yangon's Savoy Hotel is full of colonial charm, with rooms of Burmese antiques and teak furniture, while the Kipling bar and terrace is the perfect place for a spot of reading over afternoon tea. On Inle Lake, Inle Princess Resort is comprised of gorgeous bungalows right on the lakeside, offering incredible sunset views.
Meanwhile, the luxury villas and suites at Bagan Lodge include spa facilities and an outdoor swimming pool with a jacuzzi. On Ngapali beach, Pleasant View Resort Hotel is an oceanfront sanctuary just five minutes' walk away from a local fishing village.
Myanmar honeymoon trip ideas
Myanmar's busy cities, ancient wonders and waterside attractions are best explored in trips between 10 days and two weeks. Our suggested itineraries include the Ayarwaddy River Cruise (11 days), Classical Myanmar Holiday (12 days), Golden Myanmar (12 days) and Simply Myanmar tour (9 days).
Myanmar is also one of the top honeymoon destinations in Asia to combine with other neighbouring Southeast Asian countries as part of a longer trip, such as Thailand, Cambodia, Laos and Vietnam.
Note: Wayfairer Travel are committed to responsible travel and therefore we would like to address concerns over whether visiting Myanmar is something we support or believe is ethical, especially in light of the persecution of Rohingya.
We are keeping up-to-date with news and reports on these issues, following the example led by Responsible Travel, that a tourism boycott of Myanmar would not have the desired impact of affecting corrupt leadership but will directly affect many Burmese people in the tourism industry. If you have any concerns, please contact us with your questions.
7. Sri Lanka Honeymoons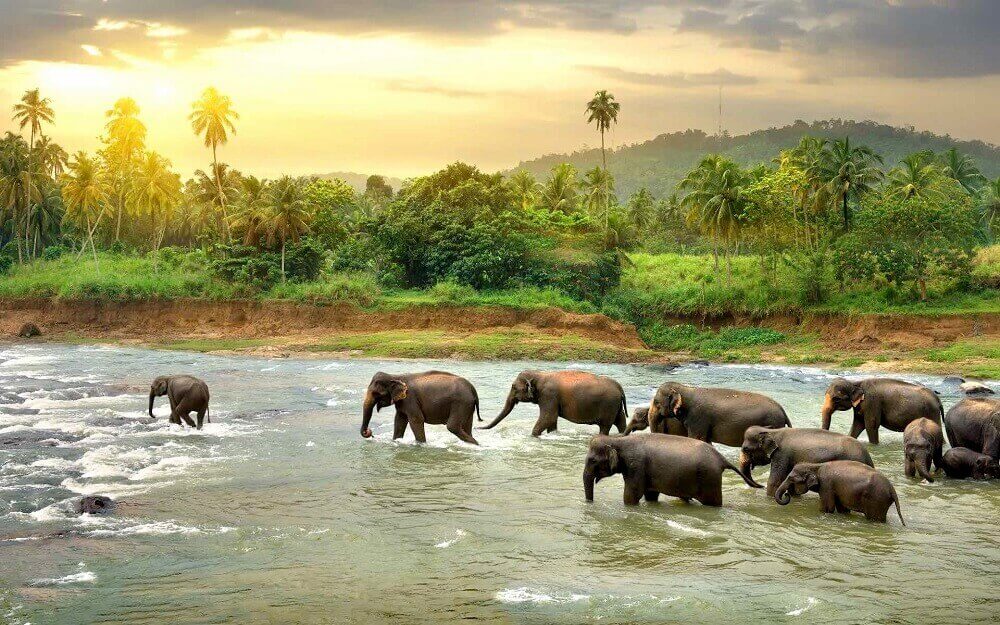 Sri Lanka's rich culture, historic attractions, lively rainforests, abundant wildlife, rolling tea plantations and tropical beaches are just a few of the reasons why this country has become a popular honeymoon destination in Asia.
Observe wild elephants and leopards at one of Sri Lanka's national parks, learn about the ancient and colonial histories of this fascinating island, climb the 700 steps up to the top of iconic Sigiriya (Lion Rock), then catch some waves on one of Sri Lanka's gorgeous beaches. A Sri Lanka honeymoon really does have it all.
Where to go in Sri Lanka
Cultural Triangle – The three ancient capitals of Anuradhapura, Polonnaruwa and Kandy are connected by a treasure trove trail of UNESCO World Heritage sites; with a history spanning thousands of years, some of the most spiritual and sacred Buddhist sites in the world, as well as endless mysteries of ancient civilisations.
Gal Oya & Yala National Park – A Sri Lanka safari is perfect for honeymooners looking for adventure. Gal Oya National Park is one of the best places to see wild elephants and herds of these gentle giants can be seen year-round. Yala National Park is also brimming with life, with one of the main draws being the elusive leopard; they are found in Yala in one of the highest concentrations in the world.
Galle – The fort city of Galle is a UNESCO World Heritage site and a former colonial trading post, filled with architectural beauty, heritage houses and stylish boutiques.
Tea Country – Sri Lanka's awe-inducing tea country is a region famed for rolling hills, emerald tea fields and misty mountain views. The first tea plantations were established here in the 1860s and a visit is also an education into where your breakfast cuppa comes from.
Tangalle – After all that adventure, the best way to relax on your luxury honeymoon is by dipping your toes into the waves of one of Sri Lanka's paradise beaches. One of our favourites is Tangalle, located right on the southern tip of the island; a romantic getaway of sandy bays, quiet coves and lapping waters.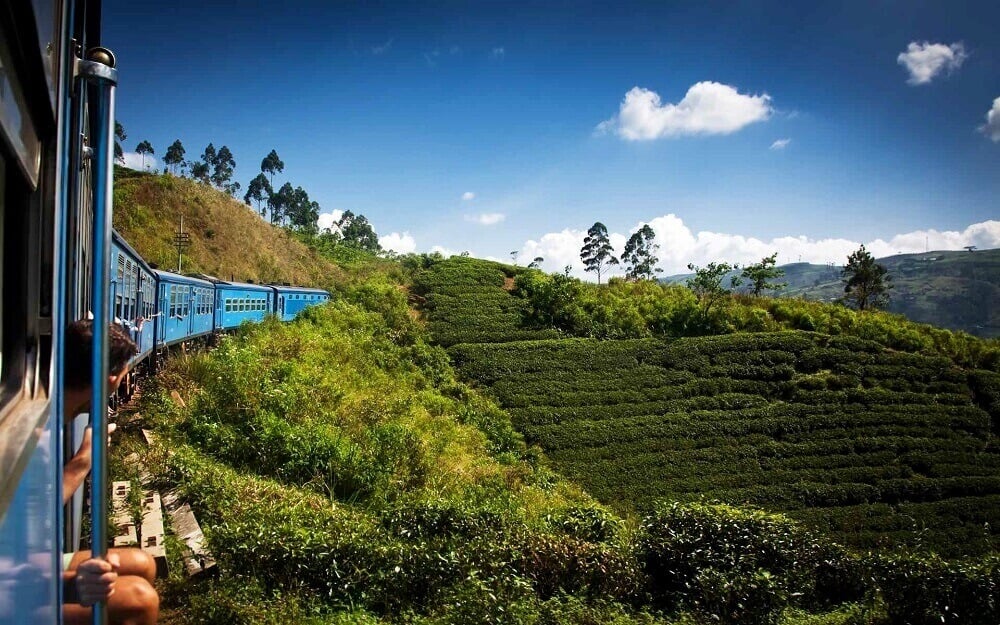 Where to stay in Sri Lanka
From chic hotels to luxury resorts, beachfront escapes to safari lodges – Sri Lanka's accommodation options are diverse, plentiful and always a treat.
Some of our favourite picks for honeymooners include Fort Bazaar in Galle, which is located inside a 17th century heritage building in Galle Fort; Water Garden Sigiriya Hotel, just seven kilometres away from Sigiriya Rock in the ancient water gardens of the monument; as well as Gal Oya Lodge, a luxury wildlife lodge on the edge of the national park, surrounded by lush, evergreen forest.
Sri Lanka honeymoon trip ideas
With such a diverse range of activities and special interests to explore in the country, the romantic honeymoon destination of Sri Lanka is ideal for couples who wish to customise their itinerary to their personal preferences.
For suggested itineraries, look at our Sri Lanka luxury tour options: Classic Sri Lanka Adventure (10 days), A Luxury Tour in Sri Lanka (13 days), Undiscovered Sri Lanka (16 days), Highlights of Sri Lanka (7 days) and Sri Lanka Wildlife Holiday (15 days).
As "India's Teardrop", Sri Lanka can also be combined with India as part of a larger multi-country trip, creating the ultimate honeymoon in Asia.
8. Thailand Honeymoons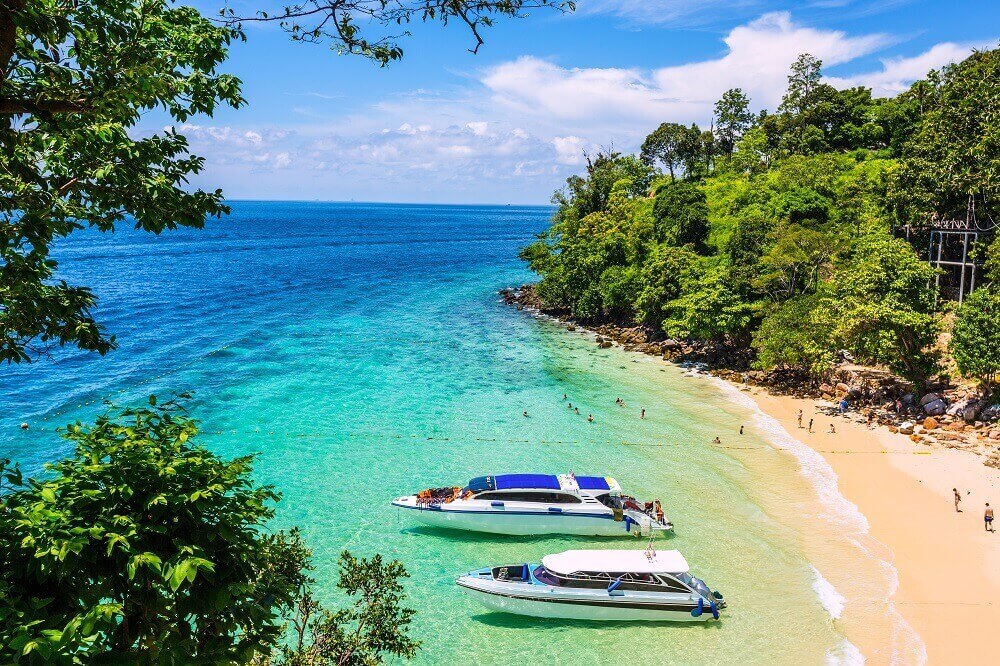 When you think of honeymoon destinations in Asia, you might conjure images of island-hopping through jewel-toned waters and digging your heels into the powdery sands of Thailand's paradise beaches.
One of the top honeymoon destinations in Asia, a romantic getaway to Thailand can be a luxurious beach escape, but that's not all the country has to offer. Explore the cultural wonders and vibrant life of Thailand's cities, trek through dense rainforest for wildlife watching opportunities and learn about traditions of the country's remaining hill tribes.
Where to go in Thailand
Bangkok - The noisy metropolis of Thailand's capital is filled with bustling markets and tasty street food on the one hand, then world-class restaurants and chic rooftops bars with epic skyline views on the other.
Chiang Mai – Thailand's cultural capital, Chiang Mai may be Thailand's second biggest city, but it feels much more like a small town. Inside the fortified walls ringed by moat waters, explore the old town before heading out to the mountains for trekking, hill tribe encounters and a visit to an ethical elephant sanctuary.
Chiang Rai – A great base for excursions into remote areas of northern Thailand, Chiang Rai also has its own attractions. The most famous draws are the very Instagrammable Wat Rong Khun (white temple) designed by artist and architect Chalermchai Kositpipat, as well as its hellish counterpart Baandam, a stained black creation by artist Thawan Duchanee.
Ayutthaya – The ancient temple city of Ayutthaya was once the royal capital of Thailand until it was sacked by the Burmese in 1767. Only crumbling ruins remain, but the towering stupas are sure to transport you to another time.
Kanchanaburi – The riverside landscapes hide a dark history, as it was here that the Japanese used prisoners of war to build a rail route between Burma and Thailand, later known as "The Death Railway" and the subject of both the book and film, The Bridge Over the River Kwai. A visit makes for a fascinating delve into Southeast Asian history.
Phuket – Thailand's largest island is home to postcard-perfect tropical beaches, temple oases, delicious southern cuisine, as well as underwater adventures in the Andaman Sea. Phuket is also a jumping off point for island-hopping, diving excursions, karst kayaking trips and much more.
Islands – Thailand's plethora of island options include legendary white sands, turquoise waters, colourful coral reefs and towering grey and green limestone karsts. In the east coast, swim with whale sharks off Koh Tao and bask in sunshine at the beach resorts of Koh Samui. To the west, choose the gorgeous Phi-Phi Islands and kayak around Phang Nga Bay.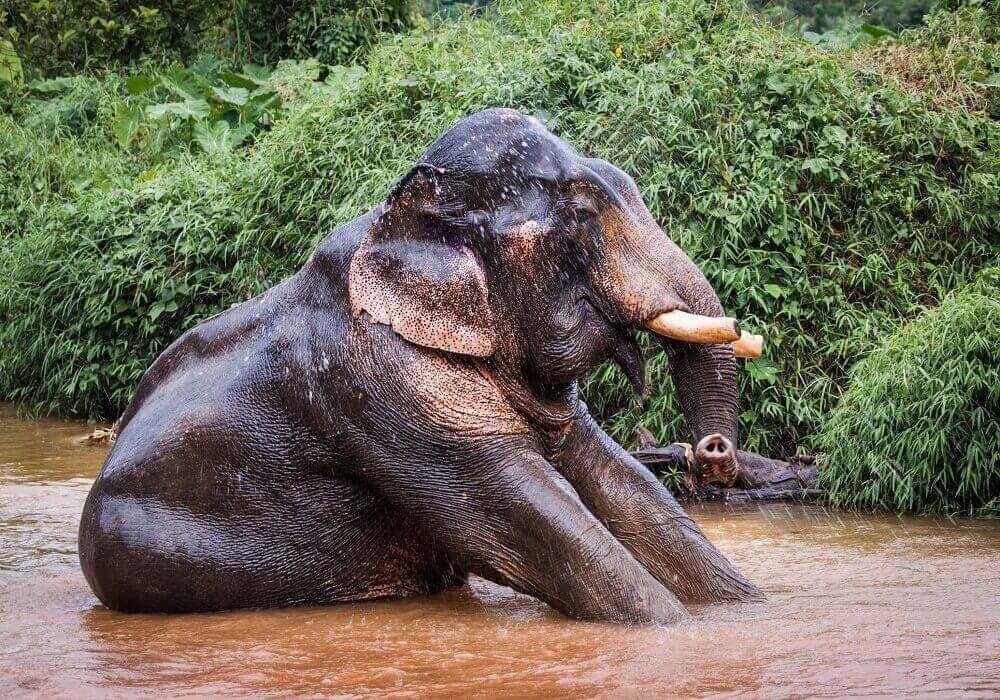 Where to stay in Thailand
For beachside indulgence, choose Zeavola Resort, with its stunning teakwood private suites on the idyllic north shore of Phi Phi Island. For a private island getaway, Six Senses Yao Noi is located on a remote island in Phang Nga Bay, with tree-house villas and magnificent views of the limestone karsts.
For city centre luxury, head into Chiang Mai's old quarter and The Rim Resort, which boasts a gorgeous outdoor pool, pampering at the resort's spa, plus creative cocktails served at The Canal Restaurant.
Thailand honeymoon trip ideas
A Thailand honeymoon can be adapted to a range of holiday types, from beach holidays, to culture trips to rainforest adventures.
For inspiration, peruse our suggested Thailand itineraries, including Thailand Highlights Holiday (12 days), Elephants & Islands (13 days), Thailand Heritage & Hill Tribes (13 days), Thailand Culture & Koh Samui Holiday (14 days), Northern Thailand Adventure with Beach (19 days), Thailand Explorer (19 days).
Thailand can also be combined with other Asian countries for a honeymoon, including Vietnam, Cambodia, Myanmar and Laos.
9. Vietnam Honeymoons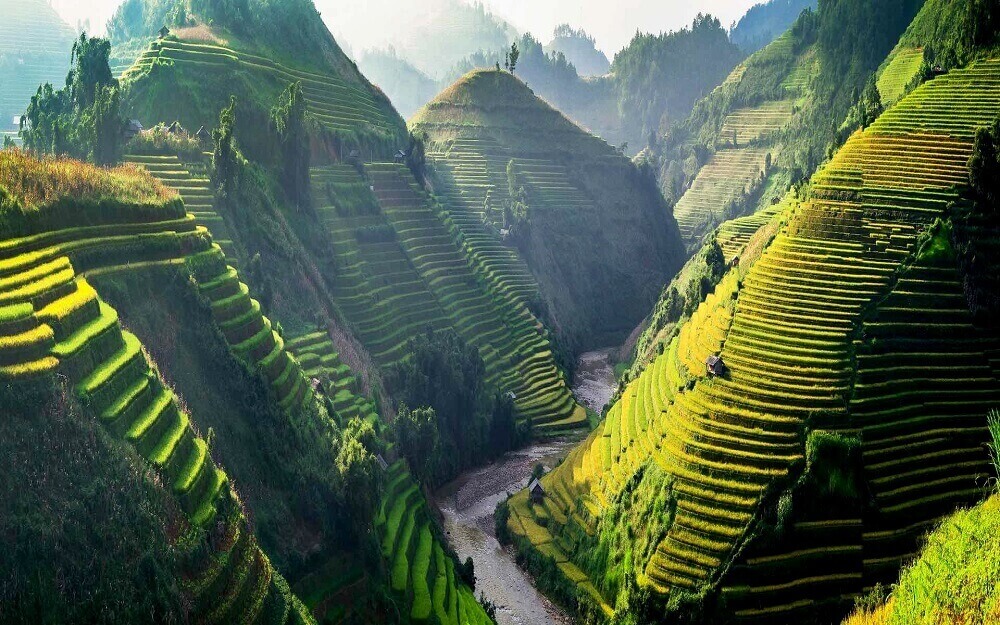 Dramatic mountain scenery, kaleidoscopic cities, tranquil karst-strewn vistas and deliciously fragrant cuisine, Vietnam is often synonymous with the Vietnam War, but the country's complex and difficult history has cleared to make way for a fascinating honeymoon destination of discovery.
Where to go in Vietnam
Hanoi – The capital's streets of surging scooters and blaring horns bring this Southeast Asian city to life, while architecture nods to colonial eras of both French and Chinese occupations. Dine on perfectly seasoned pho at a street food stall, delve into the city's past at the museums and take an overnight trip to the famous karst landscapes of Ha Long Bay.
Ho Chi Minh City (Saigon) – HCMC may not be modern Vietnam's capital, but the dizzying heights of skyscrapers and the throbbing energy of the city may convince you otherwise. Educate yourself on the country's tragic history at heart-breaking war museums, marvel at cathedrals and colonial buildings which wouldn't look out of place in Europe, then eat and shop until you're fit to burst.
North to South – Vietnam is a long, thin country that can easily be traversed from north to south via land or air. Points of interest en route from the northern highlands to the south's Mekong Delta include the rice paddy vistas of Sapa, the imperial citadel of Hue, the up-and-coming beach destination of Danang, historic riverside Hoi An and nightlife capital Nha Trang.
Phu Quoc – Your journey down the length of Vietnam can be rewarded with a finale on Phu Quoc Island, with reefs to dive, bays to kayak and beaches to laze on. Fill your days with oceanside relaxation, a revitalising massage and a dinner of fresh seafood.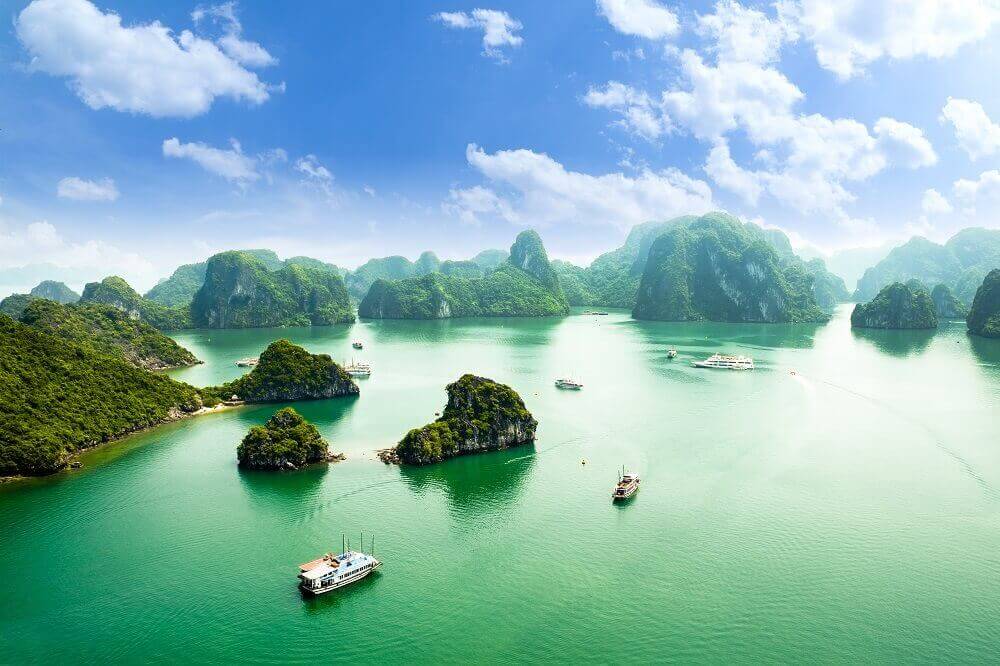 Where to stay in Vietnam
Vietnam was made for honeymoon indulgences, such as stays at five-star resorts and hotels. Our favourites include Six Senses Ninh Van Bay, which offers seclusion and exclusivity, as its only accessible by boat. The five-star property is embedded into natural rock formations, which reach out to the East Vietnam Sea.
Award-winning Hotel des Arts Saigon is a five-star luxury hotel that could easily be mistaken for an art museum, with lavish furniture, ornate Indochinese décor and expert massage therapists at the in-house spa, Le Spa des Artistes.
In the heart of Hanoi's city centre, Hotel de l'Opera Hanoi is an elegant example of French colonial architecture, with restaurants and bars offering authentic Vietnamese cuisine combined with Parisian sophistication.
Vietnam honeymoon trip ideas
Traverse the epic landscapes of the north, relax in the riverside and beachfront destinations of the south, navigate Vietnam's busy cities, or create an itinerary that combines all these experiences in one ultimate Vietnam honeymoon holiday.
For trip ideas, look at our Amazing Vietnam Tour (14 days), Northwestern Vietnam Tour (11 days), South Vietnam Explorer (8 days) and Wonders of Vietnam Holiday (11 days).
As above, Vietnam can also be included in longer Southeast Asian honeymoon itinerary, such as the multi-country Asia honeymoon ideas detailed below.
10. Multi-Country Asia Honeymoons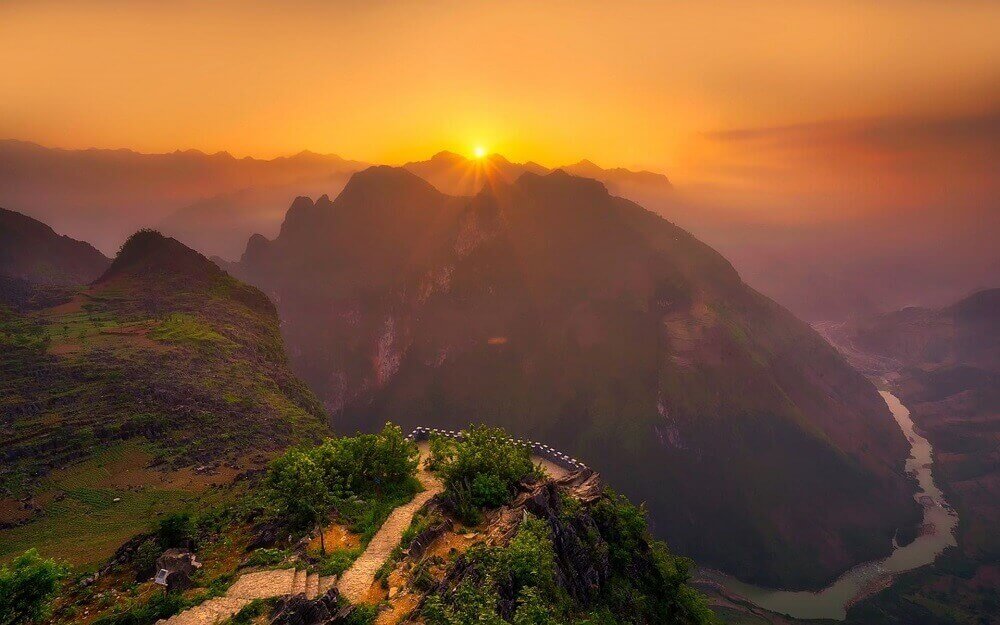 Take a cruise down the Mekong or country-hop between Southeast Asian countries; combine the cultural attractions of India with those in Sri Lanka; or you can go the whole hog and flashpack from Tokyo to Phuket, taking in the sights of the continent as part of an ultimate "gap year" Asia honeymoon. Or try the new honeymoon travel trend of many-moons, which are several post-wedding trips taken over the course of your first year of marriage.
Here are just a few multi-country Asia honeymoon ideas:
Cambodia & Vietnam Holiday (13 days) – Catch a sunrise at Angkor Wat, take a cruise around Ha Long Bay and soak up the old town atmosphere of Hoi An. These are just some of the highlights of a combined Cambodia and Vietnam honeymoon.
Grand Indochina Explorer (21 days) – Three weeks touring through Thailand, Laos, Cambodia and Vietnam, tasting local cuisine and collecting amazing memories along the way.
Following the Mekong (16 days) – Tour Southeast Asia using the region's main artery, the Mekong River, including stops in Bangkok, Luang Prabang and Phnom Penh, ending on the beaches of Kep.
Mekong & Temples Tour (14 days) – Meander the river on a religious pilgrimage, stopping admire ancient temple ruins and modern Buddhist monuments, including the white temple of Chiang Rai and the Buddhist-Hindu artworks of Buddha Park in Vientiane.
More Asia honeymoon ideas
Do you have an idea for a combination of Asian countries for a honeymoon, not covered by our suggested itineraries so far? We love getting creative, so let us know your Asia honeymoon ideas and we'd be happy to plan and arrange your dream honeymoon for you.
11. Tailor-Made Asia Honeymoon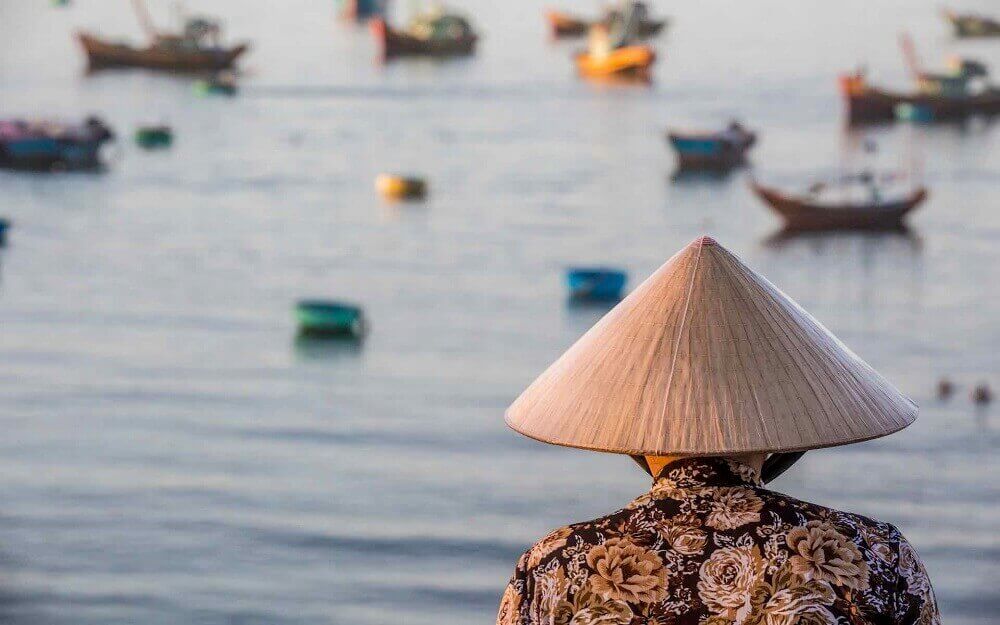 All the Asia honeymoon ideas on our website are tailor made to your needs and personalised to your requests and interests. At the initial enquiry stage, our Luxury Travel Specialists will ask you what you'd like to see and do, then together we'll create the best honeymoon in Asia for your and your partner.
Wayfairer appreciates that every couple is different, so we'll ensure that we select accommodation that is right for you, whether that's a rustic guesthouse off-the-beaten track, or a luxurious five-star hotel or resort.
We understand that your romantic getaway to Asia needs to be absolutely perfect, so we'll tweak the itinerary or change the accommodation until you're 100% happy with everything. We want to ensure that your luxury honeymoon in Asia will be the most memorable and romantic holiday you will ever take and nothing is too much trouble for us.
We understand that booking trips, especially adventurous and alternative ones such as this can be intimidating, so get in touch; we can take the stress out of your holiday planning and organise a trip you won't forget!
Get in touch
Sign up to our newsletter
For more travel inspiration delivered straight to your inbox just fill in your details here
More inspiration from Wayfairer customers and travel specialist
Sign up to our newsletter
For more travel inspiration delivered straight to your inbox just fill in your details here