What to Expect on a Typical Day on Safari in Kenya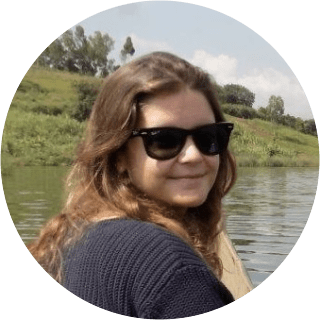 By Leonie Taylor
April, 14, 2023

4 Min read
What is a typical day on safari in Kenya and what should you expect?
Imagine roaming the great plains in search of Africa's Big Five and the much-loved faces of The Lion King, or gliding through the air at dawn in a hot air balloon as you watch wild animals waking up.
Picture yourself hiking through the bush on foot and tracking big game up close, or creeping across the savannah at night in the hopes of catching the gleaming eyes of a leopard.
On safari in Kenya, every day is extraordinary. It's one of the world's most magical experiences, and one that is at the top of many people's bucket lists. However, when it comes to booking a safari holiday, the details can become quite daunting.
Not only are there are a massive array of options, but many people simply don't know what to expect when they embark on a safari holiday.
Our Africa Specialist, Thea, is here to share everything you can expect on a typical day on safari in Kenya, and answers some of our most frequently asked questions about safaris.
What to expect on a typical day on safari in Kenya?
What happens on a game drive on safari?
Besides game drives, what else is there to do on safari?
Thea's Top Tips for your safari holiday in Kenya
What to expect on a typical day on safari in Kenya?
No matter where you are in Kenya, the most common experience is to have two game activities per day, which are most frequently game drives.
Based on my recent trip to the Masai Mara, here is a standard timetable for a safari day. You'll find this is a typical schedule for most safari experiences in Kenya.
6:00am: Wake Up Call
Start the day with the smell of fresh coffee or tea served in your tent. To get some of the best game viewing of the day, an early start is needed to beat the heat of the sun.
This is the time that the big cats are the most active and can provide some of the most dramatic photography, thanks to the beautiful lighting. Although it might be tempting to stay in bed and wait until the afternoon to explore, I promise you this is a game drive you don't want to miss!
6:30 - 7:00am: Morning Game Drive
Climb aboard your safari vehicle with your expert guide to go on the hunt for cats and other game. It can be chilly in the mornings and you'll need to rug up, but make sure you pack layers you can peel off as the temperature heats up with the brilliant sunrise.
If you have any specific interests, inform your guide at the start of your game drive. However, they'll typically plan their route based on recent local sightings, so all you need to do is sit back and relax as you embark on your safari adventure.
The drive will last around 2-3 hours, depending on your sightings, and you'll likely head back to camp with some thrilling stories to share.
9:00 – 10:00am: Breakfast
You'll arrive at your lodge or camp for a well-earned breakfast. Often served in a communal setting with your host, this is a fantastic time to share your sightings with other guests, plan your free time and enjoy plenty of food and drink, freshly prepared by your chef.
10:00am – 1:00pm: Free Time
A safari in Kenya can involve long, packed days, however you'll still have free time to rest, relax or add optional activities.
Many lodges and camps offer a range of additional programs, such as local village visits, specialist sanctuary visits or even additional game viewing experiences.
Some even have spa facilities onsite, so you can treat yourself to a soothing massage,. Personally, I often curl up with a good book on the viewing deck, and watch wildlife pass by.
1:00pm: Lunch
Refuel at lunchtime with more delicious food and drink. Meals are usually served over three courses and will certainly keep you full until the evening.
If you are a bit peckish between meals, you can always speak to your host and snacks can always be found.
1:00pm – 4:00pm: Free Time
This is the hottest part of the day, and a wonderful time to take a dip in the pool or enjoy a siesta. If you prefer to get active, your lodge or camp will have a range of exciting facilities and activities to fill your time.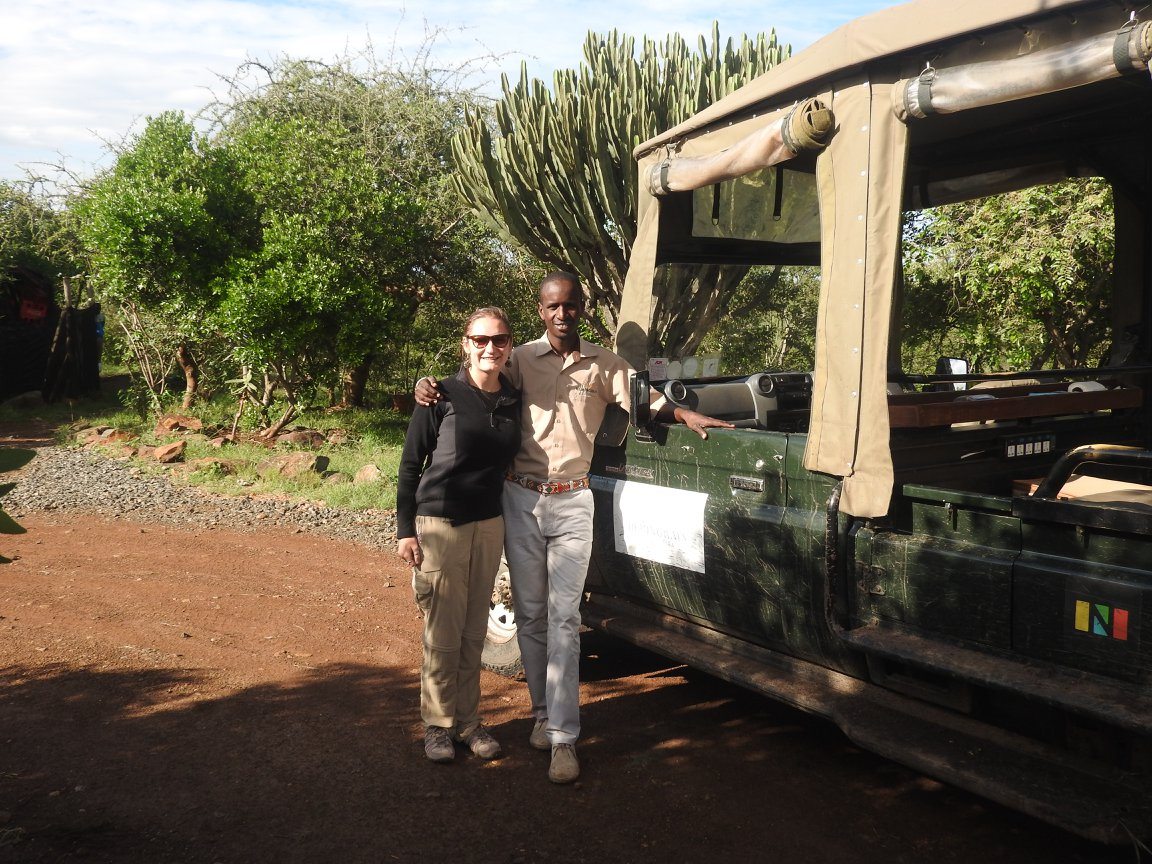 4:00pm – 7:00pm: Evening Game Drive
Venture out a game drive once again as the sun sets. The cooler evening temperature means that animals are more active and less likely to be hiding in the bushes for some shade.
As the sun makes its stunning exit, your guide will stop at a viewpoint and bring out a cool box filled with your preferred drinks for a sundowner, a toast to the sun after a spectacular day on safari. This is a traditional end to any safari day and the chosen locations have a spellbinding atmosphere - I've certainly had many unforgettable sundowner moments.
From Saruni Mara, you can watch the sun go down over Mount Kilelioni or at Hemingways Ol Seki Mara Camp, you can watch a lion pride with a gin & tonic in hand.
Note: Some locations offer thrilling night game drives, and these will leave later than 4:00pm. You can still incorporate sundowners into your game drive, or enjoy them at the camp before venturing out.
8:00pm: Dinner & Evening Drinks
Upon returning to camp enjoy a tasty three course meal before settling under the stars around the fire with a drink in hand.
It's tempting to stay up late in this beautiful location, but don't forget a 6:00am wake up comes calling the next morning, so ensure you get a restful night of sleep in preparation for tomorrow's adventure.
What happens on a game drive on safari?
The most common safari activity is a game drive, but what actually happens on a game drive?
There are small variations between locations, but the general experience is that a game drive is conducted in an open-sided 4x4 vehicle, with a maximum occupancy of eight passengers (although it is not uncommon to have less passengers or even private use of a vehicle).
Your guide (and often an additional spotter) will accompany you and talk you through the area, the animals and their culture. Don't be offended if they go silent for a while - their job is to keep an eye out for animals and this does require a large amount of concentration. You will be surprised by what they can spot at such a great distance.
There are no stops on a game drive, unless for a bush meal or sundowner, which are always conducted in a safe and pre-allocated space.
Unfortunately, there are no toilet stops on safari so please make sure you go before you leave. If there are any emergencies, always let your guide know, and they will instruct you on the best course of action.
Upon arriving at a sighting, your guide will stop a slight distance away to ensure the animal is comfortable and calm, before approaching to a closer distance. Remember to keep as quiet as possible, while you are near the animal.
You will have as much time as you want at each stop to observe and take photos, and your guide will only move on once your are ready. The only exception is in certain parks which restrict a maximum number of vehicles per sighting. If the maximum is reached, then the first vehicle to arrive must move on.
Sometimes it is permitted to go off road to reach more isolated areas of the reserves. This offers a unique and wild encounter with a larger variety of animals. It does however often mean a bumpy ride or a free 'Kenyan Massage'. Hold on tight and ensure that all loose items are safely stowed away.
All our guides are expert drivers and have often completed advanced driving lessons. You'll be in very safe hands throughout the journey, so you can sit back and enjoy this exhilarating adventure.
Besides game drives, what else is there to do on safari?
Game drives are the most common safari activity, however there are plenty of other safari activities available. From bird watching to photography lessons, there are a variety of safari experiences to suit everyone's interests.
We've listed below some of our favourite activities, and our top recommends for where to stay for each activity. Speak to your Luxury Africa Specialist for more tailored ideas, as this is certainly not an exhaustive list of safari activities and properties.
Bush walks
The second most common safari activity is the bush walk. You'll be accompanied by an expert guide and security, as you venture into the wild to track big game on foot and learn about the intimate details of the bush.
It's also the perfect opportunity to talk to your guide about their lifestyle and culture, nearby conservation programs, or even ask all those burning questions about the plants and animals of the bush.
Wayfairer's Favourite: Saruni Rhino, Samburu
Saruni Rhino is the home of the first rhino tracking experience in East Africa, one of the most advanced conservation projects in Kenya. This rare, thrilling experience takes you through the bush to meet the 11 rhinos found on this 54,000-hectare sanctuary.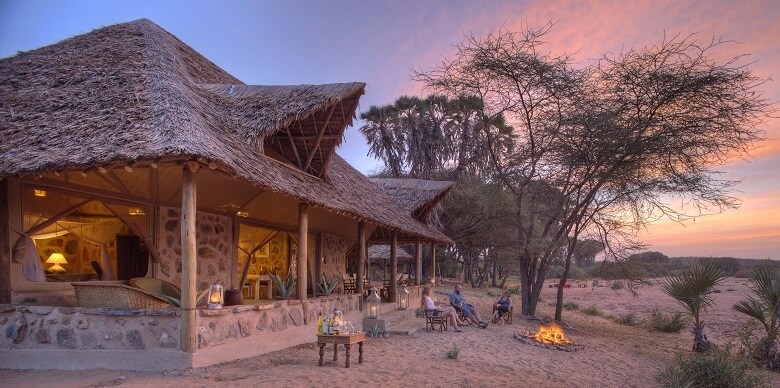 Horseback safaris
Horseback safaris are an incredible way to see the bush and are often found in Northern Kenya and in some parts Southern Kenya. Suitable for novice and professionals alike, with children often accommodated as well, this offers a unique way to travel through the plains and spot big game.
Wayfairer's Favourite: Ol Donyo, Chyulu Hills
Ol Donyo is located in the foothills of Chyulu Hills in Amboseli, and is the only lodge in the vast Mbirikani Ranch that offers exclusive access to one of the last remaining wilderness areas in Kenya. More experienced riders will be assessed and will have the opportunity for the more freeing experience of fast riding and jumping over fallen logs.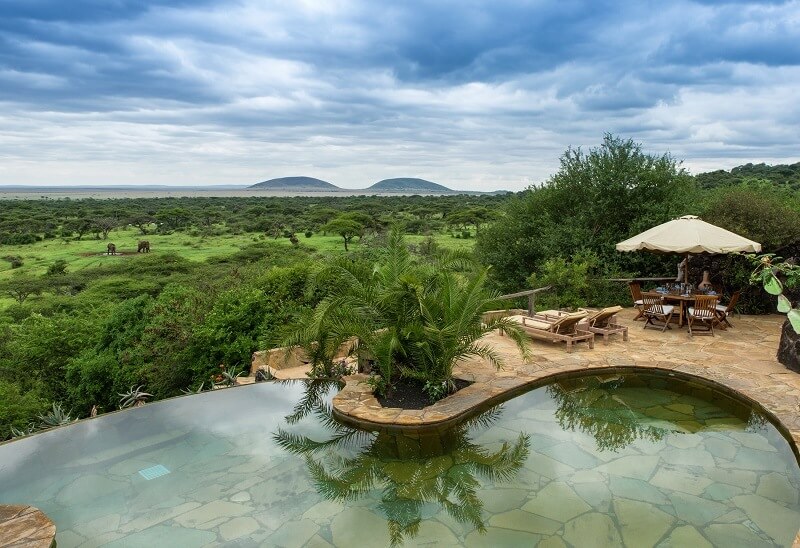 Quad biking safaris
Quad-biking is a thrilling way to explore truly remote locations that aren't easily accessed in larger vehicles. While Namibia is one of the most incredible regions in Africa for quad-biking, Kenya also offers some fantastic alternatives, particularly in the Lewa regions. You'll roam along tiny tracks to explore rarely-visited areas, for a true off-the-beaten-track experience.
Wayfairer's Favourite: Borana Lodge, Laikipia
Borana Lodge's expert hosts, Jay & Amory will take you out on buggies & quad-bikes. You'll explore the Kenyan Bush, witness the awe-inspiring 'Sarara Singing Wells', and enjoy a picnic by a remote riverbed - this really is a unique experience.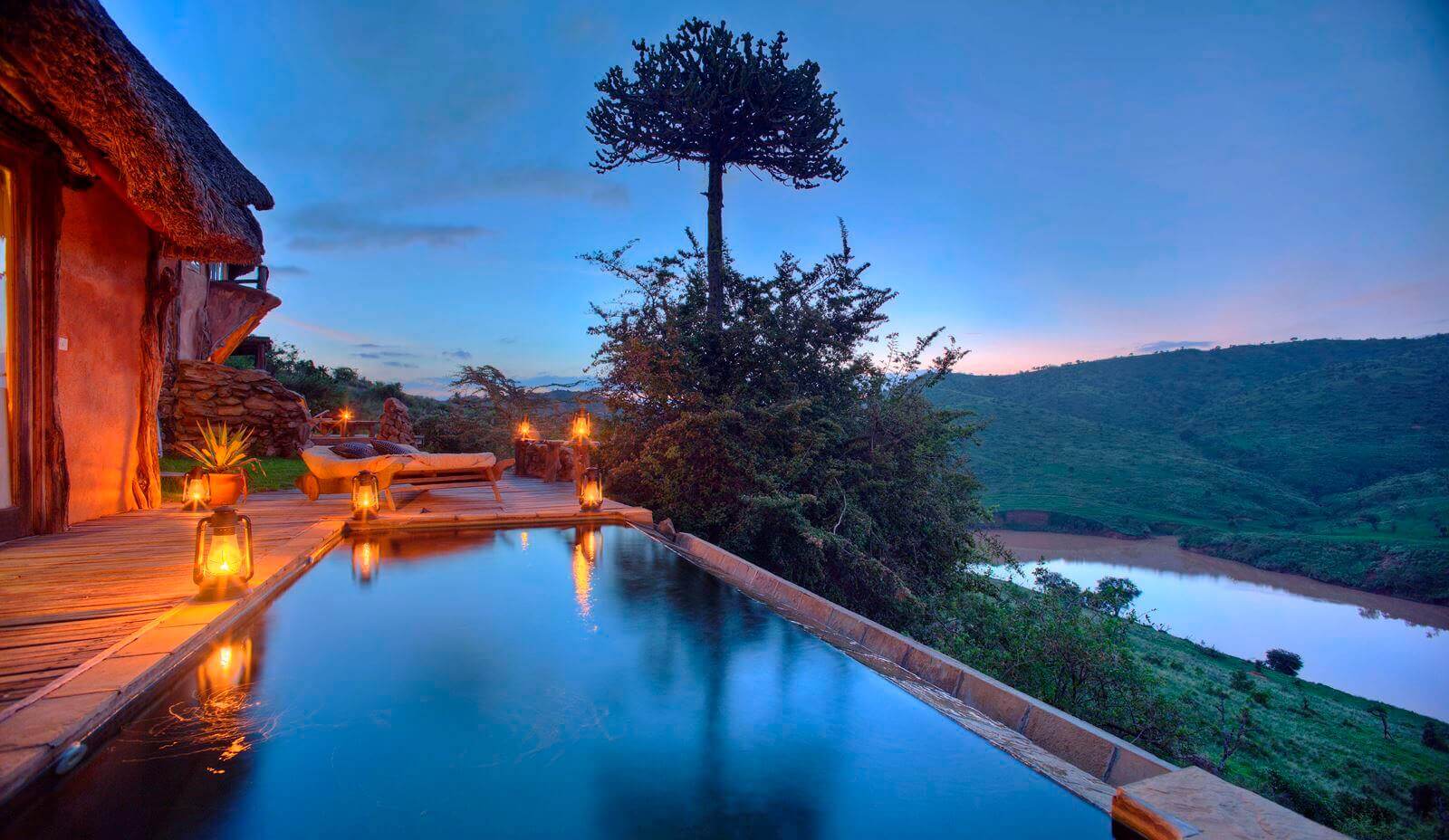 Mountain-bike safari
As one of the most active variations of a typical safari, mountain-biking offers an unusual way to explore the bush. Wildlife is relatively skittish around bikes in comparison to vehicles and horseback, so up-close encounters are less likely, however biking in the bush is an incredible experience and the perfect way to get a bit of exercise in one of the most beautiful natural environments in the world.
Wayfairer's Favourite: Ol Malo, Laikipia
With low visitor numbers and stunning landscapes to discover, Ol Malo is the perfect place to venture out on mountain bikes. Accompanied by expert guides, you'll travel at your own pace and intimately explore the bush on two wheels. Ol Donyo and Borana Lodge also offer excellent mountain-biking experiences.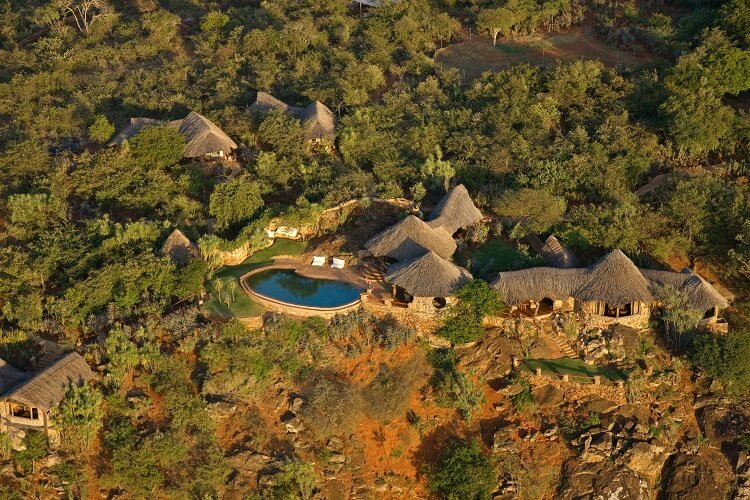 Hot air balloon safaris
A hot air balloon safari is the ultimate bucket list moment for many. Soar above the plains before dawn, watch in awe as the sun glides over the horizon, and watch the animals coming to life from a birds-eye view.
Most hot air balloon adventures last around one hour and end with a champagne breakfast upon returning to Earth. It's an unforgettable way to start your day!
Wayfairer's Favourite: Saruni Wild, Masai Mara
Masai Mara is one of the best destinations to embark on a hot air balloon safari, and Saruni Wild is the perfect place to stay. You'll be located close to the ballooning starting point, but will remain isolated enough to experience an off-grid stay in the Mara. You'll also score a game drive to and from the balloon, as there is abundant wildlife in the Lemek Conservancy, where Saruni Wild is located.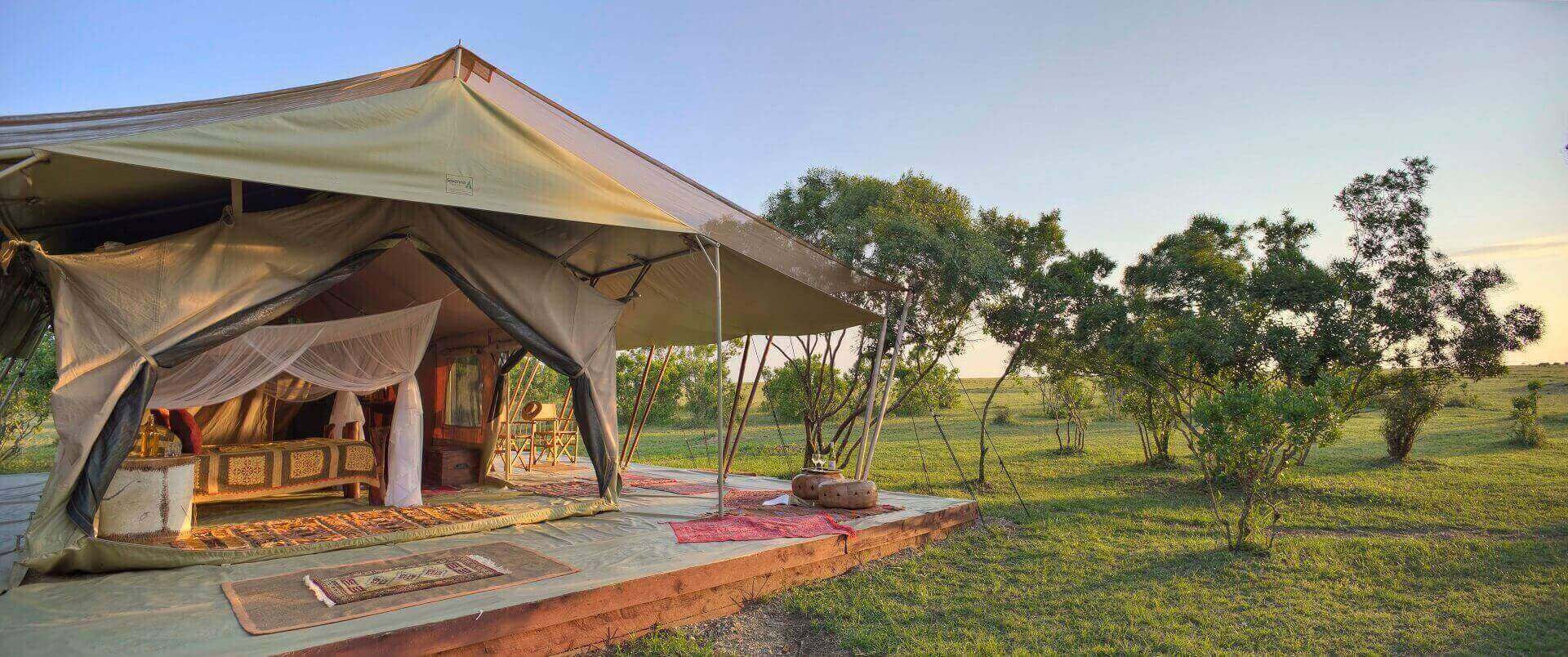 Thea's Top Tips for your safari holiday in Kenya
As a regular safari enthusiast with plenty of experience in the African bush, here are my essential tips for a safe and spectacular safari holiday in Kenya.
Charge your camera or smartphone - and most importantly know how to use your camera!
I have seen many fellow travellers decide that a safari experience is the best time to learn to use a new camera, only to be disappointed with the lack of usable photos. Please don't fall into this trap!
While a good camera is a useful addition to your packing list, it is important to know how to use it effectively to ensure you not only get good shots but also have time left to appreciate what you are witnessing. If in doubt, many smartphones now take surprisingly good photos. Alternatively, leave the camera at home and simply enjoy the experience with your own eyes.
Don't go on safari with a checklist of animals
It's fine to have a rough idea of the animals you'd like to see, however sightings are never guaranteed, and you don't want to set yourself up for disappointment with your safari experience.
All our guides will do their very best to ensure you get some incredible sightings, however these are wild animals and the plains of Kenya are not a zoo. It's all part of the thrill of not knowing what lies around the corner.
What to pack for a safari in Kenya? Not too much!
It can be tempting to overpack, however safari holidays offer a very relaxed atmosphere - all you really need is comfortable shoes, light-coloured, long-sleeved, loose clothing, a hat, a camera and plenty of insect repellant and sunscreen.
If you're taking any light aircraft flights, the luggage space will be very limited, so only bring what you need.
Is it safe to go on safari?
A safari holiday in Kenya is very safe if you go on safari with expert guides who are thoroughly trained in safety procedures. At Wayfairer, we only work with the best camps and lodges in Kenya, so you can be sure you'll be in safe hands at all times.
However, the wild plains of Kenya can be unpredictable, so it's important to read up on general safari rules and safety tips before venturing out on your safari adventure. Read our Guide to Safari Safety in Africa, to ensure you get the best out of your safari experience.
We understand that booking trips, especially adventurous and alternative ones such as this can be intimidating, so get in touch; we can take the stress out of your holiday planning and organise a trip you won't forget!
Get in touch
Sign up to our newsletter
For more travel inspiration delivered straight to your inbox just fill in your details here
More inspiration from Wayfairer customers and travel specialist
Sign up to our newsletter
For more travel inspiration delivered straight to your inbox just fill in your details here