13 Things to Do in Luang Prabang (and Where to Stay)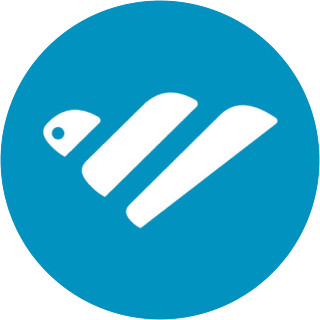 By Wayfairer Team
April, 14, 2023

4 Min read
Magical waterfalls, temple-hopping & riverside relaxation - here are the best things to do in Luang Prabang, Laos
The ancient royal capital of Laos, a UNESCO World Heritage Site and the best-preserved city in Southeast Asia, there are plenty of things to do in Luang Prabang. Explore this laidback historic town at your own pace by watching saffron-robed monks go about their daily duties, taking a temple tour of the city's many sloped-roofed wats, then cruising down the Mekong on a lazy sunset river cruise.
In this travel guide, we give our recommendations of the best things to do in Luang Prabang, to add to your itinerary or tour schedule, as well as the best hotels to stay at and the best day trips to take:
13 Things to do in Luang Prabang
The Best Hotels in Luang Prabang
Day Trips from Luang Prabang
1. Take a temple tour
You can't shake a pot of fortune sticks around Luang Prabang without hitting a temple. Even the name Luang Prabang translates as "Royal Buddha Image," and there are over 20 temples of note within walking distance around the city centre, plus many more smaller shrines. Two of the most significant temples to visit are:
Wat Xieng Thong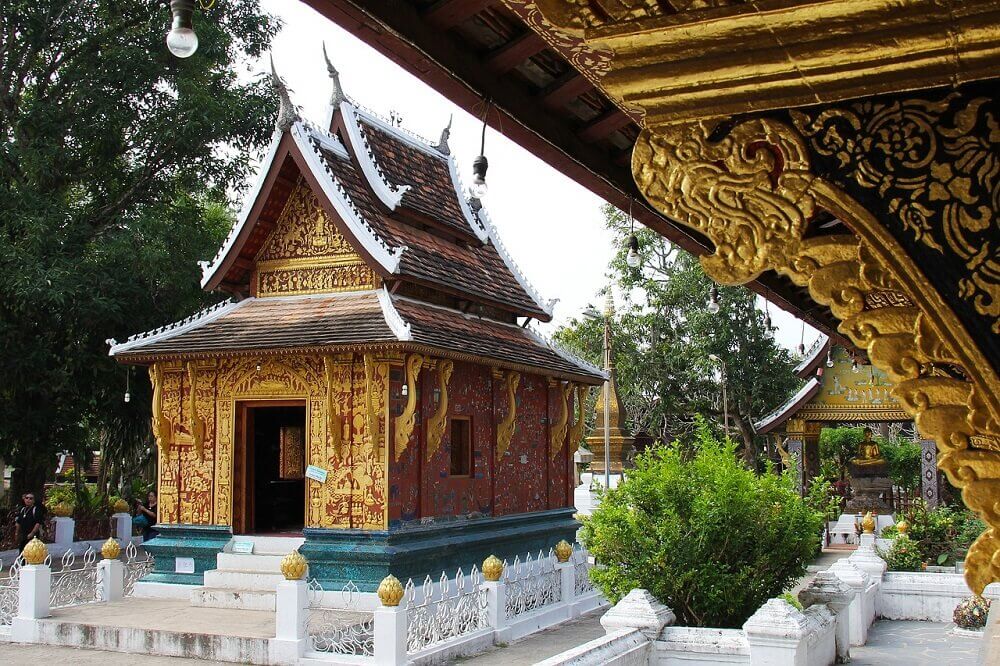 The iconic sloping roof of Wat Xieng Thong (Temple of the Golden City) is both picturesque and a typical example of Laos architecture, as well as the distinctive Luang Prabang style. The temple itself, plus the surrounding buildings and grounds, are significant monuments in terms of spirituality, royalty and traditional Lao art.
Take in the details such as the dharma wheels on the temple ceiling, the wooden carvings depicting the life of the Buddha on the doors, and the intricate mosaics found on the walls. This temple is best explored with a local guide, who can point out details you may otherwise miss.
Wat Wisunalat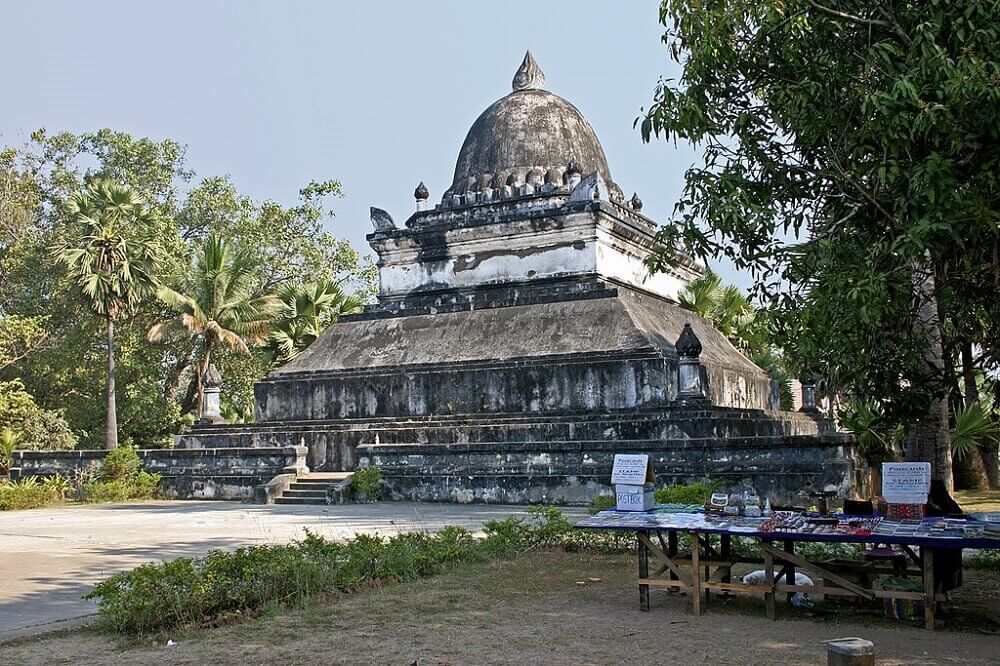 Wat Wisunalat, also known as Wat Visounarath or Wat Visoun, is thought to be Luang Prabang's oldest temple, dating back to 1512 and featuring a Singhalese-style stupa, which gives it the nickname That Makmo (Watermelon Stupa).
Although the temple and its surrounding buildings have suffered natural disasters, wars and raids, it is an enduring symbol of Laos spirituality and cultural significance, having housed many precious artefacts and relics over the centuries.
Today, the temple is home to a selection of Buddha statues and ancient stones, whilst others have been moved to the Royal Palace Museum.
Wayfairer Top Tip
Laos is a very conservative country and it is advised that you dress conservatively during your stay. Both men and women should cover legs, shoulders and chest, especially when visiting temples or other sites of cultural importance. When entering a temple building, remove your shoes and do not point your feet towards an image of the Buddha (it is best to kneel rather than sit).

Thea Gillingham
Luxury Travel Specialist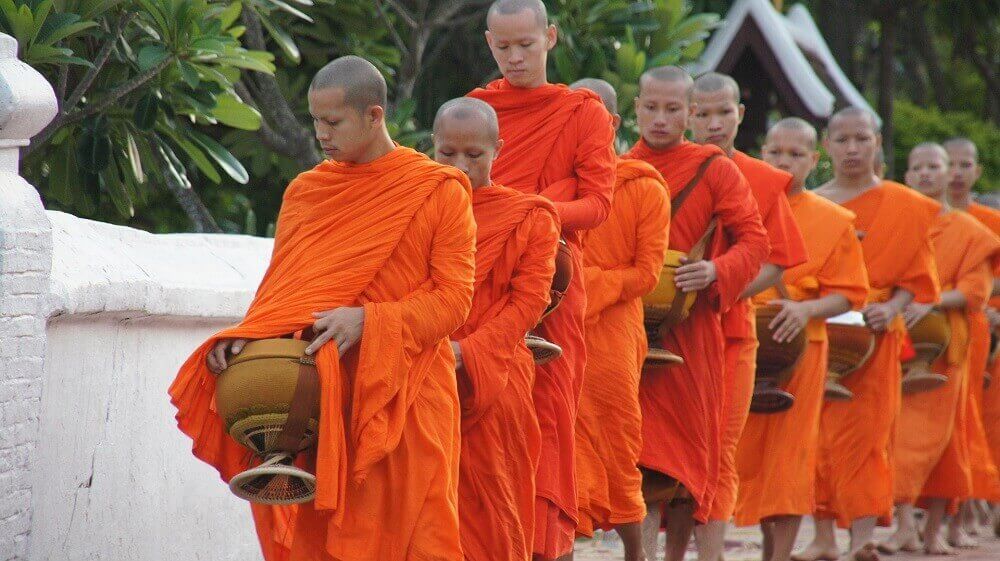 2. Cross the bamboo bridge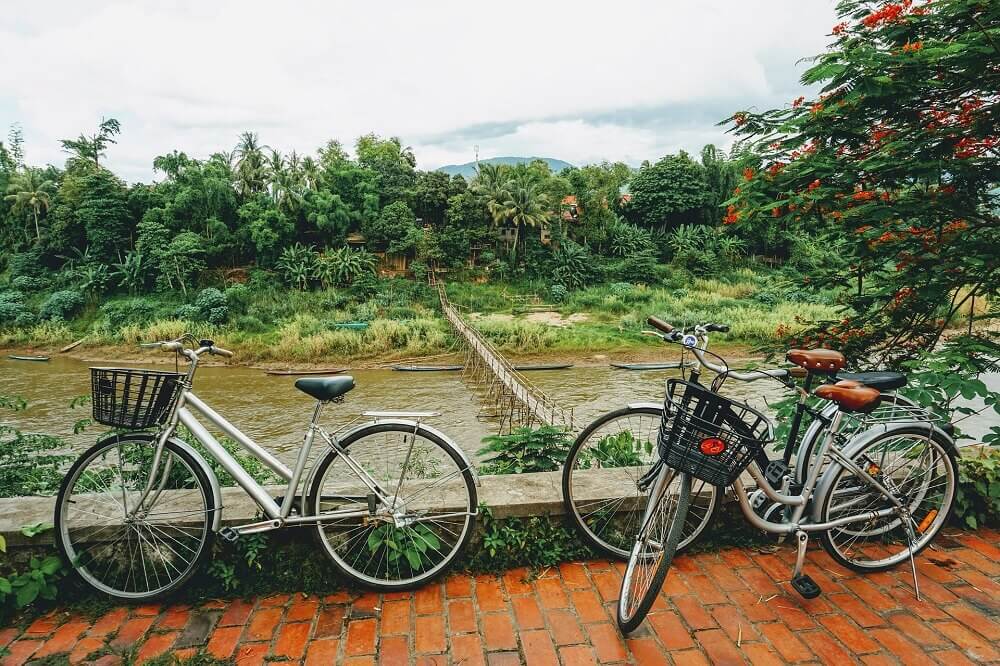 During Laos' dry season (November through May), there is a bamboo bridge that crosses the Nam Khan River, to help locals with their commutes. Crossing the bridge is a fun experience in itself, but also opens up passage to a quieter area of town across the river.
Snap your photos and scuttle across the bridge to reach riverside restaurant Dyen Sabai, where you'll be rewarded with refreshing smoothies and cocktails with the perfect sunset view. Try the sharing platters or fondue to sample tasty Laos cuisine.
Read our when to go to Laos guide for more information on which activities are best for which season.
3. Take a cooking class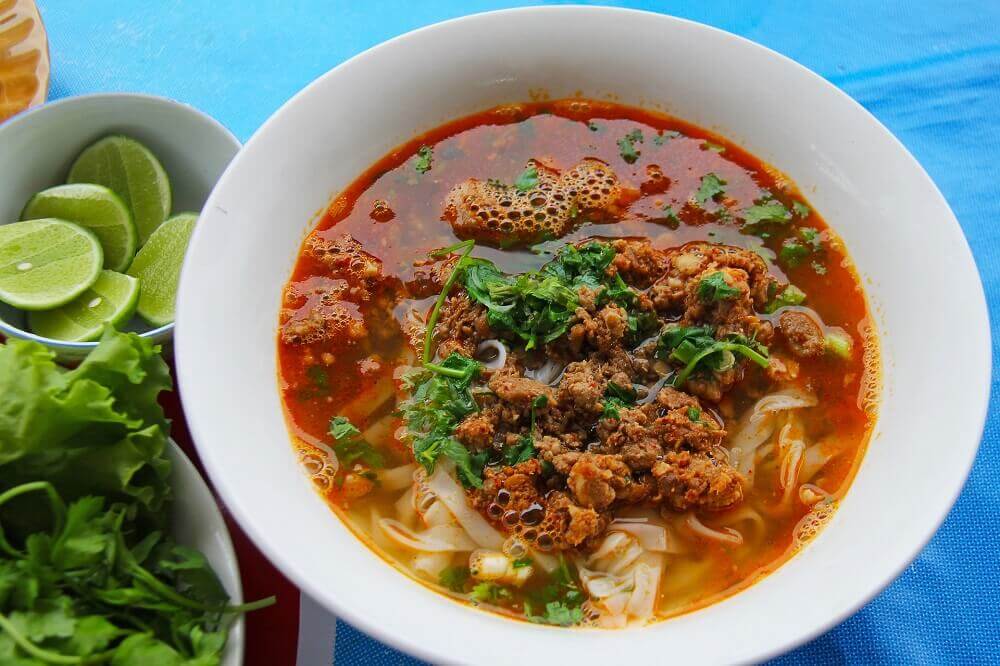 Thoroughly underrated and overshadowed by Southeast Asian neighbours such as Thailand and Vietnam, Laos cuisine is packed full of flavour and ideal for sharing.
Take a cooking class at Tamarind, one of Luang Prabang's best restaurants to sample and recreate smokey eggplant dip, sticky rice with various sauces and pickles, plus fragrant stews and stir fry dishes made with ingredients sourced at local markets and grown in the surrounding hillsides.
4. Witness the alms giving ceremony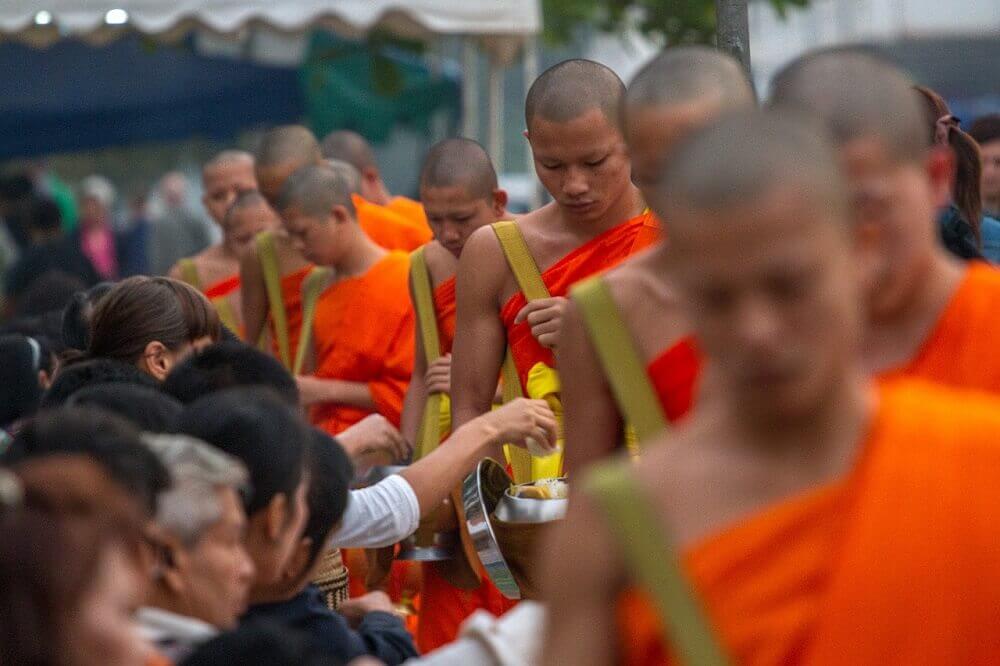 Each morning at the crack of dawn, monks dressed in bright orange robes descend into the city centre to receive alms (offerings) of food and other necessities. However, this traditional Buddhist ritual has in recent years succumbed to crowds of tourists hungry for a photo opportunity.
If you do choose to attend, educate yourself on the correct etiquette. Keep a respectful distance, offer something other than sticky rice (though they would never complain, the monks receive more sticky rice than they can eat in a day, which is wasteful and doesn't exactly make for a balanced diet), dress conservatively, keep quiet and don't take photos.
For a more authentic alms giving experience, join a local guide and visit a smaller village on the outskirts of the city. Here, you're likely to be the only foreigner and your presence will not be contributing to the issue of overcrowding at alms giving in the Luang Prabang city centre.
5. Discover Kuang Si Falls
No trip to Luang Prabang is complete without a visit to the fairy-tale plunges and jewel-toned pools of Kuang Si Falls, 29 kilometres south of the city and just an hour's drive out of town.
Although the falls are one of Luang Prabang's most popular tourist attractions, they never fail to impress. Hike to the top of the cascades for the best views, bring your swimsuit and jump into serene tiered pools of turquoise, then relax with a picnic surrounded by trickling streams and vibrant jungle.
Wayfairer Top Tip
To avoid the crowds, get to the falls as early as possible (10am or before) and you could have them all to yourself. Or, if you would rather find your own spot of paradise, hike to Tad Sae falls (wet season only), the lesser-known and lesser-visited neighbour of Kuang Si.

Amy Poulton
Content Writer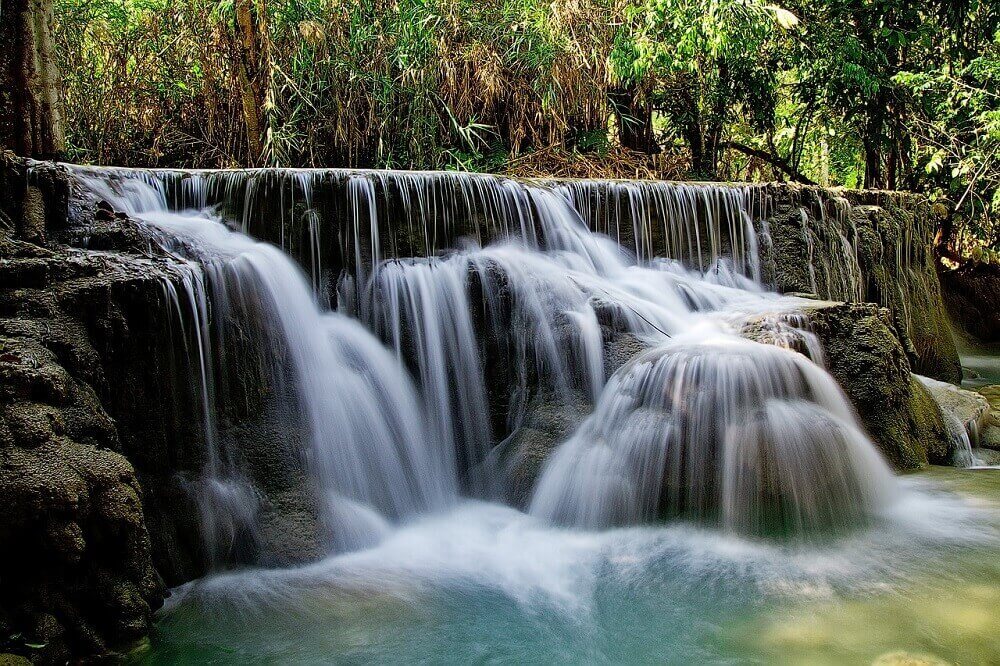 If you're looking to chase more waterfalls, read our list of the 15 biggest and most beautiful waterfalls in the world.
6. Enjoy outdoor adventure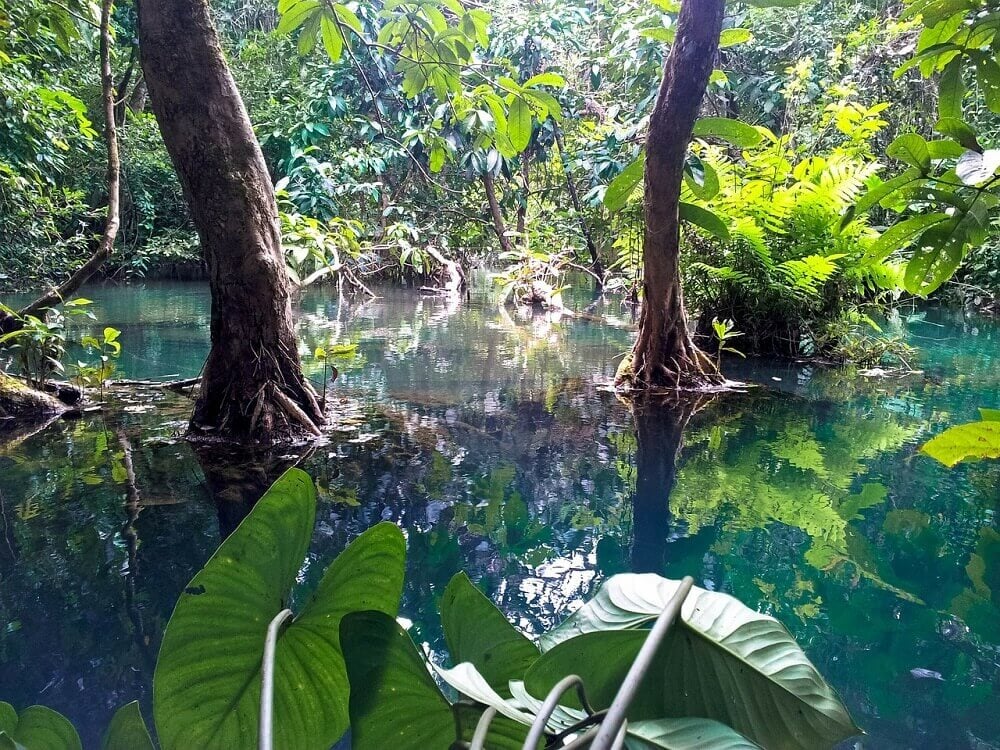 Luang Prabang may be one of Laos' biggest cities, but the country's topography of undulating hills blanketed in green, cut through by rivers and waterfalls, make this a great destination for outdoor adventure.
Trekking around Luang Prabang
Hike through the region's dense forest, circumnavigate rice paddies, cross farmland (Laos' economy relies mainly on agriculture) and visit local villages.
This is one of the best ways to truly appreciate the natural beauty of the Luang Prabang province, as well as meet communities of ethnic minorities - despite its small size and population, Laos is one of the most ethnically diverse countries in Southeast Asia.
Cycling around Luang Prabang
Rent a bike and temple-hop on two wheels to explore the city's major attractions, or head out on a mountain biking tour to traverse jungle trails and visit remote villages. There are also options for multi-day trips, which include an overnight homestay and the opportunity to experience rural life in Laos.
Kayaking around Luang Prabang
Luang Prabang sits on the spot where the Mekong and Nam Khan rivers meet, making it ideal for water activities such as kayaking, rafting and canoeing. Both rivers are shallow and calm, which means you can focus on enjoying the beautiful scenery as you paddle down the torrents.
7. Climb Mount Phousi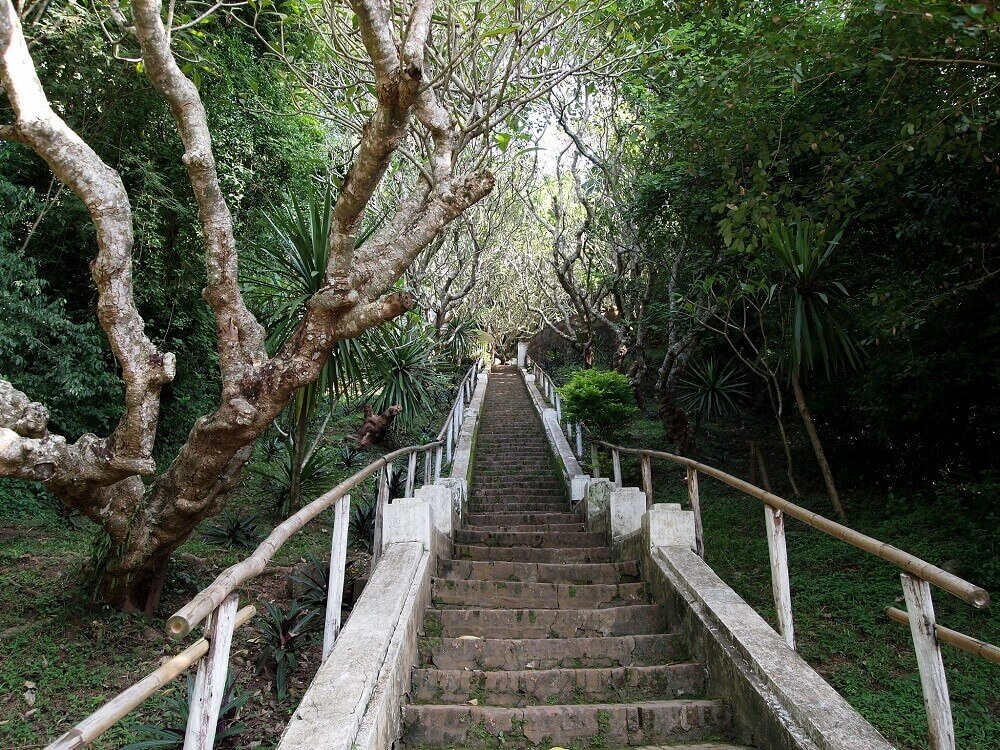 Legend has it that the queen ordered Hanuman the monkey god to bring her mushrooms that she had a strong craving for from a specific hill in Sri Lanka. After several failed attempts at bringing the queen the correct type of mushroom, a frustrated Hanuman brought her the hill instead, and plonked it right outside of the royal palace - Mount Phousi.
Mount Phousi sits in the centre of Luang Prabang and makes for an excellent afternoon climb (if a steep one), with winding walkways leading to temples and cave shrines, with a temple right at the summit.
Wayfairer Top Tip
The peak of Mount Phousi is a renowned sunset spot - a great reward at the end of a tough climb, although you will be sharing the view with many others. However, if you climb to the peak and then start descending down the other side, you are sure to find a scenic sunset spot all to yourself.

Carmen Castrovillari
Luxury Travel Concierge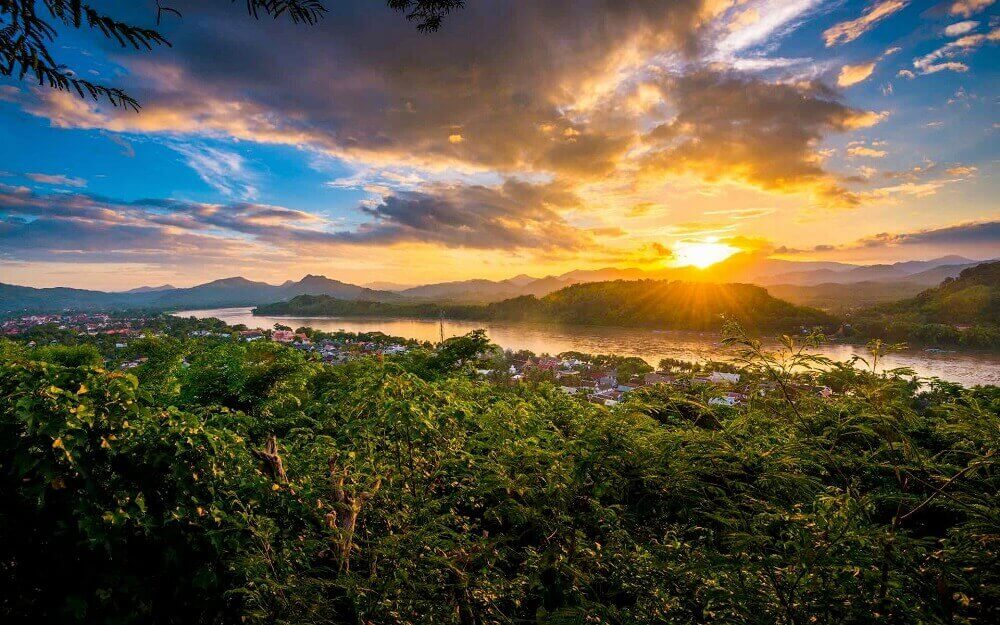 8. Watch the sunset on a river cruise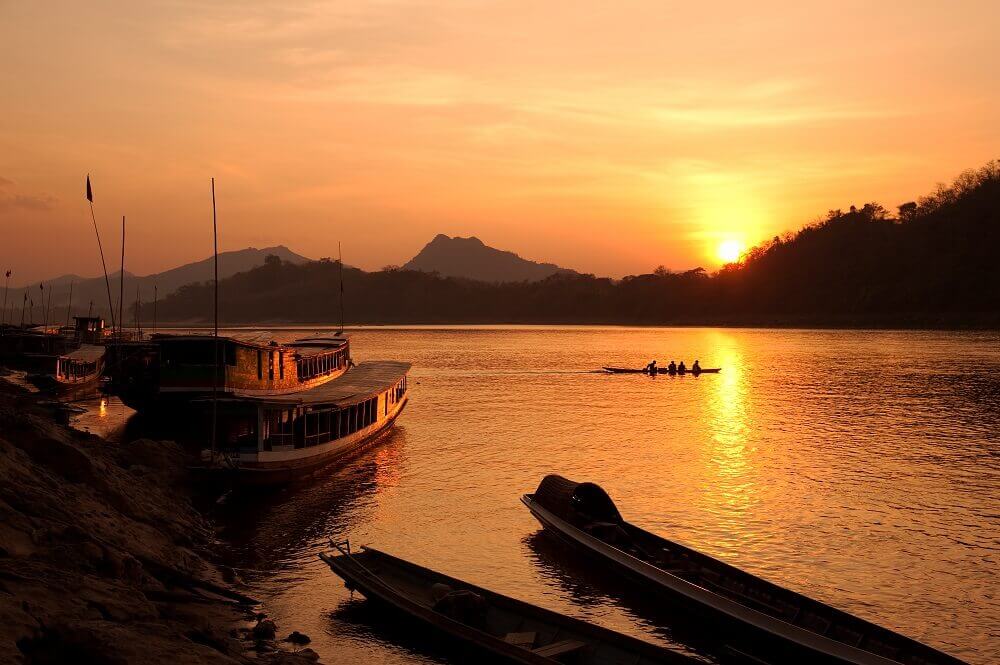 Sunset-chasing is a popular pastime for visitors to Luang Prabang, as the city's temples illuminate in rich reds and golds, and the natural landscapes are ignited in warm dusk colours.
Another great way to enjoy the region's burning horizon is on a sunset river cruise, which often includes drinks or a multi-course meal. Wind through the waterways whilst unwinding after a day of exploration, watching the sun dip into the valleys of the surrounding hills.
9. Learn about history at the UXO Centre
Laos is sadly the most bombed country on the planet, having fallen victim to the Ho Chi Minh Trail during the Vietnam War. Today, the country still suffers from UXO (unexploded ordnance) left by the raids, as many of the bombs dropped on the nation failed to explode on impact, but are still dangerous if disturbed.
Luang Prabang's UXO Visitor Centre is an important place to visit to understand how Laos' history has been shaped by UXO and the problems the country still faces today due to this threat. The entry fee to this museum is by donation and helps efforts to remove UXO and educate rural communities, particularly children, on the dangers of UXO.
10. Visit the Pak Ou Caves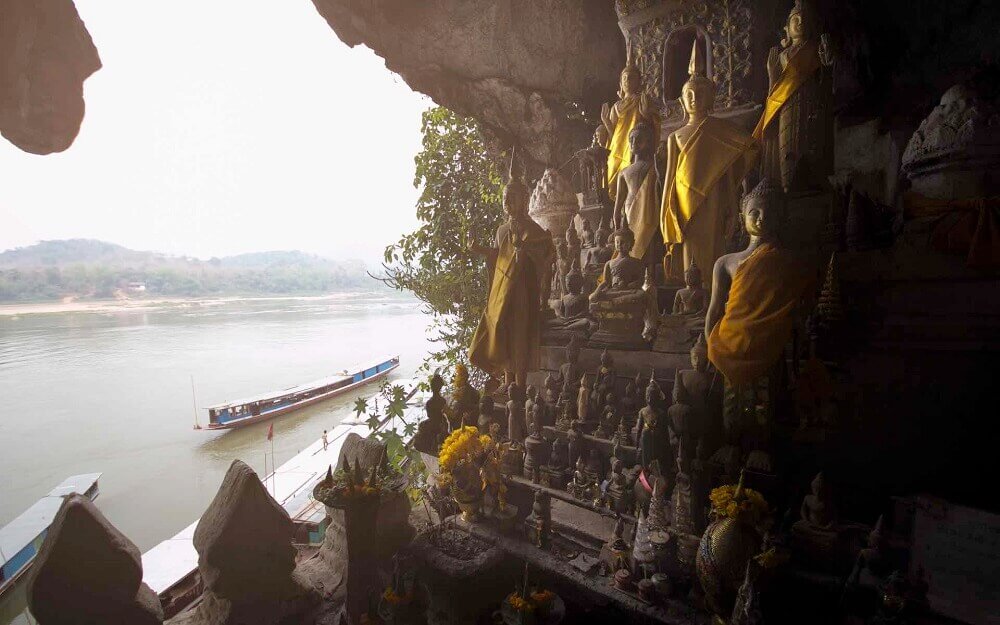 25 kilometres north of Luang Prabang, the Pak Ou Caves are a sacred site and significant pilgrimage spot for Buddhists, noted for the thousands of miniature Buddha sculptures found here. The caves have a history spanning thousands of years, with visitors leaving statues to accumulate over the centuries.
Take a boat up the river (around two hours each way) to the caves with a local guide, who can explain the features of the Tham Ting (lower cave) and the Tham Theung (upper cave). Ring the gong to announce your presence and shake fortune sticks to gain advice on your current life path.
11. Relax by the river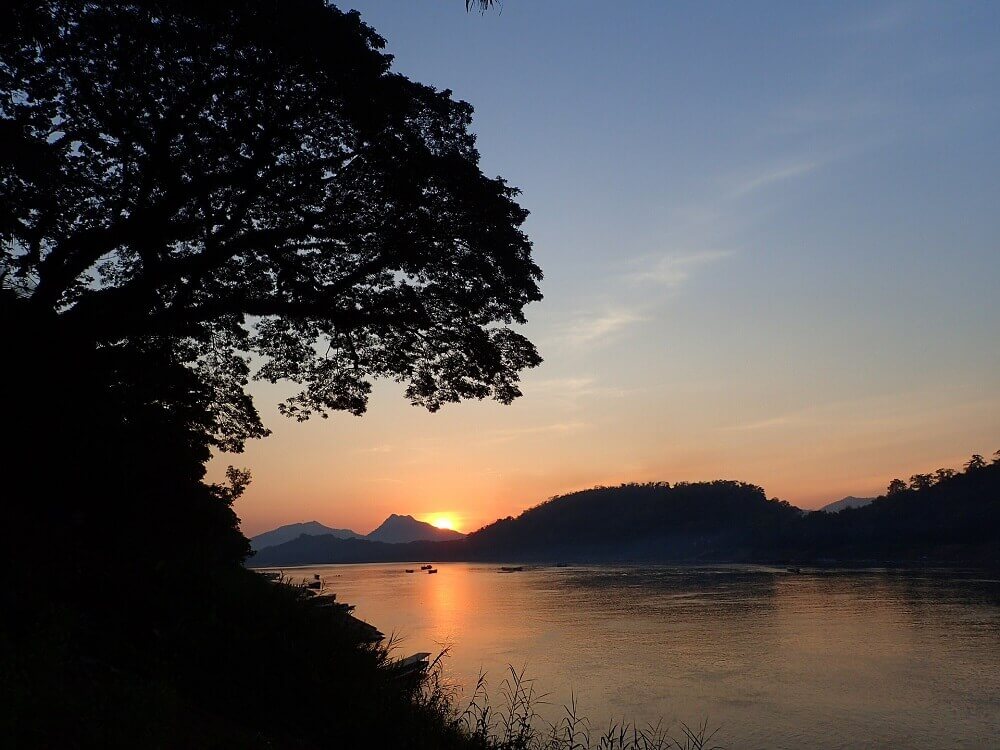 There are plenty of exciting things to do in Luang Prabang, yet on arrival you're sure to feel any tension in your shoulders drop and suddenly your to-do list doesn't seem so urgent. Much of Southeast Asia has a reputation for being laidback, but in Laos and particularly Luang Prabang, the pace of life slows to match the current of the sleepy Mekong.
Enjoy a massage at one of the city's many massage parlours, try a bite of everything with a multi-course Lao tasting menu at a local restaurant, meditate and quietly observe at one of the city's many temples, and relax with an ice cold drink at a lazy riverside bar.
12. Hit the night market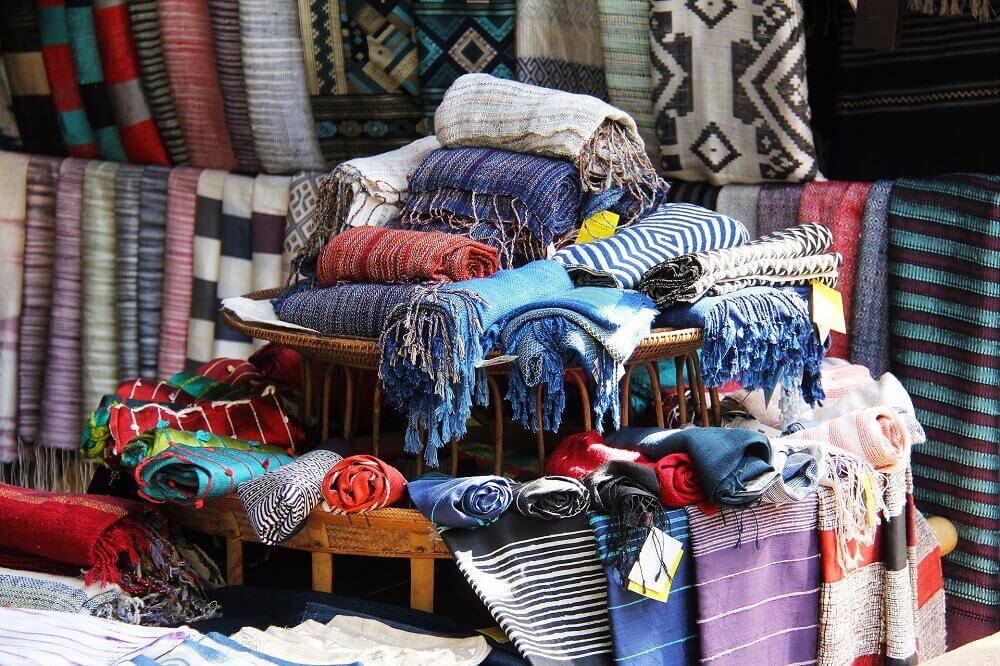 For the best souvenirs, hit the lively Handicraft Night Market, which transforms a central city road at dusk into stalls of handmade (or sometimes, not-so-handmade) goods, perfect as gifts for those back home.
Start with street eats down steaming alleyways of veggie buffets and barbecued meat and fish (plus a nice cold Beerlao), then grab a banana leaf stacked with freshly-made coconut pancakes before perusing the goods on offer. Lanterns, scarves, tea and coffee, notebooks and other knickknacks are popular, or purchase a metal ornament made from melted UXO to help support UXO clearance in the region.
13. Soak up the culture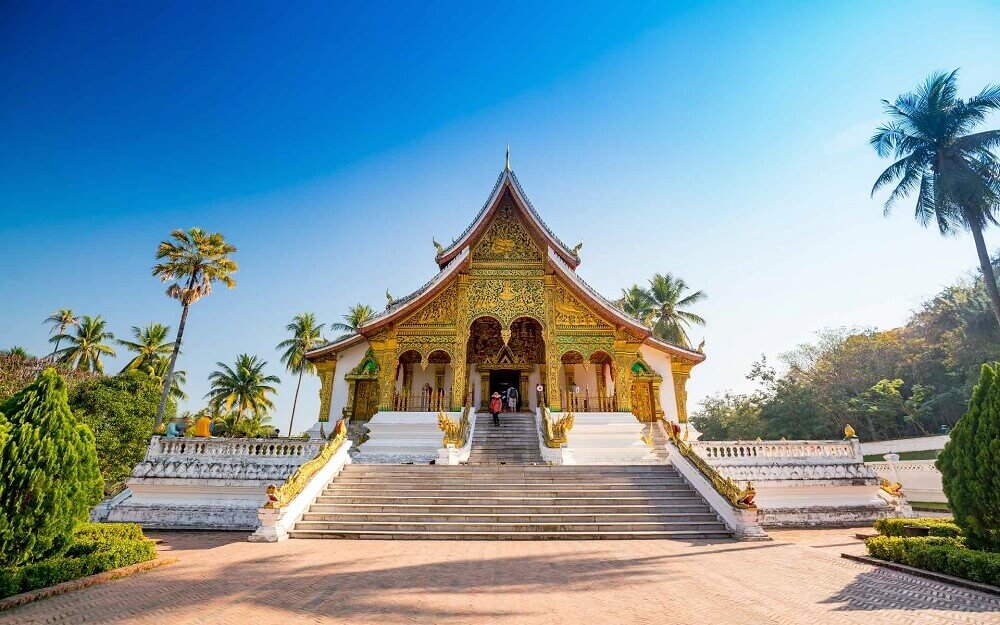 Laos culture is rich, diverse and endlessly fascinating, and Luang Prabang is the nation's culture capital.
A simple stroll around town offers a mix of distinctly Lao, French and Chinese architecture. Apricot-robed monks carry their books past Parisian-style bakeries, whilst the glittering mosaics and intricate murals at the Royal Palace shine a light on the country's rich history.
Learn about the country's complex ethnic groups and their enduring traditions at the Traditional Arts and Ethnology Centre, listen to traditional music and folk tales at a nightly performance at the Garavek Theatre, and pay a visit to a remote village with a local guide to delve deeper into Laos culture.
The Best Hotels in Luang Prabang
Colonial-style Indochinese villas were once left to ruination, but many have now been converted into quaint guesthouses, blending seamlessly into the cityscape. Others are new builds, but in keeping with the region's culture, tradition and spectacular natural scenery.
Here are our top recommendations of where to stay in Luang Prabang:
1. Rosewood Luang Prabang
Newly opened and exquisitely designed by the legendary Bill Bensley, ultra-luxe brand Rosewood have expanded their exclusive range of boutique hotels into Laos with this Luang Prabang property.
The focal point of this stunning hotel is the natural cascading waterfall, which cuts through the grounds, separating the main building from the riverside cabin-style rooms. A bridge connects the rooms and suites, home to a bar perfect for sundowners with a superlative view of the tumbling stream.
Each of the 23 accommodations (four deluxe rooms, four specialty suites, three riverside villas, six pool villas and six luxury tents) is located right on the riverbank and themed after an historical figure or ethnic group that contributes to the tapestry of Luang Prabang's culture and history.
Enjoy exclusive excursions with the hotel's local guides, relax by the pool overlooking the stunning waterfalls, try indigenous treatments at the Rosewood Sense spa and relish farm-to-table dining with daily changing menus created using ingredients from the property's organic garden.
2. Satri House
The former residence of the last prince of Laos, the regal Satri House is part of the prestigious Secret Retreats chain, with the property featuring early 20th century colonial-era architecture and interiors inspired by Lao culture. A stay here is sure to make you feel like royalty.
Satri House's 28 guestrooms and three suites are all comprised of spacious bedrooms and bathrooms, rain showers and bathtubs, large private balconies, handcrafted wood furnishings, exquisite antiques and artworks, plus beautiful views of lush gardens and the hotel's two outdoor swimming pools.
Enjoy a fusion of Asian and Western dishes at the elegant restaurant, sip on cocktails at the relaxing garden bar, curl up with a book at the library, then treat yourself to a pampering at Satri House's renowned spa, which features a large jacuzzi, cool plunge pool and herbal steam room, as well as uniquely holistic therapeutic experiences.
3. Le Sen Boutique Hotel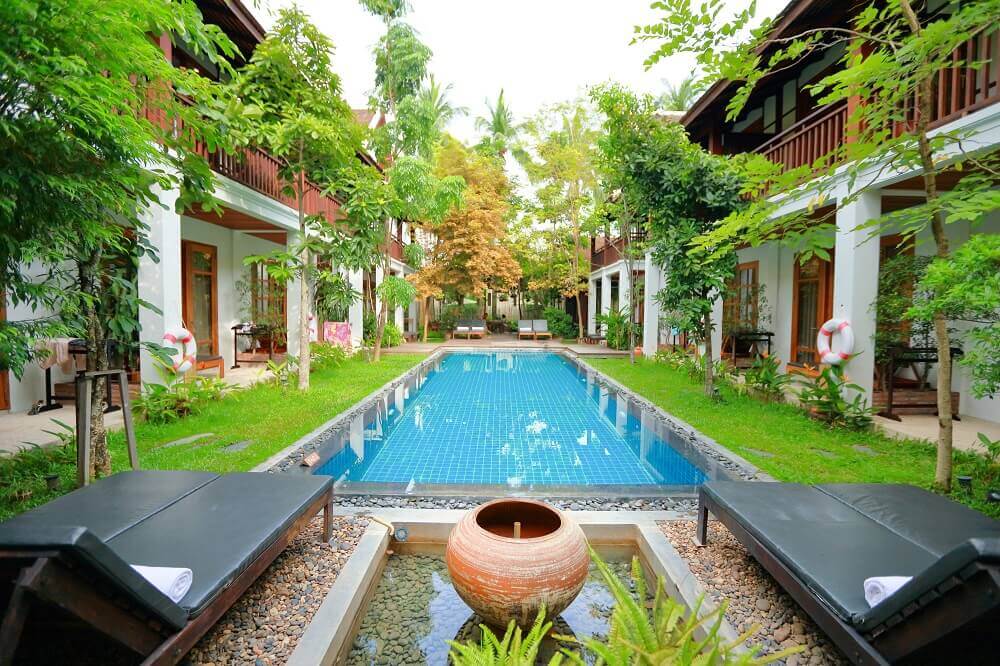 Chic Le Sen Boutique Hotel defines itself as bridging the gap between luxury and boutique, with an ideal central location just a few minutes walk from Luang Prabang's main attractions, including the unmissable night market.
A petite property of just 20 exclusive rooms, each room boasts its own private balcony with a view over the hotel's gardens and inviting swimming pool. Opt for a suite and you'll be treated to a separate living area, jacuzzi and two rain showers; whilst the villa rooms feature large private gardens, an outdoor shower and a jacuzzi too.
Families will appreciate the children's pool area, plus free bike rental and a free shuttle around town, ideal for when the midday heat gets a little too much. In the evenings, try Lao, Western and Thai cuisine at the hotels' esteemed restaurant.
4. Villa Chitdara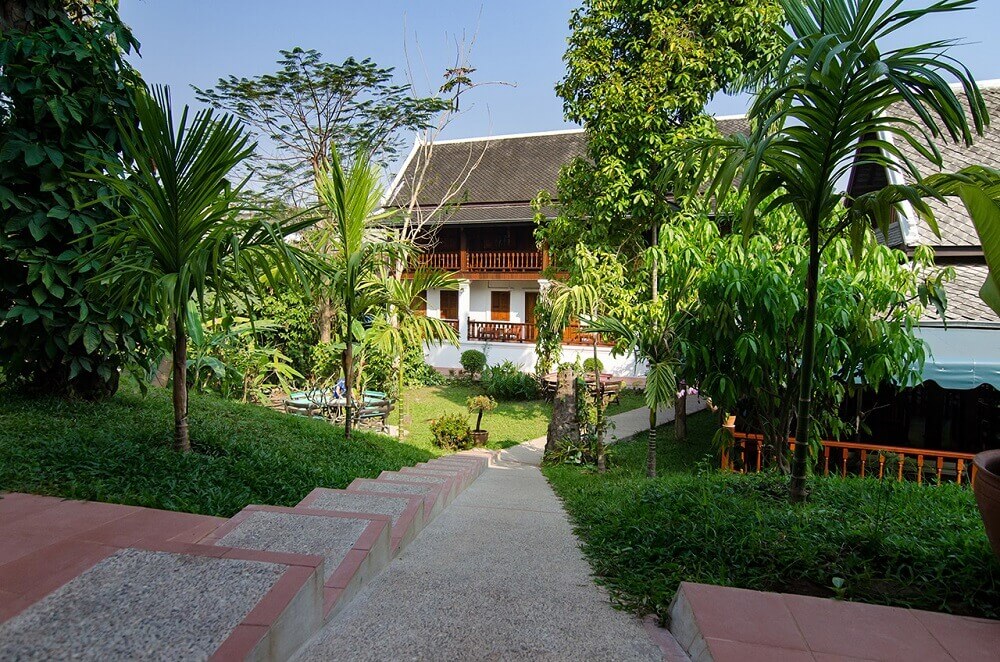 This sweet family-run guesthouse located in the heart of Luang Prabang is for those looking for authentic Lao hospitality and a homely feel. Tucked away between temples, Villa Chitdara is run by the Chitdaras, a Laos-French family who have firm roots in Luang Prabang, offering a local perspective to your stay in the city.
The hotel's 25 rooms (15 standard and 10 superior) feature elegant wood furnishings and gorgeous views of tropical gardens or the quiet street outside, which is en route for the dawn alms giving ceremony and the perfect spot for witnessing orange-clad monks walking into town to collect offerings.
Enjoy quiet moments in the property's beautiful courtyard, chat with your local hosts and soak up the experience of staying in a traditional Indochinese guesthouse.
Day trips from Luang Prabang
Luang Prabang's breathtaking Kuang Si Falls and serene Pak Ou caves make for great day trips, as well as half-day trips. Here are a few other suggestions of things to do in Luang Prabang if you have a little more time to play with:
Pha Tad Ke Botanical Gardens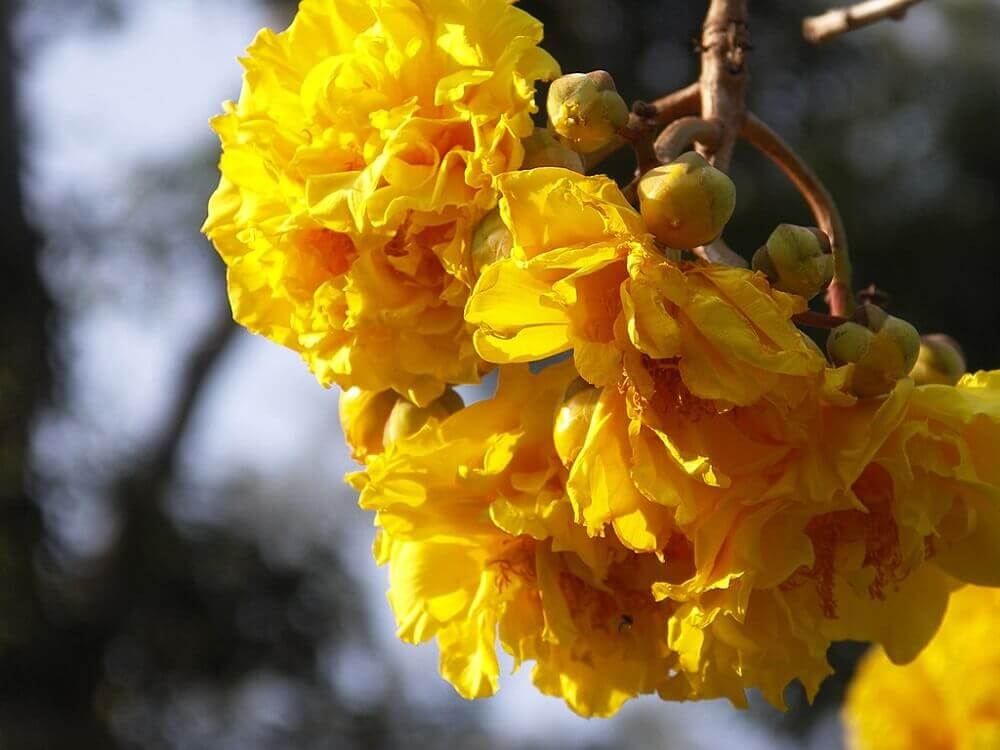 A ferry ride away across the Mekong, the newly opened Pha Tad Ke Botanical Gardens offers lessons in horticulture and botany, boasts an impressive collection of indigenous and exotic flora, but is also a lovely place just to spend the day wandering around.
Take part in workshops making traditional bamboo-style handicrafts, get lost amongst flowers and foliage, then try tea-tasting and enjoy a sumptuous meal at the cafe (noted as one of the best places in town for sampling Lao cuisine).
Chom Phet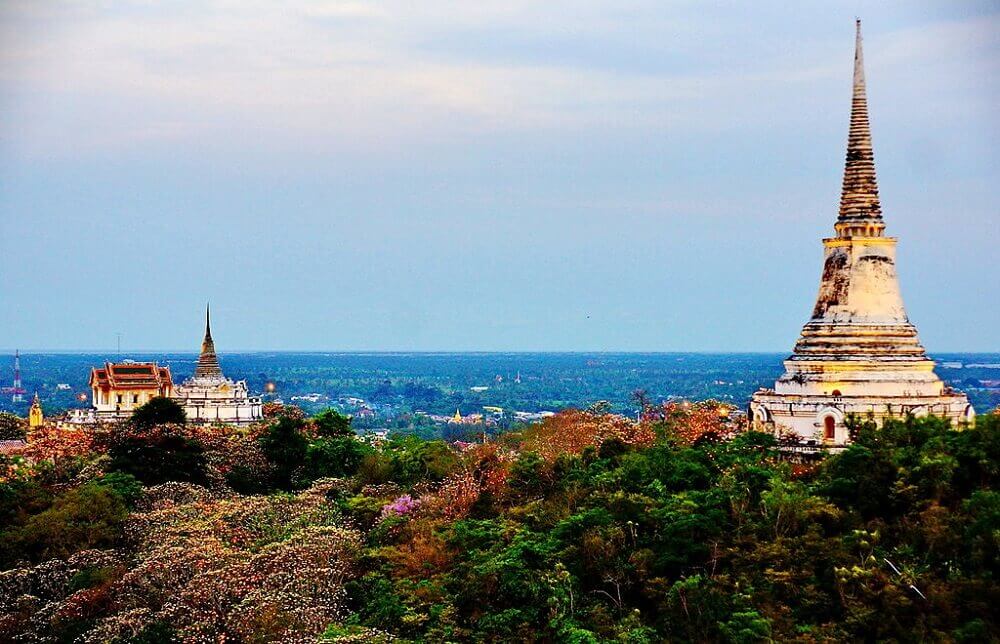 To get off the beaten path in Luang Prabang province, take a ferry across the Mekong with a rented bike and cycle to explore nearby Chom Phet, winding through local villages and between rice paddies to reach sights such as Wat Chom Phet, Wat Long Khun and the Sakkarin Cave.
Tad Thong Waterfall
Kuang Si Falls is the main draw, followed by the less-frequented and wet-season-only cascades of Tad Sae. However, if you truly want to escape into the jungle, then head for Tad Thong Waterfall, set in a beautiful park and accessible via a muddy trail (make sure you wear good hiking shoes).
Nong Kiaw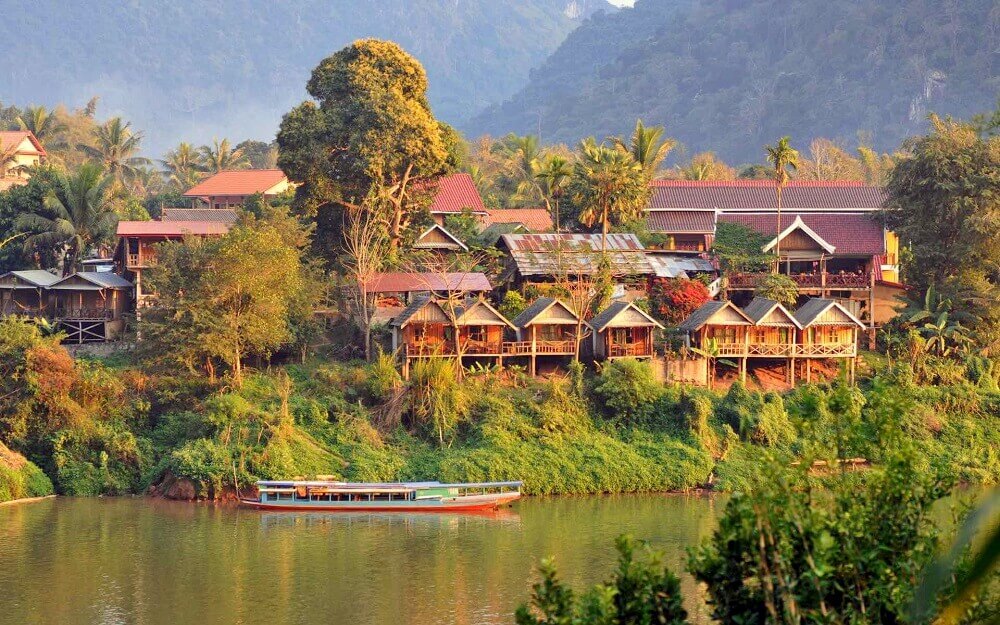 Four hours north of Luang Prabang, Nong Kiaw is best explored over a few days rather than as an outright day trip and its also the adventure capital of the region. Set on the Ou River and surrounded by limestone mountains, this is the perfect base for exploring the great outdoors.
Hike, cycle or kayak to attractions such as the Pha Tok Caves, various waterfalls and Phadeng Peak, then get your adrenaline pumping with jungle fly zip-lining.
If you're planning a trip to Laos and a visit to the cultural capital, contact our Luxury Travel Specialists to chat about the best things to do in Luang Prabang, or fill out our enquiry form with details of your dream Laos holiday:
Image credits
Wat Wisunalat - Gerd Eichmann [CC BY-SA 4.0 (https://creativecommons.org/licenses/by-sa/4.0)] via Wikimedia Commons
Mount Phousi steps - William via Flickr
Botanical gardens - Caitriana Nicholson from 北京 ~ Beijing, 中国 ~ China [CC BY-SA 2.0 (https://creativecommons.org/licenses/by-sa/2.0)] via Wikimedia Commons
Chom Phet - Prasong suriyakanont [CC BY-SA 3.0 (https://creativecommons.org/licenses/by-sa/3.0)] via Wikimedia Commons
We understand that booking trips, especially adventurous and alternative ones such as this can be intimidating, so get in touch; we can take the stress out of your holiday planning and organise a trip you won't forget!
Get in touch
Sign up to our newsletter
For more travel inspiration delivered straight to your inbox just fill in your details here
More inspiration from Wayfairer customers and travel specialist
Sign up to our newsletter
For more travel inspiration delivered straight to your inbox just fill in your details here