The Northern White Rhino Project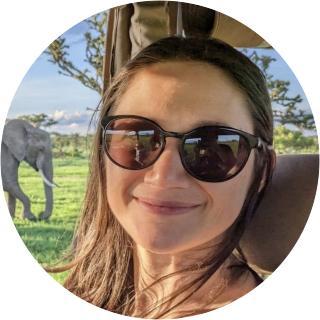 By Kat MacLeod
July, 28, 2023

4 Min read
Saving the near-extinct Northern White Rhino
The WWF estimates that the rate of extinction is currently at around 0.01% each year, which may not sound like a lot, but this amounts to approx. 10,000 species annually. Unlike natural extinctions that we've seen in the past, the WWF believes that what we are experiencing is in fact a biodiversity crisis for which we, as humans, are almost entirely responsible.
Meet the last two Northern White Rhinos in existence
In the foothills of Mt Kenya lies East Africa's largest Black Rhino sanctuary, the Ol Pejeta Conservancy, which is home to over 150 Eastern Black Rhino, over 50 Southern White Rhino and the last two Northern White Rhinos that remain in the world. Their names are Najin and Fatu, and they are a mother and daughter pair that are cared for under armed guard in the strictly patrolled Eastern sector of the conservancy. Northern White Rhinos previously roamed the plains of Uganda, Chad and Sudan but political upheaval through the years left them vulnerable to poaching and in 2008 they were declared extinct in the wild. At that point only a handful remained in zoos around the world and four were brought to Ol Pejeta in 2009 when veterinarians determined that their best chance for survival and successful reproduction was in their natural environment. Now, only Najin and Fatu, who were flown to Kenya from San Diego zoo, remain. It would be all too easy to throw our hands in the air and shrug and say, sadly, that there is now nothing we can do but Ol Pejeta has taken a different approach.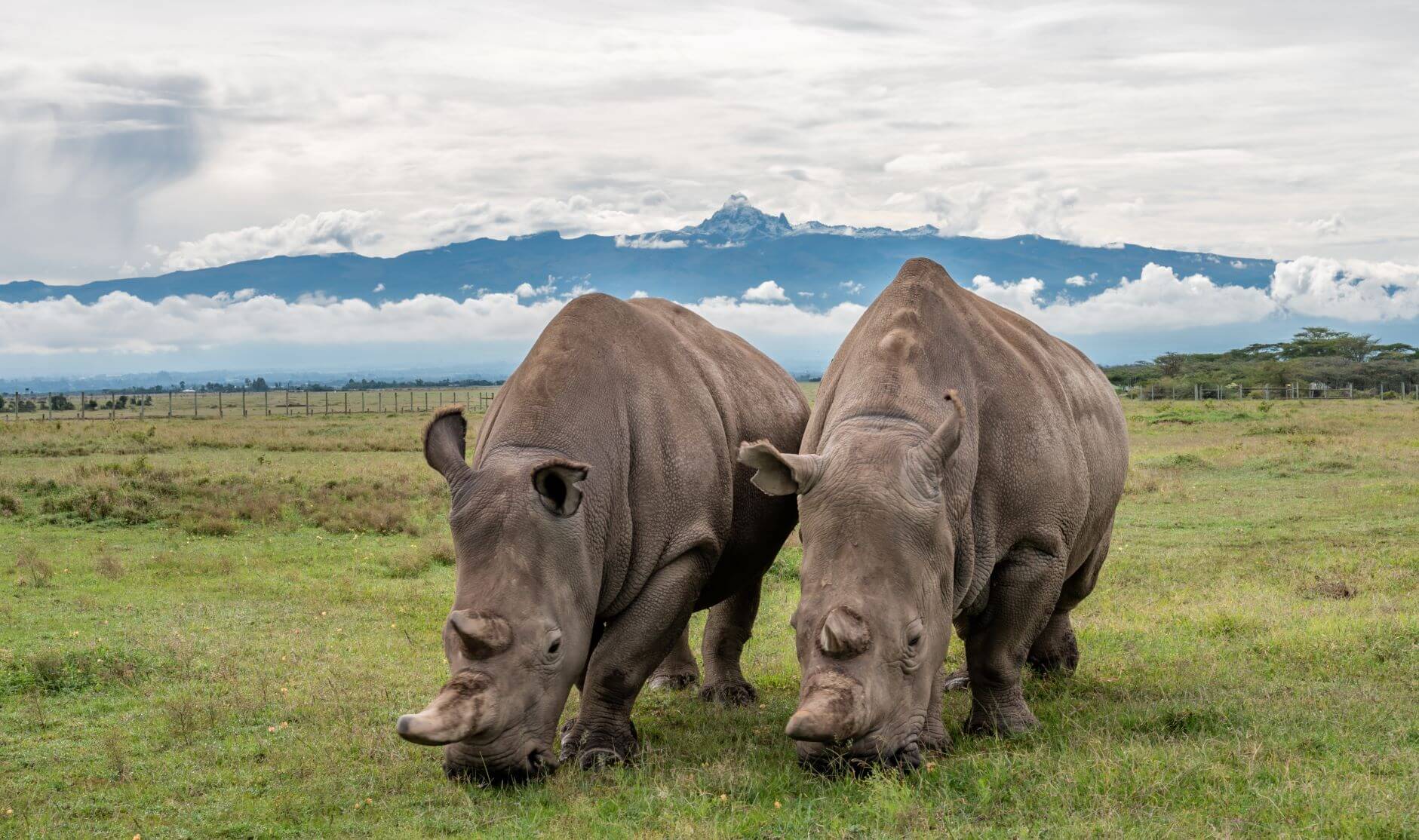 Najin and Fatu in front of Mt Kenya. Photographed x Marvin Mwarangu
Using IVF to save the Northern White Rhino
Thanks to huge global efforts in fundraising and creating awareness, in 2019 a breakthrough method was developed for creating rhino embryos and the first viable, hybrid white rhino embryo was created. This meant that a similar procedure could work for Northern White Rhinos, and there was a chance that the species could be hauled back from the precipice! Read more about this ground-breaking development here.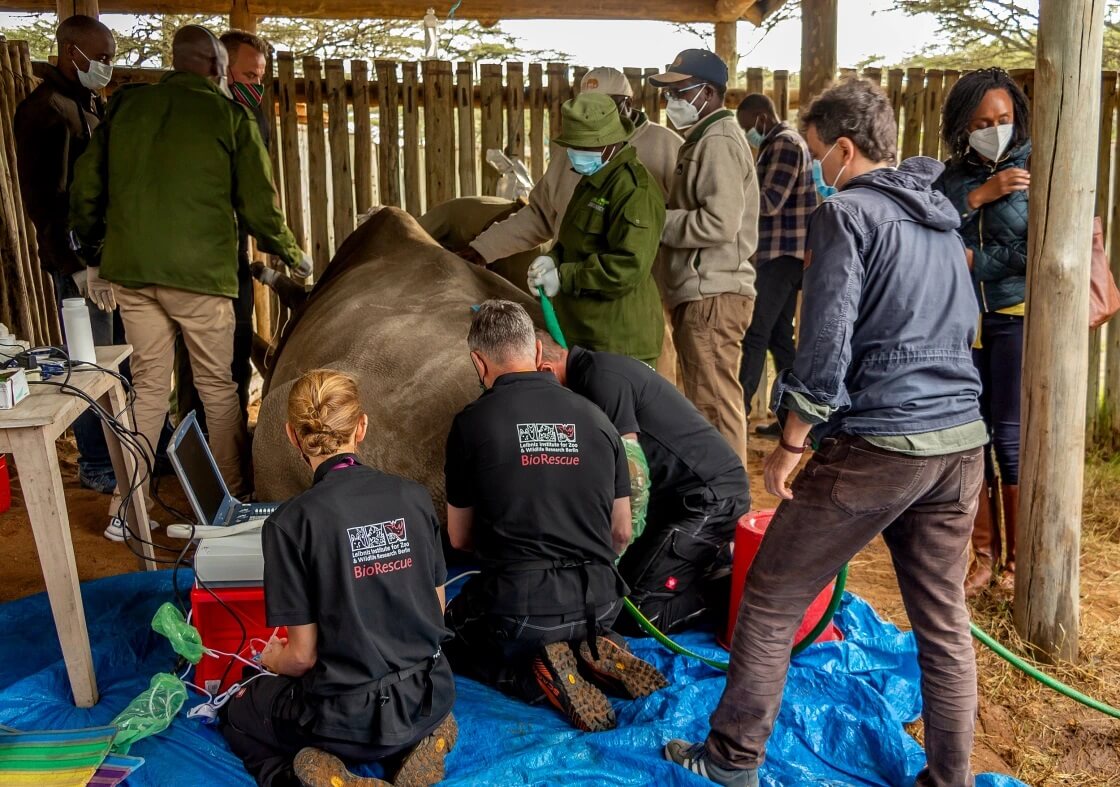 Harvesting eggs from Najin. Image x Rio the Photographer.
Where are we now?
Najin and Fatu are cared for and strictly monitored night and day, living out on the open plains in an expansive protected enclosure in the Ol Pejeta Conservancy. Najin was raised, for most of her life in a zoo, and as a result her health has deteriorated to a point that she is no longer able to carry a pregnancy to term. Fatu was born with reproductive issues, so she too cannot successfully carry a pregnancy. However, 10 of their eggs have been successfully harvested and artificially inseminated to create the very first Northern White Rhino embryos. And a selection of five healthy Southern White Rhinos have been chosen to act as surrogates to carry, what they hope will be a healthy Northern White Rhino baby. Now, we wait for these females to come into season so that these invaluable Northern White Rhino embryos have the greatest chance of survival when they are implanted.
What's all the fuss about?
The differences between Southern and Northern White Rhinos are barely distinguishable to the untrained eye; a matter only of size, skin texture and subtilties, and both Southern White and Eastern Black Rhinos are battling to stay off the IUCN red list whereas the Northern Whites Rhinos are on the purple list – extinct in the wild. It's an incredibly expensive project and Ol Pejeta has received heavy criticism for dedicating so much of its valuable funding to this project when other species have a better chance of survival. But as Ol Pejeta's previous CEO, who is responsible for spear-heading the project, Richard Vigne says, "enough is enough. We simply cannot sit back and watch another species go extinct on our watch."
This is certainly the first time that we have gone to such incredible lengths to save a species. But if it is successful, Ol Pejeta is confident it won't be the last. Click here to read more about the Northern White Rhino project, and to learn how you can support this ambitious undertaking.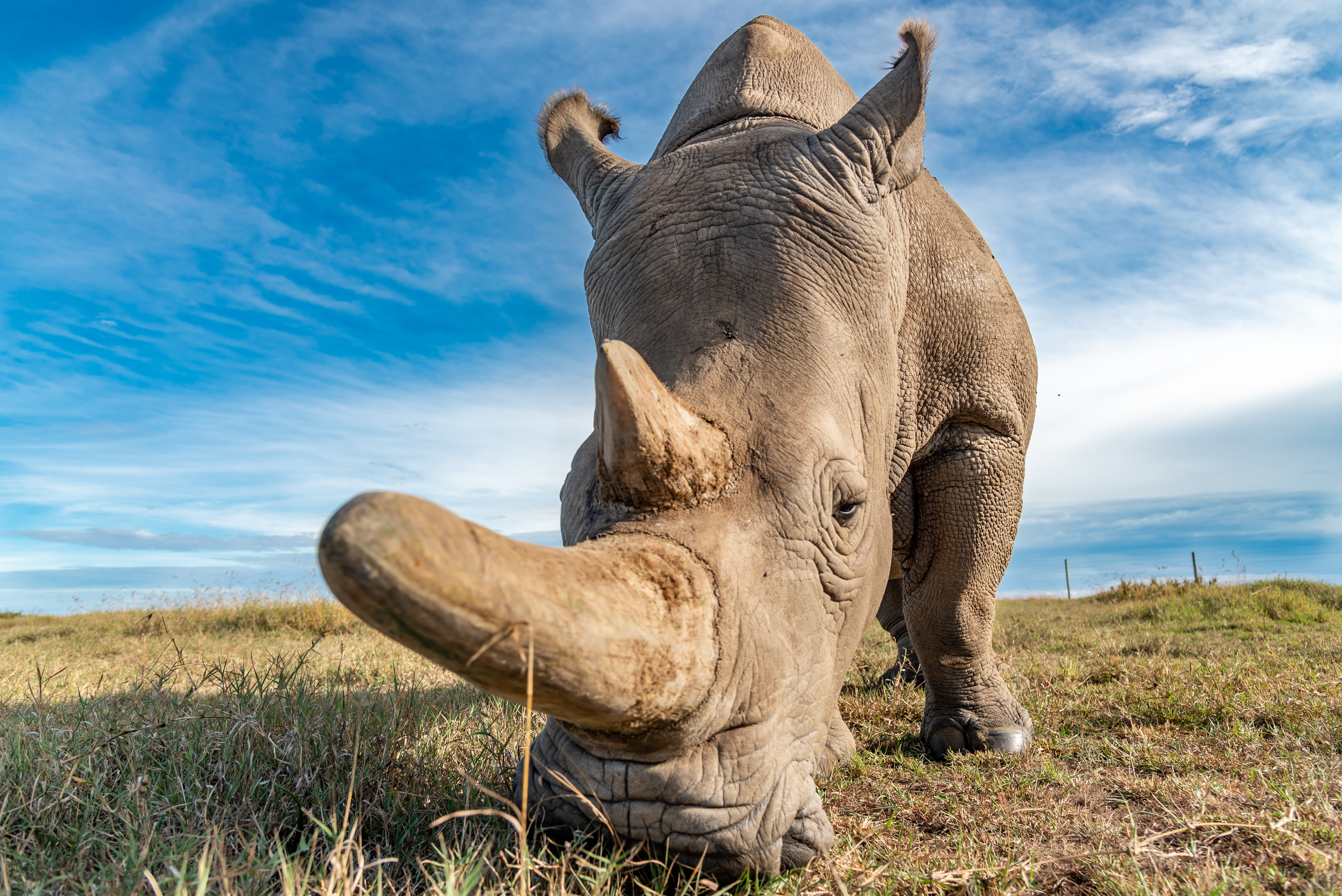 Najin photographed by Marvin Mwarangu
Journey to Kenya to see the Northern White Rhinos
It is tourism that has largely fuelled the Northern White Rhino project success so far. Visitors to Ol Pejeta are required to pay an entry fee. On top of this, Ol Pejeta offers visitors the unique opportunity to meet Najin and Fatu and their carers, to hear their stories, to learn more about their incredible vision for creating a Northern White Rhino.
GO: Explore Kenya's more secretive wild spaces, conservation strong-holds and unique culture in this 10-day itinerary that takes you from Nairobi to Laikipia and Northern Kenya.
STAY: Ol Pejeta Safari Cottages. This homey retreat is tucked away in a grove of yellow-barked acacias in Ol Pejeta's Southern reaches. Enjoy a private safari cottage, personal chef and exclusive vehicle use included in your stay.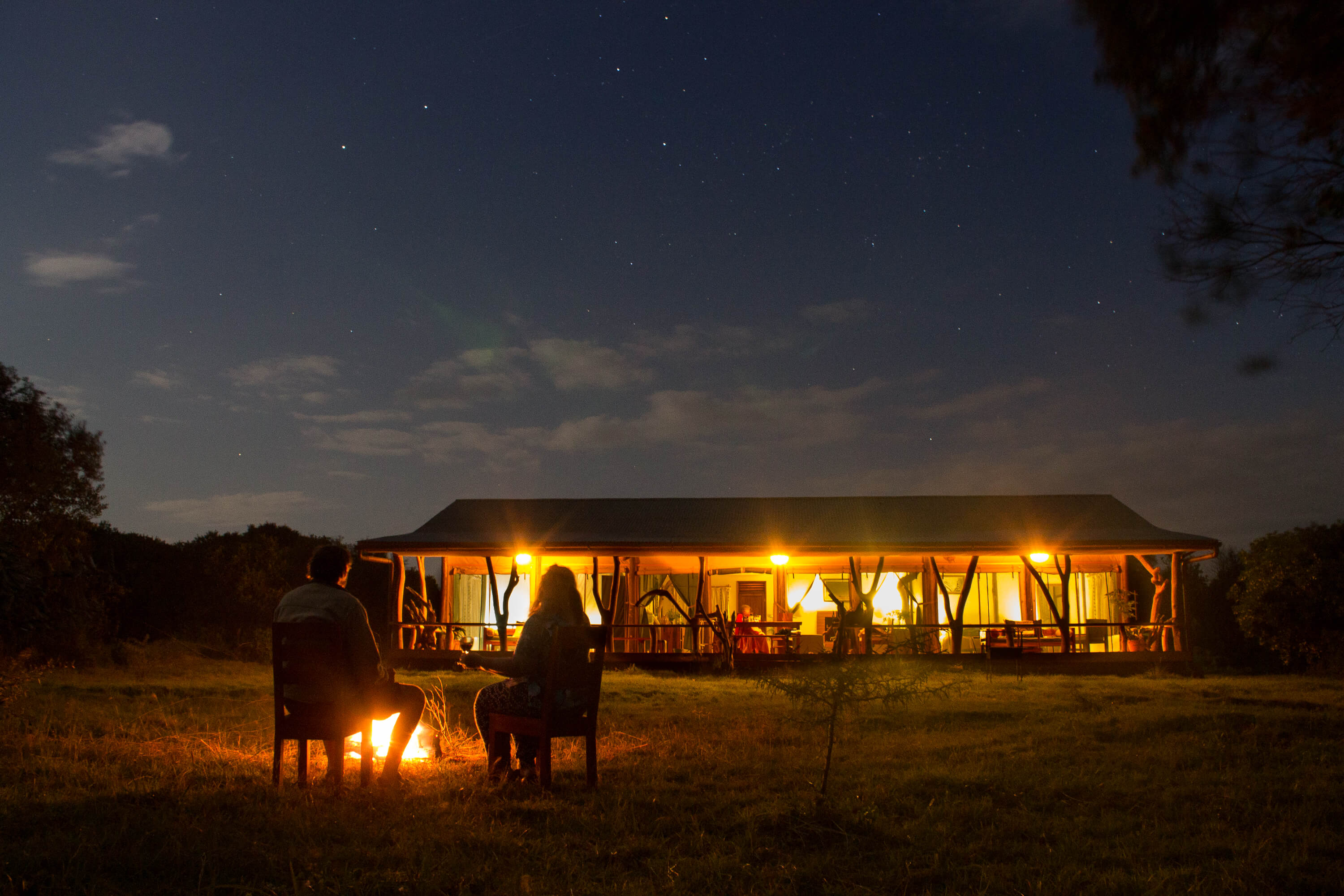 Ol Pejeta Safari Cottages, in Ol Pejeta, Kenya
Feeling inspired? Send us an enquiry and tell us a little more about yourself and a Wayfairer Luxury Travel specialist will be in touch to help you book your trip to Kenya.
References
https://wwf.panda.org/discover/our_focus/biodiversity/biodiversity/
https://www.olpejetaconservancy.org/breakthrough-to-rescue-the-northern-white-rhino/
https://www.iucnredlist.org/about/faqs
We understand that booking trips, especially adventurous and alternative ones such as this can be intimidating, so get in touch; we can take the stress out of your holiday planning and organise a trip you won't forget!
Get in touch
Sign up to our newsletter
For more travel inspiration delivered straight to your inbox just fill in your details here
More inspiration from Wayfairer customers and travel specialist
Sign up to our newsletter
For more travel inspiration delivered straight to your inbox just fill in your details here