The Complete Guide to the Iguazu Falls in Argentina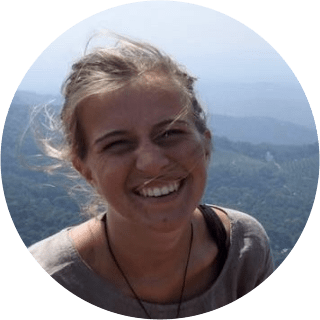 By Lotte Nash
April, 14, 2023

4 Min read
Everything you need to know about visiting the Iguazu Falls in Argentina
If there's any destination that's worth the hype, it's the mighty Iguazu Falls. Everyone who visits the falls are shocked, then humbled, by this striking feat of nature.
As the largest waterfall system in the world, Iguazu Falls boasts an impressive string of facts and figures. Formed as the result of a volcanic eruption, the falls spans an area of 2.7 kilometres wide, and are made up of 275 waterfalls or cataracts.
Devil's Throat is the tallest waterfall, plunging more than 80 metres into the gorge, marked by a billowing cloud of spray. That makes Iguazu Falls nearly twice as tall as Niagara Falls.
The name "Iguazu" comes from the native Guarani words, "y" meaning "water", and "ûasú", meaning "big", and the falls certainly live up to their colossal reputation.
On average, around 1,500 cubic metres of water flows every second, however the water flow can peak at 13,000 cubic metres per second during the rainy season from November to March. That's enough to fill five Olympic swimming pools in just one second.
This extraordinary UNESCO World Heritage Site is the crown jewel of Argentina, perched at the northern tip of the country, in Iguazu National Park. The falls straddle both Argentina and Brazil, stretching from the Misiones Province to the state of Parana in Brazil.
No trip to Argentina is complete without seeing the mighty Falls, so we've put together a guide on everything you need to know about visiting the Iguazu Falls.
1. How to get to Iguazu Falls in Argentina
2. Important information on Iguazu National Park
3. Things to do in Iguazu National Park
4. How much time should you spend at Iguazu Falls?
5. Where to stay at Iguazu Falls in Argentina
6. Best time to visit Iguazu Falls
7. What to pack for Iguazu Falls
8. Accessible travel in Iguazu National Park
Looking for travel inspiration? Wayfairer trip ideas that will take you to Argentina

(hover and click to see the full itinerary)
How to get to Iguazu Falls in Argentina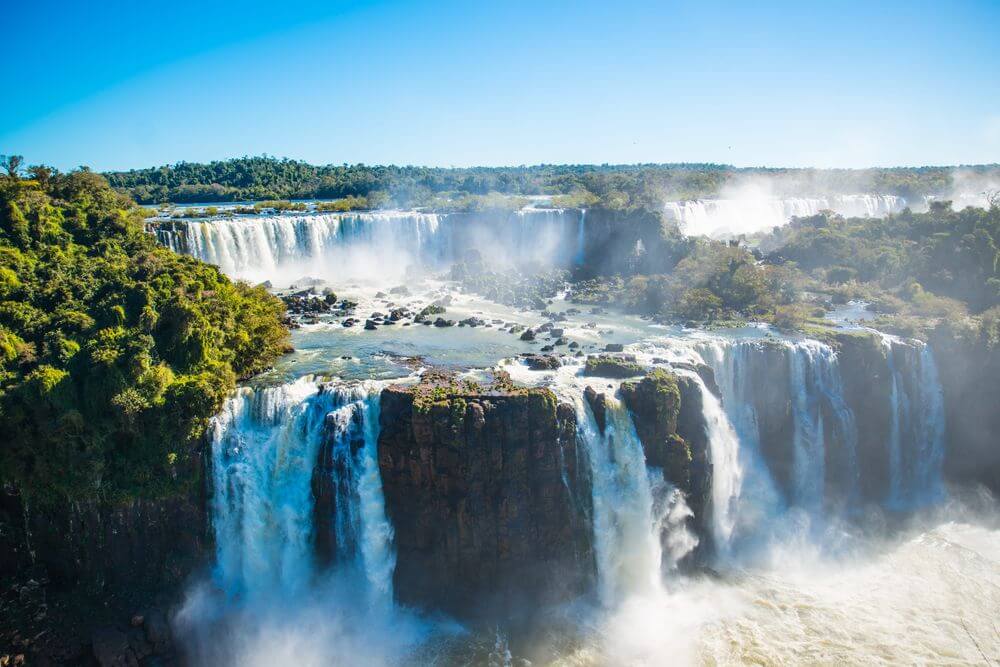 For those short on time, the Iguazu Falls can be reached with an easy 90 minute flight from Buenos Aires.
You'll depart from Jorge Newbery domestic airport and arrive at Puerto Iguazu, the gateway city to Iguazu National Park and Iguazu Falls. We recommend booking the flight well in advance, particularly if you are travelling in the high season.
If you have more time and would like to travel through the countryside of Argentina, we can arrange a private transfer by car. Your driver can stop at interesting sites along the way, and you'll break up the journey with an overnight stay.
Important information about visiting Iguazu National Park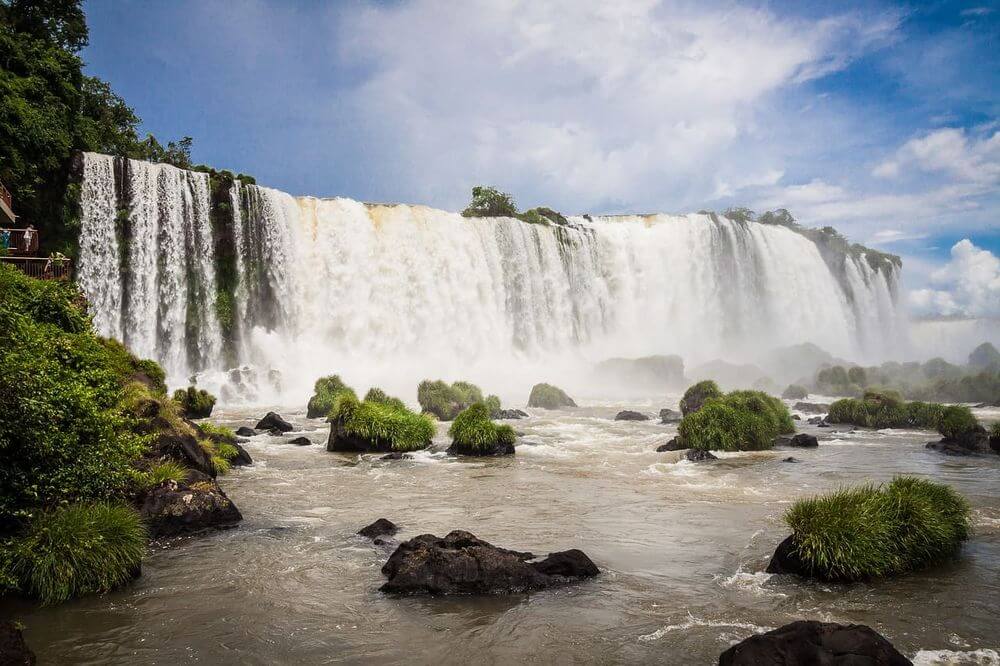 Discover the opening hours, ticket prices and park facilities to prepare for your visit to the Iguazu National Park and Iguazu Falls.
Opening hours
Argentina's Iguazu National Park is open every day of the year. You can enter the park between 8am and 4:30pm, and stay inside the park until 6pm.
Entrance fees
The entrance fee is 700 pesos for non-resident adults and 180 pesos for non-resident children. There is no charge for people with disabilities. You can pay in cash (only in pesos) or with a credit card.
If you are a resident of Argentina, Brazil, Paraguay, Uruguay or Venezuela, you will have a cheaper ticket price, although you must present your passport or national identification at the ticket office.
The cost includes access to the Lower and Upper Circuit, Devil's Throat, ferry to San Martin Island, the Macuco Trail and Arrechea Waterfall, the Green Trail, the Nature Interpretation Centre and unlimited rides on the Ecological Jungle Train.
After your first day, be sure to revalidate your ticket at the ticket office, as this gives you a 50% discount on your second consecutive day at the park.
Facilities in Iguazu National Park
The park features accessible bathrooms, showers, ATMs, WIFI, mobile charging ports, a playground, a souvenir shop, first aid and ambulance service, and an information centre. You can hire lockers and strollers for babies from 0 to 2 years old.
There are plenty of places to eat within the park including La Selva restaurant and a number of fast food kiosks.
Things to do in Iguazu National Park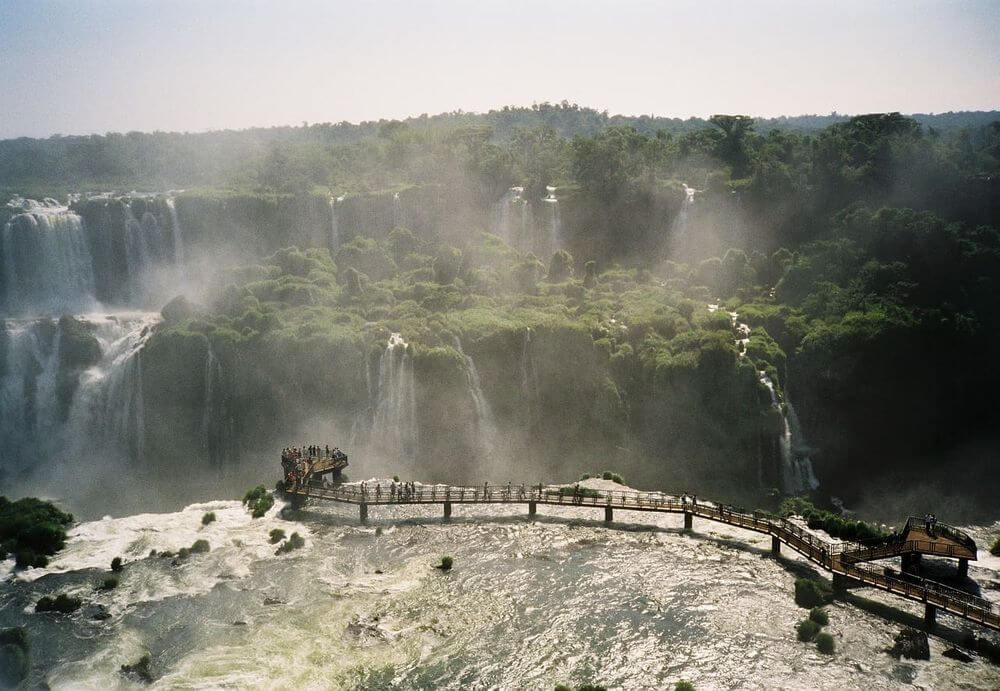 Iguazu National Park is full of treasures and exciting ways to experience the Iguazu Falls, with a myriad of different trails, viewpoints and activities. Here are ten of the best things to do in Iguazu National Park.
Ride the Ecological Jungle Train
Your entrance to Iguazu National Park includes unlimited rides on the 'Green Train', an ecological train circuit that takes you through the jungle and along the river, stopping at the main walking trails and Devil's Throat.
Walk the Lower and Upper Circuit
These are the two main walking trails, offering breathtaking views of the falls. The Lower Circuit is a two kilometre system of walkways and challenging stairways, ingeniously designed to offer intimate encounters with the magical cascades, and spectacular views of the falls.
The Upper Circuit offers incredible panoramic views of the falls, and is best visited in the early morning or late afternoon to catch rainbows arcing through the spray.
Devil's Throat
Known as La Garganta del Diablo (the Devil's Throat), this monstrous waterfall is an unmissable highlight of the national park.
Take the Jungle Train to the Devil's Throat station, then walk along a one kilometre catwalk, watching out for crocodiles and turtles in the water below. You'll hear the ferocious power of this thundering waterfall before you see it, and it's an stunning sight to witness.
Day trip to the Brazilian side of Iguazu Falls
Although two-thirds of the Iguazu Falls are on the Argentina side (and there's more to see on the Argentina side), the Brazil side offers full-frontal, panoramic views of the falls and is well worth a day trip.
It can be difficult to navigate on your own, so we recommend taking a guided tour that includes hotel pick-ups and drop-offs, and a full-day experience within the falls, so you can make the most of your time.
It's important to note that you may need a visa for Brazil, and you'll need to arrange a visa prior to your trip, even if you are visiting just for the day.
San Martin Island
Head to San Martin Island for the best views of the magnificent San Martin waterfall. You can reach the island by taking a ferry from the Lower Circuit across to the island. The ferries are included in your entrance ticket and run every 15 minutes depending on the water levels.
You'll reach a sandy beach where you'll find the entrance to a trail that leads towards a circuit of viewpoints. The trail begins with a climb of around 170 stairs, but you'll be rewarded with tremendous views of the San Martin waterfall, as well as a ring of other waterfalls including the famed Devil's Throat and the Brazilian falls.
Be prepared to get soaked in the misty spray, as you stand face to face with this powerful force of nature. You may even see rainbows illuminated in the mist, and keep an eye out for unique bird species, lizards and hardy tree species.
Helicopter ride
A helicopter flight offers an incredible aerial perspective that shows just how enormous and powerful the Iguazu Falls really are. As you take to the air, you'll be blown away by the view and it's a wonderful opportunity to snap some impressive photos.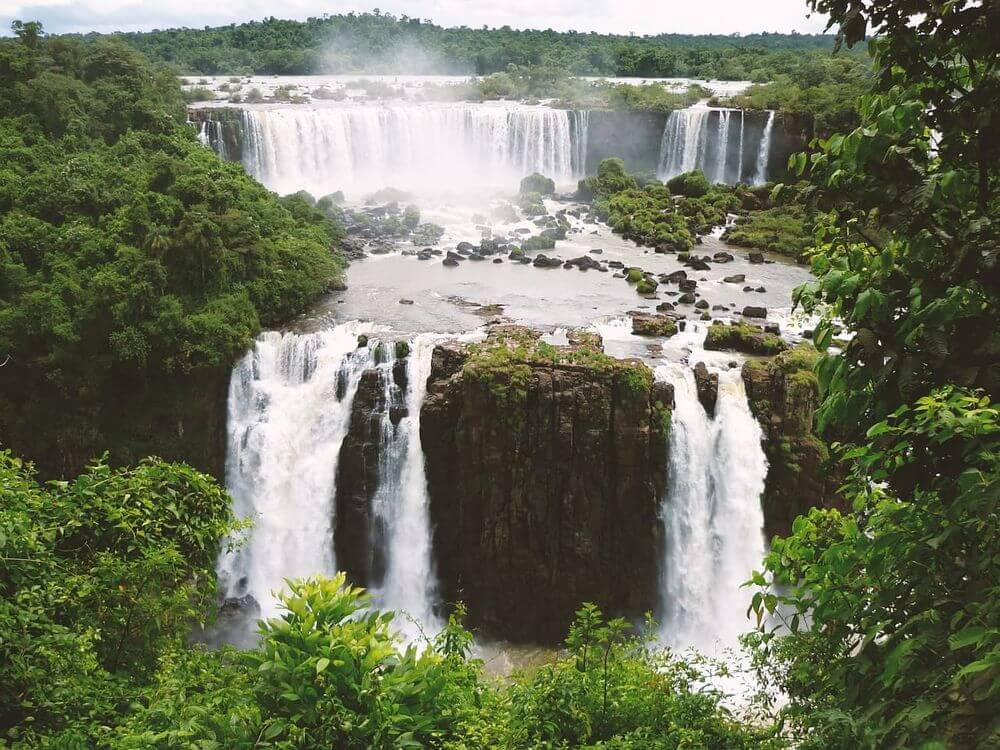 Hiking trails
Besides the Lower and Upper Circuit, there are a range of other fantastic hiking trails around the national park. The Macuco Trail and Arrechea Falls trail is a two-hour return hike through the jungle to Arrechea Waterfall, where you can swim and enjoy a picnic. Keep your eyes peeled for wildlife such as colourful insects and big groups of Caí monkeys.
Other great trails include the Green Trail and the Rainforest Trail. For maps, safety tips and more information, visit the Iguazu National Park website
Speedboat ride
Get up close and personal with the falls, by taking a boat ride into their watery depths. You'll get drenched as you ride the churning rapids, and it's an exhilarating way to get right under the falls. Depending on the season, the weather will be quite warm, but you'll need to bring a change of clothes after your exciting ride.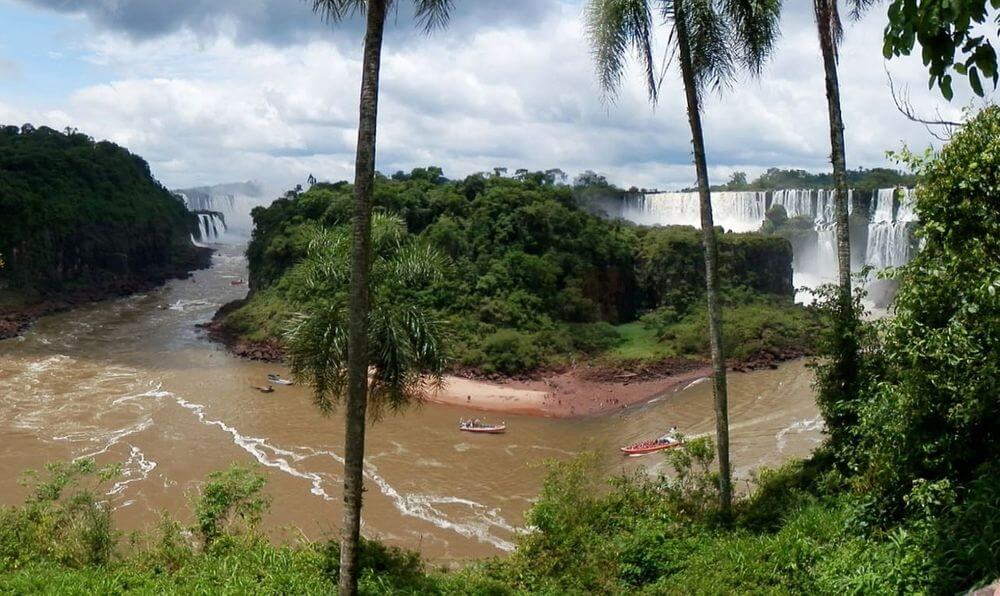 Jungle safaris
If you'd like to see all the incredible wildlife of the rainforest surrounding the falls, you can take a thrilling 4x4 jungle safari to spot howler monkeys, caymans, tapirs, giant anteaters, ocelots and even jaguars. There are also more than 2,000 species of plants to explore.
Guided tours of Iguazu Falls in Argentina
To maximise your time at Iguazu National Park, we recommend taking a guided tour that includes transport and entrance fees.
Your private guide will pick you up at your hotel, and take you to all the major sites of Iguazu National Park, including the Lower and Upper Circuits and Devil's Throat.
As you wander through the jungle, your guide will point out fascinating plants, wildlife and gems of the jungle, while answering all your questions about the park. You'll have the chance to see toucans, yellow-eyed bluebirds, monkeys and coatis (a cousin of the racoon).
Why we love it

The Iguazu Falls are like nothing on Earth. The sheer power, magnitude and beauty of the falls will blow you away, and even US First Lady, Eleanor Roosevelt, supposedly said Poor Niagara, after seeing the falls.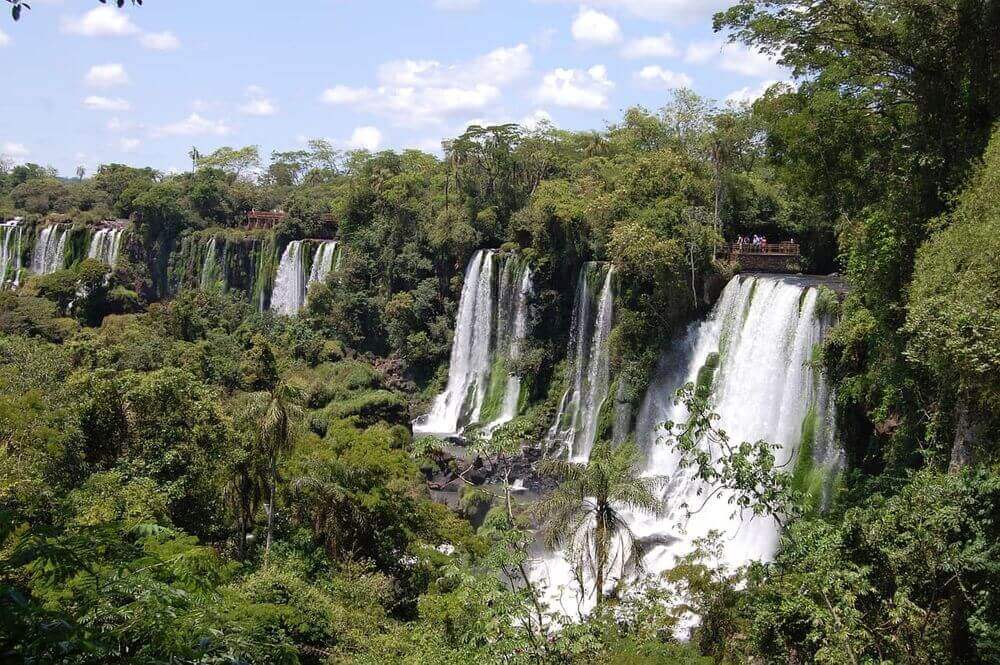 How much time should you spend at Iguazu Falls?
You'll need at minimum of two nights in Puerto Iguazu to see everything at a relaxed pace, although we recommend spending three or four nights if you have time.
You'll need an extra day if you'd like to spend a day on the Brazilian side of the falls.
Where to stay at Iguazu Falls in Argentina
For an immersive Iguazu experience, we recommend staying within the jungle, in close range of Iguazu National Park and Iguazu Falls.
Top hotels near Iguazu Falls:

Loi Suites
One of the best options is Loi Suites, a luxurious eco-lodge, set within the Iryapú Jungle, close to the Iguazu Falls. The lodge was built with a focus on sustainability and preservation of the native vegetation, and you'll be surrounded by towering trees and incredible wildlife.
When you're not exploring the jungle, you can enjoy the outdoor heated swimming pool, spa, pool bar, gym and an excellent restaurant.
Awasi Iguazu
We also recommend Awasi Iguazu, a lavish lodge set on the banks of the River Iguazu, located just 20 minutes from Iguazu Falls. Each villa is assigned a private driver and 4WD, so you can explore the surrounding Atlantic Rainforest at your own pace.
You'll also enjoy customised culinary experiences, featuring fresh local produces, an open bar, and a fantastic selection of Argentinian wines.
Posada Puerto Bemberg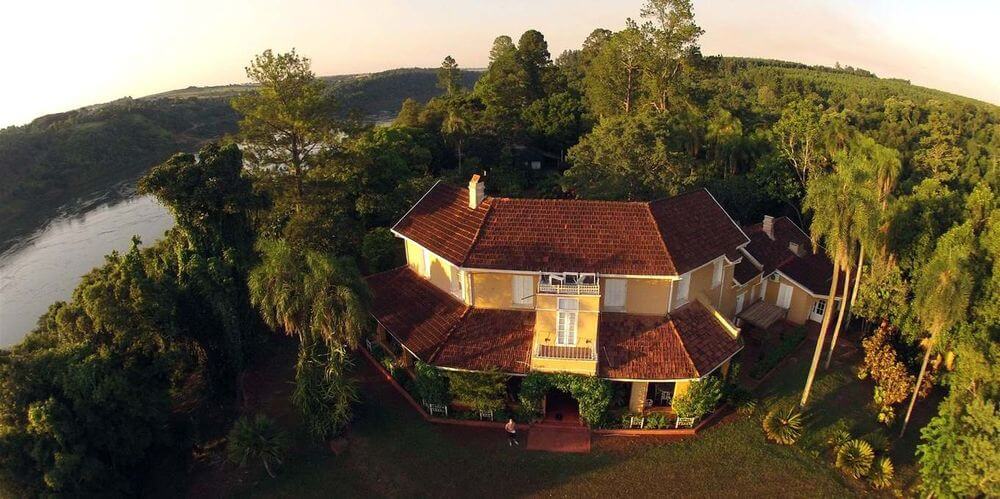 Posada Puerto Bemberg is another superb jungle lodge, located at the entrance of the Iguazu National Park. With incredible river views and access to exclusive jungle trails, you'll be in a prime position to soak up the lush jungle, diverse wildlife and mighty Iguazu Falls.
Best time to visit Iguazu Falls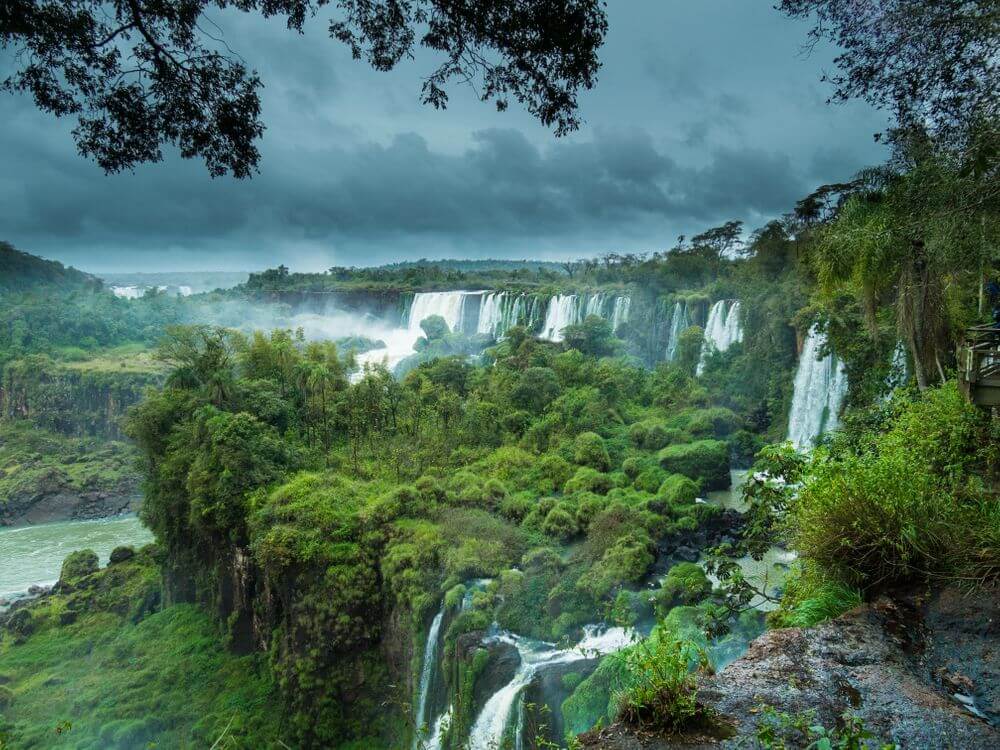 The Iguazu Falls changes throughout the year, depending on the season. If you'd like to see the waterfalls at their full, impressive force, the best time to visit is between December and February.
The rains are longer and heavier during these months, and the falls peak in volume, however the rain may also cause walking trails and San Martin Island to close.
December to February are also the hottest and busiest months, with soaring temperatures and crowds. The rain and heat brings humid conditions, although it's also the best time to cool off under the falls with a thrilling boat ride.
The drier months of March to July bring blue skies, butterflies and rainbows shining through the spray. This a cooler period with less rain, and the water levels of the falls can decrease, so you won't see the full force of the waterfalls.
From August to September, the conditions are dry and cool, which is great for those wanting to hike or bike ride around the scenic trails of the national park. The falls won't be at full volume, although the rain and heat starts to pick up again from October.
Iguazu National Park receives around 1.5 million visitors each year, averaging five to six thousand visitors each day in the low season, and around 10,000 visitors each day in the high season.
To avoid the largest crowds, steer clear of the high season from December to February, and the busy Easter holiday period around April.
For a month-by-month breakdown of weather and events in Puerto Iguazu and Argentina, read our in-depth When to Go to Argentina Guide.
What to pack for Iguazu Falls
Comfortable walking shoes - sturdy, waterproof sandals are best, as the catwalks can get slippery and you'll likely get wet.

Hat and sunglasses

Sun cream, insect repellent, bite relief cream and lip balm.

Plastic ponchos or waterproof jacket to protect you from the spray.

Small backpack or waterproof bag.

Change of clothes and a small, quick-drying towel, if you're planning on taking a boat ride.

Refillable water bottle.

Camera with plenty of memory.
Accessible Travel in Iguazu National Park
Argentina can be challenging when it comes to accessible travel, however the facilities at Iguazu National Park are excellent for those with limited mobility.
People with disabilities can enter the park free of charge and there is free transportation for the elderly and disabled. There are wheelchair accessible bathrooms, ramps running through the park that do not exceed a 6% slope, and footbridges equipped with protective mesh.
There's also an Ecological Jungle Train with an accessible carriage. The train runs a scenic 25-minute circuit through the national park, ending near Devil's Throat. For more information about accessible travel in Argentina, read our in-depth Wayfairer Travel Guide to Argentina.
If you're interested in an Argentina holiday that includes Iguazu Falls, call our friendly team of Luxury Travel Specialists for a chat about your ideas or fill out our enquiry form with details of your dream Argentina trip.
We understand that booking trips, especially adventurous and alternative ones such as this can be intimidating, so get in touch; we can take the stress out of your holiday planning and organise a trip you won't forget!
Get in touch
Sign up to our newsletter
For more travel inspiration delivered straight to your inbox just fill in your details here
More Argentina travel inspiration from Wayfairer customers and travel specialist
Sign up to our newsletter
For more travel inspiration delivered straight to your inbox just fill in your details here