Our collection of the best luxury hotels in New Zealand's North & South Islands
New Zealand is one of the most dazzling countries in the world, boasting iconic scenery, natural wonders, dynamic culture, world-class cuisine, incredible wildlife, and a thriving film industry.
Inspired by the breathtaking landscapes, New Zealand's luxury accommodations are just as spectacular, and are a fitting ode to their unique environment.
You'll find a range of luxury accommodations scattered across the North and South Islands, from magic treehouses perched above the forest canopy, to luxury camping sites nestled within untouched bushland.
There are opulent suites in the heart of the vibrant cities, historic homesteads and grand mansions, and world-class lodges with jaw-dropping views from the mountain to the coast.
Wayfairer only works with luxury accommodations that share our commitment to responsible travel, so when you stay at our favourite New Zealand properties, you can be sure they are dedicated to preserving their stunning environment and its cultural heritage.
Whether you're escaping on a couples retreat or a romantic honeymoon, embarking on an adventure-filled family holiday, or taking an unforgettable trip with friends, New Zealand's luxury accommodations will be as memorable as the country's extraordinary wonders.
Here are 14 of the best luxury accommodations to discover on your New Zealand holiday:


Best Luxury Hotels in the North Island


1. Takou River House, Northland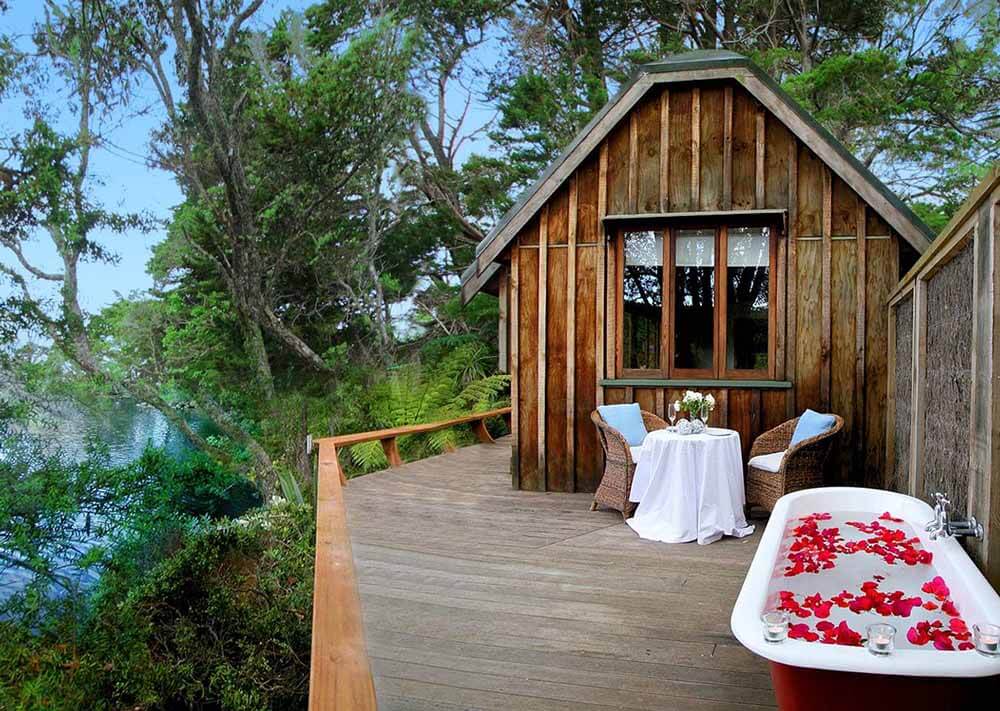 Beginning at the crown of the North Island in Northland, you'll find Takou River House, an eco-luxury glamping experience, set on the tranquil banks of the Takou River.
Takou River House is the ultimate romantic retreat, with four secluded cottages, a lodge with a spa, cosy log fires and alfresco claw-foot baths, as well as a luxury camping site with a private outdoor bath set in the idyllic wilderness on the riverbank.
The luxury canvas tent has its own private jetty and canoe, and an enclosed, fully equipped bathroom and kitchen with cooking facilities. If you don't feel like cooking, you can order delicious, three-course gourmet meals to your room for a truly decadent experience.
2. Hotel DeBrett, Auckland

In Auckland, the country's largest city, we recommend a stay at Hotel DeBrett, a glamorous boutique hotel located on Auckland's High Street.
The Hotel DeBrett is a charming 1920s-themed hotel, with an elegant Art Deco style and resplendent rooms. Each of the 25 rooms has a distinct style and character, inspired by the hotel's rich heritage.
Enjoy contemporary New Zealand cuisine in their fantastic kitchen, or sip prohibition cocktails in the quirky bars, as the lively jazz music whisks you away to the grandeur of the roaring 20s.
3. Hilton Auckland, Auckland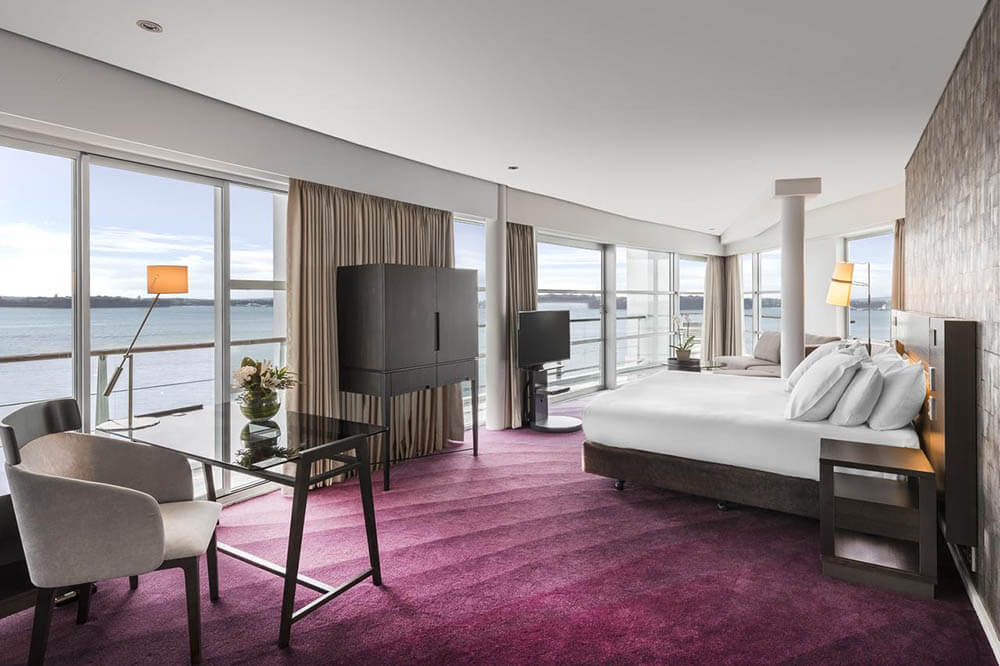 Auckland is full of luxury gems, and we also recommend a stay at the Hilton Auckland, a 5-star hotel with stunning ocean and harbour views from a superb waterfront location.
The Hilton Princess Wharf is a renowned luxury property, with exceptional service and lavish features including a lap pool with underwater window and harbour views.
Visit the delectable FISH restaurant to feast on a sustainable seafood menu and enjoy gorgeous waterfront views.
4. Regent of Rotorua Boutique Hotel & Spa, Central North Island
Moving through Central North Island to Rotorua, you'll find the Regent of Rotorua, a luxury boutique hotel and spa in the heart of the city.
After a busy day exploring the highlights of Rotorua (Lake Rotorua and the hot springs at Kuirau Park are within walking distance of the hotel), you can relax in the elegant rooms designed with beautiful monochrome decor.
Soak in the hotel's outdoor swimming pool and private thermal mineral pool sourced from a local geyser, and enjoy a delicious meal at their award-winning, a la carte restaurant.
5. Huntington Stables Retreat, Central North Island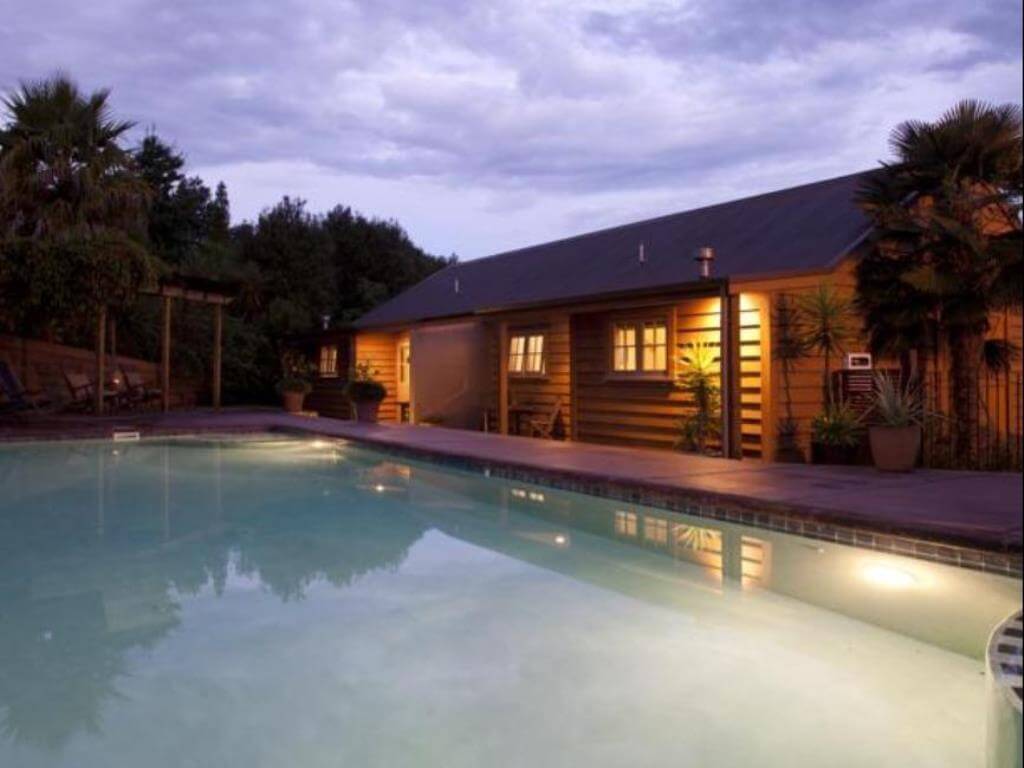 In nearby Cambridge of the Waikato region is the family-run Huntington Stables Retreat.
This peaceful, semi-rural retreat is close to fantastic attractions such as Hobbiton, Sanctuary Mountain, Rotorua, and the glow worm caves of Waitomo.
Relax in the outdoor swimming pool, steam sauna or hot-spa pool, surrounded by picturesque mountains. Take a walk through the tranquil gardens and enjoy the superb, locally-sourced food and wine on your private balcony.
6. Acacia Cliffs Lodge, Central North Island

A stop in nearby Taupo is a must-do for New Zealand's North Island, as is a stay at Acacia Cliffs Lodge.
This exclusive boutique lodge has just four stylish suites, accommodating a maximum of eight guests, and magnificent views of Lake Taupo and the surrounding mountain ranges.
The lodge is run by a passionate local family, offering warm Kiwi hospitality, expert knowledge of the region, and wonderful cuisine, including a complimentary local bottle of wine on arrival, pre-dinner drinks and canapes, and full gourmet breakfasts.
7. Greenhill Lodge, Hawke's Bay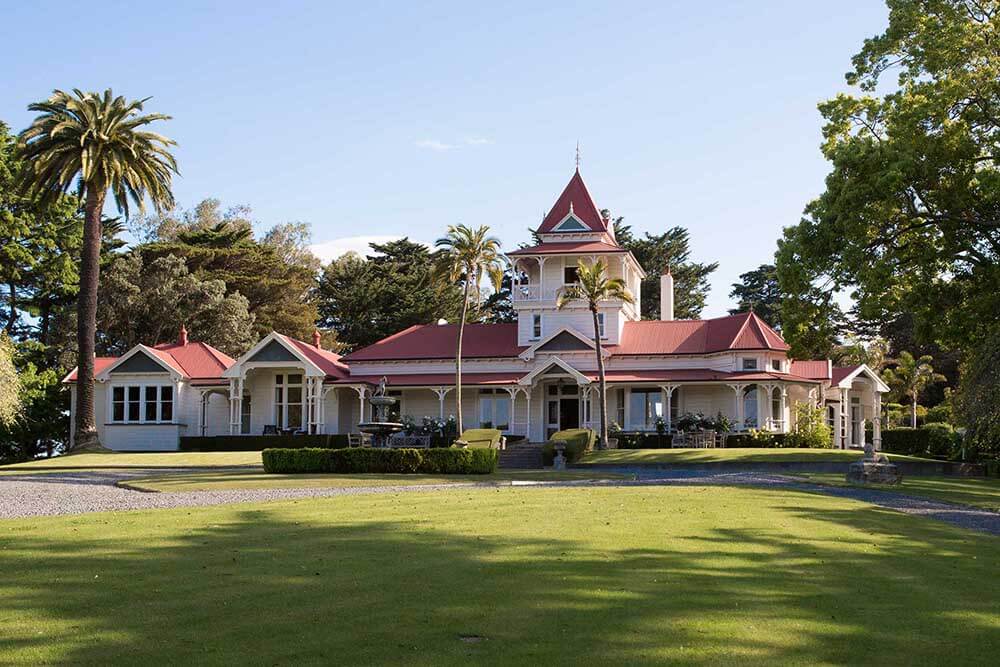 Continuing south to the stunning coastline of Hawke's Bay, you'll find Greenhill Lodge, a historic homestead with three suites set in the gorgeous gardens, and a private standalone cottage complete with a spacious lounge, kitchen, open fireplace and romantic outdoor bath.
This rustic retreat is brimming with rich history (Queen Elizabeth the Queen Mother stayed at the lodge in 1958) and offers an authentic experience with its High Victorian architecture including ornate Victorian detailing, hand-painted stained-glass windows and an elegant billiards room.
There's an outdoor swimming pool, a library and log fire in the cosy drawing room, and a three-storey viewing turret with a telescope for panoramic star-gazing.
Luxury Hotels in South Island


1. Te Koi the Lodge at Bronte, Nelson/Abel Tasman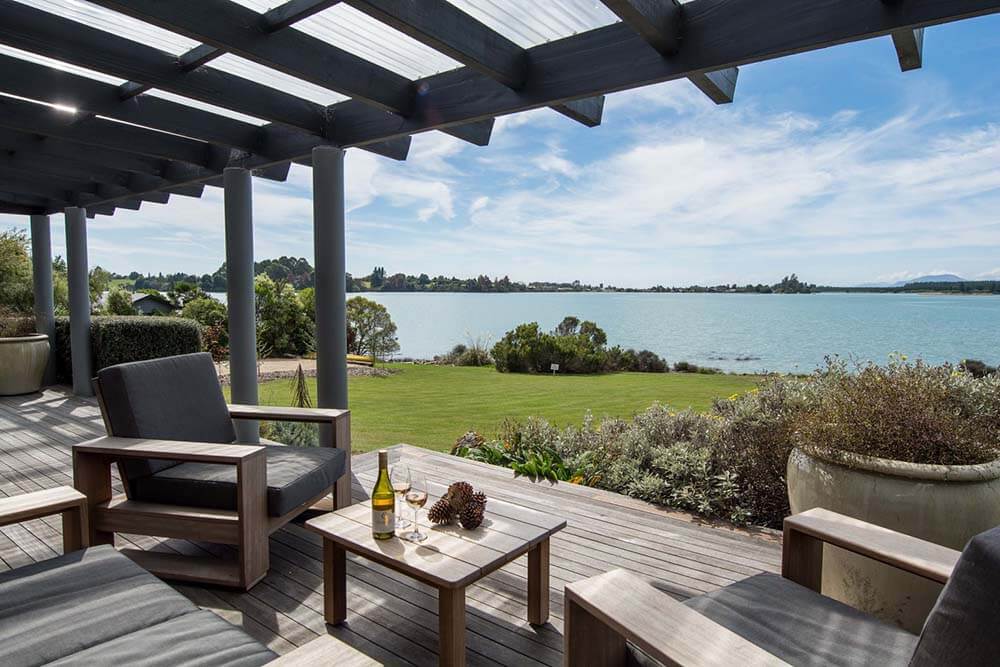 After catching a ferry from the North Island to the South Island, you'll arrive in Nelson for a memorable stay at nearby the exclusive Te Koi the Lodge at Bronte.
This secluded retreat boasts an exclusive waterfront location with sumptuous suites and villas overlooking the Waimea Estuary, and The Residence, a standalone two-bedroom property with private spa pool and helipad.
Guests can enjoy a range of incredible activities including private boat trips around the stunning Abel Tasman, chartered helicopter trips, cycling taste tours, picnics on your own secluded beach, Lord of the Rings filming locations tours, mountain bike and canoe rental, on-site swimming pool and tennis courts, and massage and yoga services.
2. Lochmara Lodge, Marlborough Sounds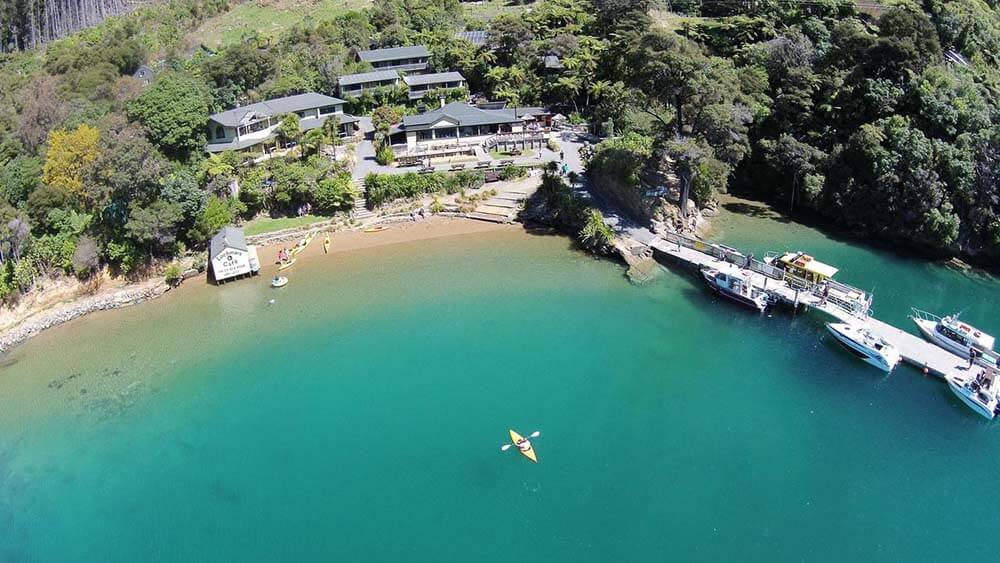 In nearby Marlborough Sounds, you'll find Lochmara Lodge, a luxury eco-retreat only accessible by water taxi or through the hiking trails of the surrounding pristine bushland.
The lodge is an adventure playground with a range of activities on offer including swimming at the private beach, complimentary use of paddle boards and kayaks, spectacular hiking trails, and day cruises around the region.
There's also bunch of conservation and wildlife programs such as bird watching, glow worm caves and an underwater observatory where you can hand-feed wild stingrays.
When it's time to relax you can enjoy the lavish spa and massage suite with romantic twin baths overlooking the bay.
3. Hapuku Lodge + Tree Houses, Kaikoura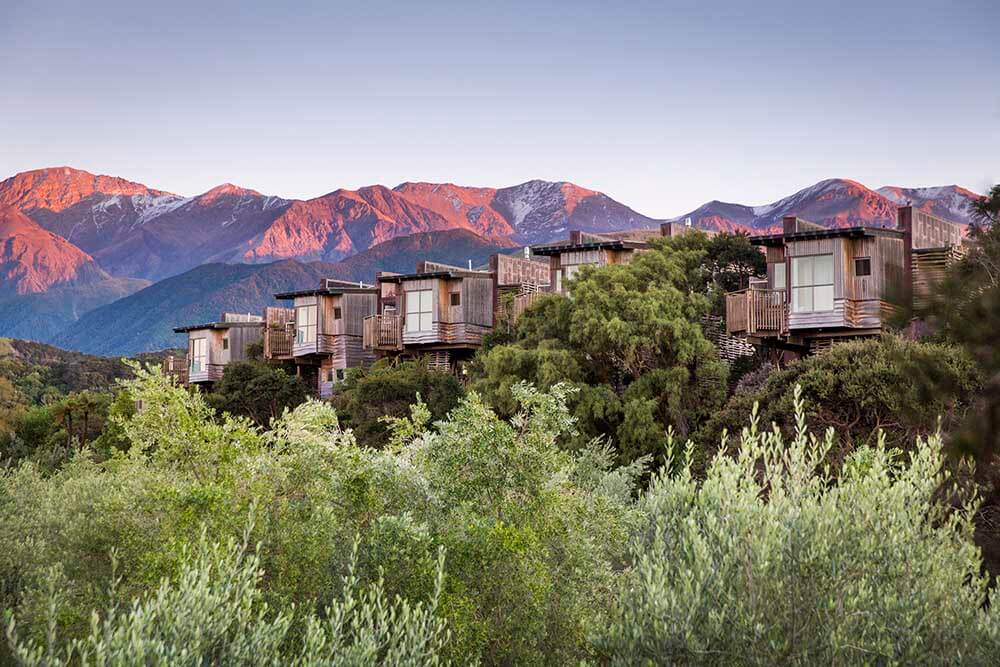 Venturing east near Kaikoura, is Hapuku Lodge + Tree Houses, an architectural treasure set on a secluded deer farm.
There are five beautiful tree houses nestled ten metres up in the treetops for stunning panoramic views of the picturesque farmland and Kaikoura mountains, four spacious suites with Japanese soaking tubs, cosy fireplaces and sweeping views and the three-bedroom, standalone Olive House.
The lodge offers an exceptional culinary experience, using fresh produce from local fishermen and the lodge's own organic garden, and an intimate dining room where you can chat with the chefs as they cook your gourmet breakfasts and 5-course dinner menus.
4. The George Hotel, Canterbury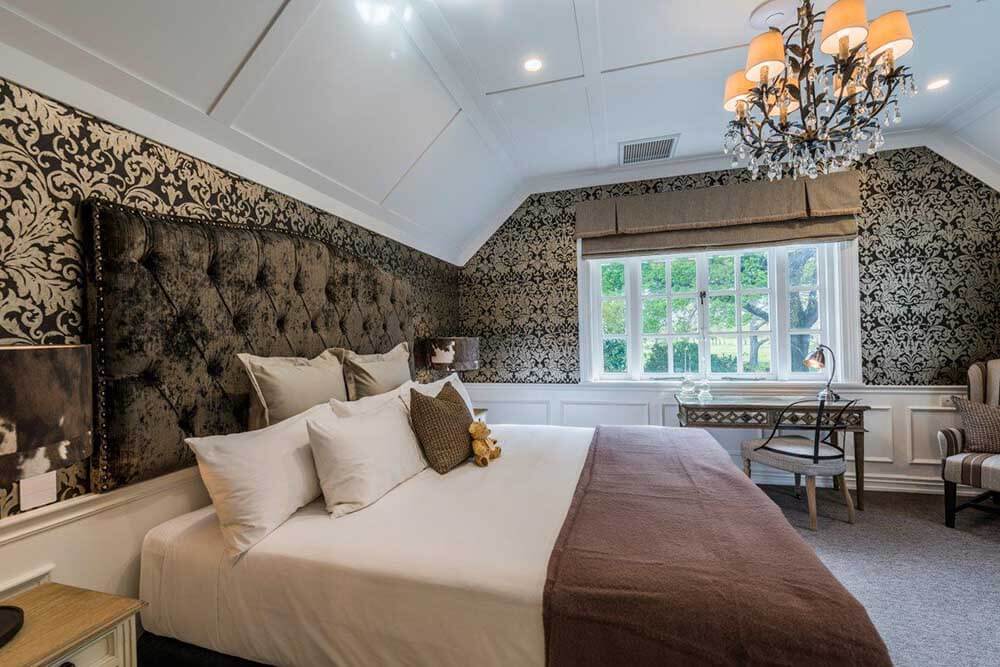 Continuing south along the scenic coastline to Christchurch is The George Hotel, a luxury boutique hotel in the heart of the city.
Renowned for their exceptional service, The George Hotel offer a personalised service with their one-to-one staff to guest ratio, and supreme comfort with 53 rooms and suites stylishly decorated with luxurious amenities.
The Residence, a lavish three-bedroom, standalone villa, was built in the 1950s and has been beautifully refurbished with marble benchtops and oak panelling through the kitchen, dining room, and lounge room leading to the private garden.
5. Hurunui Jacks, Hokitika, West Coast
Get off the beaten track on the west coast of the South Island, with a stay at Hurunui Jacks, a glamping experience set in the pristine rainforest near Hokitika.
The luxury campsite is nestled in a remote corner of a private property, on the peaceful banks of the Kaniere River, surrounded by enchanting national parklands.
Soak in the romantic outdoor bath with a glass of wine as you listen to trilling birds, or toast marshmallows by the fire. Snuggle up in the luxurious tents complete with a comfortable queen-sized bed, running water, cooking facilities, and an enclosed kitchen and bathroom.
6. Queenstown Park Boutique Hotel, Queenstown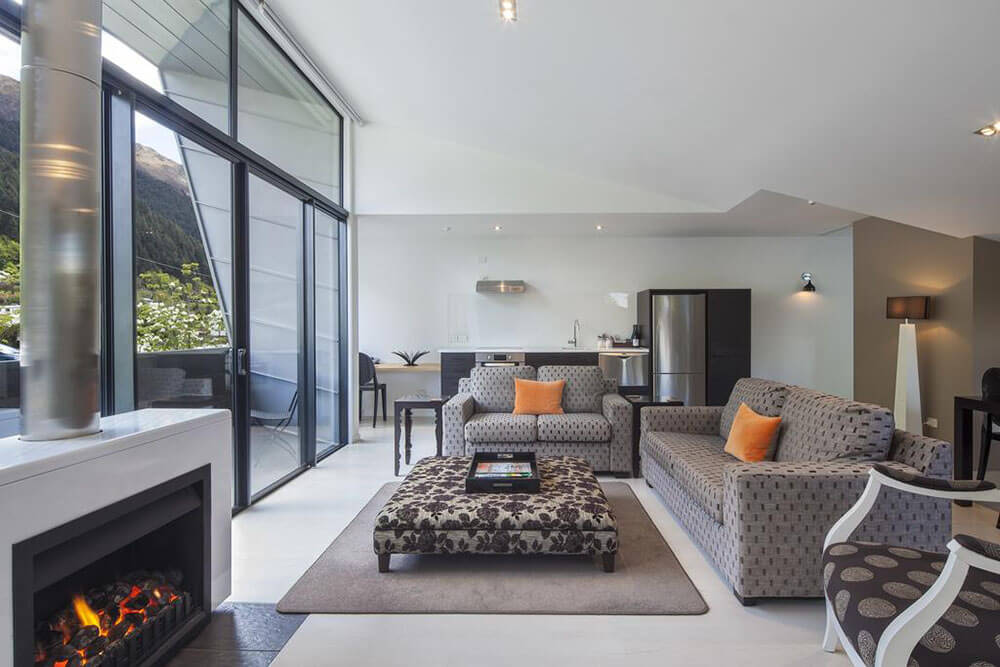 Moving south to Queenstown, we recommend a stay at Queenstown Park Boutique Hotel, an intimate hideaway surrounded by parklands and stunning mountains, yet only a two-minute walk to the heart of the city.
The 19 designer rooms boast sophisticated, modern features, while the Tower Suite is an opulent private penthouse with a kitchen, living and dining room, and a private garden and large balcony with 270 degree panoramic views.
Guests can enjoy complimentary pre-dinner drinks and canapes by the cosy fireplace in the stylish guest lounge, before heading out to explore all the natural gems and adrenaline-pumping activities of Queenstown.
7. Fletcher Lodge, Otago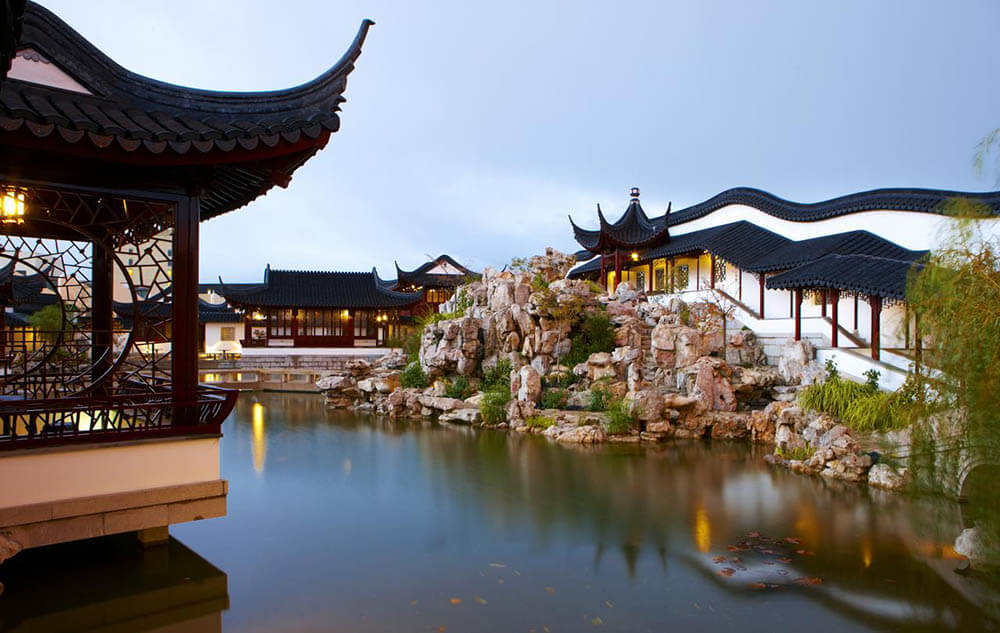 In nearby Dunedin on the east coast, you'll find Fletcher Lodge, a historic mansion dripping in elegant opulence.
The four rooms in the original house and the two standalone self-contained apartments are richly furnished with antique, hand-carved mahogany furniture, including four-poster beds, grandfather clocks and cast-iron claw foot baths.

The room offer stunning views over the Otago Peninsula, and the property is surrounded by peaceful, manicured gardens, all within walking distance of the town. You'll also enjoy the hot tub and daily cooked breakfasts served in the grand drawing room.