Pioneering discoveries, bold adventures & unbelievable stories of survival
It was the ancient Greeks who first thought of Antarctica, back in 350 BC. Although discovering Antarctica and the age of famous polar explorers didn't take place until centuries later, the Greeks knew of the Arctic, named "Arkos" (The Bear) for the great bear constellation, and guessed there should be a southern land mass to balance the world, dubbed "Ant – Arkos" (Opposite The Bear).
This proved to be a lucky guess, as the existence of Antarctica was confirmed by Captain James Cook in 1773, who crossed the Antarctic Circle, circumnavigating the continent. Although he never saw land, the rock found in icebergs was enough to convince him that a southern landmass existed, even though the captain's pessimistic view was: "the world will derive no benefit from it."
Thankfully, Cook was wrong and in the 19th Century, the Heroic Age of Antarctic Exploration began and polar pioneers such as Sir James Clark Ross, Roald Amundsen and Sir Ernest Shackleton became household names.
Here, we explore the fascinating stories of some of the most famous polar explorers to venture into perilous Antarctic territory; their unbelievable tales of survival, their contributions to discovering Antarctica and their uncovering of the Big White's mysteries and secrets:
Sir Ernest Shackleton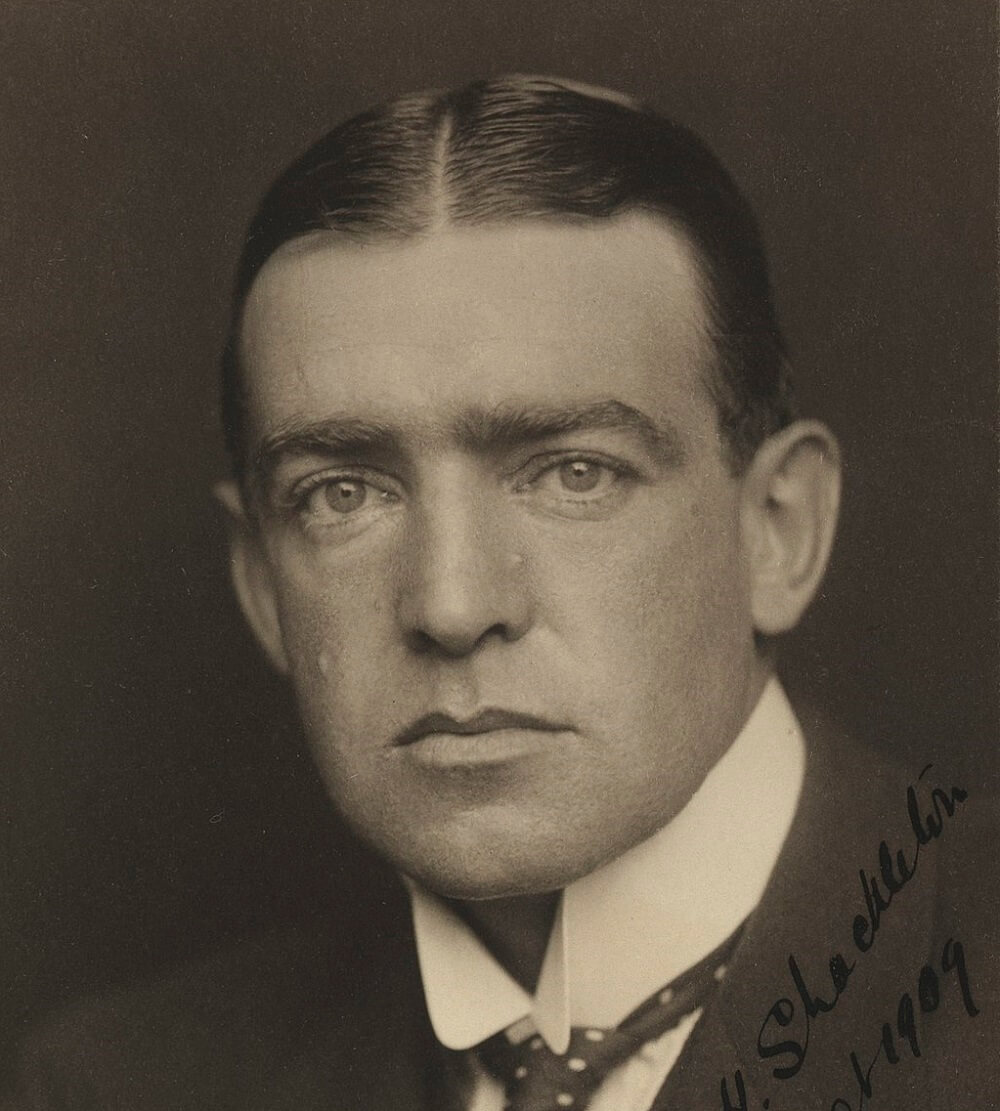 Perhaps the most famous polar explorer, British-Irish Shackleton led two significant Antarctic expeditions, between 1907 and 1909, as well as 1914 to 1917. He was also aboard the Discovery, which took Robert Falcon Scott (see below) to the South Pole.
Shackleton's first Antarctic expedition set sail from Great Britain with Australian explorer Douglas Mawson (another pioneering polar expert, see below), where he made the first-ever ascent of Mount Erebus, the second tallest peak in Antarctica and the site of a still-active volcano.
However, it was Shackleton's second mission that made the history books, even though the expedition was a failure. The South Pole had already been conquered, so Shackleton set his sights on being the first man to cross the continent from shore to shore.
Alas, his ship, the HMS Endurance, got stuck in ice in the unforgiving Weddell Sea and the crew had to wait out the winter on Elephant Island for the ice to thaw. Yet, the crush of the ice had done irreparable damage and when the ice melted in the spring, the ship sank into the water.
The incredible story of Shackleton and his crew's survival still captivates today, as they battled the elements and endured Antarctica's dark and severe winter. After nearly a year stranded in the Big White, Shackleton and a small crew sailed one of the surviving longboats across the Southern Ocean to reach South Georgia, nearly 800 miles away.
This was a spectacular feat of survival, as the voyage took weeks, through some of the roughest seas in the world, as well as a hurricane. The boat landed on South Georgia's uninhabited south coast, so the final leg of the journey saw the crew cross a mountain range that no one had managed to cross before. The rescue mission was a success and the entire marooned crew was brought home safely, against all odds.
Shackleton died of a heart attack aboard his ship in 1922, which was moored at South Georgia. This Antarctic island is now his final resting place and you can visit his grave here.
Roald Amundsen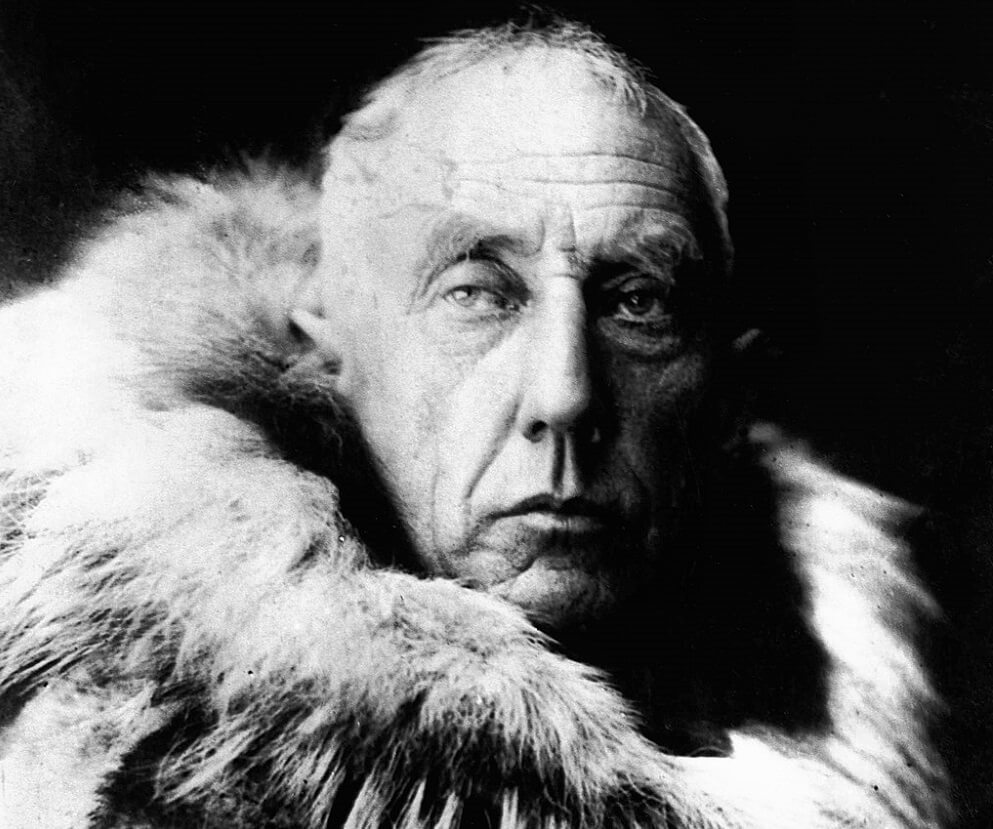 One of the most famous polar explorers in history, Norwegian Amundsen was the first to reach both the North and South Pole in his lifetime. In the race to reach the South Pole, Amundsen was competing against Robert Falcon Scott (see below), but compared with Scott's difficult mission, the Norwegian's expedition ran relatively smoothly; using sled dogs instead of Scott's ponies and taking a different route.
Amundsen and his crew planted their flag at the South Pole on 14th December 1911 and left a note for polar rival, Scott:
"Dear Captain Scott,
As you probably are the first to reach this area after us, I will ask you to kindly forward this letter to King Haakon VII. If you can use any of the articles left in the tent, please do not hesitate to do so. The sledge left outside may be of use to you. With kind regards, I wish you a safe return.
Yours truly,
Roald Amundsen"
After conquering Antarctica, Amundsen continued exploring until he disappeared around Norway's Bear Island whilst participating in a rescue mission.
Robert Falcon Scott
A name synonymous with Antarctica, Scott's first expedition to the continent was in 1901, but failed spectacularly due to a lack of proper supplies and resources, requiring a rescue mission to bring the crew back. However, Scott was undeterred and started planning his second expedition, this time to reach the South Pole, although he had fierce competition from Norway's Roald Amundsen.
Scott set off with five men on a quest to reach the South Pole first, but upon arrival discovered that Amundsen's expedition had beaten him to it by a mere four weeks. On the return journey, the crew hit a blinding blizzard, resulting in scurvy, dehydration and hypothermia.
As the brave men accepted their fate, they wrote letters to loved ones and a monument to the lost mission now stands on Antarctica's Observation Point, inscribed with the quote: "To strive, to seek, to fine, and not to yield."
Shirase Nobu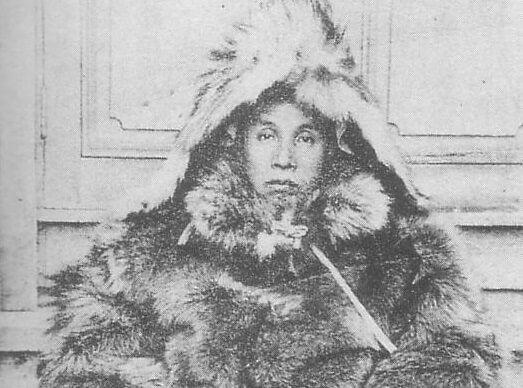 Often overshadowed by Scott and Amundsen, Japanese explorer Shirase was also in the race to reach the South Pole, as part of a seven-man team. His expedition was the first to make landfall on the Edward VII peninsula and they explored the Queen Alexandra Range before severe weather conditions forced them to retreat.
As Shirase spent the winter in Sydney, Australia, he struck up a friendship with fellow polar explorer, Sir Edgeworth David (see below). Before returning to Antarctica for a second attempt, Shirase gifted David with a 17th-century samurai sword for his help and advice, which can still be seen today on display at Sydney's Australian Museum.
Sir Edgeworth David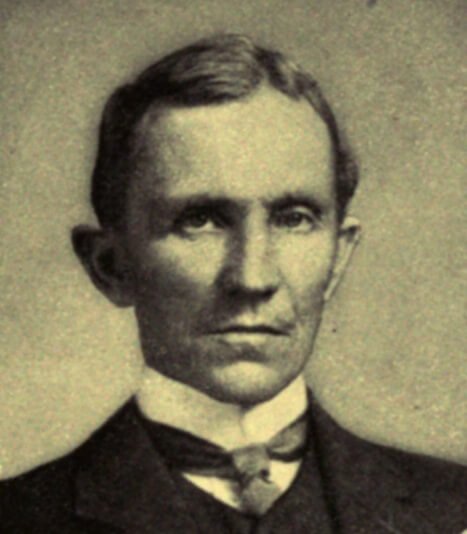 Confusingly, there are actually two South Poles: the geographic South Pole at the bottom of the planet and the magnetic South Pole, a few hundred miles away. Welsh-Australian Sir Edgeworth David was part of the first expedition to the magnetic South Pole. Though the expedition failed, David returned with Shackleton and successfully found the magnetic South Pole, and he was also one of the first men to reach the summit of Mount Erebus.
Sir Edmund Hillary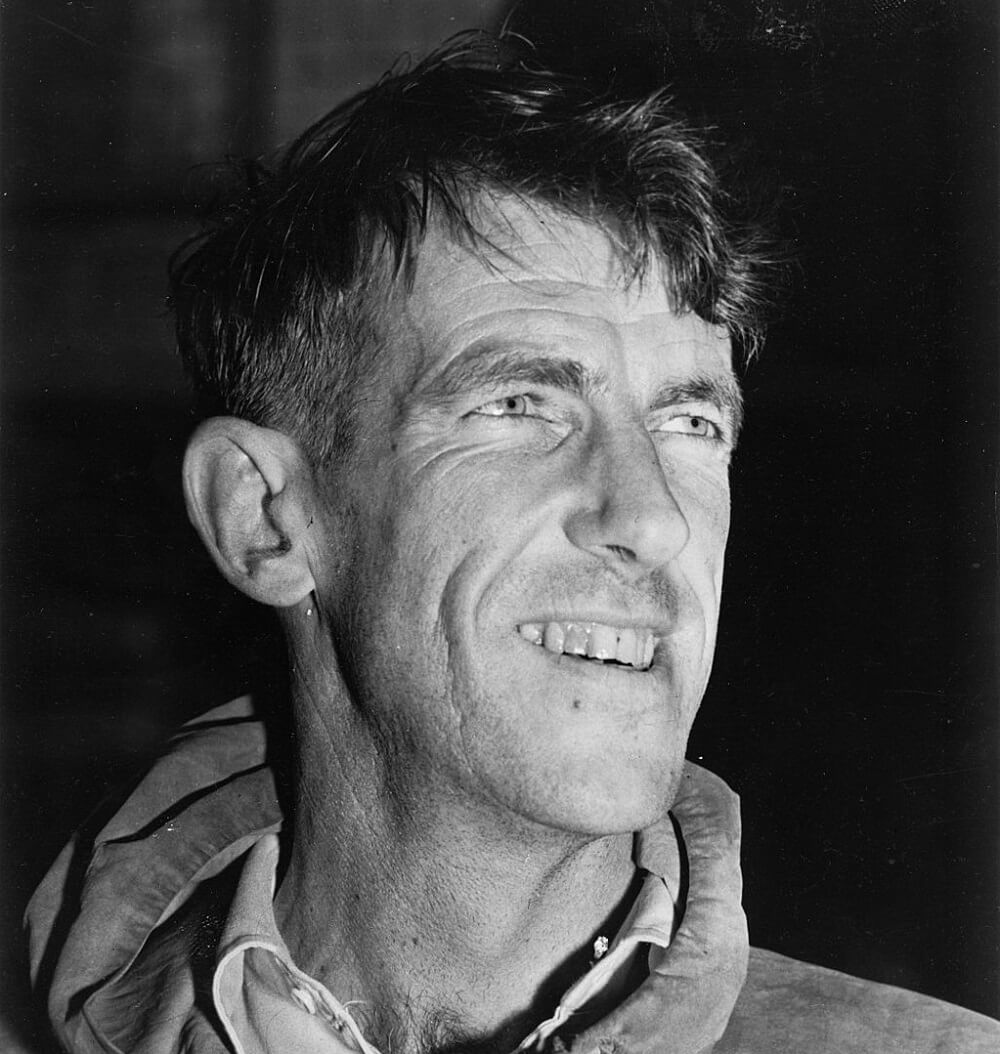 Although most well-known for being the first man to climb Mount Everest (with his Nepalese Sherpa, Tenzing Norgay), polar explorer Hillary was also the third man to reach the South Pole in 1958, the first since 1912 and the first to do so using motorised vehicles.
After this intrepid mission, Hillary spent two decades studying Antarctica and his detailed notes are still used today for modern-day expeditions. Born in New Zealand, you can now see Hillary's face on the Kiwi $5 note.
Sir Douglas Mawson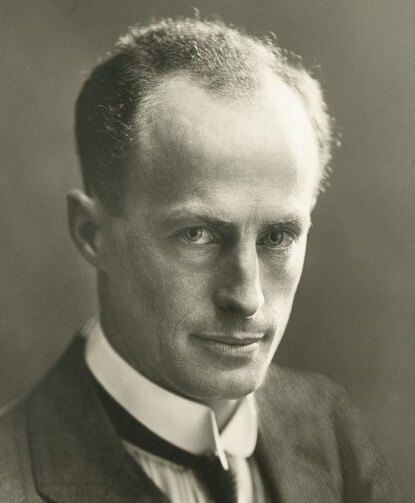 Australian Mawson was another pioneer during the age of Antarctic exploration. He joined Shackleton's 1907 Nimrod expedition, where he also met his mentor, Edgeworth David.
Mawson turned down an invitation to join Robert Falcon Scott's doomed Terra Nova Expedition, instead opting to lead his own mission in 1911 to the sector of Antarctica south of Australia, which at that time was completely unexplored.
He was also the first explorer to bring a plane to Antarctica, with the idea of doing aerial exploration of the region. However, the plane was damaged en route and the engine did not operate well in the Antarctic climate.
Sir James Clark Ross
Although explorers, whalers and sealers knew of Antarctica, or had caught glimpses of the land and its surrounding islands; due to its isolated location and the dangers posed by navigating Antarctic waters, few had dared to reach its shores.
Sir James Clark Ross of Great Britain was the first (known) explorer to journey farther south than anyone else before, with two expeditions in 1839 (HMS Erebus) and 1843 (HMS Terror). He discovered the Ross Sea and as you may have noticed from the names above, Antarctic volcanoes were named after his vessels.
By sailing the Antarctic coast, Ross was the first to discover that Antarctic was a continent, rather than simply ice and islands. The written chronicles of his travels, A Voyage of Discovery and Research to Southern and Antarctic Regions, include some of the first uses of the name, "Antarctica."
Women in Antarctica
Women had been exploring Antarctica alongside men for centuries, according to Maori stories passed down through the generations – as early as 650 AD. And although the Heroic Age of Antarctic Exploration (1897 – 1922) consisted of expeditions exclusively crewed by testosterone, women were often involved in pioneering Antarctic exploration as scientists, fundraisers, supporters and administrative operators.
Later, qualified women looking for bigger roles in Antarctic exploration struggled to overcome gendered assumptions about females as crew members, especially as they competed against men with "expedition experience."
However, recent studies and experiments have shown that women are no more susceptible to negative effects caused by Antarctic conditions than men, with a 1995 study by Jane Mocellin suggesting that women actually cope better than men in an Antarctic environment.
Though the following women may not be regarded as famous polar explorers, they certainly paved the way for women to participate in Antarctic exploration:
Caroline Mikkelsen
The earliest recorded women in Antarctica were the wives of explorers and expedition crew, such as Danish-Norwegian Mikkelsen, who became the first woman to set foot on Antarctica on 20th February 1935 (although whether this was an island or the mainland has been disputed).
Ingrid Christensen
Norwegian Christensen made a total of four trips to the Antarctic in the 1930s, accompanying her husband aboard the ship, Thorshavn. In 1931, Christensen and Mathilde Wegger were the first women to see Antarctica, though a landing was not possible. In 1933, Christensen returned twice to Antarctica, though again a landing was not possible, even though the ship circumnavigated most of the continent on her third voyage.
Finally, in 1937, on Christensen's fourth trip to the Big White, she first flew over the mainland (making her the first woman to fly over Antarctica and see it from the air), then landed on the mainland on 30th January 1937, making her the first woman to set foot on Antarctica proper.
Jackie Ronne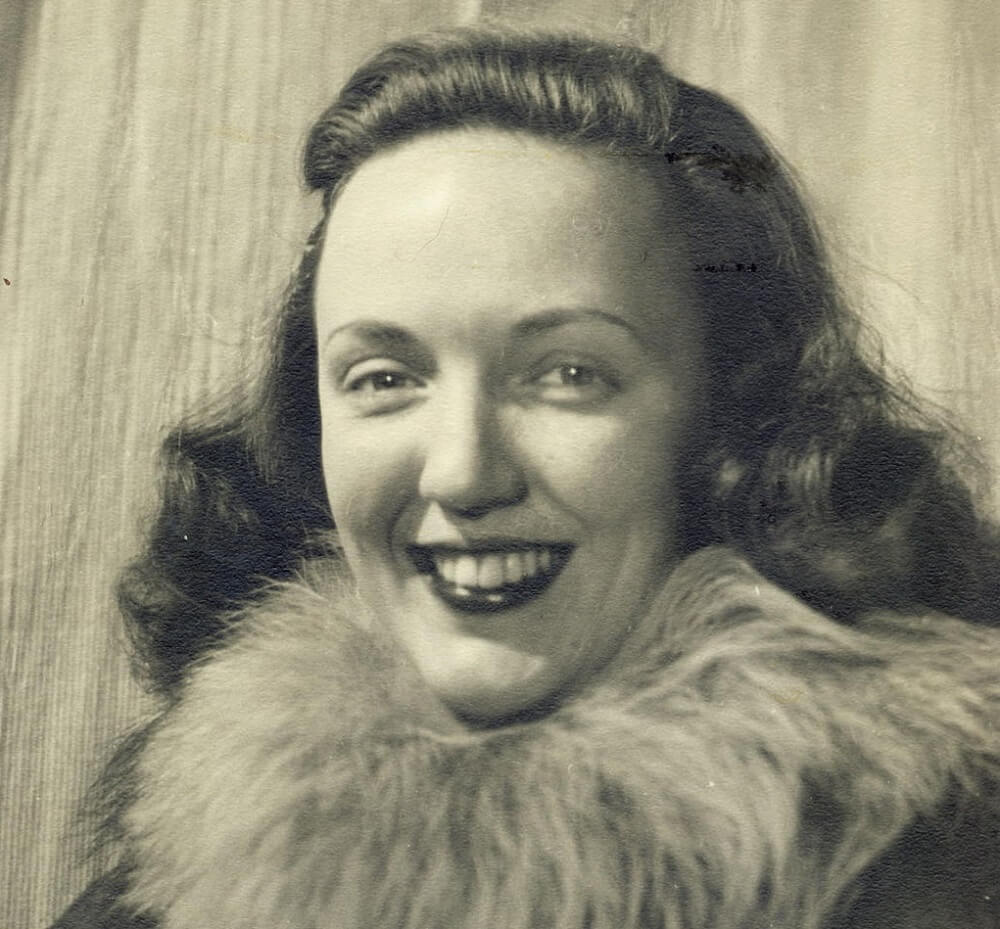 American Edith "Jackie" Ronne was the first woman to be a working member of an Antarctic expedition (as recorder and historian), joining her commander husband. She returned an incredible 15 times to Antarctica, including a flight to the South Pole in 1971 to commemorate the 60th anniversary of Roald Amundsen's conquest. The Ronne Ice Shelf is named after her.
Sir Ranulph Fiennes
A more modern polar explorer is British Fiennes, who currently holds several endurance records. He is the first person to visit both the North and South Poles by surface means and also the first to cross Antarctica on foot, unsupported.
After an unsuccessful initial attempt to walk solo and unsupported to the North Pole, Fiennes was forced to return home after sustaining severe frostbite on the fingertips of his left hand (his sleds fell through ice and he hand to pull them out by hand). His surgeon advised the fingertips be retained for a few months before amputation, but impatient with the pain, Fiennes cut them off himself with an electronic fretsaw.
What's more, Fiennes also completed seven marathons on seven continents in seven days (despite a heart attack and double heart bypass operation four months before), with the Antarctic leg completed in the Falklands after bad weather forced him to relocate from King George Island, in the South Shetlands.
In 2003, Fiennes published a biography of Robert Falcon Scott, with the aim of defending Scott's reputation against other biographers questioning his achievements.
Antarctica Trip Ideas
Today, you too can be an intrepid Antarctic explorer too, discovering areas of Antarctica few ever have the chance to see, as part of an Antarctic cruise adventure. Here are just a few of our favourite Antarctica itineraries to choose from:
If you'd like to join the ranks of the bold and pioneering polar explorers on this list, call our friendly team of Luxury Travel Specialists to chat about your trip ideas or fill out our online enquiry form to start planning your Antarctic adventure.
Photo references:
Sir Ernest Shackleton - National Library of Norway, Public domain via Wikimedia Commons
Roald Amundsen - Public domain via Wikimedia Commons
Robert Falcon Scott - Henry Maull (1829–1914) and John Fox (1832–1907), Public domain via Wikimedia Commons
Shirase Nobu - Published by 潮出版社, Public domain via Wikimedia Commons
Edgeworth David - E. Spencer Macky, Public domain via Wikimedia Commons
Edmund Hillary - Photographer unidentified. Retouched by TimofKingsland, Public domain via Wikimedia Commons
Douglas Mawson -

Public domain via Wikimedia Commons

James Clark Ross - Wildman, John R. (1785), Public domain via Wikimedia Commons
Jackie Ronne - Ronne Antarctic Research Expedition, Public domain via Wikimedia Commons