The Best Time to Climb Kilimanjaro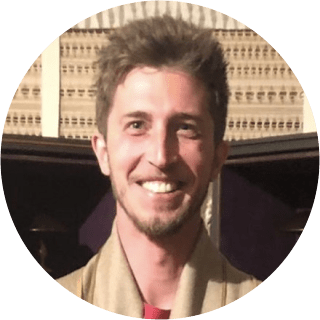 By Tom Blakey
April, 14, 2023

4 Min read
A comprehensive guide to when to climb Mount Kilimanjaro
So, you've decided to take on the challenge of tackling Africa's highest peak? Next, you need to think about the best time to climb Kilimanjaro, in terms of weather, trekking conditions and popularity.
Although it's technically possible to trek Tanzania's Mount Kilimanjaro year round, there are certain months which are characterised by colder weather, more rain and potentially lots of snow on the summit.
We generally advise that the best time to climb Kilimanjaro is during the warmest and driest times of year, from December to mid-March and mid-June to the end of October.
However, although these are considered to be the best times to climb the mountain in terms of weather, they are also the busiest months.
Here, we break down Kilimanjaro climbing season, off-peak alternatives and times to avoid, plus other factors to consider, so you can plan the best time to take on this mountain adventure.
Climbing Kilimanjaro in March, April & May
Climbing Kilimanjaro in January & February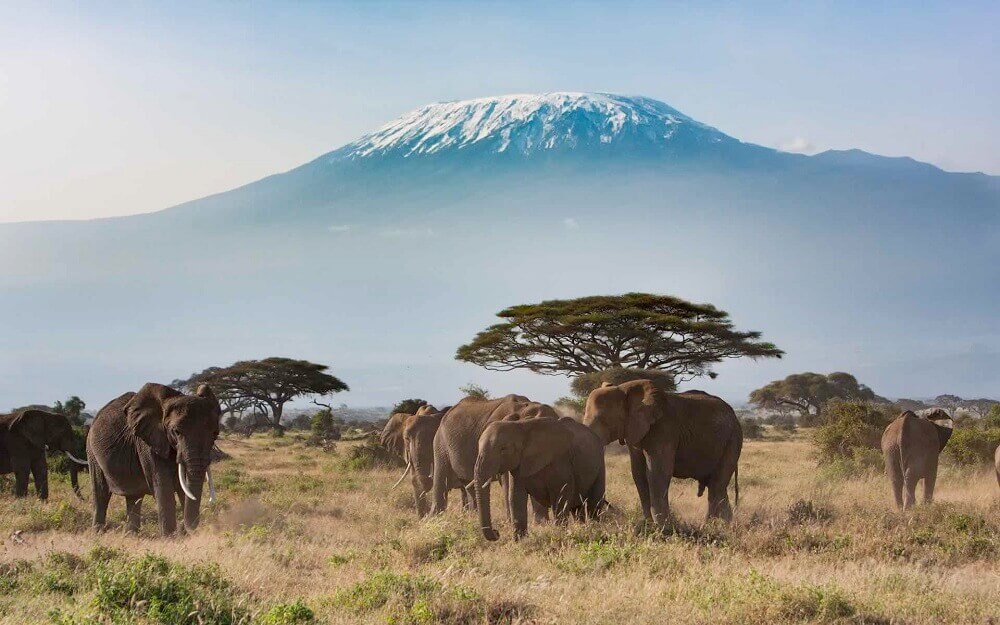 January and February are two of the best months to climb Mount Kilimanjaro and therefore also the most popular. They are the warmest months, so you can expect clear, sunny skies in the mornings and evenings, however clouds may appear in the afternoons and you may experience some rain.
Climbing Kilimanjaro in March, April & May
The long rainy season starts at the end of March and continues through to early June. We do not recommend climbing Kilimanjaro during this time, as the trails can be very wet, muddy and snowy.
Climbing in the rain is likely to be less enjoyable and means you'll miss out on the spectacular views and photo opportunities. On the other hand, if you do choose to trek at this time of year, you'll avoid the crowds on the trails (even the most popular routes can offer solitude, peace and tranquillity) and at the campsites.
What's more, some people relish the idea of climbing Kilimanjaro when the summit is likely to be snow-capped, as this can add an additional element of challenge (as well as beautiful landscapes) to your mountain trekking adventure.
Climbing Kilimanjaro in June
June sees the transition from the rainy season to the dry season, so this month tends to be much drier than March, April and May. However, you should be prepared for cold temperatures and the skies are typically still cloudy, which means that you won't necessarily have such impressive views.
Wayfairer Top Tip
I hiked in June and the weather was great. Further down the mountain you are in a pretty warm, humid, tropical jungle environment, but once we passed up through the clouds, it was clear skies day and night. The final ascent was really tough, and you do it at night. We only encountered snow and ice past Stella Point, which is actually a really sad comment on climate change.

Laura Bannister
Content Writer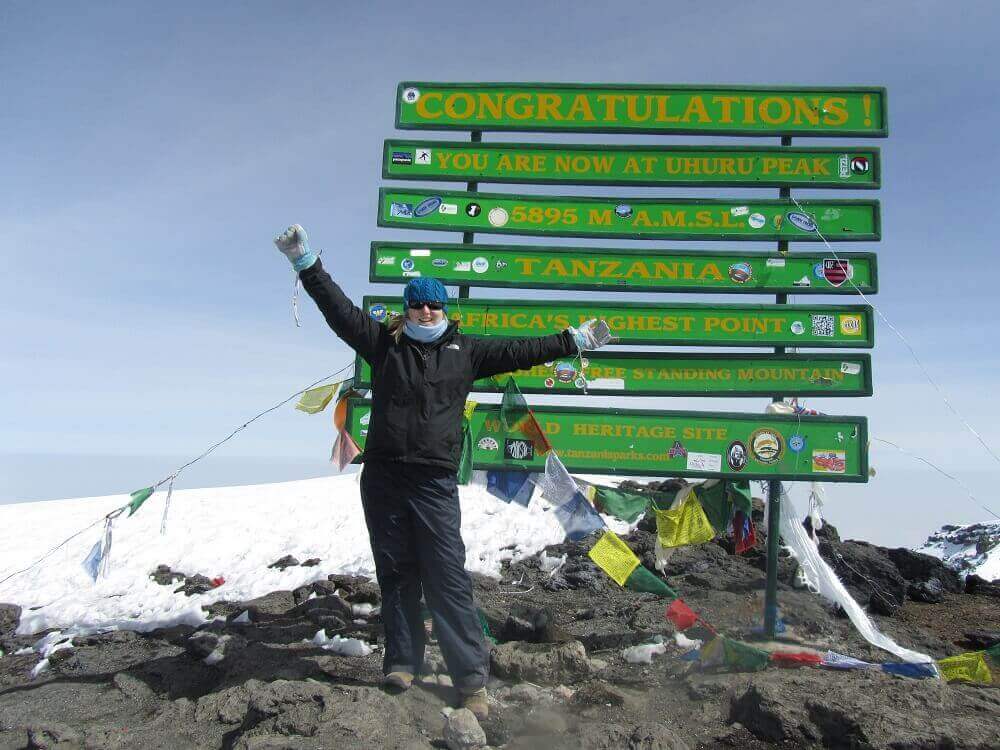 Climbing Kilimanjaro in July, August, September or October
From July until the end of October, conditions are generally colder, but much drier than the previous months. Whilst there is a chance of getting rained on throughout the year, particularly as you trek through the rainforest and moorlands, typically precipitation is low and infrequent.
If you remain dry, you'll be more comfortable and the trek will be a more enjoyable experience overall. Another advantage of climbing during these months is that you'll have clear and sunny skies, and spectacular views.
The disadvantage of trekking during these months is that the trails can become quite busy, however some people welcome the opportunity to chat with other groups at the campsites. After all, team spirit is essential for pushing yourself to the summit.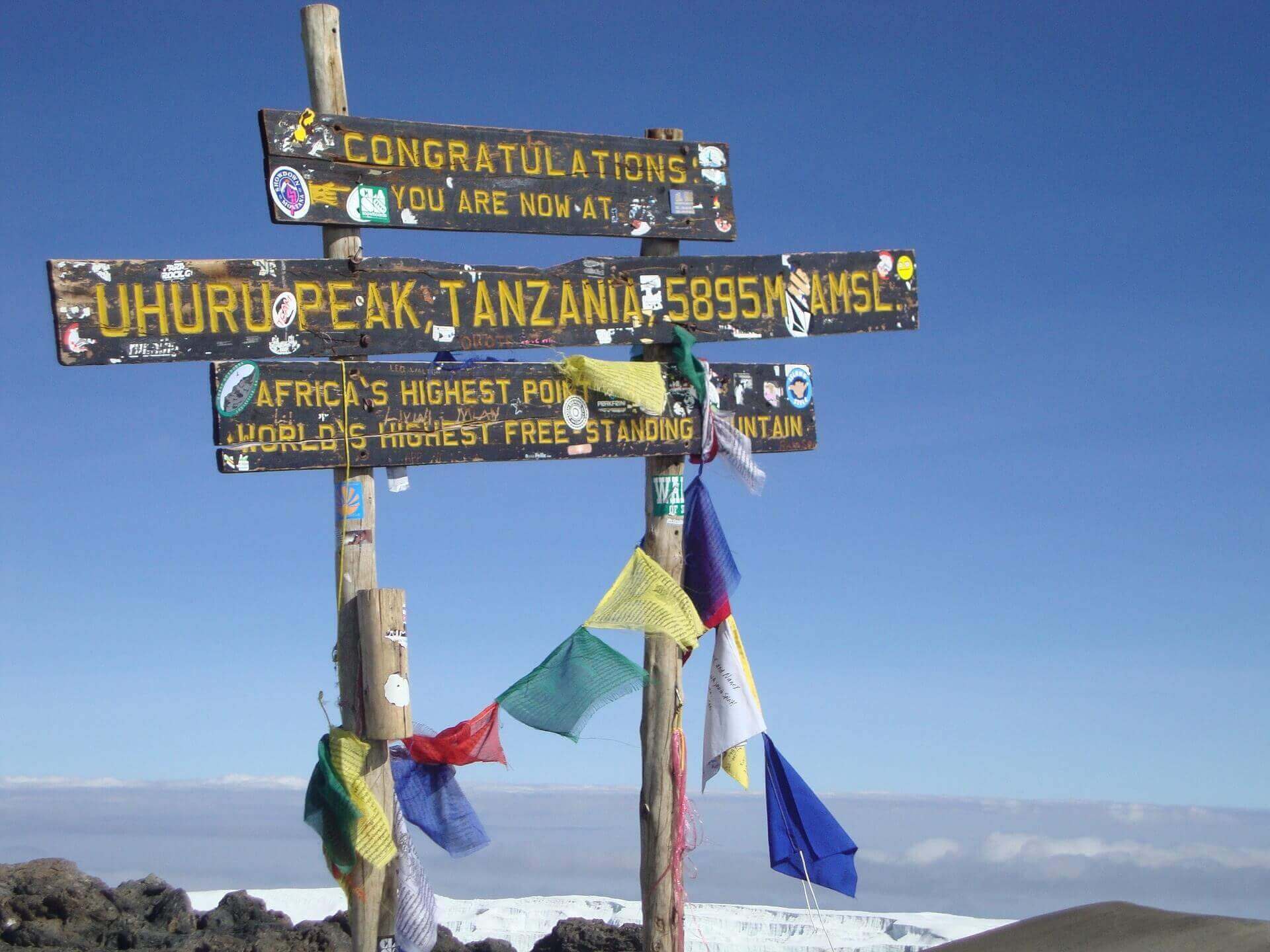 Climbing Kilimanjaro in November
Tanzania's short rainy season starts at the beginning of November and continues until the beginning of December. Afternoon rains are common, but you can expect clear skies in the mornings and evenings. This is not considered an ideal month to trek Mount Kilimanjaro, as conditions can be very wet, muddy and slippery.
Climbing Kilimanjaro in December
The short rainy season often runs into December, however this is still a popular time to climb Mount Kilimanjaro.
Climbing Kilimanjaro During Full Moon
During a full moon, the summit of Mount Kilimanjaro is particularly beautiful. The glaciers are lit up by the bright moon and the views are absolutely stunning. Another advantage of trekking at this time is that the moonlight will improve your visibility throughout your trek, most importantly during your final ascent to Uhuru Peak.
Although it's not necessary to reach the summit on the exact full moon date to take advantage of the moonlight, many people wish to reach Uhuru Peak when the moon is at its fullest.
If you do wish to summit on a full moon, a seven-day climb should start five days before the full moon date and an eight-day climb should start six days prior to the full moon date. Book well in advance, as only a limited number of people are allowed on the mountain at any time and these dates are very popular.
If you're looking for a quieter trek – and a sky full of bright stars – we recommend that you avoid the full moon period altogether.
Wayfairer Top Tip
If a Mount Kilimanjaro hike sounds a little daunting, try Mount Meru. This dormant stratovolcano lies just 70 kilometres west of Kilimanjaro, near the Tanzanian city of Arusha. Meru stands 4,562 metres tall, so is (a little) more manageable than Kilimanjaro, which is a staggering 5,895 metres high. Or, take on both the Twin Peaks in one trip!

Tom Blakey
Co-Founder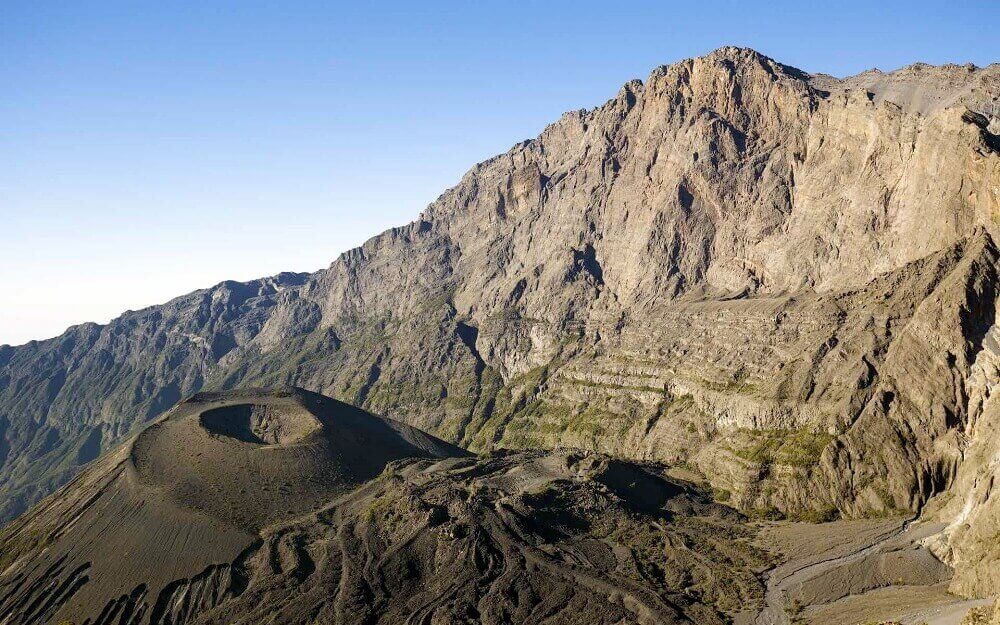 Other Things to Consider for Your Kilimanjaro Trek
Of course, time of year and weather conditions aren't the only factor to consider as you start to plan your ascent of Africa's highest peak. Here are a few more variables you may want to learn more about before you decide the best time to climb Kilimanjaro:
Choosing the Best Kilimanjaro Route
The three most popular Kilimanjaro routes are the Machame Route, the Lemosho Route and the Rongai Route. Each have their advantages and disadvantages:
The Machame Route
The popular Machame Route offers a shorter, but more challenging, trekking duration, as well as stunning scenery on the ascent to Uhuru Peak. Read our full Mount Kilimanjaro Machame Trek itinerary to find out more.
The Lemosho Route
The Lemosho Route is longer, more gradual and also less popular, but certainly not less beautiful, which is why we highly recommend this route for those taking on the Kilimanjaro challenge, especially if you have limited trekking experience. Read our full Mount Kilimanjaro Lemosho Trek itinerary for details.
The Rongai Route
The remote Rongai Route approaches the summit from the north, on Kenya's side of Kilimanjaro. Less popular, with options of faster or gradual ascents, you may also be treated to sightings of big game, such as antelope, elephant and buffalo. Contact us directly to enquire about this route.
Read more about the pros and cons of each route by reading our full guide on how to choose the best Kilimanjaro route for your trek.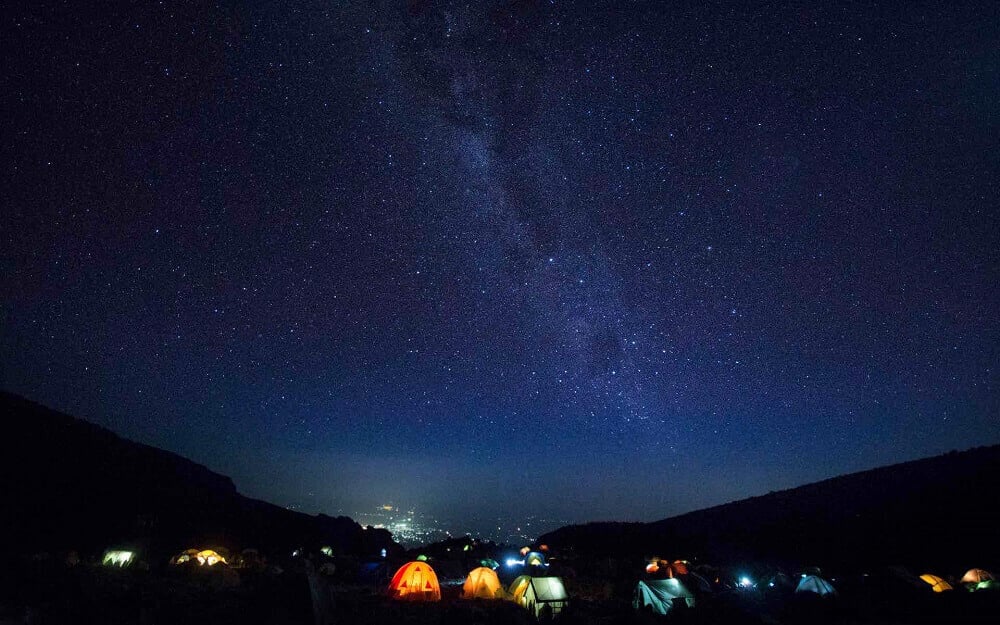 Preparing for your Kilimanjaro Hike
Climbing Mount Kilimanjaro may be a feature on many traveller's bucket list (over 30,000 people climb to the summit every year), but it's no easy feat and it's essential that you are prepared.
Here are a few tips to get you started, but for more information on how to get ready for your mountain adventure, we recommend that you read our beginner's guide to Kilimanjaro trekking.
Fitness Training
Train your strength and stamina as far in advance as you can, with focus on conditioning your legs, preparing your cardiovascular system, muscles and joints.
Altitude Sickness
The most common factor that stops many climbers from reaching the summit is not the fitness required for the hike, but altitude sickness (the inability to acclimatise to the high altitude). This can be brought on by ascending too fast, which is why we recommend the Lemosho route's more gradual ascent.
Also, keep in mind that the risk of altitude sickness increases if you're already suffering a cold or the flu, so wait to climb Kilimanjaro once you are fully recovered.
Hiking Gear
Camping equipment and food is provided and carried by the porters, but it is wise to invest in and bring quality hiking gear (clothing, footwear etc.) in order to have the best chance of reaching the top and enjoying the hike - there's nothing worse than blisters.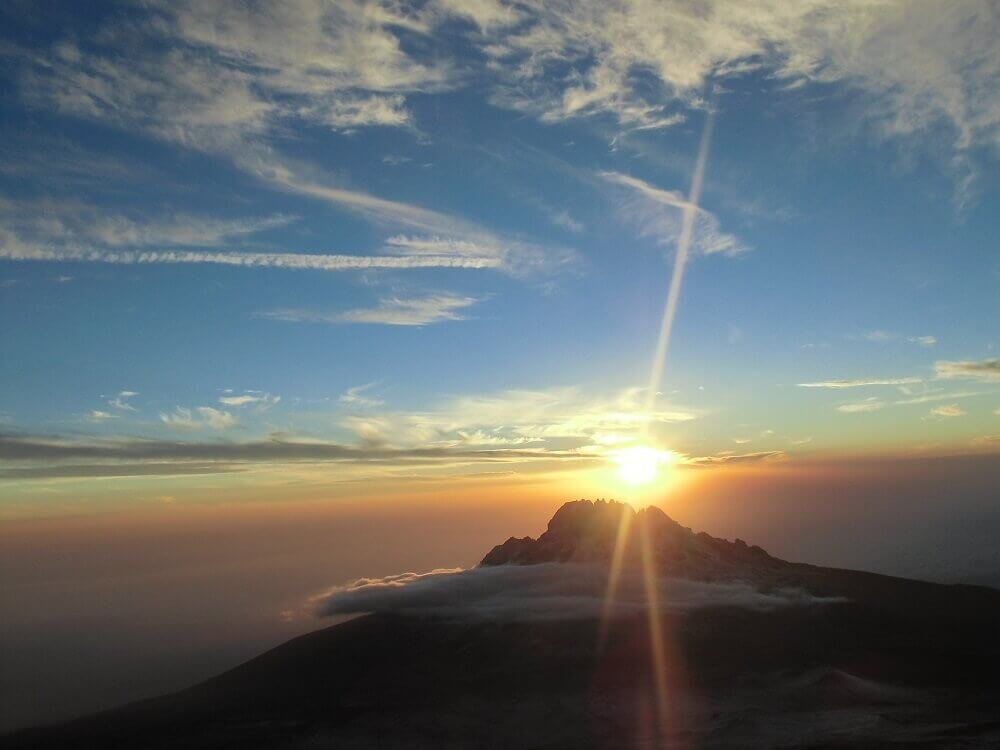 Kilimanjaro Trekking & Responsible Travel
When it comes to Kilimanjaro and responsible travel, the biggest issue to consider is porters' rights. Local porters are essential guides for the Kilimanjaro trek and their expertise and support (especially in carrying bags and camping equipment) makes a huge difference between reaching the summit or not.
We're proud to support KPAP (Kilimanjaro Porters Assistance Project), an organisation dedicated to porter welfare and fair salaries, which are far and away over the industry average. Read our Responsible Travel Guide to Tanzania for more.
If you'd like to climb Mount Kilimanjaro, call our Luxury Travel Specialists for a chat about your dream trip or fill out our no-obligation enquiry form.
We understand that booking trips, especially adventurous and alternative ones such as this can be intimidating, so get in touch; we can take the stress out of your holiday planning and organise a trip you won't forget!
Get in touch
Sign up to our newsletter
For more travel inspiration delivered straight to your inbox just fill in your details here
More inspiration from Wayfairer customers and travel specialist
Sign up to our newsletter
For more travel inspiration delivered straight to your inbox just fill in your details here