The Survival Guide to Songkran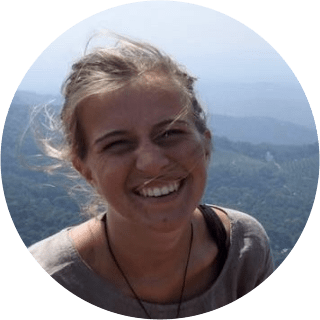 By Lotte Nash
April, 14, 2023

4 Min read
Visit Thailand in April and join the famous Songkran festivities.
India has Holi, Brazil has Carnival, Germany has Oktoberfest - and Thailand has Songkran.
Held in April each year, Songkran is a celebration of the Thai New Year.
The name Songkran comes from a Sanskrit word meaning 'passing' or 'approaching' and it's one of the most significant Buddhist holidays in Thailand.
It began in the 13th century with religious rituals such as washing Buddha images and sprinkling water to wash away the sins of the previous year.
Over time, people began splashing each other, and Songkran is now renowned as the world's biggest water fight, celebrated by millions of people.
As April is the hottest month of the year in Thailand, everyone loves to cool down in the water fight, and joyful scenes of music, dancing and water splashing can be found all over the country.
Whether you're a local or a tourist, you will get soaked!
To ensure you have the best Songkran experience, we've put together the complete survival guide to Songkran.
Where to celebrate Songkran in Thailand?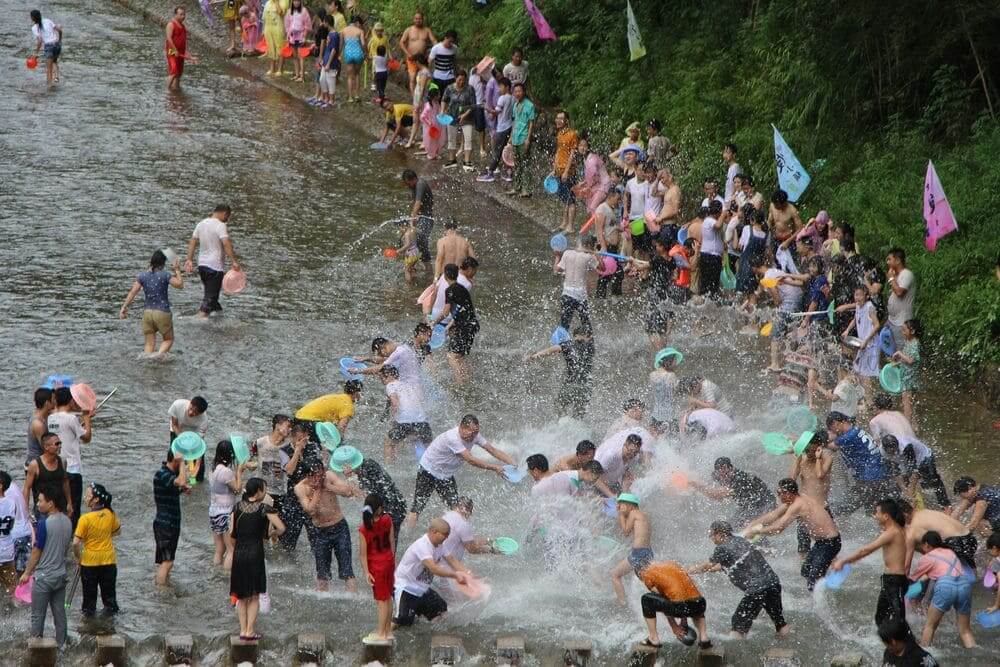 When is Songkran in 2019?
Songkran is held every year from Saturday 13 April to Monday 15 April, to coincide with sun entering Aries. The holiday officially lasts for three days, although some celebrations may last for four (or more) days.
In 2019, Songkran the festivities will begin around Friday 12 April and last until Wednesday 17 April.
How is Songkran celebrated?
Songkran is a time of symbolic purification. Thai people cleanse their bodies and souls as they mark the end of the year, and prepare for good fortune in the new year ahead.
Family is an important part of Songkran, and many people return to their hometowns to spend time with families and friends. Everyone helps to clean the house, ensuring that it is spotless for the New Year. It is believed that any remaining dirt will bring bad luck.
In particular, images of Buddha within the home are cleaned with the utmost care and attention. Traditional rituals continue throughout the three (or more) days of Songkran.
Day 1 of Songkran
The first day is known as Songkran Day, and you'll find exuberant celebrations across the country, with lively parades and processions of Buddha images.
The first day of Songkran is also officially known as 'National Elderly Day', with Thais performing 'Rod Nam Dum Hua'. During this ritual, young people pour fragrant water into the elders' palms as a gesture of humility and to ask for their blessings.
Day 2 of Songkran
The second day of Songkran is officially known as National Family Day. Families wake up early to visit their local temple, where they pray and offer food and alms to the Buddhist monks.
They pour water on Buddha images and on the hands of Buddhist monks as a mark of respect, and to purify their sins and bring good luck.
After the temple visit, the whole family spends the rest of the day together, enjoying good food and company.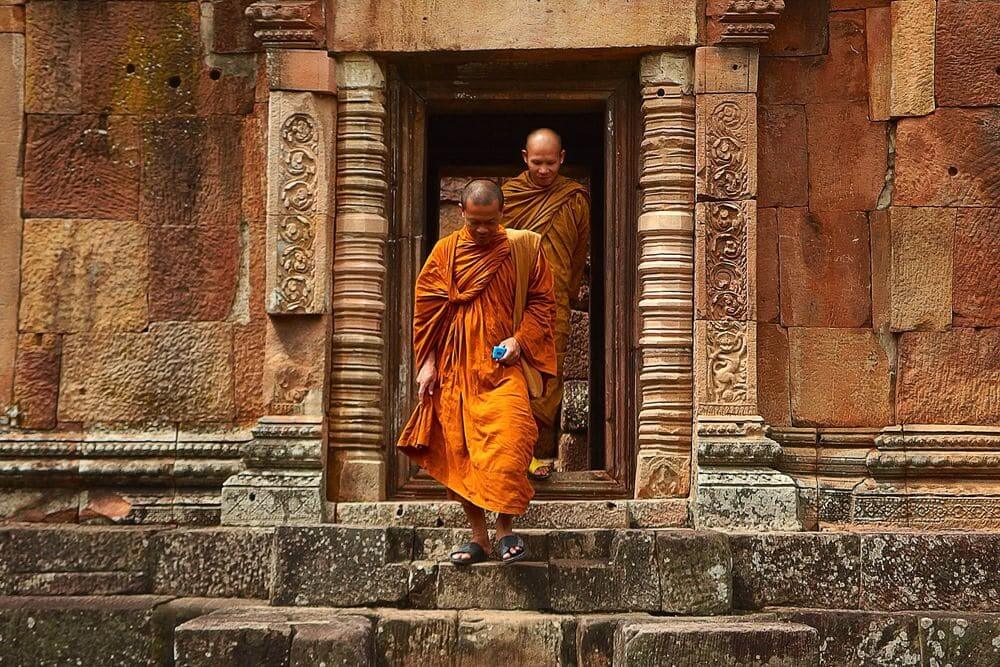 Day 3 of Songkran
After visiting elders and performing the traditional Buddhist rituals, the third day is time to party!
Everyone takes to the streets with buckets, hoses and huge water guns, as they ring in the New Year by soaking each other with water.
Traditionally, Thais would politely pour a bowl of water on family members, close friends and neighbours, to symbolise washing off all the misfortunes of the past year and a fresh start in the New Year.
It has since grown into a nationwide water fight, with tourists flocking to the major cities and islands to take part in this special event, famed as one of the best festivals in Thailand.
Although you can't avoid getting soaked in the water fights, you can also observe some of the more traditional Buddhist Songkran rituals, including visiting temples to see the washing of Buddha images and the building of sand pagodas.
Where to celebrate Songkran in Thailand?
Songkran is celebrated all over Thailand, but you'll find the biggest events and parties in the major cities. Here are our top five places to celebrate.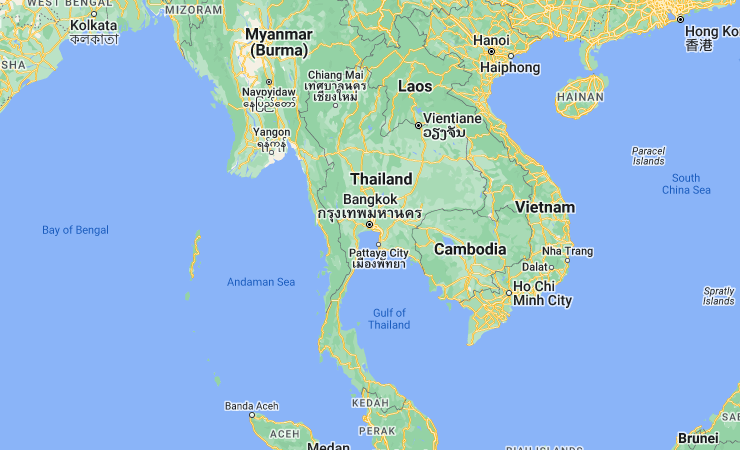 Bangkok
The Thai New Year is a time for family, and at least half of Bangkok's residents travel back to their hometowns to visit family.
Many banks and family-run shops and restaurants shut down, however the city still bustles, as big shopping malls stay open, and scores of tourists flock to the city to enjoy this unique festival.
There are dozens of Songkran events held around Bangkok. Head to Khao San Road for the wildest water fight, or Silom Road for the largest party in Bangkok, spanning the entire 5 kilometre length of the street. Siam Square also holds plenty of events and festivals.
To observe the more traditional aspects, visit Sanam Luang, a public square opposite the Grand Palace where sacred celebrations are held, including washing Buddha images and building sand pagodas.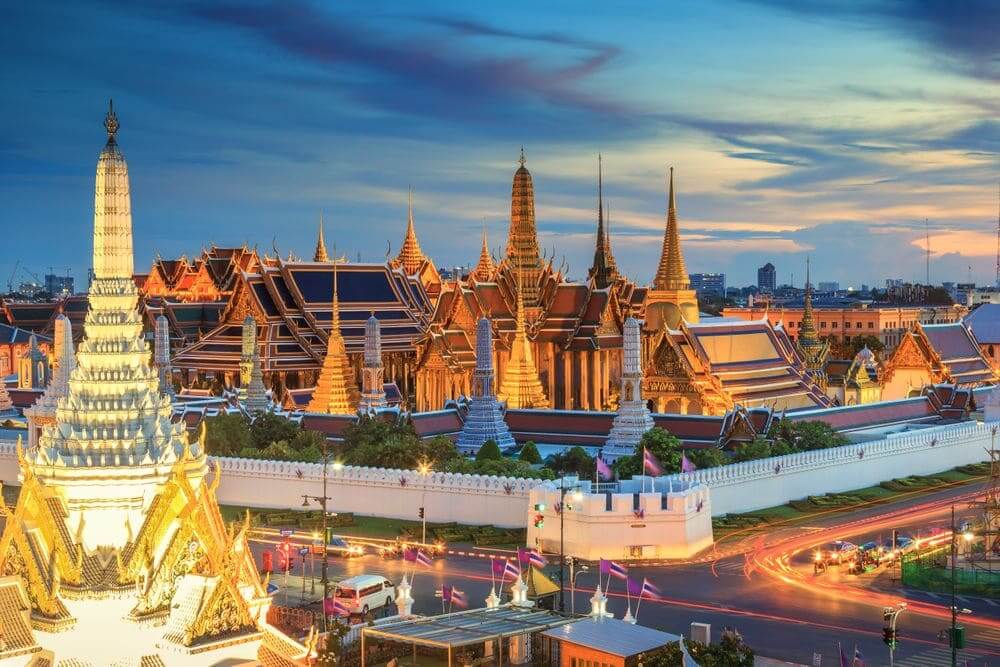 Chiang Mai
Bangkok may have the biggest parties, but Chiang Mai has the wettest, with the ancient city turning into a giant waterfight.
Head to Tha Pae Gate in the Old City, then make your way along 4 kilometres of road fillwed with food stalls, music, parties and plenty of water splashing.
Phuket
Celebrations in Phuket last for the full three days, with constant water fights and parties all over the city. Patong Beach and Soi Bangla have the most wild water fights and everyone gets involved - even the policemen!
Koh Samui
You'll find raucous parties and water fights in Koh Samui, but there are also a few quieter areas that are perfect for families.
In Nathon, the celebrations are centred on sacred traditions, while on Maenam Beach and Bophut Beach, you'll experience fun, kid-friendly water fights, without it getting too rough.
Pattaya
Songkran celebrations last longer in Pattaya than anywhere else in Thailand, spanning from 13 to 15 April and continuing into the following week.
The biggest day of celebration is 19 April, known as the Wan Lai Festival, and there's plenty of revelry and water fights throughout the week.
What to wear during Songkran?
Many Thai people wear colourful, floral shirts, and it's best to wear light, fast-drying fabrics.
It's best to wear a swimsuit underneath your clothes, but don't go out in just a bikini. Songkran is a holy holiday and Thai culture is quite conservative. Avoid wearing white as it goes see-through when wet!
You can wear flip-flops, but we recommend wearing sturdy sandals to avoid slipping over on wet floors.
Protect your eyes by wearing a pair of goggles or sunglasses. You may get sprayed with a grey paste made of scented powder and water, and although it's harmless, it will sting your eyes.
We also recommend wearing waterproof sunscreen and a hat. April is the hottest time of the year in Thailand, so you'll need to protect yourself from the blazing sun.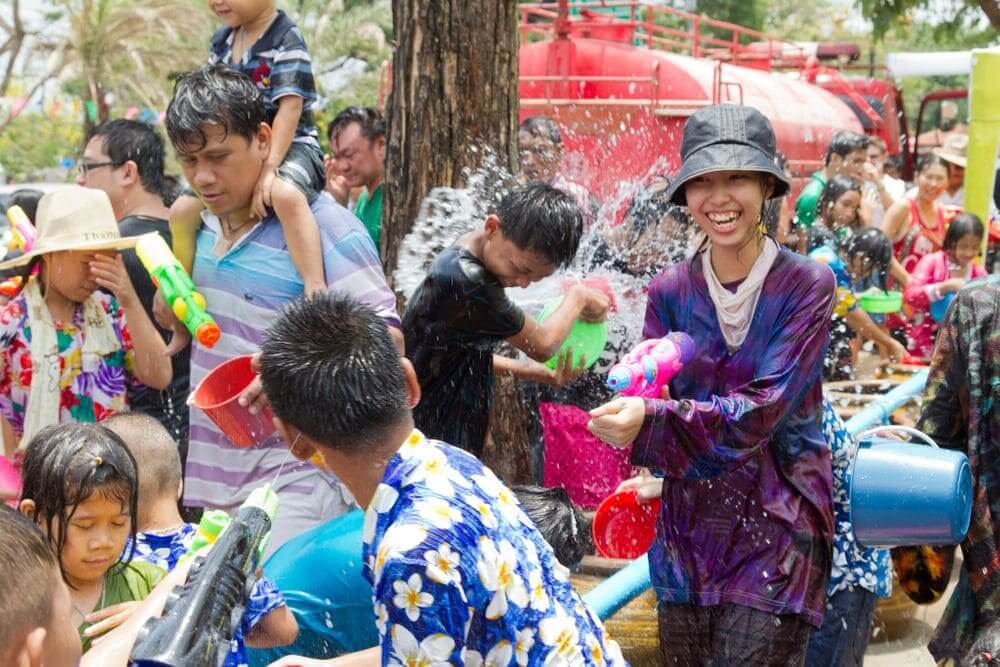 Top 10 Tips for Songkran 2019
1. You cannot avoid getting wet during Songkran, so if you don't want to get splashed, it's best to stay indoors.
2. Keep all valuables in a waterproof bag or keep them locked in your room.
3. Learn how to say "Sawasdee Pee Mai!" and say it after throwing water on people. In means Happy New Year in Thai.
4. Be respectful and never splash monks, babies or the elderly.
5. Don't throw water indoors or on people who are working.
6. Don't throw icy water.
7. Avoid driving motorbikes during Songkran. It's best to walk or use taxis and trains.
8. Don't throw water at people on motorbikes - this could easily cause an accident. However, people riding in the back of tuk-tuks, songthaews or pick-up trucks are fair game!
9. Avoid swallowing the water splashed on you.
10. Maintain a sense of humour, arm yourself with a super soaker and join in the fun!
We understand that booking trips, especially adventurous and alternative ones such as this can be intimidating, so get in touch; we can take the stress out of your holiday planning and organise a trip you won't forget!
Get in touch
Sign up to our newsletter
For more travel inspiration delivered straight to your inbox just fill in your details here
More inspiration from Wayfairer customers and travel specialist
Sign up to our newsletter
For more travel inspiration delivered straight to your inbox just fill in your details here