The Untamed Wilderness of Zambia's Kafue National Park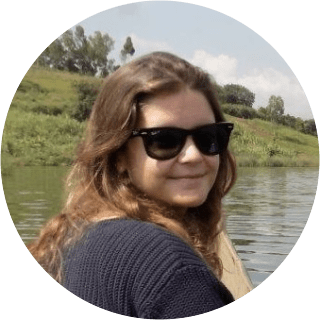 By Leonie Taylor
April, 14, 2023

4 Min read
Kafue National Park is the wild Africa you've been looking for
Kafue National Park is the untamed wilderness of Zambia. I wasn't sure what to expect when we turned off the tarmac and began to slowly bump through the miombo forests. It was as if we crossed over into another world and when we chanced upon a large herd of sable antelope, I knew this park was going to be a highlight of our Zambia safari holiday.
Kafue is Zambia's oldest and largest national park, yet not as frequented as its neighbours South Luangwa and Lower Zambezi. The park is named for the Kafue River, home to pods of hippos and lurking crocodiles, as well as supplying a regular water source for the park's abundance of wildlife. With 22,400 square kilometres to explore without another safari vehicle in sight, Kafue is truly the wild Africa of any safari enthusiast's dreams.
Musekese Camp
Our first destination inside Kafue National Park was the true bush camp experience of Musekese Camp. Upon meeting the owner, Tyrone, his passion for this place was obvious and at dinner, we discussed in detail about the amazing conservation efforts going on in the area and what still needed to be done.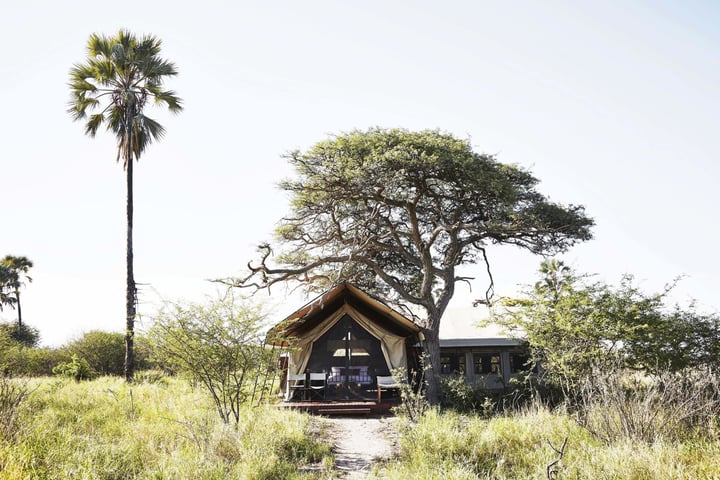 Just a few years ago there had been no camp in this area, so hunting and poaching were prevalent and went unchecked. However, since Musekese set its roots in Kafue, the mere presence of people and feet on the ground dramatically decreased the illegal activities and wildlife started to thrive again, including a population of lions that returned to the area.
President of animal conservation charity African Parks, Prince Harry, recently visited Zambia on a solo trip and announced that between 500 and 1,000 elephants will be moved to Kafue National Park from Botswana, to boost Zambia's elephant populations.
One night in this magical camp was not enough. The novelty of warm bucket showers (a luxury out in the bush!), the distant roars of lions as we drifted off to sleep and the huge herds of elephants wandering right past our breakfast table – Musekese Camp was a great introduction to Kafue.
Busanga Plains
The next day our journey through Kafue National Park continued, taking us north into the vast Busanga Plains, practically untouched by tourism. We took a short boat trip across the Kafue River to meet our next guide, Lex, who would be with us for the next few days.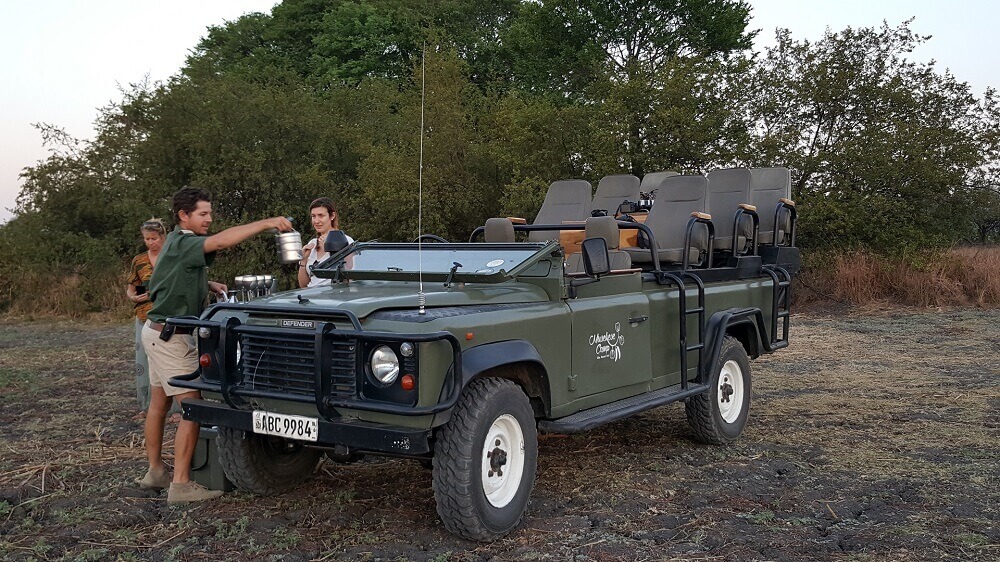 As we continued north along the Kafue River, the trees began to thin and suddenly the plains were before us, spread out into the distance. Hundreds of northern red lechwe were jumping streams, filling the emptiness and creating a spectacle.
Ila Lodge
Next, we drove back to the central area of Kafue. Our destination was the gorgeous Ila Safari Lodge, a luxury tented safari camp with a focus on conservation. A much welcome cool breeze came off Kafue River as we pulled up to the accommodation, taking the lovely cool cloths offered by staff to wipe away all the dust.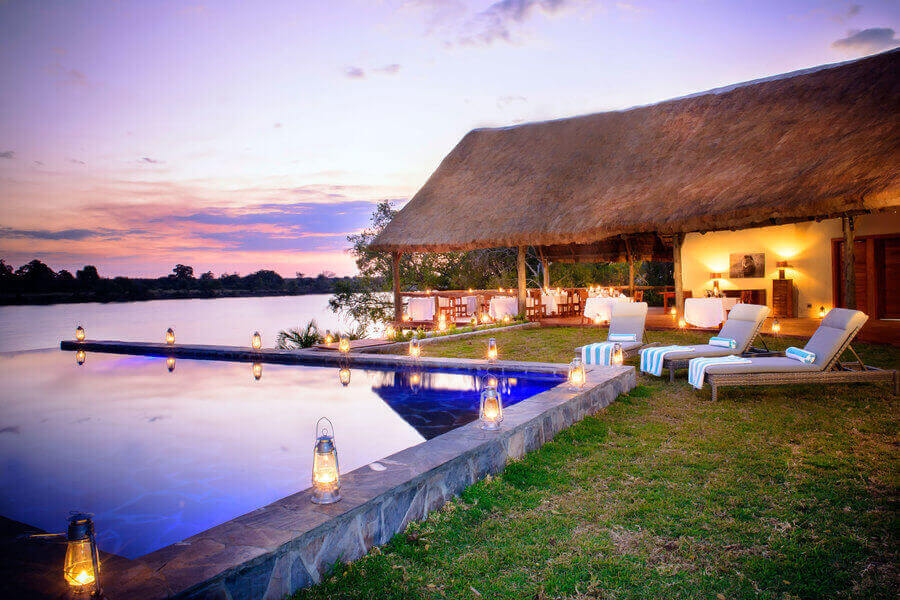 Ila lodge has ten luxury tents and the camp set on the banks of the Kafue. With a resident bull elephant wandering around the camp, you wouldn't know you're in a game management area and not the main national park.
Safari Game Drive
Our first game drive from the lodge did not disappoint: a quick speedboat trip across the river to meet our vehicle, then we headed off into the park. Quickly, we spotted a gorgeous aged lioness guarding her kill and dozing in a bush.
Only moments after leaving her we screeched to a halt as six cheetahs sprinted across the road! Cheetah are incredible rare to spot, so it was truly heart-stopping moment as we saw two males chase away three young cubs as they separated the mother who was in heat. We watched them for a whole hour as they kept the female alone and followed her around.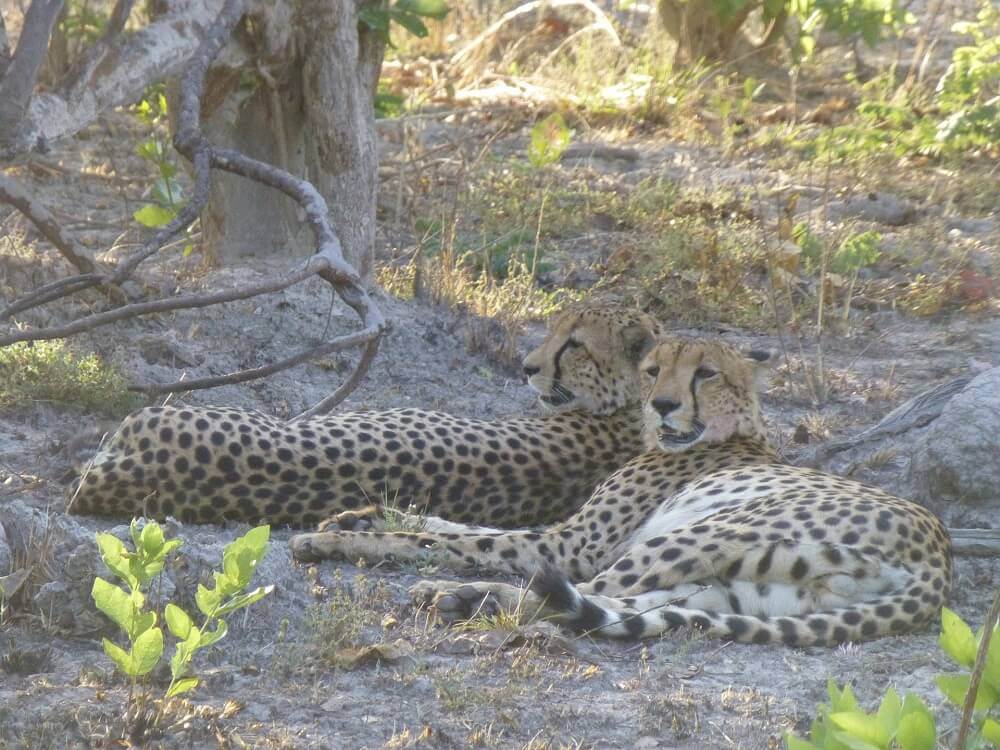 Kafue is the only park in Zambia where you can see these magnificent creatures and we were all in awe of how quickly we saw them and how spoiled we were to be the only car watching the scenes in front of us unfold.
We finally dragged ourselves away to our gorgeous tea spot to follow African wild dog tracks along the road. You may recognise these critically endangered creatures, often called painted dogs or painted wolves, as the subject of David Attenborough's latest BBC Earth documentary, Dynasties. Sightings are rare, but Zambia is one of the best places to see them.
Lunch on the solar boat was a memorable experience as we silently cruised up to a family of elephants bathing in the river's waters in the heat of the day. With a glass of wine in one hand, a lovely meal in front of us and the sounds of elephants splashing nearby is an experience I'll never forget.
We loved our morning game drive so much we changed our plans to go back again for an evening drive, spotting the same groups of animals hanging around and spending every minute we could with them.

Why you should visit Kafue National Park
Our time in Kafue National Park really just hammered home what a unique place this region is; not seeing another soul as we traversed this untamed wilderness, beautiful scenery, vast plains, forests and of course, the amazing wildlife.
Kafue really is a place that should be on everyone's safari bucket list, as more and more of the park opens up and new lodges and properties allow you access to unchartered wilderness as you explore this corner of Zambia.
Zambia Safari Holidays to Kafue National Park
Learn more about Zambia safari holidays and take a look at our suggested itineraries and example tours for a Zambia Family Safari Holiday and Zambia Wildlife Holiday, which both feature time in Kafue National Park.
Read our Wayfairer Guide to Zambia for where to go, what to do and when to visit Zambia; and read our Responsible Travel Guide for more on how to ensure your Zambia vacation has a positive impact on the environment, wildlife and local communities.
To discuss your tailor made luxury Zambia safari, call Leonie and our friendly team of Luxury Travel Specialists to chat about your ideas, or fill out our enquiry form to start planning your dream safari holiday today.
We understand that booking trips, especially adventurous and alternative ones such as this can be intimidating, so get in touch; we can take the stress out of your holiday planning and organise a trip you won't forget!
Get in touch
Sign up to our newsletter
For more travel inspiration delivered straight to your inbox just fill in your details here
More inspiration from Wayfairer customers and travel specialist
Sign up to our newsletter
For more travel inspiration delivered straight to your inbox just fill in your details here