Our Asia specialist, Thea, shares her experience on one of our most popular day tours in Phuket – Hong by Starlight Phang Nga Bay tour.
Whilst in Pukhet, Thailand, I wanted to get out of the hotel and explore Phang Nga Bay, where the famous James Bond Island is located. Most trips involved a cruise around the bay, but I wanted something a bit more active and Hong by Starlight was a perfect solution. Rated #1 on Trip Advisor for things to do in Phuket, I had high expectations and I certainly wasn't disappointed.
Who Are John Gray's Sea Canoe Company?
John Gray's Sea Canoe company was founded on the motto "We don't do anything normal", something that was evident during my trip. They are the original sea cave kayakers and now operate internationally in Hawaii, Tahiti, Fiji, Samoa, Thailand, Vietnam and Philippines. Many of the staff remain from the first hire in June 1990 and they form one of the most experienced and professional sea kayaking teams in Asia.
John is a surfer, journalist and lifetime environmentalist winning many awards for his humanitarian work. He has ensured that the trip has a low impact on this beautiful part of the world whilst still providing high quality guest experience.
Why John Gray's Sea Canoe?
Whilst there are now other sea canoe companies in the area, John Gray's is far superior. Often booked up in advance, the service and experience is second to none.
Whilst some people may choose to cruise through the bay, the sea canoe experience offers you to get up close to the islands in a unique way. The blend of relaxation, adventure and culture is ideal for the perfect day trip to Phang Nga Bay.
Day Overview
After a leisurely breakfast I was picked up from my hotel at approximately 11am and transferred to the pier, very refreshing after so many early starts on other tours. We were organised into the groups for our different boats and awaited their arrival. We could see them arrive at the end of the pier and once ready we were transferred down on the tram ready to board.
The staff were so friendly as soon as we got on the boat and I instantly felt at ease. We were given welcome drinks and snacks whilst we were briefed about the day and started our journey. Not having the best sea legs, I was quite nervous once onboard but within 5 minutes of arrival I was laughing and smiling and instantly relaxed. It was an hour's journey to the first island and once full on food I took the opportunity to wander to the front of the boat for some photography. The views were stunning and up close the islands were very impressive.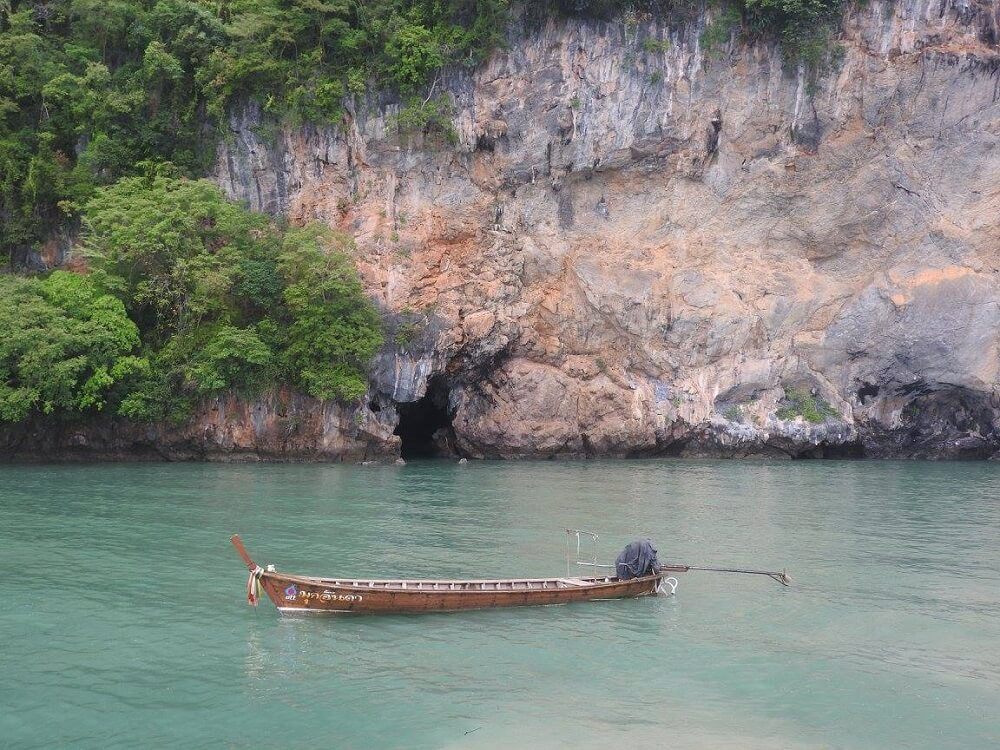 Once we drew close to our first island we were all given a waterproof bag for our canoe and split into pairs. As I was a solo traveller, I was partnered with another lady and sharing a love for travel we instantly hit it off. Families of three were permitted to stick together, however the maximum adults permitted was two.
We were introduced to our captain for the day and the great embarkation onto the canoes pursued. All captains and canoes got into the water and as we descended the stairs to the lower deck they maneuvered into position to allow us to board. The canoe was incredibly comfortable – more so than I expected. We were able to sit back and relax while our captain did all the paddling for us.
Entry into the caves is tight in some parts and at times we were instructed to lie down. With only two in the canoe we had plenty of space and watched as we paddled through the caves until it opened into a large expansive space in the middle of the island. It was quite a spectacle. We were paddled around the inside and outside of the cave for around one hour before returning to the boat.
We now had our free time with the ability to swim in the bay, relax onboard the boat or explore on our own with the sea canoes. I took the chance to try my hand at paddling and went to explore the outside of the cave (not daring the lie down entry unaided). I still had the opportunity to have a dip in the bay and it was wonderfully refreshing in the heat to have a swim.
After we were all back on board it was time to move onto the next Hong Island. To tie in the Thai culture to our experience we were later going to float a Loy Krathong in the Hong caves at night, each one carrying prayers and wishes.
Whilst making our way to the next Hong Island we were going to decorate our canoes. Ours were traditional krathong made from a cross section of a banana tree trunk decorated with folded banana leaves and flowers in an intricate design. Whilst at first, I didn't know where to start, our captain was exceptionally talented in creating birds from flowers and helped us create a beautiful design.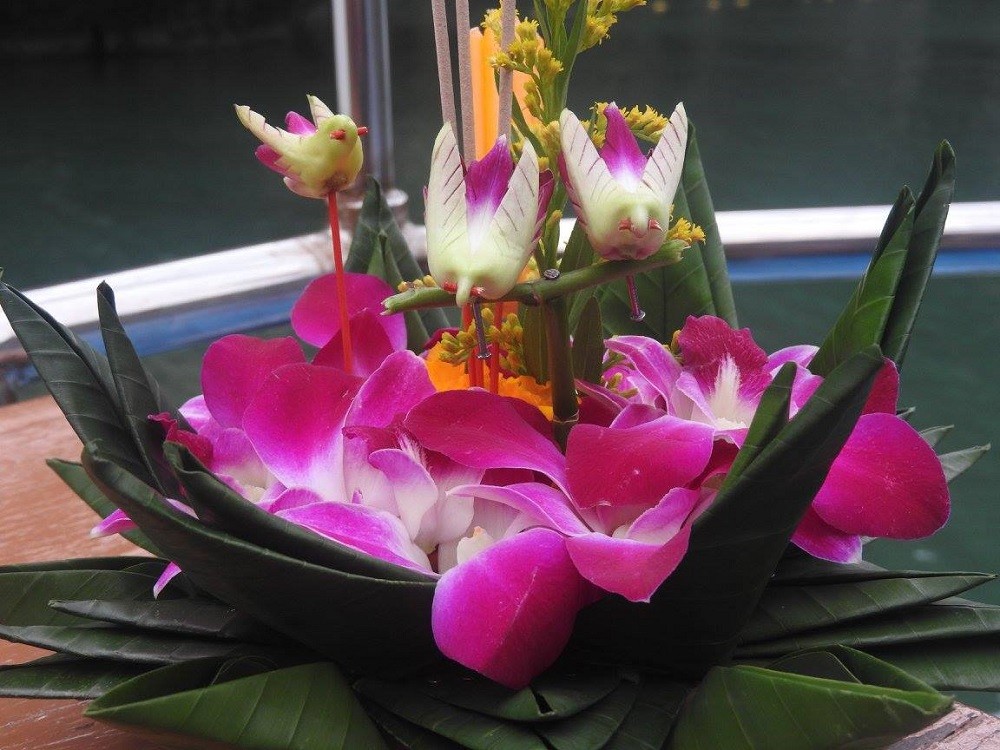 Once completed it was time for a canoe trip and another hour in the caves. It certainly hadn't lost its impact and whilst we knew more now of what to expect, I was pleasantly surprised to find the interior of the cave quite different to the last. After our last canoe in daylight it was time to dine on the exceptional food. I had heard very good reviews about the food served but it exceeded expectations. The food was fresh, delicious and plentiful. There was spare for seconds and even thirds if you were still hungry.
After the sun had set it was time to set out on our final canoe and to float our Loy Krathong. Once inside the cave we lit the tea light and set the Loy Krathong to float off. With all the canoes in the cave and all the tea lights it was a beautiful and quite moving scene. After a suitable amount of time we went and collected our Loy Krathong and blew out the candle so not to leave anything that can damage the cave and its ecosystem.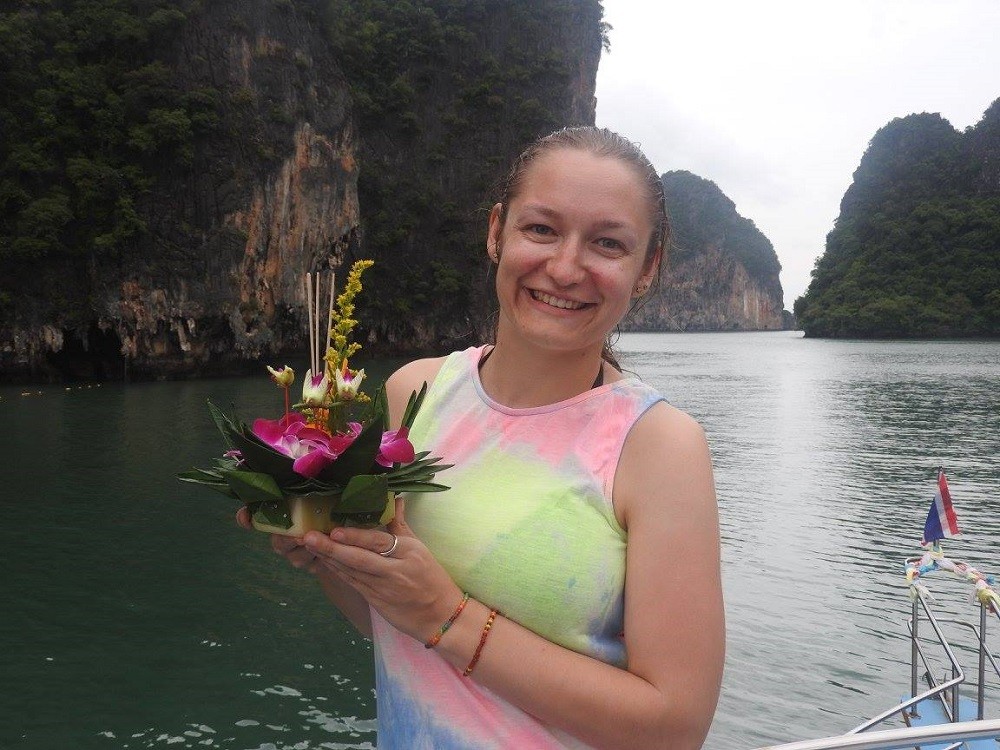 Our final surprise was instore. On our way out from the cave all lights were turned off and the magical bioluminescent plankton did their nightly dance. It was quite incredible to watch them light up as we pulled the paddle through the water and ran our hands through the sea as we moved. It was a wonderful way to finish the trip.
Once onboard we said goodbye to our captains and made our way back to the mainland. I reached my hotel at approximately 9pm that evening. Although a long day, it was one of my most memorable from my trip to the islands.
If you'd like to plan a holiday to Thailand, call our Luxury Travel Specialists for a chat about your dream trip or fill out our no-obligation enquiry form.