Elephant Nature Park Experience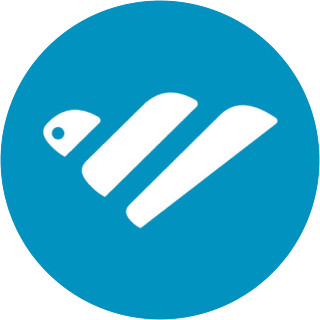 By Wayfairer Team
April, 14, 2023

4 Min read
Our Asia specialist, Thea, shares her experience of Chiang Mai's Elephant Nature Park and why a visit to see the gentle giants is a must.
When planning my trip to Thailand I knew that one of my must-do activities was to spend time with the Asian elephants. I wanted to ensure my visit, and my entrance fee, went to a reputable elephant park in Chiang Mai that truly cares for the animals and supports the "Saddle Off" initiative. Elephant Nature Park (ENP) was the perfect choice.
The elephant park is located roughly 60km from Chiang Mai's city centre and offers half day or full day elephant tours from the city, as well as overnight stays and longer volunteer programs upon request.
Elephant Nature Park's exceptional Trip Advisor reviews were an indication that it would be a special day, but nothing could have prepared me for how magical the elephant park experience was.
Save Elephant Foundation and Elephant Nature Park
Chiang Mai's Elephant Nature Park is the flagship ethical elephant sanctuary for Save Elephant Foundation, a Thai non-profit organisation dedicated to the rescue and rehabilitation of Thailand's captive elephant population.
The foundation not only aims to protect the Asian elephants but also educate and advise the local community about these gentle giants to avoid their continued mistreatment.
Save Elephant Foundation was established in 2010 by founder Sangdeaun Lek Chailert, a remarkable woman who has dedicated her life to elephant conservation and rescue. She has been awarded numerous accolades including Ford Foundation's 'Hero Of The Planet' (2001), National Geographic's 'Hero of Asia' (2005) and The White House's 'Women Heroes of Global Conservation' (2010) as well as many honorary degrees.
Today Lek continues to be at the forefront of the elephant conservation battle and can often be found at Elephant Nature Park walking alongside her elephant family.
For more on sustainable travel, read our Responsible Travel Guide to Thailand for more information.
Elephant Nature Park Tour, Chiang Mai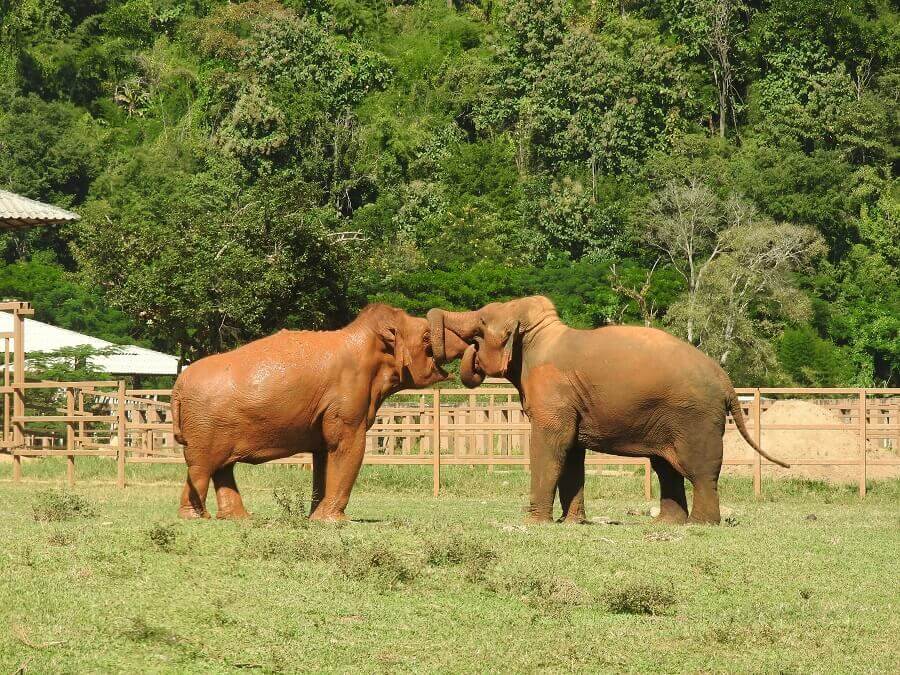 My day at Elephant Nature Park started with a prompt pick-up from my hotel in the centre of Chiang Mai.
The journey lasted approximately one hour, during which we watched a background and safety video, as well as a short documentary about Lek and the history and practices of the elephant park. Once we arrived at ENP, we had a brief orientation before it was time to play with our new elephant friends.
Feeding the Elephants
The first activity of the day was breakfast: a mixture of fruit fed to the elephants by holding out our hands and letting them curl their trunk around the item before they bring it to their mouths. Elephants can eat up to 600 pounds a day and spend up to 18 hours a day eating, so there were plenty of opportunities for feeding. Some of the elephants are also quite elderly, so they need a little extra help with food.
The feed was very entertaining and a fantastic photo opportunity. I was quite nervous at first, as seemed everyone else, but the animals are so gentle taking it from your hands, there is nothing to worry about.
After breakfast, when the elephants finally decided they had had enough for now, we took a wander out into the elephant park grounds. A short walk and we found two elderly ladies having their mid-morning snack – some leaves.
Touching the Elephants
These adopted grandmothers were very gentle and happy for us to stroke them whilst they ate. Not all the animals here like to be touched and Elephant Nature Park discourages visitors touching the animals without invitation, but these two were an exception. We all smiled as when looking at their faces we realised they were smiling.
Elephant Nature Park is currently working towards a "Hands Off" initiative as the elephant park acquires more land, with the end goal of creating a more natural habitat for the animals, where visitors can observe from a distance and the animals have the utmost freedom and the most authentic environment to the wild.
Lunch at the Elephant Park
We then walked back to the main camp ready for lunch. We were treated to a buffet lunch of multiple vegetarian dishes (not too spicy!), which was delicious. Drinking water is freely available, while coffees, soft drinks and other snacks were available at the cafe and snack shop.
With just over an hour for lunch, this meant there was plenty of time to eat, drink and have a small wander around the elephant camp. Adjacent to the main camp is the platform – the perfect viewing point over the elephant sanctuary and the river. I was lucky enough to watch a couple of elephants bathing and playing around. It was so lovely to see them relaxed and happy.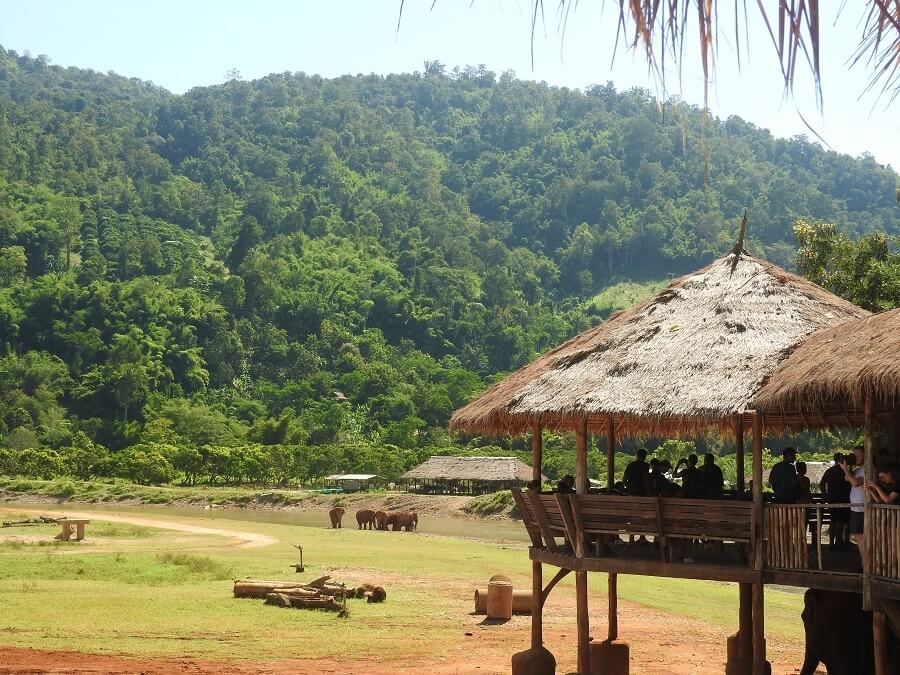 Elephant Bathing
Elephant Bathing Update: As of 16th April 2018, ENP have decided to allow elephants to bathe themselves with no visitor interaction. This is to give the elephants as much freedom and time to bathe with other elephants in the most natural way. This decision reinforces the elephant sanctuary's ethical values. However, the park's observation platform, overlooking the Taeng river, is a great vantage point to witness the elephants bathing in the river.
Read our latest blog on ENP, including an interview with its founder, Lek, to learn more about how Elephant Nature Park prides itself on being one of the most ethical elephant sanctuaries in Thailand and is constantly changing its model to best benefit the elephants.
In the afternoon, it was time to get stuck in and get wet! The elephants know the schedule and they know that afternoon means snack and shower time. After a quick wardrobe change, we were all given little buckets and instructed to throw the water over the elephants whilst they ate the food on the bank.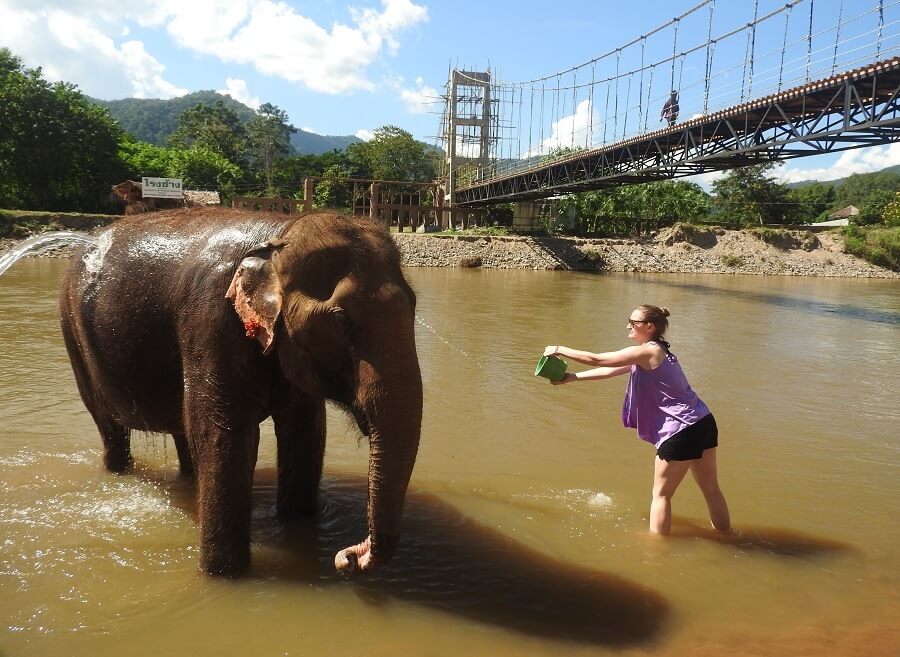 It was a hot day so both elephants and guests were glad to get in the river. Once again, our elephant dictated how long we played in the river and once they were ready, they started walking out. We followed at a distance behind and watched her scratch her back on the platform foundation poles.
Observing the Elephants
Our final couple of hours were spent meeting more of the elephant herds that call this place home. We wandered, watched and waited, taking in every single moment we were so close to these animals.
From the baby's playing around to the adults cooling their coats down with dusts, there were so many magical moments I witnessed at Elephant Nature Park.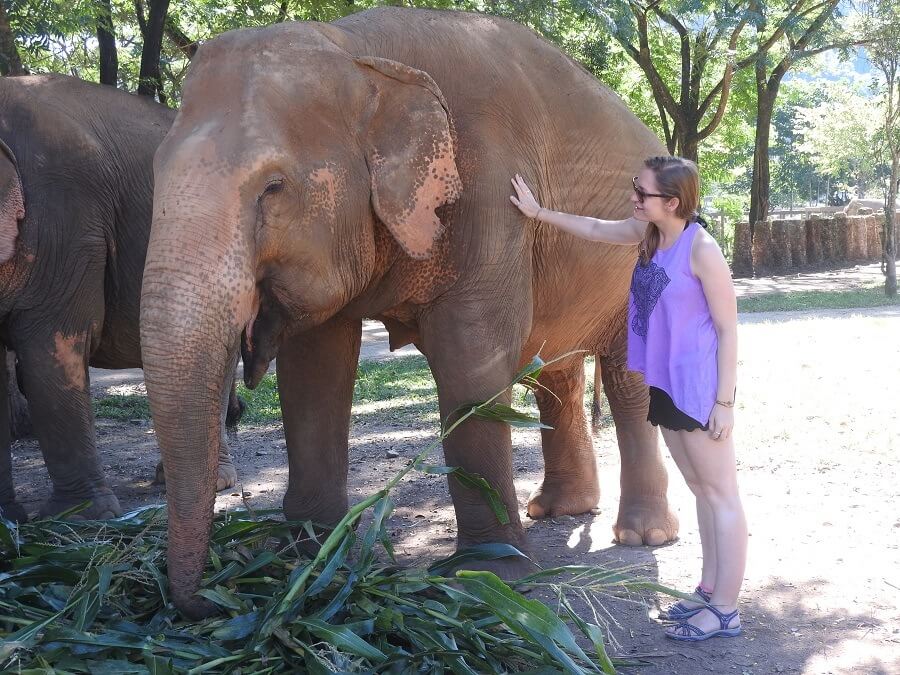 All too soon it was time to say goodbye and start the journey from the elephant park back to Chiang Mai. I may have only been there for one day, but those memories will always stay with me.
Why Visit Chiang Mai's Elephant Nature Park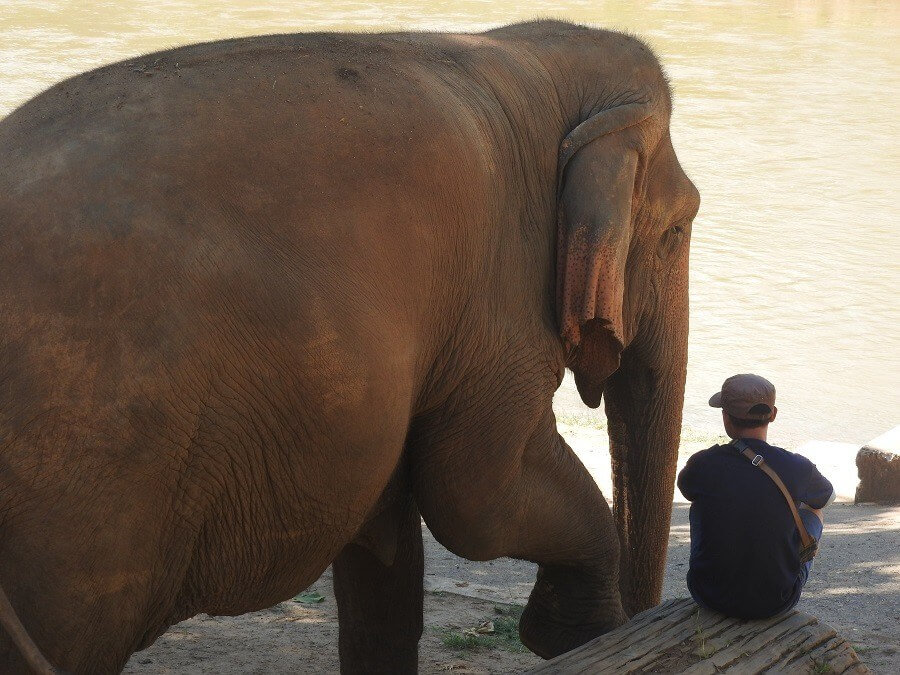 There are many elephant parks in the Chiang Mai region. Some, unfortunately still promote elephant riding. There are even some that call themselves sanctuaries, but do not help the animals or protect them.
ENP is a genuine place of security for the elephants, where they are happy and free. The work the staff do is for little or no payment, and volunteer work is encouraged. Therefore, all money raised goes towards the running and maintenance costs of the elephant sanctuary.
Not once did I see any member of staff forcing the animals to do anything, instead it felt they were more there for the guest's security and to ensure that we didn't get in the elephant's way. There was a strong feeling that we are at their home and not the other way around.
What you get at ENP is a genuine elephant conservation experience, where your money goes to the right people and the right place. It is a magical day out, aided with the enthusiasm the guides have and certainly not a trip you will forget.
Read our Thailand Travel Guide for more useful insights to help you prepare for your Thailand holiday.
Alternative Locations to Visit an Elephant Sanctuary
Whilst ENP is the flagship elephant sanctuary, there are many elephant parks dotted around Southeast Asia if your trip doesn't take you to Chiang Mai. Please see the following list and map below for our suggestions of ethical elephant sanctuaries to visit:
Kanchanaburi – Elephant Haven

Ban Tha Klang – Surin Project

Siem Reap (Cambodia) – Elephant Sanctuary Cambodia

Myanmar – Save Elephant Foundation Myanmar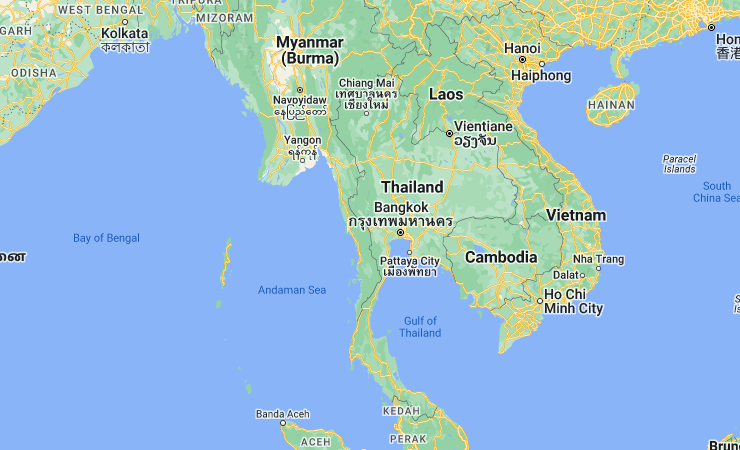 If you'd like to visit any of the mentioned elephant sanctuaries in Asia as part of your holiday, take a look at our luxury Thailand tours or contact us to speak to our team of friendly Luxury Travel Specialists to start planning your dream Thailand holiday today.
We understand that booking trips, especially adventurous and alternative ones such as this can be intimidating, so get in touch; we can take the stress out of your holiday planning and organise a trip you won't forget!
Get in touch
Sign up to our newsletter
For more travel inspiration delivered straight to your inbox just fill in your details here
More inspiration from Wayfairer customers and travel specialist
Sign up to our newsletter
For more travel inspiration delivered straight to your inbox just fill in your details here